Content
The Definitive Guide to Guest Blogging in 2022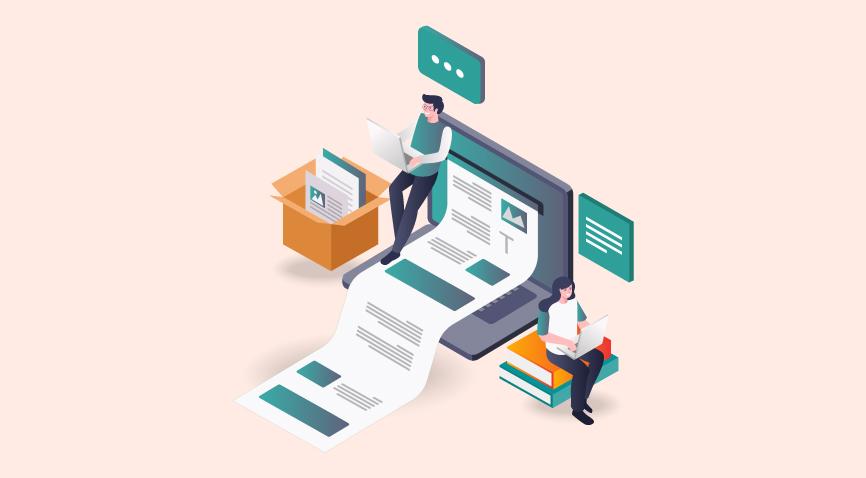 Table of Contents
What Is Guest Blogging?
Why Should You Consider Guest Blogging?
Top 10 Benefits of Guest Posting
What Do You Hope to Achieve from Guest Posting?
Criteria for Picking a Website for Guest Posting
How to Find Guest Blogging Opportunities
How To Get Started
How Many Times Should You Guest Post?
Key Takeaways
FAQs
Have you started a blog for your business but haven't received sufficient traffic to your site so far? Or are you looking to build and grow your personal blog but finding it difficult to reach out to a wider audience?
Your website and the relevant blog content will get an audience only if they are visible to them. The things that aren't visible do not exist. To increase traffic to your website, you need to follow certain search engine optimization tricks. This will help in drawing a large audience.
Search engine optimization, aka SEO, is a complex process. One needs to take care of many factors to optimize your website for the search engines. Only then will your website be visible to the public and will get a chance to be visited by some of them.
Out of the many possible tricks for SEO and digital marketing of your brand and your website, the most recent approach involves guest blogging or guest posting. Wondering what is a guest blog? Aren't you already spending time writing blogs for your site?
Well, that is the exact difference. You are busy creating blog posts for your website. But all your hard work is not paying off as the traffic is still low. How about writing blogs for someone else's website and becoming a guest blogger to them?
Confused? Well, believe it or not, one can actually benefit by writing blog posts for others. It is a symbiotic relationship between the two websites of helping each other. For instance, the other website will get a blogger, or, say, a guest blogger. In turn, you can put some backlinks about your website over there that can be looked at by people who visit the other website.
Chances are if they are looking at the link to your website, they are going to visit the site as well. And voila! You are welcoming new visitors to the site. See, writing for others is not that bad.
Did you know that one of the most extensively tried-and-tested ways to boost traffic to your site involves guest blogging? As per statistics from Optinmonster, close to 60% of blogs feature guest posts, the frequency ranging from 1 to 5 a month.
While it is an effective way of content marketing, it can be difficult to make the most out of guest blogging opportunities if you are not familiar with how it actually works. And if you are wondering how to guest blog or guest post, then go through this informative guest blogging guide to know the answers.
In this article, you will find the A to Z of guest blogging that will help you become an erudite guest blogger and leverage guest blogging for your website's growth. Let's start by asking the very basic question, what is guest blogging?
What Is Guest Blogging?
Guest blogging is a very popular form of content marketing where you, as a blogger, contribute a guest post to another website or blog. The idea is to pick a popular website with a large audience and guide these audiences back to your website via a high-quality backlink that you will receive from the other site. This is how you can find guest blogging opportunities.
Basically, the idea is to reach at the top of the browser search by standing on the shoulders of the giants, aka already top-rated websites.
It is something like befriending the most popular guy in your school, let's name him Jack. You were earlier not known by many students. It was like you were just invisible to them. Then suddenly you start hanging out with Jack. Now you are being noticed by others. Slowly and gradually, you are now getting the attention of more students in school. You are no longer invisible.
The same holds true for guest blogging. If your site is visible on popular websites, then you will be noticed, and chances are people will visit your site and the traffic to your site will eventually increase. So go out and find some guest blogging opportunities!
Why Should You Consider Guest Blogging?
Guest blogging is definitely the thing of the decade, where one can collaborate with others to connect to more audiences who visit their websites. Let's check out some more reasons to guest blog.
Guest blogging is an excellent way to promote your blog and earn a high-quality backlink from another popular and well-established blog. As already mentioned, it is similar to hanging out with popular people to seek some attention for yourself.
Firstly, you get to promote your content and your site to absolutely new readers who would have otherwise been oblivious to you.
Furthermore, getting a high-quality backlink boosts your site's SEO, making it rank higher on search engines. This implies there are chances more people will visit the site and the traffic will increase. An increase in traffic to your website will further enhance the SEO value and it will be more visible to the audience at large. And the cycle continues. This is how guest blogging SEO works.
Not convinced yet? This guide to guest blogging contains some of the top benefits that you should know about.
Top 10 Benefits of Guest Posting
1. Expands brand awareness
If you are a new business in need of exposure or an old business looking to tap into a newer market, guest blogging opportunities can help you attract fresh sets of eyes to your blog or website. For example, if your company makes watches and you contribute a guest post to a popular fashion blog with backlinks to your site, you are guaranteed to earn new customers for your business.
Moreover, guest blogging opportunities also build trust in your brand.
2. Reach out to a target audience
Consider you have a dating and relationship blog that targets millennials between the ages of 25 and 40. In this case, you are looking for an age-specific target audience. The right guest blogging opportunities and collaborations with blogs that cater to only millennials in that age group, and preferably in a similar segment, can help you reach your target audience without wasting resources on mass campaigns.
3. Build a strong backlink portfolio
Did you know that a single backlink from a popular and authoritative blog can boost your SEO ranking instantly? This is why most people are eager to contribute to popular blogs for zero monetary compensation; they allow the guest author to leave a backlink to their site. This helps build a strong backlink portfolio for your site, which helps your SEO ranking and improves your visibility. A major advantage of guest blogging opportunities!
Just imagine that at least 100 people visit that popular website per day. When they come across your guest post and the backlinks over there, they will be tempted to click on the backlink of your website and suddenly search engines will start to recognize your site. Your website will get recommendations and will be visible to more people in that particular age group or having similar interests. The popularity of your website will grow exponentially.
4. Strengthen your online cred
As a blogger, the websites you have contributed to are the first thing readers look for when exploring your blog. It is an instant way to gauge your reputation and online authority. This is why having guest posts on popular and well-known blogs could improve your online street credibility and boost your online authority.
Seems like someone is getting famous by writing guest blogs for popular websites. That fame will eventually build your contacts and definitely promote your brand.
5. Drive traffic to specific pages on your site
Let's say there's a particular page on your site which is not receiving enough traffic, and you want your new readers to visit that page specifically. The quickest and most convenient way to achieve that is to backlink to that page on your guest post so that the new readers you will get from the guest post are automatically directed to that specific page instead of your landing page.
Isn't that how it works? Let's say you are admiring a saree in an online shop and suddenly many other similar products or other accessories pop up there. The "frequently bought together" and "you may also like this" tags will lure you to look at other products as well.
The same principle applies here. Just put links for the page that you want to be visited on the guest blog. The traffic will be directed to that particular page.
6. Take your product to the audience instead of waiting for them
You are doing everything right – social media campaigns, promotion, quality content, and more. However, sometimes it so happens that people cannot find your brand despite you ticking off all the content marketing boxes. When you indulge in guest blogging opportunities on other sites, you are directly showcasing your brand on a platform that has steady traffic and is, therefore, likely to generate qualified leads.
This is similar to the trend of promoting some movies or events through some reality shows. The viewers of the Kapil Sharma show will get to know about a movie when Bollywood stars come to the show. Farah Khan can help a fundraiser by promoting it on the sets of KBC to save a toddler's life. Similarly, you can take your product to the audience that visits other popular websites.
7. Receive feedback on your content
Despite the several content writing courses you have taken, do you still feel you are missing the mark? As a blogger, an effective way to hone your writing skills is to get feedback on your posts. When you guest post, you have to conduct thorough research and tailor your content to the website you are contributing to. It's an excellent practice of making your writing more agile and adaptive, and you can receive valuable feedback from the community.
8. Improve your content marketing skills
Contrary to popular belief, guest posting is much more than writing a single piece of content. You have to carry out influencer research, network in the community, adapt your tonality to suit the target audience, fire up your socials, etc. In the process of doing all that, you are constantly improving your content marketing skills, which will prove beneficial to you in the long run.
9. Grow your network
Sometimes in the blogging business, it is not about what you know but who you know. Having a strong network of people who can help advance your brand awareness is an asset, and guest blogging opportunities allow you to build this network and form new connections. These connections you forge in the community can be leveraged on several occasions to your advantage and are an important incentive to guest blog.
10. Increase your social media following
One of the biggest perks of guest blogging opportunities is the ability to draw a larger audience to your socials. Most guest contributors link their social media handles to the blog post, making it easier for the audience to find and follow you if they liked your post. This boosts your social media reach, and that could contribute to greater traffic to your site.
The #1 thing you should have clarity on before guest posting is: Why do you need it?
Before you begin your research and influencer outreach or even start formulating your guest posting strategy, you must have clarity on this one crucial thing:
What Do You Hope to Achieve from Guest Blogging Opportunities?
How to find guest blogging opportunities? Your guest blogging SEO strategy will be dictated by your goals and what you are hoping to get out of them. So you need to list your goals and expectations from this activity before you proceed.
Need to get more traffic on your site? Alright, then look for a blog that has an international audience base and a steady stream of traffic every month.
Need to target a specific audience? Consider which blogs cater to the target audience you want to reach out to, and filter your search accordingly.
Need more backlinks to your site? Create a list of pages you want backlinks to and accordingly keep your anchor text prepared for convenient guest posting.
Criteria for Picking a Website for Guest Posting
Now that you are ready to begin guest posting, it is important to pick the right blog for your guest post so that you can make the most of it.
Here are a few factors to consider if you are wondering how to find guest blogging opportunities and when picking the right blog for yourself. Here's how you can find guest blogging opportunities:
1. Topical relevance
Are you a food blogger reaching out to a tech blog for a guest blogging opportunity? While you might receive more traffic to your site, most of the leads won't be relevant. To present your content in front of the right audience who can be converted, you should pick a website with a similar niche for your guest post. So, for example, you could reach out to a lifestyle blog and author a guest post for their F&B section.
2. Traffic
Posting on a blog that receives hardly one to two thousand readers every month will not benefit you at all. When you are picking a blog to contribute to, make sure that it receives a steady stream of traffic every month, which is much higher than yours. How to find guest blogging opportunities 101? Look for a website where the traffic is on the rise since it indicates that the website will keep growing and become more authoritative in its domain.
3. Author bio
If you are looking to build your brand, then you must have the opportunity to put in a small author bio with your guest post. Some websites do not have this feature, which essentially means that you can only add backlinks to your site and nothing more. For those looking to boost their online authority, it is recommended that you opt for websites that let you write a few lines about yourself and link your socials.
4. Domain authority
The higher the website's domain authority, the more benefits you will receive for contributing to that site. If you go to Moz, you will find their system of ranking domain authority on a scale of 1-100. Try to aim for websites with a domain authority of more than 45-50.
How to Find Guest Blogging Opportunities
Research more options. Finding a legitimate blog to contribute to can be daunting; here are a few hacks that you can use to look for quality blogs that accept guest posts.
Google Search Operator, advanced search string: Use an advanced search string of keywords on Google to find relevant guest blogging opportunities for yourself. Below is an example of what such a string would look like.
Twitter: Are there any bloggers that you diligently follow on Twitter and whose websites would be ideal for your guest post? Tweet @ them and try to network on the social media platform. Don't be disheartened if you do not get an immediate green light. Keep growing your network and ask them to direct you to any leads they might have in mind.
Check where your competitors are guest posting: Like most other things in content marketing, guest posting also requires a certain degree of competitor research. Find out where your competitors are guest posting, and try to reach out to those sites to contribute.
How to Get Started and How to Write a Guest Post
Now that you are all set to get started, here's a short and effective checklist for you to follow that can help you navigate the entire guest posting process.
Step 1: Write the guest post
Start by writing your guest post and have it ready to pitch to the prospective blogger. Ensure that the topic you have picked is unique and has not already been published on your target blog. Focus on the finer details like tonality and style, which can make or break your proposal. Remember to optimize it for SEO and attach high-quality images with your content.
Step 2: Contact the blog owner
Now that you have the blog ready to go, it is time to reach out to the blog owner. You can usually find their contact details on the site. Do not hesitate to shoot them an email. Your mail body must contain the following.
Who are you, and what is your brand?
Why do you want to contribute to that particular blogger's website?
How can your guest post add value to the audience?
Attach your sample post with the mail for their review and feedback.
Step 3: Capture traffic after your guest post
Once your guest post is up, you are expected to notice an increase in your traffic. This is the period when you need to make sure that you pull out the big guns and ensure maximum audience retention.
It is recommended that you pin your most well-performing posts to the top of your site so that it is the first thing that new audiences can view when they visit your blog.
Step 4: Promote your guest post
The pillar of great content marketing is the right promotion of your content. You could have written the best blog post in the history of blogging, but it won't amount to anything if it isn't promoted well.
Leverage your social media to announce to your followers that you have guest-authored a post on a popular website.
Additionally, you can also ask the blogger whose site you have contributed to promoting your content on his/her social media pages and tag you to the posts.
Step 5: Respond to comments
The key to a loyal audience base is engagement. It is not enough to simply write a post and publish it on another blog. For maximum engagement, you should reply to comments, encourage discussions on forums and keep the engagement going in the community.
The more active you are, the better your outcomes will be in terms of exposure and increasing traffic.
How Many Times Should You Guest Post?
There isn't a standard answer for this. You can write a single guest post a month or publish a new guest post every other week. It completely depends on your content marketing strategy and what your goals are.
If you want to keep driving up your traffic, you should aim to guest post more regularly. If your goal is to improve your brand's authority, you should only target the most reputed blogs and take your time to publish, maybe one high-quality content piece each month.
You should also be mindful of your capacity and bandwidth. Do not neglect your own blog while trying to secure as many guest post deals as you can. Neglecting your own blog can only hurt your brand and may affect your current audience base.
Conclusion
Guest blogging opportunities are an excellent way to boost your business and increase your brand awareness.
Compared to other means of boosting your blog that require monetary investment, guest posting is low to a no-cost way of boosting your brand organically.
You should also avoid putting all your eggs in one basket and instead try to find a variety of websites you pick for your guest posts.
This will help you avoid saturation and make sure that your content reaches fresh sets of eyes each month.
So get started on researching the ideal website for your brand, and start building your network from the ground up.
Key Takeaways
Guest blogging opportunities are an excellent way to promote your blog.
A single backlink from a popular and authoritative blog can boost your SEO ranking.
If you are looking to build your brand, put forth an author bio.
Guest posting on a blog that has low traffic won't benefit you.
An effective way to hone your writing skills is to get feedback on your posts.
FAQs
1. 1. How are guest blogging opportunities beneficial to my website?
Posting about your products and services through blogs and stories on some other platform or websites increases the audience and enhances traffic to your website. Guest blogging opportunities are basically, an inexpensive way of taking your products to the masses.
People will be lured to visit your website that will increase the popularity of your brand as well as your site.

2. How do I choose a website for guest blogging?
Wondering how to find guest blogging opportunities? The rule of thumb is to go for a website that is obviously getting more traffic than yours. The niche could be the same and that can actually make people visit your site when they are already on the other.
If you are dealing with fashion jewelry, then post your content on websites that deal in fashion, clothing, accessories, etc.

3. How often should one guest blog?
There is no set rule. You need to optimize guest blogging according to the responses you are getting through guest blogging. However, being regular with schedules will make people wait for your posts regularly. The more you post, the better is your chance of reaching out to people.
4. Can I guest blog on multiple websites?
Yes. Guest blogging opportunities through multiple websites will ensure a sustained audience and will attract more people.
5. What are the four most common types of blogs?
The four most common types of blogs are business, personal, affiliate, and niche blogs.