Content
The Ultimate Guide To An Effective Guest Blogging Strategy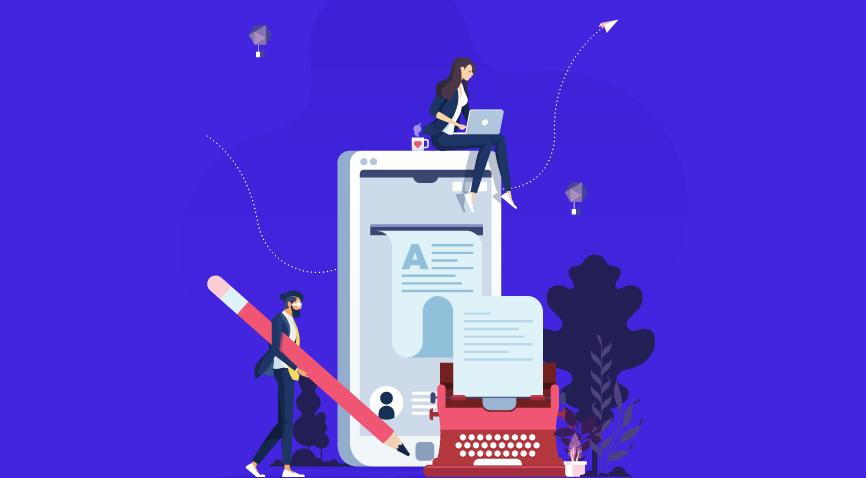 Table of Contents
What Makes Guest Blogging So Popular?
5-pointer strategy for guest blogging
Key takeaways
Conclusion
FAQs
Guest blogging is an essential component of any successful Search Engine Optimization (SEO) strategy. It amplifies exposure, builds your credibility, and helps people discover your expertise. We are not referring to the sketchy guest blogging where affiliate links are predominant in the copy. Instead, we are referring to a serious guest posting strategy that makes you respect the publisher in your specific niche. Moreover, if these blogs have a good pedigree, they're likely to get more exposure through Google searches and ultimately boost your reputation. A great feature of guest blogging strategy is that you can expand your online presence and authority by using the power and reach of a far larger forum with more credibility than yours.
For, e.g., if your website currently receives ten visitors a month, you can guest post on a blog that receives 100,000 monthly visitors as well. This allows you an immediate opportunity to raise brand visibility and improve the domain authority.
With guest blogging becoming increasingly popular, we bring to you a step-by-step ultimate guide to guest posting along with guest blogging tips that will ensure you meet your goal both on the quality and quantity front.
From all blogging strategies, nothing beats effective guest blogging. You can target a specific demographic by posting on a site that is frequented by them. It could be an effective blogging strategy to position yourself as a thought leader in your domain. People are hungry for quality content. If you want to break the pattern of your website, but cannot figure out what to talk about, try a guest blogging strategy. It is mostly an inexpensive way of drawing traffic.
What Makes Guest Blogging So Popular?
1. Promotes sharing content on social media
One way to massively expand your online presence is to generate social network shares. Your advertised content would become more share-worthy in the minds of the viewers when it receives more shares. The biggest benefit of a guest blogging strategy is that it generates significant organic traffic, channeling the combined power of two well-established networks.
If you are contributing a guest post to a blog with high social media engagement, your content will be quickly shared after it has been uploaded.
An effective guest blogging tip is to use highly shareable material in your guest post. For example, according to SocialMediaToday, infographics will help you generate three times more social media attention than any other material. How you pack and present the guest blog also matters to readers who come across the content through social media platforms.
2. Expands your social media presence
Effective guest blogging not only increases the number of people who re-share your post on social media, but it can also increase your follower count and speed up your lead generation efforts.
You're effectively asking them to vouch for your products by posting on an authoritative blog. In the minds of their fans, this makes your guest blogs look terrific.
These advantages of a guest blogging strategy will make it easy for you to pique your target group and convert them into engaged social media followers. Remember to thank them by including timely feedback and exchanging knowledge that is relevant to their needs.
3. Boosts your online reputation
Digital marketing today is all about legitimacy. Despite having the best content globally, if your audience doesn't value your brand, it would be challenging to turn them into loyal viewers or paying customers.
When you establish your reputation as a knowledge source by posting on other authoritative blogs with a guest posting strategy, it proves to your target customers that you are someone whom well-known brands trust. Consequently, they will be more open to every value argument you present on your website. Hence, we have consolidated this ultimate guide to guest posting to help you establish an effective guest blogging practice. It is important to have a good reputation online, which validates your voice.
4. Increases backlinks
Most guest-posting strategies center on inviting bloggers to leave at least one entry on their website. Overall, the majority of them do not compensate you financially for their efforts. The very least they should do to acknowledge your efforts is to have a brief brand reference or a keyword-optimized connection.
Even a single backlink from a reputable blog will help you improve on the SEO front significantly. Backlinks help search engines like Google find and index the material more easily. A good guest blogging tip to create relevancy is to aim for websites in your niche as frequently as possible. If you have an effective guest blogging strategy in place, like posting thrice a month on reputable websites, it would shoot your online presence to new heights.
5. Cuts the sales cycle in half
The distribution funnel has often been an obstacle for content marketers. You will be able to quickly increase your target audience's experience with your brand by sharing content via common blogs through guest blogging. As a result, the sales time for your goods and services is shortened.
Consider it in this way, rather than waiting for new leads to find your blog, you should use an effective guest blogging strategy to introduce your brand's value propositions.
Basically, you need to be strategic with your subject selection while pitching for guest blogs.
5-pointer Guest Blogging Strategy
Step 1: Locate appropriate blogs and publications
According to Siteefy, there are almost 2 billion websites on the internet. Obviously, not all of these publications are appropriate for you. An effective guest posting strategy is to seek and filter blogs that agree with your guest blogging objectives.
Make a list of blogs and websites that are in the same industry as your business. These could be photography blogs if you offer cameras, for example. You can also make a directory of blogs and websites that aren't necessarily related to your specialty but are reputable. You can also guest post on related forums. Let's look at two methods of shortlisting blogs for an effective guest blogging strategy:
Method 1: Searching for guest blogging opportunities on Google: It's easy to locate blogs that accept guest blogs using Google. You can create a collection of words that denote guest blogging and then use them in conjunction with your niche. It should contain phrases like: write for us, submit guest post, guest blogging guidelines, guest blogging, guest posting, submit articles, and so on.
Method 2: Identify guest blogging opportunities with Ahrefs: Ahrefs indexes and analyzes millions of pages constantly. Hundreds of thousands of high-quality blogs and publications can be found on these sites that aggressively seek guest writers to add to their blog sections.
Step 2: Examine publications for content match
Once you've assembled a list of publications where you can guest blog, the next move in your guest posting strategy is to review them to make sure the material is appropriate.
In a nutshell, before pitching to a publication, you can do the following to ensure material fit:
Scrutinize the publication to see what kind of material the editors prefer: Try to answer certain questions like what are the different types of materials that the editors would prefer? Are they looking for 'how to' blogs? Are they looking for 'ultimate guides' like this ultimate guide to guest posting, or material with a large number of screenshots? Answers to these questions will help you select the format you need to use to publish your material.
Pay close attention to a publication's preferred topic: It is always possible to guarantee that the material relates to the company's theme. It is often unlikely, particularly with extensive publications. It's essential that the writing adheres to the publication's guidelines.
Heed the types of material written by other guest bloggers: Examine the types of guest posts that other guest bloggers have published; because they have been vetted and can indicate what would happen if you write one. The most important thing to note in this ultimate guide to guest posting is experimentation. Like any other type of blogging strategy, guest blogging strategy would also need some time to generate leads. Keep writing and guest blogging!
Step 3: Write convincing pitches that editors will like
You want to make sure that every word you use in your pitch means something. A good tip for an effective guest blogging strategy is to write precise and clear pitches as they are the most effective.
Editors are usually overworked. They want to go on to the next pitch in the queue of potentially 100 pitches they get every day as quickly as possible, so devoting resources to a lengthy pitch is a waste of time. Pay attention to the following tips:
Make sure the subject line is correct
Consider keeping the message concise and crisp
Include a summary of your article's subject
Step 4: Submit follow-ups that increases the chances of being published
The next step in your guest posting strategy is to follow up with the publication. A successful follow-up will transform a dead lead into a new chance to have your guest post published if handled correctly. It's a chance to rekindle a friendship with the lead while still pursuing the objectives.
Here are a few tips to keep in mind during follow-ups on a guest blog:
When you've missed the first chance to get their focus, timing is everything. Make sure your follow-up emails do not get lost in the shuffle like the first one.
Incorporate a sense of urgency through the follow-up correspondence.
The biggest question that arises when nailing an effective guest posting strategy is the time frequency one should maintain before following up. The general opinion is that a follow-up should be sent in the next seven days. Try not to follow up during holidays, as you are more likely to be ghosted.
Step 5: Spread the word
If your post is accepted, you'll want to make sure it succeeds. Any blog owner would definitely welcome guest posts from you again if your article receives good traffic, shares on social media, and positive feedback. Moreover, you can use the post as a reference while pitching in the future. Put all your efforts into that guest blog and get going.
Key Takeaways
Establish a set of goals that you want to achieve through guest blogging.
Identify the key areas you want to be benefited with the process.
Evaluate if you have been able to yield its results.
Stick to your guest blogging strategy.
Increase in social media presence should be among primary goals.
Conclusion
While guest blogging has been a part of blogging for a long time, in recent times, there has been a spike in guest bloggers and related opportunities, almost making it a trend. This means it is the right time to apply these tried and tested formulas to optimize an effective guest posting strategy for maximum results. By following each step effectively, you are sure to see positive responses. Always remember, even if it doesn't show a great forward leap initially, quality content is sure to yield results in the greater run. And trust the process as you take every step. Now, it's your turn to achieve your business goals through guest blogging. Follow these guest blogging tips and get started!
FAQs
1. How do you attract guest bloggers?
Guest bloggers often wish to write on your website based on your popularity and audience reach. Making your site appealing with quality content and a great social media presence is the first step towards attracting guest bloggers. Secondly, to maintain an effective guest blogging strategy, figure out your expectations of the structure of the guest blog. It is important to explain the guidelines and publish the same on your site for references of people wishing to submit guest posts. This will help you to attract quality people who understand your vision. And thirdly, you need to communicate that you welcome guest posts. You can use multiple social media platforms for the same. Spreading the word would help you attract guest bloggers at the earliest.
2. What is the first step in defining a guest blogging strategy?
If you can answer 'What is your goal from a guest post?' then your first step towards an effective guest blogging strategy is materialized. Once you have a clear goal on what you expect from this blog, you can proceed to the next step. For instance, your goal could be increased engagement or free backlinks; whatever it is, being able to define it is the initial step to a successful guest blogging plan. A guest blogging tip to remember is you may get innumerable guest posts on the submission page. Your success in this area also lies in choosing the right post for your website.

3. How do you write a good guest blog post?
The first step to nail an effective guest blogging strategy is to determine the length, topics, and guidelines one would follow while writing the blog. Similar ideas are what often connects us to people. So, writing the guest blog by keeping in mind the audience and the essence of the site will ensure you are on the right track. An effective guest blogging strategy could be to make it a memorable one by sharing a thought-provoking idea.
4. How to do guest blogging effectively?
An effective blog posting strategy will stem from a strong connecting point with your readers. The audience is used to reading a particular type of content on the website. So, when guest blogging, it is important to not differ in opinion but rather align with the thoughts. But if you have contrasting ideas, then present them with examples and open a new set of thought points for them. Above all, ask yourself, what is that you aim to derive by writing this post. The answer to this will ensure your guest post is effective.

5. How do you structure a guest blog?
To begin with, at the center of an effective guest posting strategy is the connection factor with the audience. You could write on a topic that the audience can relate to the most. This will assure a win-win situation. Carve a unique headline and weave a story that will remain with the readers long after they have read it. And lastly, believe in the process. Even if it doesn't yield results quickly, remember that good content never goes to waste.

6. Is guest blogging good for SEO?
Getting backlinks on reputable websites plays a big factor in how search engines rank your blog. With time, these links will appear in the search engine ranking. This is why if you have an effective guest blogging strategy in place, it is great for SEO and a great way to drive traffic to your blog.