Marketing
Expert SEO Tips by Digital Marketing Experts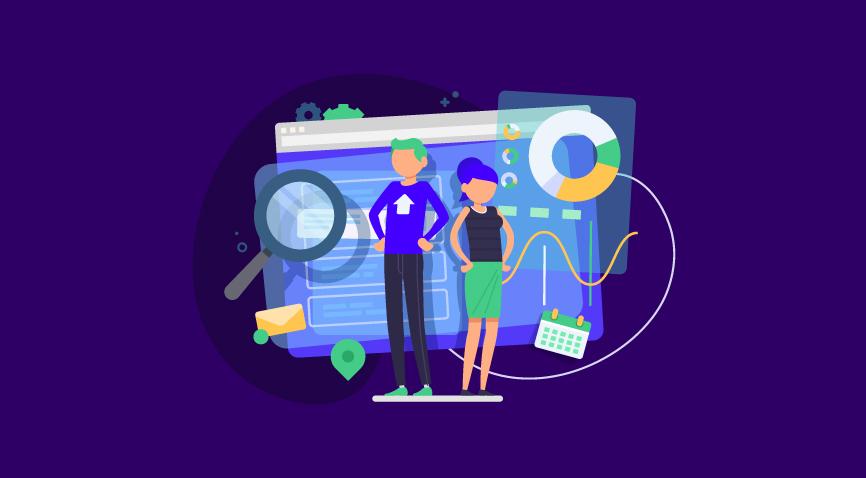 Table of Contents
Defining SEO
Pillars of SEO
How SEO Works
20 Expert SEO Tips
Key Takeaways
Conclusion
FAQs
SEO has become an integral part of the digitally active world. In this wide competition, it is necessary to learn SEO tips from experts to gain maximum traffic on your site.
SEO is an abbreviation that stands for search engine optimization. What makes SEO unique from paid advertising is that SEO involves 'organic' ranking, which means you do not have to pay a penny to be in that position. SEO enhances a piece of online material to rank near the top of a search engine's page when someone searches for a relevant word.
It's about helping your consumers discover your company among thousands of others. SEO is primarily concentrated on a comprehensive approach to attracting people to your business using online channels. And to do so, the website needs to rank on the first page of the SERP (search engine result page).
Pillars of SEO
Learning how to get your brand, website, or organization found by searchers is an elementary skill for a digital marketer, and understanding how SEO is revamping will keep you on top of your game. While SEO changes in tricky ways regularly, its foundations remain constant. We can divide SEO into three main factors or pillars that you should be aware of and use on a regular basis.
On-page optimization refers to the process of assuring that your website's content is relevant and provides a positive user experience. It entails using a content management system to target the apt keywords inside your material. WordPress, Wix, Drupal, Joomla, Magento, Shopify, and Expression Engine are all examples of content management systems.
Off-page optimization: Your rankings are impacted by some off-page SEO factors in addition to on-page SEO. Links from other websites, social media attention, and other marketing actions outside of your website are all examples of these elements. The quantum and quality of connections pointing towards your site are the most pivotal of these off-runner variables. The more relevant and high-quality sites that connect to your website, the refined your Google ranking.
Technical optimization is the procedure of completing tasks on your site that are not linked to content but are aimed at increasing SEO. It frequently occurs behind the scenes.
How SEO Works?
The software that crawls the content or web pages is called a search engine. So, unlike human beings, search engines rely on text. Crawling, scanning, and indexing courses of action, measuring relevance, and regaining are all actions that lead to search results. The difference with an excellence count is that you calculate design components rather than individual acts. For instance, the following are some of the factors that are known to contribute to a quality score:
Website names and URLs
Page content and data
Meta tags and descriptions
Link characteristics
Usability and accessibility
Page design and development
Search engine algorithms are computer programs that look for hints to provide searchers with the exact results they need. Crawling, the spotting stage; indexing, the filing stage; and ranking, the retrieval stage; are the three stages of how search engines work.
Crawling: Search engines send web crawlers to find new pages and gather data about them.
Indexing: When a search engine determines whether or not to use the content it has crawled, it is called indexing.
Ranking: Search engines utilize over 200 ranking signals to categorize and rank material, all of which come under technical optimization, on-page optimization, and off-page optimization.
20 Expert SEO Tips
In the growing world of digital marketing, it is critical for businesses and future digital marketers to be aware of and follow those individuals who have achieved success in the digital marketing field. Here are some expert SEO tips.
1. Recognize that SEO isn't solely about rankings
"If I could only recommend one tip, then it would be to make sure you understand how SEO fits into the bigger picture of your marketing strategy." – Phil Frost, Founder & COO of Main Street ROI
2. Optimize your content for people, not search engines
"Optimize your content for your customers and not for the search engines. What do I mean by that? It's so easy to find some high-volume keywords around your product and turn them into blog posts. I get it – everybody needs more visits." – Omi Sido, SEO Manager of Canon Europe
3. Move away from vanity metrics; understand how your site is actually performing
"My one tip would be always be auditing. Auditing is essential for SEO success. Understand how your site is actually performing away from vanity metrics." – Danny Denhard, Founder of Denhard Media
4. Have highly linkable content
"My one main SEO tip would be to make sure that amongst all the specific, actionable content you're creating, you have a few pieces of content deliberately written to be highly linkable." – Sujan Patel, Co-founder of WebProfits
5. Create a strong foundation for your website with data and keyword
"I'd recommend that you build your website's information architecture, URL structure and plan the way content is organized on the domain, on a solid foundation of keyword research and detailed analysis of your search data." – Trond Lyngbo, Founder at Search Planet
6. Create the best website for your topic on the Internet
"The best tip is the hardest to follow: make the best page on the Internet for your topic. Google famously has 2000+ Mathematics PhDs on staff. I assume they are smarter than me. And I want them on my team." – Andy Crestodina, Co-Founder and Strategic Director of Orbit Media
7. Put time and effort into developing a link-earning strategy
"Link building is not dead; it just has a new name – link earning. Invest the time and effort into developing and executing a link earning strategy for your business." – Caleb McElveen, Director of SEO of Reservations
8. Empower the content more
"Invest more in content. This is, without a doubt, the thing that people underinvest in the most, yet, doing so almost always brings great yields, both in terms of conversion and SEO." – Eric Enge, CEO of Stone Temple
9. Conduct an in-Depth SEO SWOT analysis
"My best SEO tip is to do an SEO SWOT analysis. What are your SEO strengths? What are your SEO weaknesses? What are your SEO opportunities? What are your SEO threats?" – Marcus Miller, Manager Director of Bowler Hat
10. Examine longer strategies over tactics and measure each step of the way
"Is it possible that a single implementation could make a big difference? Yes. Is it likely? Not really. If you're investing in SEO, you're accepting a long game." – Bill Sebald, Owner of Greenlane Search Marketing.
11. Create a mobile-friendly site
"There are many things you can do to your website to improve SEO, but I would say right now that you should focus on making sure your site is mobile-friendly."- Andy Drinkwater, SEO Consultant of IQ SEO.
12. Focus on content quality
"The single biggest tip I can give SEOs for 2017 is focusing on content quality. Over the last year, I have extensively been running experiments on how much the swing of search results has moved to the quality of the content."- Rishi Lakhani, SEO Consultant of Fast Fwd Multimedia.
13. Sharpen your technical SEO skills as much as possible
"If I had to give one SEO tip, it would be to hone your technical SEO skills as much as possible." – Dan Leibson, VP Local & Product at Local SEO Guide
14. Don't misjudge the power of creative technical SEO
"Don't underestimate the power of creative technical SEO. Now by technical SEO, I'm not talking about fixing 404 errors or ensuring your JavaScript website is crawlable (although that's important)." – Paul Shapiro, Director of Strategy & Innovation of CatalystSEM
15. Do not underestimate how necessary 'branding' is to SEO
"There's no point being number 1 for 'Taxi' if your customer types in 'Uber.'" – Dixon Jones, Marketing Director at Majestic.
16. Spend the time and money to get your website's current SEO evaluated
"My one SEO tip would be to spend the time and money to have your site analyzed in terms of its existing SEO. So many times people aren't willing to spend the money to have a professional dig in and figure out a good plan of action." – Julie Joyce, Owner of Link Fish Media.
17. When it comes to link acquisition, you must look for reliability
"My main tip would be around links, specifically link metrics. When it comes to link acquisition, you need to be looking for trust, and you can only do this through a manual review." – Tim Grice, CEO of Branded3
18. When everyone else is zigging, it's a strategic opportunity to zag
"The links in press releases are no-follow, so there is no 'link juice' in them. But, they can still drive visitors to a page with more information – if it's relevant and important. We used unique tracking links in four press releases for Southwest Airlines to generate $2.5 million in ticket sales." – Greg Jarboe, President & Co-founder of SEO-PR.
19. Operate your SEO tests across varied search categories
"Don't believe everything you read and watch on the Internet about SEO. Most of the best SEOs I know don't even have a Twitter account. Run your SEO tests across different search categories."- Carl Hendy, Ecommerce Consultant of carlhendy.com
20. Recognize what your target market might be looking for
"Make sure you understand what your targeted audience might be looking for when they might search for a site that you are optimizing." – Bill Slawski, President, and Founder of SEO by the Sea.
Key Takeaways
Your primary industry and its audience should be the number one consideration behind any achievable SEO strategy.
Nothing is more vital to an SEO campaign than valid reporting.
The method of search engine spiders finding your site is known as crawling. Crawling and indexing are two different things. These two behaviors are not mutually exclusive, even though they are related.
Mobile-friendliness is a huge tip to consider, especially in today's digital age.
Content is one of the de facto standards by which SEO professionals obtain links to help improve rankings and drive traffic to a website. It's just another example of how, if done incorrectly, content can become the torment of a website's (or author's) existence.
Conclusion
Nothing beats tips from experts when it comes to managing your own content marketing activities. All the above quotes will inspire you to move forward with your SEO activities with more confidence.
FAQs
1. What are SEO keywords?
A keyword is a single word or phrase entered into a search engine to locate a product, service, or piece of information.
2. What is SEO, and why does it matter?
Search engine optimization, or SEO, is the process of improving a website's search engine ranking. Google, Bing, and DuckDuckGo are some of the most popular search engines. SEO is something you should start doing to improve the number of visitors who find your website through search engines.
3. What are the three types of SEO?
On-page SEO refers to anything that appears on your website's pages, such as blogs, product copy, and web copy.
Off-page SEO refers to everything that ensues outside your website that aids your SEO strategy, such as backlinks.
Technical SEO entails doing anything technical to improve search rankings, such as site indexing to aid bot crawling.
4. What are the 7 steps of SEO?
1. Choose a great domain name
2. Find the right keywords
3. Craft your content
4. Optimize your code
5. Take time for the technical setup
6. Earn links
7. Make a post-launch checklist
5. What are the top SEO tools?
– Ahrefs
– Google Search Console
– SEMRush
– Moz Pro
– Answer The Public