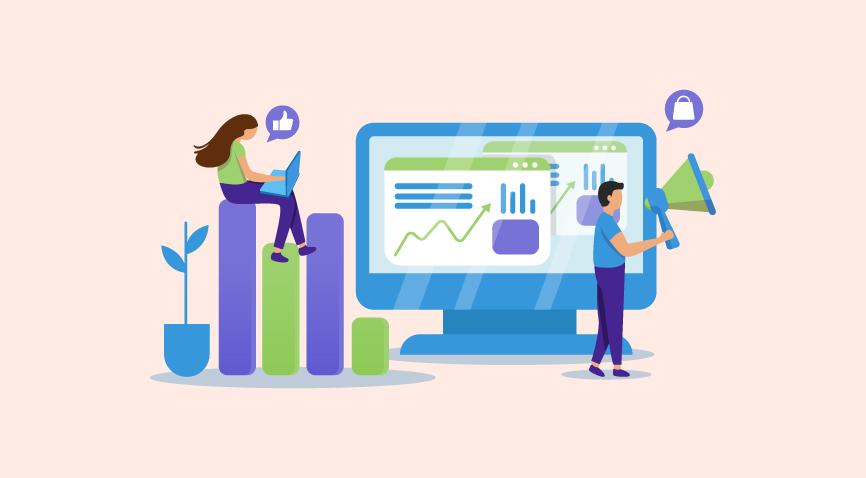 Table of Contents
10 Digital Marketing Hacks
Selecting the appropriate digital platform
Content is the king
Analyze your target audience
Be visible
Use social media influencers
Use data to find customer behavior analysis
Emphasize conversion rate rather than leads
Keep your website updated
Video marketing
Make customers aware of offers
The era of the digital world is here. Every business must depend on digital media and the internet to sustain itself. Today, digital marketing is one of the most sought-after marketing techniques of the 21st century. However, mastering it is not as easy as it sounds. In this article, we will see ten amazing digital marketing hacks that will skyrocket your business's growth.
10 Top Digital Marketing Hacks
Selecting the appropriate digital platform
In the 21st century, smartphones have become a necessity, and our lives are dependent on them. According to a study by Statista, smartphone users worldwide have surpassed the 6 billion mark, which is more than 80% of the world population. This growth of smartphone users has revolutionized not only the way we shop but also the way marketing is done. Digital space is now the next big thing for both, and hence, businesses must adapt to the changing technology to market and sell their products.
But at the same time, the internet is a vast space, and consumers now have less and less time per consumable content. Thus, businesses must find the right digital platform for their product. The key points to keep in mind for selecting the right platform are:
Target customers are widely using the platform
Traffic on the platform is increasing or is steady
The product is suitable for that platform
Content is king
In this fast-moving world, consumers don't have much time at their disposal. When customers are searching for a product online, they want the information about the product delivered to them most quickly and simply.
Similarly, the content marketing on the chosen digital platform must be such that the potential customer can easily grasp the usefulness of it and also at the same time get convinced to buy. This can be done when the content is short, crisp, appealing to the eyes, and easily understandable. So do make sure that your content is indeed the king.
Analyze your customers
As mentioned above, there are more than 6 billion smartphone users today, and there are probably as many internet users as well. Naturally, not all of them will search for the same product/service on the internet.
Every business has its particular target audience. For example, a sports company that manufactures tennis goods will obviously have people who play tennis as their potential customers. Thus, it will be viable for that company to market its goods on a platform frequently visited by tennis players or people who enjoy the sport.
So every business must first find its targeted customers and then market to that particular demographic on a platform frequently visited by them. This gives the business a better chance to sell their products than just randomly marketing on the internet without any filtering of the potential customers.
This digital marketing tip and trick will be not only economically viable but also more efficient.
Be visible
The internet is a vast space with an uncountable number of websites and platforms. This, coupled with the fact that the potential customer will probably not spend more than a few seconds searching for a product, makes it extremely important for businesses to be visible among the top few sites on the search engine. This can be achieved by Search Engine Optimization (SEO).
SEO is nothing but efforts taken by a brand to ensure that their website is amongst the top sites visible whenever a potential customer types in the keywords related to your product, in particular search engine query.
Again, let's take an example of the sports company manufacturing tennis goods. Suppose that company opts for SEO and a user searches for tennis rackets on the search engine. In that case, that company's website will appear in the top searches, and the consumer will likely visit it, making the chances of a sale much higher. Hence, it is crucial to optimize your site for ranking on a search engine. This is a crucial digital marketing growth hack.
Use social media influencers
Social media is another most popular digital platform today. Instagram, Facebook, Twitter, Snapchat, WhatsApp, etc., have billions of users. According to a study by Datareportal, currently, there are 4.55 billion social media users around the world, which is approximately 58% of the global population. These platforms can be judiciously used by businesses to market their products.
A social media marketing strategy can target social media influencers to promote a brand. Influencers are those people/celebrities who already have thousands of followers and sometimes even millions. If a business targets these influencers to market their product, the product's visibility increases in a very short time. Influencers usually charge certain fees to do the job; nevertheless, social media marketing through influencers is quick, economical, and vastly increases the reach of one's products.
Use data to analyze customer behavior
This is a very important step in digital marketing. This step is to analyze how our potential customers behave, which sites they prefer, which products similar to ours they prefer, and their feedback on our own products/services.
The first step for this is to obtain a potential customer database. This can be done by analyzing the users who visit our website or the websites of our rivals. Then analyze the kind of products most of them buy or search for and the feedback received by users. Also, analyze the percentage of conversion of leads to customers. Various database companies can provide the above analysis to you. This analysis is very crucial as we now know what the customer wants and how we can improve our own digital marketing. It also showcases our drawbacks and the improvements we need to make. Hence, a smart investment in a data analysis proves to be fruitful, provided the business uses this behavior analysis.
Focus on conversion rather than leads
A lead is defined as a potential customer who has shown interest in our product by either visiting our website or by searching for our product on the search engine. Naturally, the larger number of leads one business has, the more reach it has gained. But just having a lead isn't enough. A business must also focus on converting these leads into customers.
Handling leads is precarious because the customer is not convinced about your product as yet. This communication with the lead must be carefully structured to convince the customer. It's preferable to have direct communication with a lead rather than through emails or SMS as it gives a personal touch, and there is a much higher chance for lead conversion. Hence, the overall focus is on converting the lead to customers rather than just increasing the number of leads. This is an important digital marketing growth hack.
Keep your website updated
This step might not seem so important, but it is essential. A business's website is the company's face in the digital world. Thus, it has to be updated with all the latest updates of your business so that you don't lose any customers.
Again, let's take the sports company example. If the sports company introduced three more tennis rackets and these rackets are not updated on the website, many potential customers who might like the new racket could not buy it as they were not available on the website. Hence, the company loses many customers.
Also, when you frequently update a website, it stays free of bugs, and crashes, thereby making a strong impression on the customer. Another advantage of this is that the customer perceives that since the website is well-maintained with all the latest products and offers, the company is more genuine and trustworthy. Thus, a business must ensure that its website is frequently updated.
Almost 69% of people say that they want to learn about a new product or service by watching a short video, say the latest statistics on video content marketing. Videos have the power to keep people on your website for a longer time and also engage them with your content. Videos will keep your market interested, no matter your product or service.
Make customers aware of the offers
It is natural for businesses to give offers and discounts from time to time. And it is equally crucial that customers know these offers exist. One cannot expect customers always to visit the website when offers are released. Hence, it is the responsibility of the business to make the customers aware, and this can be done through e-mail marketing or SMSes.
Key Takeaways
Since most of the world is connected to the internet nowadays, digital marketing has the potential to skyrocket your business growth in no time.
To make a successful digital marketing campaign, a business must select the right digital platform, for example, whether to market on social media or through its own website on search engines. For this, it's important to analyze your potential customer pool, their internet behavior pattern, and which platform will yield you maximum benefits based on their internal usage behavior.
Visibility is key for digital marketing, and to achieve that, businesses have to use SEO.
Use data analysis to improve the reach of business and have a better understanding of the customer's behavior.
Use social media and social media influencers to pump up sales.
Keep your website updated so that it runs smoothly and without any lags or bugs.
FAQs
1. How can I crack digital marketing?
To crack digital marketing, it is crucial first to understand your target customer base, identify the digital platform your customer base uses the most, make an appealing yet strong presence on that platform and use various strategies like SEO, data analysis, video marketing, etc. to improve your success.
2. Is digital marketing the future?
More than six billion people, approximately 90% of the global population, have access to smartphones, and about 4.5 billion people use various social media platforms. This number will only continue to rise. This vast pool of users allows businesses to market to a bulk of people anywhere on the planet. Hence, digital marketing is indeed the future of marketing.
3. Is digital marketing worth it in 2022?
The vast number of smartphone and social media users gives businesses a huge advantage to market anywhere in the world to limitless customers. Also, due to the COVID-19 pandemic, the world is now even more dependent on technology. Hence, investing in digital marketing growth hacks is worthwhile in 2022 and the future.
4. What will be trending in the 2022 digital marketing world?
As the world is recovering from a gruesome pandemic and our lives are even more dependent on technology and smartphones, virtually everything will be trending in the digital marketing world in 2021. Video marketing is trending quite a lot in the digital marketing space since it is more engaging and easy for consumers to understand. It also surpasses conventional marketing reach.
5. How do I hack my business growth?
Any business requires marketing, and marketing is an art. One way to enhance your business growth is via digital marketing. It uses the latest technology to market your product to a wide variety of people all across the globe in a cost-effective manner. Digital marketing is nothing but identifying your potential customers, reaching out to them through digital means, and sending your message regarding the business effectively.
6. How do you do marketing in 2022?
In 2022, marketing will be all about using technology to your advantage. The pandemic has forced us to be closer to technology, and this technology gives us the platform to enable digital marketing, which will enhance our growth.