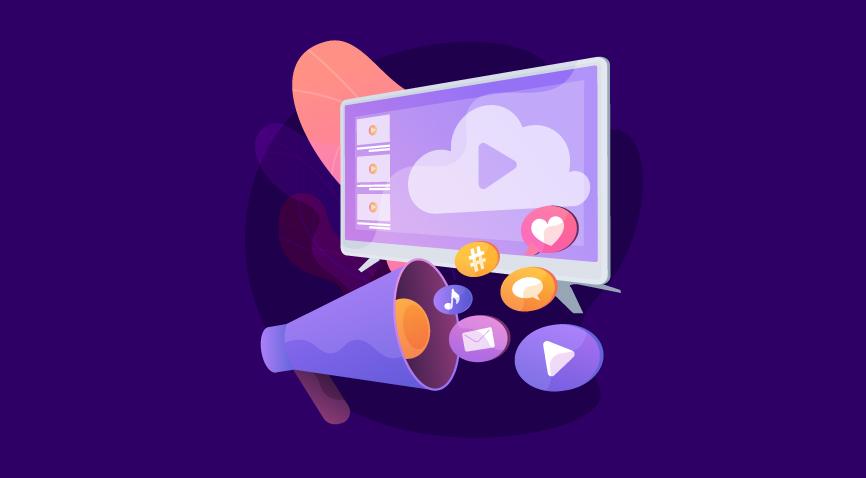 Table Of Contents
Introduction
What is Digital Marketing?
Things You Need Before Your Digital Marketing Campaign
12 Best Digital Marketing Examples
Conclusion
Key Takeaways
FAQs
Digital marketing is an effective way to achieve meaningful outcomes in a business. The number of digital marketers is only increasing with time, and the marketing sphere has become more competitive than ever. As for February 2020, Statista reported a 13% increase in digital marketing budget compared to August 2019 (11.8%) in their study.
To be successful, it is crucial to understand how digital marketing works. Marketing professionals are often challenged to develop innovative and new ways to reach out to their audience. In this article, we will take you through some effective digital marketing examples that will inspire you and help you build a strong reach.
If you want to attract more customers to your business, you must know how to use digital marketing optimally and increase traffic, grow brand awareness, and engage with your audience. Digital marketing involves multiple opportunities to nurture one's audience through various digital channels and creative approaches.
But, before moving on to some great digital marketing examples, it is crucial to know what digital marketing is.
What is Digital Marketing?
Digital marketing is the promotion or marketing of your products and services using digital channels. Does that mean it is any form of marketing that exists online? The answer is both yes and no.
Digital marketing includes all of your online marketing activities. However, it also encompasses some offline activities. A company is sending you promotional emails or an ad on YouTube or the pop-up that you see while browsing a website are all digital marketing strategy examples.
Digital marketing has changed the way a business operates, particularly since the pandemic. Its benefits are innumerable, but you need to follow some rules before starting a digital marketing journey.
Things You Need Before Starting Your Digital Marketing Campaign
Digital marketing is presenting your products and services to consumers or other businesses by building a digital marketing strategy that perfectly outlines your goals and charts out steps to achieve those goals. However, to build a good strategy, here are a few things you can do:
1. Know your audience
Your digital marketing strategy should be built around your business's buyer persona. A consumer persona is a prototype of the kind of people who are most likely to buy your products or services as an ideal solution to their needs. Eventually, the point is to find out their likes, dislikes, and the digital marketing channel they are most likely to be found on.
2. Use trial-and-error method
You need to be careful while communicating with your customers directly. Try experimenting with various methods but always know where to draw the line. For instance, never send too many emails or messages to them directly on social media sites. As new technologies emerge in terms of data collections, don't be afraid to push your marketing effort limit.
3. Keep track of data
No campaign is good enough until you work out the success and failure markers. To understand your target customers, you have to do more than just find out how they like shopping. You need to learn about their best shopping experience and know what causes them to lose interest. Check out all types of insights before, after, and during a digital marketing campaign.
12 Best Digital Marketing Examples
Now that you know how to formulate your digital marketing strategy let's take a look at the best digital marketing strategy examples we could find.
1. Apple #ShotoniPhone
This is an organic social media marketing example. The primary goal of a social media campaign is to grow a brand by increasing loyalty, awareness, and ultimately, sales.
In the case of Apple's #ShotoniPhone campaign, the objective was to create a viral campaign to boast the unmatched quality and clarity of the new camera of Apple's iPhone 6.
The campaign saw 75 iPhone 6 users from 25 countries submitting 77 entries. Apple's marketing team had asked users from across the globe to share their best shots from their iPhone 6 using the hashtag #ShotoniPhone.
As soon as the campaign went live, it also went viral. The organization tapped on this opportunity by choosing images from various social demographics and age groups and displaying them on 10,000 billboards worldwide.
No doubt, the campaign had a significant marketing impact, with 6.5 billion media impressions received from across the world. Not only did it increase brand awareness, but it also improved customer engagement. The campaign eventually led to the sale of 231 million iPhones. This was 62 million more phone units than the previous campaign.
This is a great example of how a brand combined digital marketing with conventional marketing methods, leveraging one for the other.
2. Wells Fargo's The Way Ahead
Financial services company Wells Fargo capitalized on the power of virtual meetings as soon as the pandemic struct and work from home became a norm worldwide. They made a commercial with their client Zoom wherein CFO Kelly Steckelberg, in a video interview, describes how they made adjustments to the IT strategy to keep up with the influx of Zoom users after the lockdown in the USA due to the pandemic.
They won the award for Best Branded Content from Digiday for successfully telling a branded story while achieving their marketing goals. While Wells Fargo wasn't the focus of the commercial, they did an excellent job of addressing an issue and representing themselves as the ones who helped solve the problem.
3. Monster India Google Search Campaign
The objective of this campaign was to expand Monster India's resume database and existing applicants. The company's SEO team decided to use structured data to enhance its database. The marketing team inserted structured data into their job posting, making it eligible to appear in the Google search results as a special user experience.
Jobs on Google search offered an increase of 94% in organic traffic on their job details page. This also led to a 10% increase in job applications. Through this campaign, the users were able to find jobs that catered to their requirements. The same type of campaign was duplicated by Monster Singapore, Monster Malaysia, Monster Philippines, and others.
Monster also saw an increase in organic web traffic, proving that structured data plays a significant role in search results.
4. Nike Air VaporMax + What's Inside That
The primary objective of Nike's Air VaporMax campaign was to create awareness around the launch of their new product, Nike Air VaporMax. Nike is a brand that always collaborates with influencers and celebrities from across the world. In 2017, it collaborated with the YouTube Channel 'What's Inside That's featuring Dan and Lincoln, a duo that slices up things to check what's inside. So, they also sliced up a pair of Nike Air VaporMax to find out what's inside.
The video was highly successful and garnered a view of 3.6 million. Not only did it create awareness about the newly-launched product, but it also generated engagement and sales.
With influencer marketing, brands can create buzz and build trust among customers.
5. American Express' Guest Content
Many companies talk about developing communities online and the benefits of online conversations. Nevertheless, there are only a few that can create a community of value. American Express doesn't belong to the group of 'All Talk and No Game'. It puts its money at the right place and leverages the value offered by the industry experts on its 'Open Forum'.
The company has introduced Open Forum as a collaborative site that welcomes guest writers from different industries to share their knowledge about business. The outcome is a mega site with rich content that is preferred by search engines.
It is a digital marketing example that proves that you don't always have to be the content creator for your brand. Look for industry leaders producing great content and request them to write a few articles on your blog. If the content is valuable, it will help increase your traffic.
6. My Protein's Global Brand Ambassador
Affiliate marketing is another effective form of digital marketing. In this, a company pays third parties or affiliates for their brand. Whenever traffic is generated, or traffic is made, the affiliate is given a commission. This drives the third-party publisher to promote the company. My Protein took advantage of this form of digital marketing wherein their campaign aimed to drive sales and create awareness.
My Protein collaborated with many lifestyle and fitness influencers to promote their brand on their pages. It came up with coupon codes, hashtags, and unique social media content for the affiliate to market My Protein on their page.
The influencers served as word-of-mouth marketers, and the campaign helped in driving sales. The brand had a 35% increase in its average sales and traffic through this digital marketing tactic. They also received 100 new customers from every affiliate.
7. Red Bull Stratos
In 2012, Red Bull used guerilla marketing to reach out to more audiences. In this marketing strategy, a brand uses unconventional marketing methods to create an element of surprise. Red Bull sponsored the world's highest skydiving event by Felix Baumgartner, who jumped from space and landed gracefully on his feet in New Mexico. The event was promoted across various social media platforms and was declared one of the best digital marketing examples using guerilla tactics.
The publicity and hype that this generated were stunning. Millions of people from across the world checked out the live video. On YouTube, the video had received 46.4 million views.
8. Slack's Top-Notch Customer Experience
Slack software enables different teams in an organization to share files and communicate more efficiently on one single platform. It became quite popular in 2014 when its user base escalated from 15,000 to 500,000 uses in less than a year. At present, Slack has more than 5,000,000 users.
The secret behind their success is providing a top-notch customer experience. It responds to 8,000 help desk tickets and more than 10,000 tweets every month. Their Twitter feed has many 140-character Slack tips.
Since the first day, Slack has been only about selling a solution to a problem their target users are facing. They don't focus on selling the product but on providing a high-quality customer experience. The brand strongly believes that a positive experience can do what big marketing budgets cannot.
If you read their tagline, you will notice that they are on a mission to make work-life more pleasant and simpler. So, they are all about solving the pain points.
9. Superdrug's Perception of Perfection
To raise awareness regarding the problem of body image, Superdrug launched a social awareness campaign. It used a content marketing strategy to promote its brand.
As a part of the Perception of Perfection campaign, Superdrug sent out a woman's photo to 18 graphic designers from different countries. These designers were asked to photoshop the woman to make her look beautiful. The outcomes from different countries were different. In some countries, the designers made the woman's skin look lighter, while in others, she was made to look darker. It was clear that the photos were edited as per the accepted beauty standards of different countries.
The Perception of Perfection campaign soon became viral. It was discussed by leading news media like Huffington Post, CNN, and Buzzfeed. The campaign received amazing responses with over 7,000,000 organic page views and 1,000,000 reposts. In 16 months, the brand saw a 238% increase in organic traffic.
10. Airbnb
The vacation rental company has changed how people travel and search for accommodations in an unknown place. With more than 100 million users worldwide, Airbnb's total valuation was $31 billion in 2017.
Their marketing strategy aims to get hosts and travelers on a common platform. They have opted for a digital marketing strategy that primarily depends on user-generated videos and images on Instagram, Facebook, and Twitter. Airbnb campaigns are sometimes humorous, with attractive images of various locations across the world. This makes it more than a simple service. It is a travel forum, too.
Airbnb tops the list as social media superstars. In a 2015 Instagram campaign, the company saw 13.3 million interactions. It also increased its total followers by 341%.
11. Uber Referral Program
One of the most effective forms of marketing is word-of-mouth, where the company incentivizes its existing customers to introduce their family, friends, and peers to the product and service they are offering.
The primary aim of the campaign was to grow Uber's presence in India. So, it came up with a referral program for riders as well as drivers. In this, the drivers served as the company's salespeople and drew in some good drivers. It's crucial as Uber depends on its drivers. The driver referral incentive varied ₹ 2000-5000 based on the city.
When it came to the incentive for the rider, they could earn a free ride or up to ₹600. Uber made sure that the user interface was easy to use.
The campaign's outcome was a 400% growth of the company through its referral program in India. Referral programs are excellent tactics to incentivize your user base to serve as the salesperson for your brand.
12. Yelp
In the present times, it might seem quite obvious, but the idea of combining online reviews and social networking was a hit for Yelp founders in 2014. Back in the time, reviews sites weren't unheard of. However, the company approached it from a social angle. Presently, Yelp has more than 160 million monthly visitors and more than 2.8 million claimed businesses.
They cashed in on the element of people trusting people. The real people are the reviewers. So, they are sharing actual photos and names. This helps them develop a reputation and increase their fan following. It is quite similar to what Airbnb did in the later years. Yelp also encouraged reviewers to review others' reviews.
Conclusion
It shows that brands should keep focusing on building a trustworthy community. Yelp aimed to offer the best recommendations for all types of businesses. They required businesses to buy into the program. They required businesses to buy into the program. Also, they made sure that users believed what they read.
One of the primary mistakes that companies tend to make with their online marketing strategies is posting self-promotional materials. Surely, no one likes following a company that cannot stop boasting about itself and doesn't post anything of real value.
It shows that it is important to balance self-promotional tactics with information that followers find useful.
Key Takeaways
Word-of-mouth plays a significant role in digital marketing
Displaying user stories and reviews is invaluable for your digital marketing campaigns
Highlight your commitment to your target audience
It is important to assure your target audience that your product or service will add value to their life.
Design your campaign to reach certain points in their purchasing journey
FAQs
1.

What is direct digital marketing?
Direct marketing comprises a personalized message for building a good relationship between the brands and customers. Some direct digital marketing campaign examples are newsletters, emails, ads, and promotional merchandise. 
2.

Which is the best digital marketing?
There are different types of digital marketing methods, but the most effective ones are content marketing, SEO, SEM, social media marketing, email marketing, and pay-per-click marketing. 
3. Is digital marketing worth it?
Digital marketing is worth investing in, especially in 2021. In fact, with most people having access to the internet, there has been a massive growth in digital marketing budgets. 
4. Why is digital marketing effective?
Digital marketing helps reach a wider audience with the least amount of effort and money. It also provides a more direct channel of communication with the target customers, which helps build better relations with them and eventually leads to an increase in conversions. Digital marketing is also a great way to retain existing customers. 
5. Is digital marketing cost-effective?
Digital marketing is cost-effective because it lets you evaluate the results. By measuring the campaign's ROI, you can re-work your strategies and build a more robust campaign considering the best digital marketing examples.
6. What is inbound marketing?
Inbound marketing is when you drive prospects to your business or page rather than outrightly marketing your brand. You can promote the brand through webinars, blog posts, and other techniques.  .