Marketing
31 Online and Offline Digital Marketing Conferences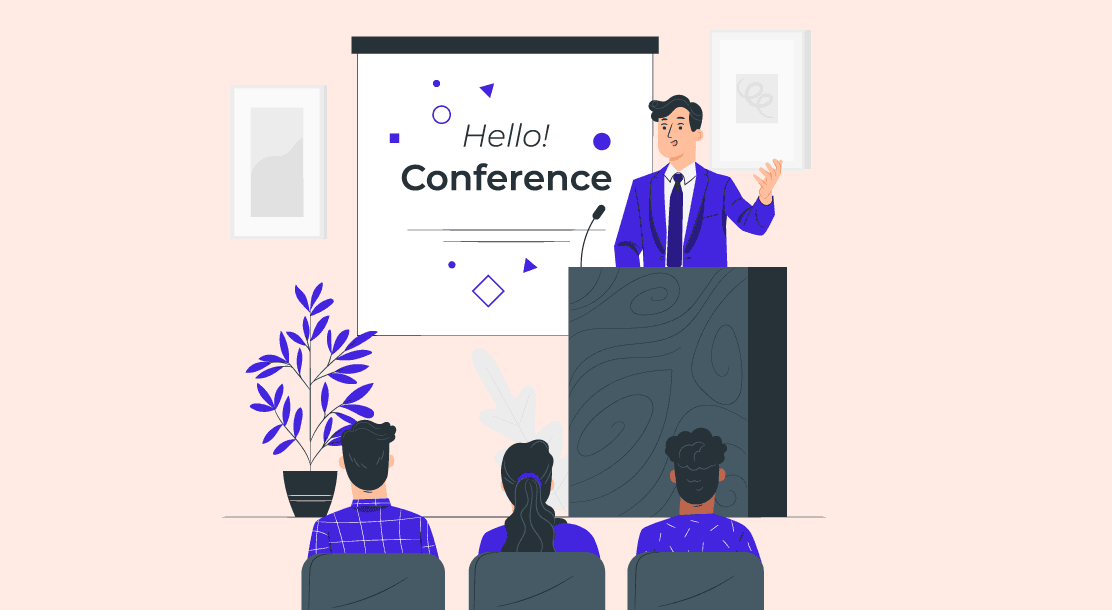 Table of Contents
The Role of Digital Marketing
31 Digital Marketing Conferences in 2022
Key Takeaways
Conclusion
FAQs
Events such as conferences, summits, and expos are important in any industry. Not only do these events bring you up and close with industry players, but they also keep you updated with information about the latest trends, technologies, and developments.
Digital or online marketing is a method to promote a business using the Internet. Essentially, it connects brands with potential customers using digital media. These marketing efforts via the Internet and other forms of digital communication are often termed digital marketing. This includes email, social media, web-based advertising, and text and multimedia messages as marketing channels.
Digital marketing events are scheduled opportunities to bring exhibitors and marketer communities on a common platform to match their needs. The events help businesses achieve the ultimate branding and business development goals. Many agencies, big players, and sponsors organize such events annually on a global scale.
The Role of Digital Marketing
Digital marketing has changed how businesses craft and achieve their marketing goals. The digital revolution and easy accessibility to the online world have driven companies to up their marketing game in the virtual space. The best digital marketing companies in the world are doing this with the utmost efficiency, panache, and power.
Befitting digital marketing strategies that adeptly target potential audiences and convert them into loyal customers are letting businesses widen their reach and boost their sales.
31 Digital Marketing Conferences in 2022
Marketers are more important than ever! Digital marketing is changing fast. The last few years have seen the fastest change and the most extensive growth in digital marketing.
One of the best ways to stay ahead of the ever-changing marketing industry is to attend conferences. Learn from thoughtful leaders in successful brands, discover new tools, and get to know your colleagues.
The following 31 top digital marketing conferences and events will be held in 2022.
1. AdWeek Outlook 2022
Date: January 11, 2022
Type: Virtual
Adweek introduces you to industry leaders, forecasters, top marketing, media, and tech executives. These meetings will help the audience explore the benefits of emerging platforms, tools, and monetization strategies that promise growth and monetization in a world of rapid digital transformation.
Date: February 15, 2022
The World Digital Marketing Congress is designed to identify and share the exceptional work done by the marketers to take their brands into the digital age. The event will recognize and reward leaders for their pioneering work on online wealth creation among their peers.
With the recent developments in the global economy, digital marketing, e-payments and smart money are the future. The event will be a tribute to those who believe in the power of digital.
Date: February 23-24, 2022
Type: Online
Learn from a mix of senior-level, cross-industry marketers who will share proven social media strategies they use to grow their brand. Find out how you can be successful as a marketer in different fields. Develop an arsenal of tools, resources, and connections to make your company a social media marketing transformation champion.
Date: March 7-9, 2022
Category: Advertising
This 2.5-day, invite-only conference leads champion thinking across the media industry. It is designed to provide a shared learning experience that builds ideas, opportunities and strong relationships. It will include leading media practitioners from some of the top brands in the country, 700 meetings, with more than 15 keynotes coming together at the forefront.
Date: March 15-17, 2022
Category: Digital
The best experts in the field of retail eCommerce define the theme of the 2022 edition conference. Together, they aim to continue to define breeding grounds for market growth and eCommerce retail for the next 10 years.
6. ContentTECH Summit San Diego, CA
Date: March 22-24, 2022
Category: Content
The motto of this summit is to provide enterprise marketers with an opportunity to learn how new technologies and innovative processes fundamentally change our operations and will continue to do so over the next two to five years. Effective use of content and technology will help us navigate and bring stability to a confused and unpredictable marketing world.
Date: March 30-31, 2022
Category: Digital
The 2-day Marketers Program is full of global and local expertise. This event also includes the Digital Marketing Europe 2022 Conference – a hybrid 2-day experience with inspirational sessions and keynotes, networking opportunities, and more! Also, we will be offering hands-on workshops throughout the week. This is an opportunity for global experts at any level to participate, network, and advance their careers!
Date: April 6-8, 2022
Category: Digital
The conference covers various issues related to marketing automation, AI, web marketing, ad-tech, and video advertising. Visit Web-Moe Spring to conduct face-to-face business with authorized professional exhibitors in the fields of marketing, public relations, advertising, sales planning, and sales promotion. You will learn more about website management, brand management, public relations/advertising, information systems, marketing, and planning/promotion.
Date: April 21-22, 2022
Type: Online (Live and on-demand)
This is a digital marketing event you can't miss! Whether your goal is to strengthen customer loyalty, improve lead generation, increase sales, or build strong customer engagement, the DigiMarCon At Home 2022 agenda will help attendees increase their marketing efforts. Sessions will focus on building traffic, raising brand awareness, improving customer service, and gaining insights into today's latest digital tools.
Date: April 22, 2022
Category: Digital
Witness the excellent speaker line-up at a high professional level. The conference encourages listeners to engage with speakers even beyond their speaking slots. The relationship is more like a team meeting than a general conference.
Date: Apil 27-28, 2022
Category: Digital
Enhance your marketing knowledge by learning the latest marketing strategies from today's leading professionals. Considered one of Forbes' best digital marketing conferences, the event aims to provide learning, value, communication, and inclusiveness. Expert sessions cover the latest topics in marketing, including data, digital, social media, creative, e-commerce, innovation, academic, tech, content marketing, branding strategy, entrepreneurship, and more. This is a hybrid program with individual, live streaming, and on-demand sessions. So you can learn the latest in marketing in the format you like best.
Date: April 27–29, 2022
Category: Content
The program will focus on strategies, resources, and best practices in content marketing that strengthen customer relationships and achieve measurable results. Some of the high-level areas that the conference will cover include content policy development, measurement, social and digital promotion, content partnerships, content-driven content, and creativity. This conference is for senior-level content and general marketers who want to learn beyond the basics of content marketing.
Date: April 27-28, 2022
Category: MarTech
An engaging agenda awaits you here, filled with case studies, panel discussions, and more. This modern metropolis is the perfect backdrop as we have gathered over 500 attendees to discuss the latest MarTech topics and network with each other.
14. Confab: The Content Strategy Conference Minneapolis, MN
Date: May 9-12, 2022
Category: Content
This event is ideal for people who care about making content more useful and usable for everyone. Whether you lead, design, build, or manage digital content, the Confab event is a great match. From UX to accessibility, from design to content ops, Confab brings content policy to life like any other program.
Date: May 12-13, 2022
Category: Digital
This is Canada's premier digital marketing, media, and advertising conference and exhibition. The 2-day conference invites you in person or online to witness and share the best practices, latest trends, practical solutions, strategies, and networking of digital marketing. You can also see the next generation of technology and innovation – Internet, mobile, AdTech, MarTech, and SaaS technology. Highlights include top keynotes, case studies, strategy sessions, networking, and more.
Date: May 17-19, 2022
Category: Digital
This event offers SEO/SEM strategies. Industry experts will share their latest successes and strategies on how you can stay ahead of your competition and add potential networking opportunities to your future credits.
Date: May 23-24, 2022
Category: Digital
This event allows you to discover how to thrive and succeed as a marketer in a rapidly evolving digital world. Many keynotes, case studies, strategy sessions, and networking can help you increase your marketing credentials. Top innovators and business leaders will share innovative ideas and thought-provoking presentations designed to help you transform your organization, your business, and yourself.
Date: June 14-16, 2022
Category: Digital
The event opens up a platform to connect with the right stakeholders and demonstrate how to make businesses more competitive in the digital age. You get the right opportunity to share your technology solutions with key C-level executives. You can use innovative strategies to help SMEs and corporations transform digitally as well.
Date: June 15, 2022
Category: Digital
This is the largest conference in Europe for digital growth and optimization. The program brings together like-minded optimizers from around the world to enter the digital business. Find agile approaches to measure data-driven, customer-oriented and sustainable quantities.
Date: June 23-24, 2022
Category: Digital
This virtual event will explore the latest trends and strategies in digital technology-driven marketing. If you are a technically inclined marketer, this is the perfect opportunity for you to excel in your roadmap. Focus areas include digital marketing technology, virtual reality, artificial intelligence, effective marketing, UX, CX, eCommerce, content marketing, data, analysis, and mobile.
Date: July 14-15, 2022
Category: Digital
The event is set to showcase the best digital marketing practices, the latest trends, practical solutions, strategies and networking, and the next generation of technologies beyond the Internet and mobile. Check out many reliable keynotes, practical debates, case studies, strategy sessions, and like-minded networking.
Date: July 18-20, 2022
Mode: Hybrid
The event features resourceful and best-in-class content and a curated marketing knowledge center with best practices, case studies, and research. Many topics add bonuses, including tips for personalization, channel optimization, effective marketing, social listening, and developing responsive and engaging content from digital marketing leaders.
Date: July 20-21, 2022
Category: Martech
This annual event welcomes more than 2,000 senior professionals to Australia's largest media and marketing conference. Get ideas, insights, and inspiration to get to the top of your marketing strategy for the following year.
Date: August 3-5, 2022
Category: Martech
The event aims to explore the next frontier in digital marketing transformation. It will definitely help vendors at all levels understand AI, guide their teams, get executive support, and give priority to pilots. MAICON programming is designed for non-technical professionals, with no requirement for a background in analysis, data science, or programming.
Date: August 23-24, 2022
Category: Social
This is Australia's most intelligent digital marketing program, focusing on current and future trends in social media and digital marketing. You can get the skills, tools, and smarts you need to stay ahead of the pack. In the SOS '22 experience, marketers find a way to become the most valuable player by getting maximum points with minimum effort.
Date: September 13-16, 2022
Category: Content
This is a great opportunity to learn from the best in the content marketing industry. Gain the knowledge you need to bring content and content marketing strategy back to your team. Experience sharing, community engagement, partnership building. Custom track topics and session levels that are of interest to attendees. Networking time and fun events are planned so you can connect with attendees before, during, and after the event.
27. DMEXCO Cologne, Germany
Date: September 21-22, 2022
Category: Digital
The Digital Marketing Exhibition and Conference (DMEXCO) is a meeting place for key digital business, marketing, and innovation players. Developing technology-based topics such as security and user privacy and how to tailor your marketing to iOS 15, Apple focuses on an overview of the changes it makes to its users to gain more control over their privacy and how it affects you as a marketer.
Date: September 21-22, 2022
Mode: Live & Virtual
This is a 3-day digital marketing summit of actionable, proven, strategic content from experts. Panel experts and keynote speakers offer advice on how to turn your business into a juggernaut.
Date: October 4-6, 2022
Category: Digital
If you're wondering what's new in 2022, this 3-day conference, business, and networking event is a reference meeting for digital marketing players. Innovations and trends will be shared through rich experience feedback or informal exchanges.
Date: October 26-28, 2022
Category: Digital
This is Japan's autumn B2B IT trade show featuring various solutions related to marketing automation, AI, web marketing, Adtech, and video advertising. It is targeted at marketing, public relations, advertising, sales planning, and sales promotion professionals.
Date: November 12-14, 2022
Category: Digital
Europe's No. 1 online entrepreneurship council gives you everything you need to know to take your business to the next level (whether you're just starting out or already well established!)! Learn everything from creating high-value online content to establishing your business and brand to all the marketing strategies you need to reach your ideal customers.
Key Takeaways
Learn a successful social media strategy to position your brand for success.
Help generate leads, pipeline value, and new opportunities in the market.
Conferences and events increase Foot Traffic and prospective Sales.
Discover ways to thrive and succeed as a marketer in a rapidly evolving digital world.
Get insights, learn best practices, read case studies, and under the latest trends from leaders in marketing and advertising.
Conclusion
Digital marketing events let you reach a wider audience, scale your business further, and generate more revenue. Setting up a business online, running ad campaigns, developing content strategies are a few tasks a digital marketing expert does to provide such results.
FAQs
1. Why does your business need SEO?
Organic search is a big part of most businesses' website performance and a key component of the buyer funnel. SEO improves organic search and ultimately enables users to convert into customers or engage with brands.
2. What is digital marketing, and why is it important?
Digital marketing is important as it connects a business to its customers online and is effective across all industries. This can be done via SEO and PPC on Google, with social media marketing on social media, and via email with email marketing.
3. Why do we need digital marketing conferences?
Participating in digital marketing conferences can expand your personal network, leading to new business, career, or personal growth opportunities. Not surprisingly, conference sessions are one of the biggest game-changers in the business.
4. Why is digital marketing the future?
There is now more market and consumer awareness in the business world. Businesses can also use a wide range of smart tools to collect an ocean of data and analyze their target audience in-depth. This is an entirely new way to reach the audience.
5. Why is digital marketing the key to success for your business?
One of the reasons digital marketing is taking off is the convenience of interacting with customers. Online marketing is a two-way street. You can communicate with your customers quickly. This is something that you as a business owner need to take advantage of.