Marketing
Curated Vs. Created content: What's the best Content Marketing Strategy?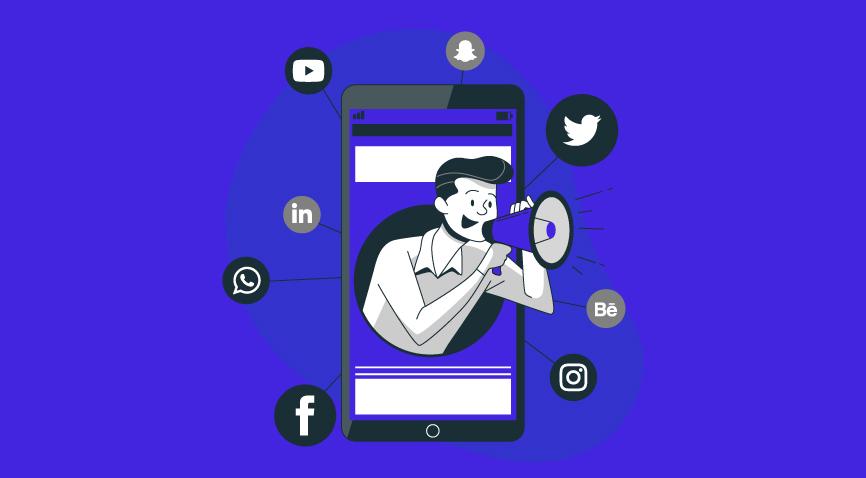 Table of Contents
Introduction
What is curated content?
Benefits of content curation
What does curated content mean for social media?
What is content creation?
Benefits of content creation
Choosing between curated vs created content
Key Takeaways
FAQs
With the advent of technology and the internet, traditional marketing is long passé and it's imperative for marketers to have a robust marketing mix with a large portion dedicated to social media.
The focus of social media is to generate content, content that becomes the face of your brand in the digital space and eventually attracts customers. It is important to channel and use it in the best way possible.
The content marketing space relies on the two pillars, the curated and created content. Out of the two, which method of content generation is best suitable is still debatable as both have been helpful in gaining engagement.
Let's analyze further on the debate, i.e., curated vs created content
What is Curated Content?
Curated content is about gathering interesting and relevant content pieces like blog posts, social media posts, eBooks, and sharing with the brand's followers. Curating is not only limited to collecting useful and meaningful pieces together, it also involves categorizing, organizing, sorting, and locating the best pieces to bring value to the content. It may sound easy, but curated content requires strategy and planning.
Benefits of Content Curation
It fills in the blank spots
An organized brand or an individual creator always charts out a well-planned calendar to be followed every month. But for either of them, it is challenging to create content daily to ensure their continuous visibility. This is where content curation helps in bridging the gap. It adds relevant content pieces to your calendar and gives you some conversation pointers.
A well-curated content helps you in strengthening your position as a thought leader where you get the power to influence people and to make better judgments. With curated content across categories, your role as a change enabler increase and you become a voice that can be trusted and followed. For example, if you talk about ocean pollution by curating information, you become a voice of authority and your audience may look up to you. Sharing articles, blogs, or content that have not been shared often and still holds a lot of merits. Also never share biased views about religion or major public sentiment. It may hamper your reputation as a creator.
It gains trust of your audience
Your content needs to be directed towards people who are interested in consuming your content. Using various insight tools, you need to determine what level and what kind of information will make a difference in their life. You are not just sharing information; you are sharing knowledge and that's how you will be able to gain trust from them. Keep your content simple and easy to understand. Jargons, difficult vocabulary are a no-go zone.
It gives voice to your opinions
Without your opinion or point of view the curated content is just gathered data. The conclusion or a key takeaway matters as much as the information. The audience would always look for your perspective on the topic so make sure to add your personal touch which will make the content even more meaningful. You can add little anecdotes and experiences to make the reader feel connected. It adds a little warmth to the entire communication.
What Does Curated Content Mean for Social Media?
Sharing content from external sources via social media can be an incredible method for driving commitment among your audience, while likewise encouraging generosity with industry counterparts. The genuine key to progress lies in what you share, how you share, and when you share it. When you carefully cater to these three parameters, nonetheless, you can anticipate that your brand awareness should improve, commitment to engagement and individuals to begin sharing your own content considerably more as often as possible.
Curation gives you the advantage to mix relevant information from different platforms and bind it together to create a meaningful content piece.
However, it's a tough one between content creation vs content curation, so to understand better, let's know more about the latter.
What is Content Creation?
Content is anything that adds value to the reader's life." ~ Avinash Kaushik, Entrepreneur, Author, and Public Speaker.
Content creation is about creating original content in the form of videos, blogs, e-books, podcasts or even whitepapers. It is based heavily on insights, market and content trends, your brand's life stage cycle and the product you are promoting. Creating content takes a lot of time, effort and can prove to be highly expensive occasionally. Having said that, created content has its own benefits which are elucidated here:
Benefits of Content Creation
Brand building
Created content reaffirms the personality of the brand e.g., quirky, witty, fun. The content needs to be then created according to the brand personality. For example, Zomato has created this entire personality of being witty and fun through its content on social media. Whether it is to promote a product or to create topical content, Zomato's brand personality shines through. A well-planned calendar would help in planning the activities in advance.
Expansion and awareness
Content creation for brand expansion and awareness may seem a far fetched idea but it is highly essential for any business. No brand can grow if people do not know about the existence of the brand. The best way to reach out to more people is to craft content and share it on blogs, social media, newsletters, email marketing. Do not bombard the audience with content. Scheduling is the key.
Bringing traffic
With original content creation, you are educating your customers about your products and offerings. Good content acts as a guide to drive sales and bring more traffic by persuading them to try your products by signing up on mail or going to your landing pages. The content should reach the right audience so quality customers get inducted in the fold.
Customer retention
Imagine a scenario where a customer really likes your products, and they like you on Facebook or follow your blogs. Regular content updates keep your brand in their top of the mind recall and they also get aware of any offers. This way you are likely to create a purchase pattern and develop customer loyalty in the long run. Consistency pays back!
Choosing between Curated vs Created Content
A lot depends on the brand and the audience you are catering to. The debate for and against curated vs created content could go on and on and yet brands must keep each of their pros and cons in mind and apply a healthy mix of both the content forms. While content creation involves creating fresh blogs, writeups, videos on the basis of your understanding of the audience and requires you to heavily brainstorm unique and genuine ideas; content curation doesn't expect anybody to make new matters. Content curation is the demonstration of gathering subject related information from different sources that suit your business' motivations and sharing it through your own site or other social media channels. Content curation requires some work, yet many think that it is less scary than making your own copy.
Key Takeaways
There is no 'perfect blend' for each business. You want to experiment with various combinations of content creation and content curation to find the mix that turns out best for you.
Many organizations track down progress by utilizing a mix of around 40% shared content and 60 percent unique content.
Creating unique copies gives you the opportunity to add marked pictures, logos, and, all the more critically, source of inspiration buttons.
Sharing created content with your crowd shows them that you are prepared to impart significant and important data to them.
Using content curation in the beginning phases of your journey as an influence will allow you an opportunity to comprehend your audience.
You can utilize content curation to fill in the gaps in your social media strategy \on days when you don't have enough options.
FAQs
1. Is it better to share or create content?
Most organizations choose to take on the 40-60 mix of content curation and content creation which has universally proven to be effective.
2. What is the difference between content curation and content creation?
Created content is unique that is composed or created by your organization and lives on your site, blog, YouTube channel, forever. Then again, curated content is content from outer sources outside of your organization that you share with your audience on your site, blog, or online media channels that have a limited life.
3. What is the effect of curating content on social media?
Curated content saves you time and keeps your online media pages looking dynamic and catchy. With this, you're enabling your audience to gain knowledge from a wide range of sources. They'll have the option to get a balanced perspective on your industry, because of your efforts.
4. What is a content curation procedure?
Content curation is the act of looking and recognizing significant substance that is created by outsiders and imparting it to your ideal interest group. Given the advantages it gives, curation has turned into a necessary piece of an extraordinary content-promoting strategy.
5. What is a curated blog?
Very much like any standard blog entry, a curated post is an input in your content management history.