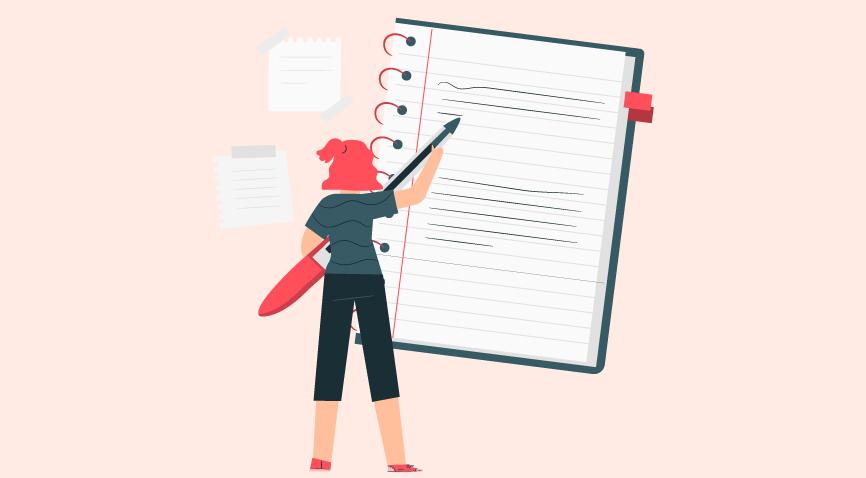 Game of Thrones author George R.R. Martin says "Ideas are cheap. It's the execution that's important". Good writing is evocative – it can excite, cheer, anger, and even make you take sides when you felt you had none. Heck, it can even make you go to sleep … on purpose!
In all seriousness though, with the barrage of content out there, reading has become a novelty hobby.
Source: Statista
The work of a blogger or writer then is to feed works of words to an audience that's largely interested in bite-size content and answers at their fingertips. In this article, we give you actionable ways to improve your writing for a digital paper.
12 Best Content Writing Tips
1. Use a bait if you want clicks
Writing good headlines is the most important skill for ensuring that your reach is maximized.
Here are some examples to help you distinguish between what works and what doesn't
Good headline: 12 benefits of exercise
Great headlines: 12 reasons you need to exercise
Good headline: Easy ways to come up with great titles
Great Headline: The lazy man's way to come up with great titles
Good headline: Surprising facts about pregnancy
Great headline: Pregnancy symptoms no one will tell you about
Of course, you wouldn't want to do this every time. In some exceptional cases, just a good headline works better than a great one. But it's important to have this skill as part of your wheelhouse.
2. Mind your grammar
If you're a grammar Nazi, congratulations! You're already the preferred choice for Google and 78% of readers. If you're not though, fret not as there are several online tools that can help you.
Use Grammarly to ensure that typos don't slip through. The free version of the app also checks for proper punctuation. Upgrading to premium brings in features like word suggestions and other advanced grammar errors like dangling modifiers.
3. Keep it simple, silly
It's all well and good to showcase your extensive vocabulary. But this doesn't bode well to the digital medium as people are looking for quick answers, rather than nuance. So keep your text lucid and easy to read.
To check if your work is understandable to the majority of your audience, use the Hemingway App. Aim for a grade of 6 or lower.
However, the app works well only for general topics. For technical, scientific, and niche B2B writing, you will have to use your own judgment to decide if your work is easily comprehensible for the average reader.
4. Don't be afraid of white space
As mentioned before, the internet likes bite-sized content. Make sure you keep your sentences short i.e. beware of adding too many clauses. And framing complex sentence structures. Here are three rules for embracing white space:
Limit paragraphs to 3-4 sentences so that your blog is mobile friendly.
Use numbered lists and bullets as often as you can
Image Source: Figma
Use heading and subheadings to break up long articles
5. Write for the reader
If you're writing for a brand, you may need to refrain from using "We" or "I". However, don't be afraid to address the reader in the first person. Add in a couple of sentences in a conservatory tone so that your reader feels engaged.
Example: Writing in a conservatory tone sometimes helps the reader feel engaged.
Using first-person: Where appropriate, you can use a conversational tone to make the reader feel engaged.
6. Write in active voice
On similar lines as the previous tip, writing in an active voice makes your work clear and direct.
Example:
Passive voice: The obstacle course was run by Elizabeth Bradley in record time.
Active voice: Elizabeth Bradley ran the obstacle course in record time.
7. Do not repeat words
In a bid to keep your text simple, don't fall into the trap of repeating the same words over and over again.
Here's an example:
Slowly caramelizing onions brings out a deep, rich, sweet flavor. As the natural sugars in the onions caramelize, they become brownish in color and impart an intense character. Add a bit of olive oil while caramelizing onions to bring out the richness. You can use caramelized onions in a variety of dishes.
Notice how difficult and intensely boring it becomes to read this text?
Here's how you can improve on this piece:
Slow cooking is the preferred choice for caramelizing onions. The even distribution of heat brings out a nutty flavor as the natural sugars work their magic. Look out for rich brown color and an intense aroma to know when they're done. You can add a bit of olive oil to make the result wonderfully rich. Add caramelized onions to elevate the character of any dish, from steaks to pizza.
To see whether you've used a term too often, you can use a Repetition Checker.
8. Do your research
Before you start any piece of work, make sure you know what your readers are already exposed to. This means researching the topic extensively and understanding the buyer persona. Check the top hits for the keywords you've chosen. Skim through as many pieces as you can, and figure out what you think works well, what needs to be updated for the current date, and what you can add to it through experience or just plain foresight.
Bottom line: Always keep the reader in mind.
9. Link to reliable sources
In order to convince the reader that you've done your research, you need to back your claims with numbers. Use well-researched scientific papers or brands that have significant authority in the space. Sites like Statista can help you include charts as well to give your numbers a visual representation. Refrain from using Twitter polls and online quizzes to build an angle for your theory.
10. Don't overload on ideas
If you've found one workable angle for your blog, stick to it through the piece. Don't jump from source to source to reiterate your point. Give your article a clear line of flow by:
Finding an interesting angle for the introduction
Backing it up with one to two statistics
Maintaining the tone throughout the piece
Writing an impactful closing paragraph that resonates as the solution or the "natural conclusion" to the reader's problem/question.
Ending with a CTA that causes the reader to become inquisitive about your product/brand/service
11. Stick to the word count
It can be hard for new writers to refrain from rambling on. However, it's important to stick to the provided word count. Google prefers articles that are ~2000 words long. As a result, most big brands and agencies insist on maintaining this word count.
The best way to ensure you're not going under or over is to prepare a quick draft. As you research the top results on Google, you'll already have a fair idea of what content you'll need to include in your piece. Jot down the subheadings before you start your piece, and you'll save a bunch of time while editing the final draft.
12. Bring some personality
You don't have to be serious to ensure that your writers take you seriously. In fact, adding in a bit of your personality and bringing out your unique style of writing will help the reader to conclude that it's not a "corporate" behind the piece, but a real human. This transcends to a certain level of relatability in the reader's mind.
Final thoughts
Ultimately, the life of a writer goes something like this
To find more such relatable content, follow @peppercontent on Instagram.
Wondering what more you can do to improve your skills? Use this comprehensive list of free resources to bring out your best!
FAQs
1. How do I practice content writing?
As you start writing content, it is important that you practice it as much as you can. Some important content writing tips to follow include: 
– Understanding who you are writing for 
– Using proper English, including correct spellings, grammar, and punctuation
– Try to include statistics as and when possible and attribution it
– Format your article or write-up properly
– Always use and leverage keywords
– Have appropriate linking
– Always try to include appropriate images and source quote them
2. What are the basics of content writing?
Some of the most common points to consider when writing content is: 
– Keeping in mind the business goals of the write-up
– Always thinking about the buyer persona
– Understanding the intent of the search 
– Always conducting or following keyword research and keeping SEO in mind
– Having a content strategy
– Doing a proper research 
3. What are the best ways to write content?
Some basic content writing guidelines that help write good content include: 
– Always have compelling headlines
– Have a hook that helps attract readers' attention
– Always do a thorough research
– Try to develop a unique voice over time
– Always optimize for digital content
– Ensure you edit your work
4. What is SEO content writing?
Writing content with SEO in mind includes implementing keywords in the web content you are writing. SEO is used by writers and marketers in order to increase their website's visibility, organic traffic, and SERP rankings.