Content
5 Content Writing Tips to Help Writers Succeed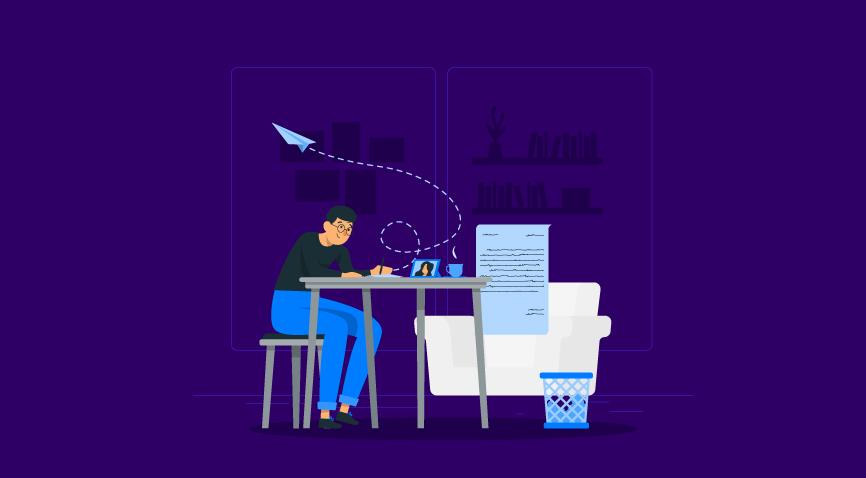 Here are five tips to help you succeed as a content writer. These comprehensive content writing tips and tricks will help you become a better writer.
Table of Contents
5 Simple Content Writing Career Success Tips
How to Pursue a Content Writing Career
How to become a great writer: Fail-proof Career Success Tips
Do you need inherent writing skills to build a successful content writing career? Well, yes and no. Yes, because without a knack for writing and an intrinsic interest in the literary world, you won't be able to produce good content.
No, because your knack and liking alone can't turn you into a best-selling author; you must know certain writing techniques to master the art of writing. Writing, after all, is not solely about how rich your vocabulary is or how creatively you can frame sentences. It's also about how quickly and effectively your readers engage with your content.
Now, the question is: How many writers can actually write such compelling content? The statistics below offer an answer to this question.
As per the statistics in the figure, 98 percent of marketing teams claim written content is their most-used type of content. Yet, only one in three marketers admit that their content writing is effective.
That means the majority of writers out there are not able to produce effective content. But then, to be successful as a writer, one needs to be able to write effectively. Here, we tell you what it takes to write good content that serves its intended purpose.
The undermentioned content writing tips for beginners will help you understand your shortcomings and rectify them to build a successful content writing career.
5 Simple Content Writing Tips for Beginners
Here are some tips for effective content writing.
1. Focus on originality
Every post with your name in it should be original. After all, it's about your reputation. This might seem absurd or even impossible, considering how many pieces of content get written on the same topics. However, it's not as difficult as it sounds. A talented writer can add a unique voice, a different perspective, or a fresh touch to even an overworked subject.
Plagiarized content hurts SEO, your employers, as well as you. You can protect your reputation, dignity, and content writing career by taking precautions. Check for plagiarism before you submit any work. This will always keep you in your employer's good books.
2. Develop good research skills
Research is one of the most integral parts of content creation and can be one of the most difficult, too. From topic research to keyword and statistics research, you must undertake all kinds of research meticulously and diligently to add depth and substance to your content.
With good researching skills, you will be able to find important facts, case studies, statistics, and the latest trends and news to add to your piece to make it more valuable and informative for readers. Although there are many content writing career tips, this one will strengthen your foundation as a writer.
3. Begin with a great introductory paragraph
When reading something, people usually remember three things: the beginning, the end, and the extraordinary.
Your opening paragraph must be powerful enough to grab readers' attention to keep them reading further. Try adding the latest trends/facts/infographics right at the start, so your readers instantly get hooked and feel compelled to explore the rest of the content.
Finally, add a crisp conclusion that summarizes the content or offers readers some food for thought. Note that you can be far more effective in your writing by creating a rough outline of the content before getting started. This will prevent you from going off the track or exceeding the word limit.
This is undoubtedly one of the best content writing career tips for beginners, as they often need some hand-holding in framing the content.
4. Content optimization is key
Even though you have created your content with tender, loving care, nobody is reading it. Why so? Because your content is not search engine optimized. If you want a higher return on investment from your content and wish to have more visitors and conversions, then it's a must to follow SEO content writing tips. This is, in fact, one of the most important content writing career growth tips for writers who create content for businesses.
To ensure your digital content's success, optimize it by using short paragraphs, sentences, and bulleted lists and strategically placing relevant keywords throughout the content.
5. Pay extra attention to proofreading and editing
Great writing doesn't happen the first time you sit down to write. And that is why even the most renowned writers get their work proofread and edited. Once you finish your first draft, take some time to polish the rough edges of your writing. Writing improves considerably when edited a few times, even if an experienced content creator has drafted it.
However, if you have just made your foray into writing, you might need a round or two of extra edits. Editing is so important that if you ask us to pick just one tip on how to succeed as a content writer, it would be this— edit, edit and edit until you can't find a single error in your content.
Tips for an Effective Content Writing Career
The question, "How to succeed as a content writer?" is tricky to answer. Yes, the content writing tips mentioned above help immensely once you have started writing. But what if you still haven't been able to launch your career as a writer?
Here are some tips for an effective content writing career.
In that case, you first need to ask yourself if you want to build a career in writing. If the answer is an outright "Yes," figure out which type of writing you want to get into. If you want to become a content writer, it would be valuable to begin by understanding what content is.
Content is a broad term that refers to using words to communicate information to others. It could be about a business, a project, an idea, or anything. But, regardless of its subject, every piece of content is created with a specific purpose.
Say a fashion designer hires you to write for their website, and they want you to create focused content that promotes their business, highlights their achievements, and showcases their fashion expertise and the services they offer.
It doesn't matter how finely written your content is; if it doesn't serve the intended purpose, it's of no value to your client. In your client's case, the intended purpose of your content is to show their brand in the best light.
Whoever hires you as a writer will provide you with topics and ideas to write about, or you will be asked to suggest them. The content could be for digital channels, such as campaigns on social media platforms, blog posts, etc., or offline requirements such as research papers, technical papers, presentations, stories, etc.
Since content is the soul of marketing, you might also be hired to write content for marketing materials that are promotional, such as print ads, billboards/hoardings, leaflets, brochures, and the likes.
Yes, you may choose to cover multiple domains, but writing in your area of expertise will help you produce good work. Don't zero in on a genre just because it pays well. Your expertise should be the most important criterion based on which you decide the field you'd want to cover as a writer.
Also, good content writing doesn't solely mean good use of a language. A good piece of content portrays a delicate balance of sound subject expertise, diligent research, exemplary grammar and vocabulary, and of course, wordplay.
Besides, high-quality content never gets created in the first attempt itself (for most writers); it needs incisive editing, fine-tuning, and sometimes, rewording to ensure no word used in the content is purposeless.
Next, you need to find work for yourself. For this, you can either apply for full-time, part-time, and remote content writing jobs or look for freelance associations to work with greater latitude.
How to Become a Great Writer: Fail-Proof Career Success Tips
Every writer wants a straightforward tip on how to become a great writer. But, being a great writer isn't something you can do overnight. It takes practice, patience, hard work, and proper guidance.
While writers manage to fulfill the first three requirements, they struggle with the third one, i.e., guidance. Here, you will find a list of expert-approved career tips on becoming a great writer so you can approach your goal correctly.
Practice writing regularly. This is one of the most common yet effective career tips vouched for by experts.
Read daily, even if it's just a couple of paragraphs.
Avoid using filler words and phrases.
Learn from career growth tips by great writers.
Build an excellent vocabulary and be thorough with grammar. This is extremely important for a content writing career.
Try to be concise in your expressions.
In the End
All the career success tips listed above have proven effective over time and will greatly help any writer, especially beginners. However, our most significant piece of advice for aspiring content writers would be to continue experimenting until they find their unique voice.
Remember, the written word is powerful, and no effort you put into mastering it goes in vain.
Don't hesitate to take the plunge if you envision a content writing career. However, you must conduct a thorough assessment of how well it aligns with your capabilities as well as aspirations. You may also consult a career specialist if you aren't certain.
Key Takeaways
There is no shortage of writers, but only a few can write effectively.
From originality, research skills, and content structure to SEO and editing, it takes a lot to create great content.
Follow the best SEO content writing tips for optimized content.
As a content writer, you can work either as part of an organization or independently as a freelancer.
Regular writing and reading practice, avoiding filler words and sentences, following career growth tips by great writers, working on vocabulary and grammar, and practicing concise writing can all help you become a great writer.
FAQs
1.

What are the qualifications required to become a writer?
Many people assume that it is necessary to have a literature background for a career in writing. But it's not. A bachelor's degree in journalism, English, or Mass Communication can, however, make you a more desirable candidate for employers. 
2.

What is the future of content writing as a career?
Content writers have many opportunities in the corporate world. And their demand is only growing across industries. You can work as a technical writer, business writer, academic writer, copywriter, etc. For beginners, the earning could range from Rs. 15,000 to Rs. 30,000 per month. Graduates from top colleges and people with excellent writing skills can also earn more than Rs. 100,000 per month
3.

What is the reason behind the popularity of content writing as a career choice?
So many products, brands, and services compete for consumers' attention in various sectors. With focused and targeted content, these can be brought to the notice of people. In other words, the right content can influence conversion rates.
4.

What is SEO writing?
SEO writing, simply put, is the process of creating, optimizing, and planning content in such a way that it ranks well on search engines.