Content
7 Best Tools for Writers to Brainstorm Effectively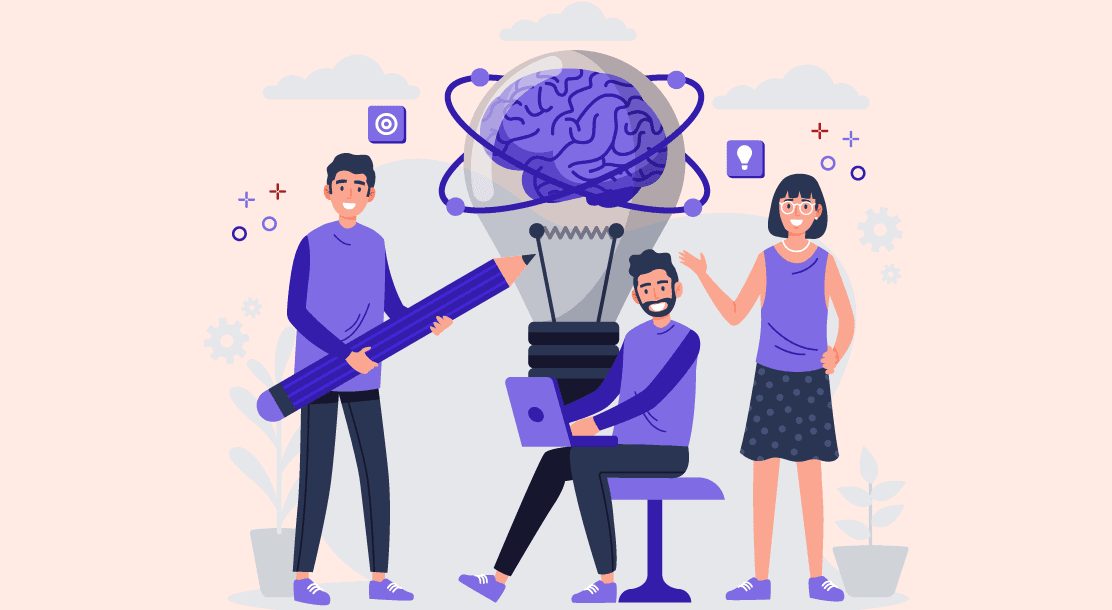 Table of Contents
What Is Brainstorming?
Why Use Brainstorming?
What Are the Types of Brainstorming?
What Are Some Key Brainstorming Techniques?
How to Brainstorm Effectively
7 Tools for Writers to Generate Ideas
Key Takeaways
Conclusion
FAQs
Brainstorming kick-starting a writing project. Therefore, it is crucial to focus on the number of ideas presented on the table, along with the quality. The tricky part is when participants try to overanalyze ideas and shy away from voicing them due to the fear of rejection or judgment. In this article, we discuss the various brainstorming techniques and the best tools for writers to create engaging content.
What Is Brainstorming?
When you hear the word "brainstorming", you might feel intimidated. If you are recalling the difficult times of scribbling ideas for an environmental study project back in college, then you are safe. In reality, brainstorming is much more productive and rewarding. It is a way to unleash the creative juices within you and look for better ways to meet your writing targets.
Brainstorming is an effective way to generate new ideas, but it doesn't have to be tiresome, and definitely not boring. It can be considered the crux of new strategies and products. We will show you why and how to brainstorm if you manage to stick till the end of this article.
Brainstorming in writing refers to engaging your brain to generate ideas and noting them down simultaneously. It doesn't only pertain to generating ideas, but also connecting pieces of different ideas and tying them up as a whole, and knowing which creative writing tools to use.
However, there is no right or wrong way to brainstorm. It is a natural process that requires considerable effort and time. Some people prefer brainstorming by themselves, sitting on their balconies with a pen and pad. They like to jot down their ideas before having a group discussion. And others like to brainstorm in groups.
Why Use Brainstorming Techniques?
Brainstorming is crucial in many ways. For example, if you are in the middle of a problem or you are all set to start a new venture, then brainstorming can help you come up with ideas to resolve the issue or set a clear path for yourself.
However, this doesn't necessarily happen at the beginning of a new project. To explain this better, let us take an instance from the TV show "House". The characters use a technique called "differential diagnosis". In this technique, the actors look at the kinds of symptoms a patient shows and discuss the potential diseases and their treatment.
Brainstorming works in a similar pattern. If you even find yourself stuck with something, start brainstorming to know the cause of the problem. The outcome? You will come up with better solutions or eliminate anything that wasn't working.
What Are the Types of Brainstorming?
There are two primary kinds of brainstorming: individual and group brainstorming, of which the latter is more common.
Group brainstorming
In a group setting, you have the advantage of learning from the experiences and ideas of team members. Here, you understand the thinking abilities of different people. If one participant's idea faces a dead-end, others can build on that idea and create something unique out of it.
In group brainstorming sessions, you can become receptive to ideas coming from everybody in the room. Group brainstorming is a great team-building exercise too.
Individual brainstorming
Often, group brainstorming sessions are more successful at producing ideas than individual ones. But at times, the latter has shown positive outcomes too.
When you are by yourself, there is no need to worry about the opinion of others. Judgment, biases, and ego take a backseat.
You are more confident and creative when you are the only one in the room thinking of ideas.
You can even use some of the writing tools on the internet if you're stuck thinking about ideas.
For example, you might hesitate to voice your idea when you are in a group setting. But when you are on your own that idea might develop into something extraordinary.
What Are Some Key Brainstorming Techniques?
If you find yourself struggling to think of quality ideas, then use the techniques mentioned below to boost your creativity:
The stepladder technique: this is beneficial in getting the quiet team members to participate by introducing them one at a time.
Brainwriting: this is a written technique. Here, all the participants can contribute by jotting down their ideas and discussing after.
Online brainstorming: this is technically another word for brain-netting. It is an electronic method that makes use of virtual systems to engage people in brainstorming
The Crawford slip method: in this simple technique, everyone's ideas receive equal weightage by being collated on not.
Rapid ideation: this technique helps participants generate as many ideas as possible (sometimes using the best tools for writers) in a short period of time. Participants get a specific amount of time (usually between five and ten minutes) to come up with as many ideas as possible.
Source: https://britton-nixcentral.weebly.com/eng-010/the-rhetorical-triangle
How to Brainstorm Effectively
When you are brainstorming in a group, there are certain rules to follow, in order to avoid disruption. You can engage your team in a bonding session before or after brainstorming. This will be a win-win situation, as it can motivate team members to provide the best output; and they will feel cared for in the process. To run a productive brainstorming session, you can practice the following steps.
1. Prepare
Before you begin a brainstorming session, it is important to prepare. You should gather enough information to come up with solutions for the problem. However, always keep in mind that preparation is essential, but too much information can complicate or worsen the purpose and productivity of the session.
Having a set of best tools for writers researched beforehand and choosing an ideal place to conduct the brainstorming session is a first; this setting could be a co-working space, office, or somebody's home. If it is a virtual session, make sure you have access to virtual brainstorming tools. There are tons of brainstorming and content writing tools for you to choose from.
Next, make a list of people to be called for the session. A brainstorming session with only like-minded people will have a negligible impact; therefore, invite a diverse group of people from different walks of life. This approach results in a greater variety of contributions.
Once you decide the place and people, appoint one person to note the session. This person will be responsible for summarizing the session and jotting down everything important that was discussed. An icebreaker will be a great idea to break the tension in the room if people aren't familiar with each other.
2. Present the problem
Present the problem clearly and let everyone know the motive of the session. Tell the participants the expected outcome of the session as well. Make it clear that the goal of the meeting is to come up with as many ideas as possible.
The participants in the room should know that each of their inputs matters. After presenting the problem, give them ample time to think. Then, encourage everyone to share their thoughts and give everyone an equal opportunity to speak up.
3. Guide the discussion
After every participant has shared their views and ideas, initiate a group discussion to encourage a healthy debate. This way, you could build on the concepts that are already shared and dismiss ones that are not allied with your goals. Building on an existing idea can be one of the most valuable takeaways from the discussion.
As the facilitator, you should make sure no one criticizes or passes sly comments about an idea. This strategy will encourage everyone to contribute freely. At any point, if the group loses focus, the facilitator must step in and refocus the motive.
Make the environment fun and not forced. You should ensure that your participants develop a bundle of ideas, even if some of them are not necessarily doable. If the session goes on for too long, give the members a break to cool off and refresh themselves.
Now, let's look at some of the best tools for writers to ensure quality wordsmithing!
7 Best Tools for Writers to Generate Ideas
Source: https://zapier.com/blog/brainstorming/
If you find yourself in a fix when writing a blog or putting together a bunch of ideas for your next article, then take a sigh of relief because there are a handful of writing tools online. The best part? They are free! These content writing tools are packed with numerous helpful features. We have already done the tedious work of shortlisting the best ones for you. Read on.
When you're doing a quick run-through of the things you've planned out for the day, you sure do not want anything getting in the way and disrupting your concentration. This is why it's important to have an app or software to avoid such hurdles. MindMeister is a mind-mapping tool that helps you generate ideas effectively. With this app, you just have to give your map a headline, press the "insert" key to add a new branch, and hit enter.
MindMeister adds formatting to your sentences to make them sound better. You can also add hyperlinks, pictures, and keynotes after the initial map has been created. As you're getting into the brainstorming process, you'd want it to be seamless and frictionless. MindMeister facilitates this process with its clean and interactive interface. You can get your work done with little to no training and start using the app.
This tool comes in handy especially if you want to expand your ideas. Mind-mapping is surely a great practice when it comes to brainstorming. The app makes this job easy by allowing you to capture all your ideas, fine-tune them, and share them with everybody. Capture all your ideas and place them in a file. This is undoubtedly one of the best tools for writers on the internet.
Turn to Ginger if you ever find yourself struggling to put a sentence together. This app uses artificial intelligence and spots any misspelled word or grammatical error. It helps you rectify your language- as well as context-based errors by suggesting sophisticated fixes. It's a great tool to kickstart your writing journey. Ginger is available as a web extension as well as a Microsoft Word add-on. The free version provides limited spellcheck and language suggestions but is enough for beginners. This app is especially helpful if you have to write lengthy pieces.
3. HubSpot Blog Ideas Generator
Imagine being stuck with the same blog topics and being unable to think of innovative ideas? The next thing you should do is download the Blog Ideas Generator by HubSpot. When you run out of topics, trust this free writing tool to do the work for you. As the name suggests, this tool helps you develop ideas to write on.
To be precise, this tool sets you up with five unique ideas for a set of five nouns. In case you want to make any changes; you can re-enter the keyword. If you're just starting out as a blogger, this free content writing tool is made for you.
Workflowy is a top productivity application. With the help of this app, you can drop tasks in various folders and subfolders. Once you're done with a task, you can mark it as completed and it will disappear. This application is a great tool to create outlines and organize your ideas and projects regularly. This app is a sound investment if you're a writer by profession and require the help of tools in your day-to-day life.
This tool for writers is ideal to create content formats that come with straightforward outlining. After all, a well-structured article begins with a well-structured outline. With the help of Workflowy, you can create a summary of your blog using bullet points as well as images.
If you ever want to sit down and analyze your writing, Slick Write is at your rescue. An online proofreader, Slick Write helps fix language-, grammar-, and style-related errors. This is a free content writing tool that provides comprehensive feedback and reports. This tool is smart and user-friendly, and its built-in "Associator" helps you come out of writer's block by suggesting relevant words.
6. Temi
Sometimes authors like to "Talk their book". This means that writers or authors often make use of recording software to convert their voices into words. This is called transcribing. The online web has many such tools, but Temi is undoubtedly one of the least costly tools out there. Temi records clear audio and turns that into words at any time of the day. It's a great resource for writers that are always on the go or when they don't have access to their laptops. You can open the Temi app and start recording your words instantly. Once this is done, Temi will email you a transcript. This is ideal for authors that like to vocalize their thoughts before they sit to write. You must have those moments when there are so many ideas popping into your brain but by the time you reach the computer, these thoughts have dissipated! Temi helps overcome those "Oh no!" moments. You can use their free trial or pay for their service, in both cases you can export it to word, pdf, and other files.
7. Freedom
Every time you sit down to finish a blog, you're distracted by the sale pop-ups from Sephora on your computer. You're already on their site trying to find the perfect foundation shade for yourself. This costs you a lot of time because you've wasted a good 30 minutes of your writing time! The internet can be a time-consuming place and it's not helpful when you're running on deadlines. Therefore, for many writers, this app could be a game-changer. Freedom is a website blocker that is available for Android, Mac, and Windows. It's not specifically a writing tool but it aids the writers by eliminating distractions. The verdict- Freedom is a great app for writers who can't afford to waste their time!
Source: https://creately.com/blog/marketing/writing-process-steps/
Key Takeaways
In order to write effectively, generate as many ideas as you can.
Let your judgment take a backseat while listening to another participant's idea.
Your ideas don't always have to fit into the "practical" category. It is your idea; own it
Internet writing tools are great but the originality of content depends on you
Conclusion
In a nutshell, brainstorming is for anybody who wants to create something, not just for college students who have research paper submissions. If you wish to take your business to the next level, brainstorming is crucial to develop and implement effective and modern strategies.
Once you realize its purpose, you are all set to create a brainstorming session by yourself or with a group. After a strategy is decided upon after a productive brainstorming session, use some of the best tools for writers available online to create engaging content.
FAQs
1. How do you brainstorm?
First, set a time limit and announce the problem. To have a healthy brainstorming session, you should discourage any judgment or criticism coming in the way. Ideas are neither right nor wrong. Therefore, encourage all kinds of ideas, even if they sound crazy. This approach boosts the group's morale and encourages every participant to speak up. Lastly, remember the golden rule of brainstorming is "quantity over quality."
2. What is effective brainstorming
The secrets to an effective brainstorming session are a positive attitude, having fun, absolutely absurd ideas, and no criticism. Try to keep the tension in the room at bay so that people in the session get along well with each other.
3. What is a writer's tool kit?
A writer's toolkit is essentially a place where writers store their writing tools in the form of phrases or words that are needed to write successfully. This can be a scrapbook or even an online writing file.
4. What do most writers use to write?
Though there are many tools for writers, most of them are loyal to Microsoft Word. This is one of the most popular apps for all writers as it's convenient and easy to use. It is the most widely used book writing software in the U.S