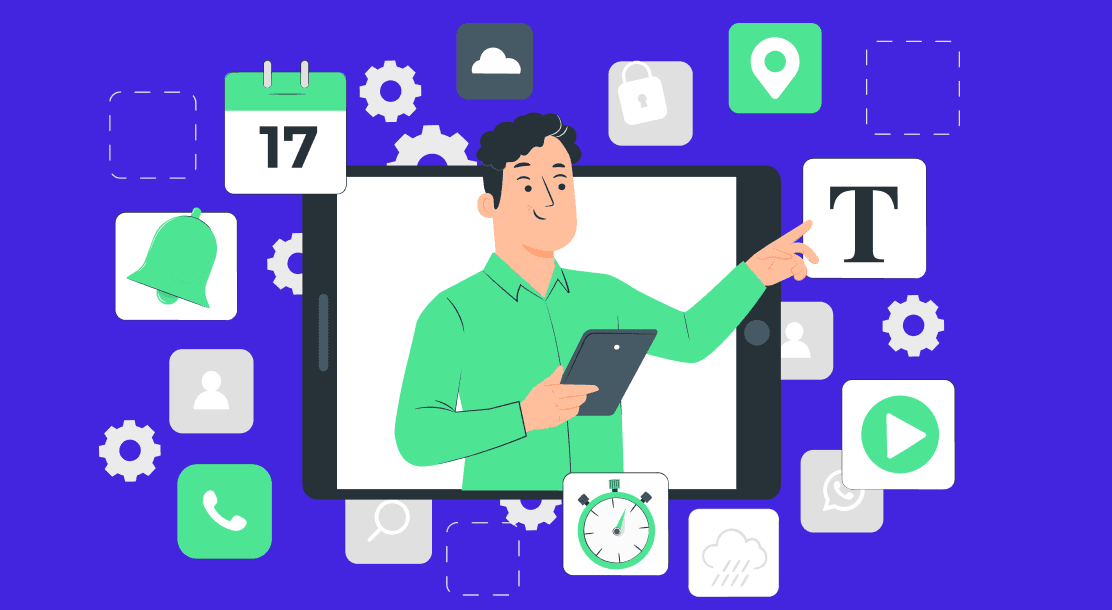 Table of Contents
15 Excellent Tools for Content Creators
Key Takeaways
Conclusion
FAQs
Being a successful freelance writer has perks of its own. You have no time restrictions, no need to report to an employer, and no salary bar. These are the reasons why many creators are switching to freelancing.
However, if you are new, there are certain drawbacks you will have to deal with. These include work instability, no fixed income, unreliable clients, etc. It also becomes difficult to improve your skills as a writer without the best content creation tools. To be an expert, you need to master the creation of various types of content, including blogs, guides, ebooks, video scripts, infographics, and more. In this blog, we show you how to make it happen.
16 Excellent Tools for Content Creators
Start with these 15 content creation tools that will help you achieve perfection and speed up the creation process.
Hemingway Editor can be your content's paradise. It is a great app that helps you in proofreading and editing functionalities for flawless content creation. You can use it to bring clarity of expression to your writing, while also formatting your content on the go. It saves time on HTML formatting and allows you to publish content on WordPress with a single click. Simply go ahead with it to write streamlined SEO content even when you are offline.
Quora can be a good source to find content ideas with high popularity. For the uninitiated, Quora is a popular question-and-answer platform, where people find answers to their questions. You can use this platform to come up with ideas to begin content development. All you need to do is sign up and begin following the topics you need ideas for. You even get notifications when someone posts something new about the topic you follow. Go ahead and read answers to your chosen topic. This will help you find valuable information that you may not have previously covered in your content.
This is one of the great content creation tools that can help you come up with engaging headlines. Essentially a WordPress plugin, this tool allows you to test different headlines of an article and find out which one is working best. It records factors such as reading time, click-through rate, and engagement time to show which title will best suit your article. Thrive Headline Optimizer does accurate A/B testing for your headlines. This testing checks what works better for your visitors and helps you choose the right headline accordingly.
Another great content creation tool you must have is Grammarly, which offers multiple functionalities. You can use it for almost every writing software. Use it as an extension to your browser or as an add-on to MS Word for error-free writing. It is a great tool for both content creators and editors.
Grammarly will save you a lot of time proofreading and editing. It even suggests options for language improvement and delivery for flawless writing. You can choose your English language to be British, American, Australian, or Canadian English, and get spelling suggestions accordingly. Grammarly not only helps with spelling, grammar, and punctuation, but it also checks for conceptual accuracy, originality, and readability.
Bonzai is another tool that can help you pursue content creation in a variety of ways.
It is a tool for professionals that automates almost every process involved in the freelance business. With Bonzai, you are left with a more important task, i.e., is to do your business. Whether you are a content developer, graphic designer, or web designer Bonzai makes business management easy for you.
With this tool, you can create contracts and proposals, and track the time spent on work seamlessly. It also helps you calculate your expenses, make invoices for payments, and generate complete reports. In short, it helps you do it all with ease.
Copyscape is a tool that will help you gauge the authenticity of your work. It helps you come up with content that your client can trust, by checking for plagiarism in your content.
Plagiarism can degrade your reputation and the quality of your content, so checking for it is a must. Copyscape also helps you find accidental plagiarism if any, and eliminate it. This is a resourceful tool to help you write original content. It checks content on infinite websites and notifies you if your content has even a small percentage of plagiarism.
The editorial calendar by WordPress is a great tool for content creators who want to remain ahead of their writing schedule. This tool helps you plan your content for months in advance, and schedule work for it accordingly. It helps you strategize when and what to post in a given month. By doing this, you can see all the content you will be posting in a single place. You can also edit your schedule and rearrange your tasks for any day. Go ahead and keep everything arranged and scheduled for your working months.
Canva is a tool that will add some visual value to your content. It helps you create shareable graphics that can enhance the shareability of your content. Your content needs to have visual value to gain popularity. Canva brings this value to you for free. This visual content creation tool allows you to create everything from graphics, blog images, infographics, social media posts, invites, and more. Its drag-and-drop functionality helps you write and edit text on images, and add other visuals to it. So, go ahead and try this content creation tool now!
VaultPress is all you need for keeping your content and website secured. It is a tool for content creators that minimizes the chances of hacking. Hacking is a big threat for creators. There are chances when you don't have a backup of your website, you will lose all your hard work. To prevent such a mishap, a safeguard tool can help. VaultPress takes regular backups of your website and stores it at your chosen location. It keeps all your data safe and secure.
This is a great tool for optimizing your content for SEO. Writing SEO-optimized content is as important as writing engaging content. If you do not optimize your content for SEO, it will not have value in the eyes of search engines. This means, your articles and blogs will not make it to the top of the search engine results pages (SERP). The result will be a reduction in traffic to your website, irrespective of your content's quality.
Therefore, you need to have SEO-optimized content, no matter how well you have written it. Yoast SEO makes it happen for you. The tool allows you to write quality meta descriptions, titles, and body text for your content to gain SEO value.
Thrive Leads is another WordPress plugin that can help you grow your business by building an email list. Your business needs a long list of subscribers who follow it. Thrive Leads helps you with that.
Beginners always struggle to build an email list. Thrive Leads is a lead generation platform that can end that struggle for you. This tool will not only help you get leads but also improve your sales revenue over time. Its simple drag-and-drop interface helps you create stunning landing pages: all this without investing hours of work.
Are you facing difficulty in attracting more readers to your content? You probably need to spend some time doing keyword research. KWFinder is the tool that can help you find high-volume keywords and get more website traffic. Through this tool, you can even find low-competition keywords, which you can use in your content to rank higher on SERPs. You can also use this tool to find long-tail keywords. Long-tail keywords are ones that are highly targeted, and using them in your content can bring in a lot of value.
Creating quality content is not enough in this social media-driven world. You also need to share your work on social media to gain exposure. SocialPilot helps you do that.
It is the tool you can use for automating and scheduling your social shares.
This tool offers great functionalities to promote your work on social media. It automates the task of sharing content on various social media platforms. With SocialPilot, you can share your content across various social media channels all at once. In short, it is a tool you will need for smart sharing.
GetResponse is a tool you need for creating an email marketing strategy for your content. It is also a tool that can help you gain more clients for your business. Its primary function is to help build your email list. It has autoresponder software that keeps you in touch with your subscribers and helps you maintain a long-term relationship with them. The tool is quite affordable and helps you come up with some amazing landing pages that grab attention.
BuzzSumo is widely used for influencer outreach and trend research. It is a content creation software that every blogger and marketer needs. It helps you come up with engaging blog post ideas and gain performance insights about your competitors.
It helps you monitor and track the most shared content across chosen topics and develop categories, and helps you develop your content seamlessly. All you need to do is to add keywords and the domain name of your competitor, and it will give you a report of their backlinks, social shares, etc.
SEMrush is a technical tool for content creators to come up with the best SEO practices for their content. It is a tool that allows you to do competitor research and conduct website audits, all in one place. You can use the free version of this tool for some basic research, or switch to the pro version for extended functionalities. It offers you multiple functionalities, keyword research and extracting competitors' backlink data and traffic insights. Use it for your content creation process and gain more readers for your website.
Key Takeaways
The first step to creating quality content is gaining perfection in content creation. To reach that level of perfection, you can make use of tools like Hemingway Editor and Grammar.
Save time on editing content. It's all about doing smart work instead of hard work. Invest your time in using content creation tools that saves you time when it comes to identifying errors.
Visual content is as important as written content. So create it without a second thought. Thankfully, you have content creation platforms like Canva that do the job with a few clicks.
SEO has the potential to get you more readers and business. So why not try tools that help leverage it. You can start with tools like Yoast SEO and SEMrush, which will help you optimize your content effectively.
Building your email list can be a challenge if you are new to the industry. It helps to use the tools that help you build one with ease. GetResponse is a great option to get started with.
Conclusion
This blog detailed some of the best content creation tools to use. All you need to do is to use them to the best of your ability to get more readers and business. Wealth comes in only when you do smart work. Make your best move to get a high amount of readers and clients. So, go ahead and try out these resourceful tools now, in order to gain perfection in content creation.
FAQs
1. What are the best tools for writing website content?
There are numerous tools that can be used for writing website content. However, the best ones you can use are SEMrush and Yoast SEO, which help you write SEO-optimized content to get more readers to your website.
2. What are content idea tools?
Content finder tools are ones that help you find popular content ideas for your niche. You can use these tools to find popular topics and also look for relevant information regarding them.
3. Are content creation tools free?
Yes and no. There are many useful content creation tools that you can use for free. However, there are also paid versions of these tools that come with extended functionalities. 
4. Which one is the best content creation tool?
There are many good content creation tools. If we consider usability, then Grammarly is a must-have tool for every content creator, as it assists in the primary and most important task of writing content.
5. What are examples of good content creation software?
Some of the best content creation software examples are Hemingway Editor, Grammarly, and Bonzai. Hemingway helps you improve the quality of your content over time, whereas Bonzai helps you manage your content creation business with ease.
6. Do you need a content creation platform?
Yes, you definitely need a platform for content creation. Without using a content creation platform, there will be no way for you to produce, fine-tune, and enhance your content.