Content
How to get Organic Traffic: 10 Effective SEO Techniques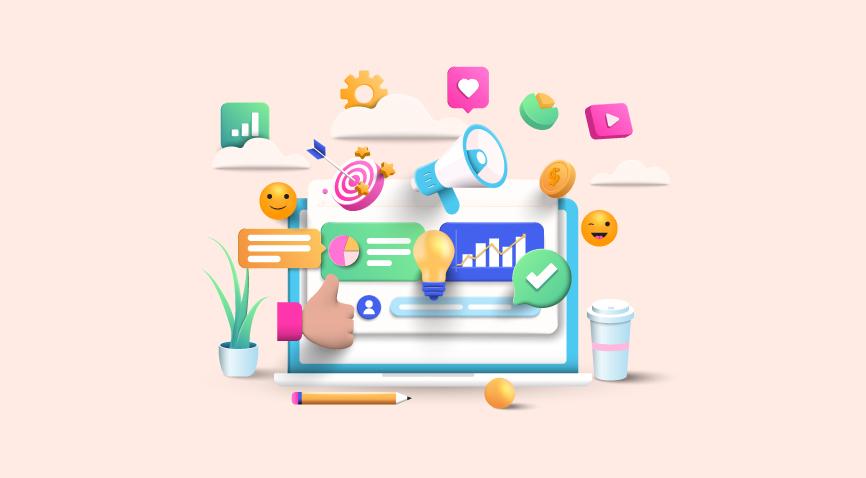 Table Of Contents
Introduction
Importance of SEO Techniques

Types of SEO Techniques
Relevance of SEO Techniques

Google Algorithm for SERP Generation
The Need and Benefits of Organic Traffic
10 Effective SEO Techniques to get Organic Traffic
Well Planned Content Strategy
Analyze Competitors SEO Strategies
Optimize the Site's User Experience
Optimize for Voice and Image SEO
Digital PR and Authority Backlinks
Improve based on User Intent
Write Extensive Content
Make Use of Infographics
Internal Linking
Find Broken Backlinks
Key Takeaways
Conclusion
FAQs
In a world of constant evolution, search engines are also constantly being modified to yield the best outcomes for themselves and their users. This results in the search engine results pages or the SERPs undergoing constant changes and even being replaced by other advertisements, knowledge panels or image packs, and more.
Google is a prime example of a constantly evolving search engine. It focuses on various features like ads, top stories, reviews, knowledge panels, carousel results, and website links. For this purpose, websites usually make intelligent use of the best SEO techniques to stay on top of their game and gain traction. It's time for you to rise to the occasion to ensure the maximum level of exposure for your business within the search engine.
Search engine optimization or SEO is a necessary marketing tool that allows you to make your pages, products, and the information within them more discoverable to the masses. This key tool helps brands gain traffic, popularity, and momentum for their activities.
This post will showcase the importance and types of SEO techniques, how it generates organic traffic and what the term means, why it's needed, and the benefits it reaps for your site. The article also mentions the most important part of all, the best SEO techniques on how to increase website traffic organically!
Importance of SEO Techniques
What exactly do you understand by SEO? A lot of mumbo-jumbo comes to mind, doesn't it? But in the simplest sense, SEO refers to a set of rules that help optimize one's website to gain the maximum ranking in a search engine's organic results. So, when your user is typing 'XYZ' in the Google search box, you want to make sure YOUR website is the one that pops up on the first page.
Optimizing your website using the top SEO techniques lets the page receive high visibility from larger user traffic. SEO's main objectives are to help the creators understand their users' online needs and create websites that search engines can catalog based on the content.
Following these objectives leads to you developing a keen sense of your audience's needs, helping you create quality content that's well-tailored to the user's queries and requirements. Categorizing the websites based on content helps search engines to find and pull them up for any relevant user searches.
Let us now see the different types of SEO techniques, their relevance in increasing a website's traffic, and how this happens.
Types of SEO Techniques
Despite being a constantly evolving set of frameworks and rules, SEO techniques can be generally classified into four main categories,
1. Technical SEO
2. Off-Site SEO
3. On-Site SEO
4. Local SEO
1. Technical SEO
It refers to optimizing your website's backend, i.e., its technical and foundational elements. Technical SEO improves a site's readability, a feature that helps search engines crawl through the content to understand it.
Another aspect technical SEOs deal with on a website is the user experience or UX. A good user experience indicates a high-quality website, which increases the traffic and revenue brought in. Search engines are becoming more complex because of their constantly evolving algorithms.
FUN FACT: There are more than 300 SEO algorithms in Google itself.
With this constant evolution of search engines, websites are vying to hold the best SERP rankings possible to gain more traffic. This makes it crucial to keep up the standards of one's website by opting for and using the latest technical SEO techniques.
Technical SEO is better dealt with in the initial stages of building a website. Some important aspects that come under technical SEO include,
Website speed: A crucial aspect for any website, it refers to the time taken for a page to load. A faster website speed is a good indicator and increases user engagement. Therefore, keep one's website templates simple with optimized visuals and limited redirects for quicker load times.
Mobile-friendliness: Users nowadays rely more on their phones than desktops for quick searches for products and services on the go. Therefore, it is vital to ensure that your website is mobile-friendly to gain more traction from visitors.
Site architecture: Having a user-friendly and consistent URL structure along with a well-formatted use of internal links helps keep the website architecture as concise as possible.
Crawlability refers to the website's readability offered to search engines to crawl through it and understand its content for a better user experience.
Indexing: Once search engines finish combing through a website, the next step is to index or categorize it based on search categories.
Security: HTTPS, which has an additional SSL (Secure Sockets Layer) protocol, makes your website more secure when compared to HTTP.
2. Off-Site SEO
Off-site or Off-Page SEO techniques refer to methods employed to optimize and enhance your website's relationship with other sites. It involves anything external to the website but is an influencing factor to its traffic.
Off-page SEO techniques mainly involve strategies to improve a website's exposure, reputation, and authority. This allows search engines to factor in a website as the ideal choice for a search result because it is reliable and trustworthy. Using these SEO techniques results in an overall organic traffic boost for your website.
Off-site SEO is mainly concerned with building quality backlinks or link building. High-quality backlinks refer to a practice where other reputed, relevant websites link back to your website. Link-building techniques are opted for to increase the number of backlinks a website has.
Some main link building techniques constantly employed include,
Carrying out extensive research on your competitors' backlink profiles offers you a view into how they acquire theirs.
Article pitches to several blogs and other publications that can publish the articles you pitch to them. When doing so, ensure the site to which you made the pitch is relevant to your company and includes a link back.
Finding journalists or writers who write about your particular field; offer up quotes or information, which they will then link back to your site.
Use a power linker. These websites help create links to content within a particular sector or field. They essentially help one find websites that link to many competitors, and you can see the specific pages that drive in more traffic for them.
Finding .gov sites that link to your competitors so that they could link to yours as well. Websites managed by the government are considered to be up-to-date, informative, and highly reliable. They are also easy to find owing to their .gov top-level domain.
Using .edu sites. Educational sites are often considered very authoritative and reliable, and you can see if such educational websites link to your competitors.
Other off-page SEO techniques include social media sharing and written reviews.
3. On-site SEO
On-site or on-page SEO techniques are perhaps the most crucial and best SEO techniques to keep track of. On-page SEO techniques refer to the methods opted to optimize the content present on the websites. This includes everything from having keyword-rich meta titles and descriptions to using them organically in the written content and choosing relevant images.
Efficient use of these strategies lets search engines understand the content topic and index them accordingly. The search engines also pull them up as a relevant source in SERPs for any related search queries by users.
This type of SEO technique deals with,
Good keyword research: Finding relevant and suitable keywords is the key to driving traffic organically. One must conduct extensive research on the keywords related to their topic of choice and rank them according to search volume and competition.
Once the proper keywords have been decided on, the written content must include these keywords seamlessly. Using short keywords and long-tail keywords can both result in increasing the website's SERP rankings. The website gets more organic traffic, higher revenues, and user engagements.
Optimized metadata: It tells Google, other search engines, and the users about the contents of a page. Ensure that your metadata, i.e., meta titles and meta descriptions, use good keywords and phrases that will help your page rank higher in SERPs.
Meta titles are the headings shown on the SERPs and are most effective when they use the primary keyword and are under 60 words. On the other hand, meta descriptions are short, descriptive pieces supporting the meta title. They often include organically phrased keywords and a call to action.
Internal linking refers to adding external links of other pages on your website to a current page. These are often linked to the text's targeted keywords – essentially the primary keywords. Linking to high authority internal sites helps search engines optimize, crawl, and understand the content better. This makes the web pages more user-friendly.
Content creation: While creating content, it is important to stay original and maintain a high-quality standard. Focus on good keyword incorporation without overcrowding the content. It is important to strike a balance between creating SEO content and keeping the reader's interests and queries in mind.
Create well-written, informative, useful, and easy-to-understand content. When writing, it is always better to keep it simple. This ensures the use of understandable vocabulary while avoiding off-putting jargon.
4. Local SEO
Are you wondering how to increase organic traffic to a website? Well, local SEO might be the key! Local SEO is a variation of the standard SEO techniques, where it primarily focuses on specific geographical areas. It works to enhance your online presence within the community to promote your goods and services to nearby customers.
These days, nearly every customer uses Google to find out more details about a shop, restaurant, or service they might want. Therefore, include your business details like address, working hours, reviews, photos, menus, and details of services offered on your Google My Business profile. This lets potential customers decide whether they want to opt for your services and be more informed about your goods and products. The SERPs will then rank your profile in terms of relevance, which is decided by factors like distance and prominence based on a query.
Ensure that your business profile states accurate and complete information; wrong information can be off-putting for customers. Including a Google map marker also makes it easier for potential customers to navigate their way.
The benefits of using local SEO include its precise target, free-of-cost usage, and greater chances of obtaining higher ranks. This is because Google My Business profile is an upcoming initiative that every business has not opted for or made use of.
There are other ways to optimize your content for ranking higher in local SERPs. These include writing tailored landing pages with local relevance, optimizing the local business profile, building local links, adding multiple location details (if present), and more.
Relevance of SEO Techniques
Now that you know more about the types of SEO techniques, you know that they must be a forethought when creating a website or updating its content. This section of the article will extensively highlight the nuances and importance of taking full advantage of SEO techniques to boost a website's SERP rankings.
Higher visibility
Users are more likely to click on the first five suggestions within SERPs when searching for a service or a product online. This means that websites with the most search engine optimized content get more visibility and traffic.
SEO also helps with the social promotion of your websites. People who find good content through search engines may promote it on other social media platforms. It also ensures more significant revenue for the website runners due to enhanced visibility.
User experience
Good usage of technical, off-page, and on-page techniques can improve the website user experience. This results in a seamless and positive experience for the website visitor.
A good website communicates the services and goods they offer and answers any relevant questions. They create the website with a good balance between user intent and SEO usage, making it easier for search engines to pull them up in results for relevant searches.
Page authority
Users tend to trust pages that rank higher on SERPs. This means higher SEO rankings and visibility and attests to the website's trustworthiness in question.
One can find their page authority rating by using free online tools; the higher the value, the better the page's credibility. This practice solidifies the trust a user has in your website's services and products, giving it a good reputation.
Growth
A well-optimized web page has better growth due to the maximum utilization of SEO strategies; this results in more organic traffic to your website. Effective use of good topic-oriented keywords also promotes the positive growth of your brand and website.
The whole aim of using the top SEO techniques is to drive in and enhance the popularity of one's webpage. Therefore, if one isn't well-versed in good SEO practices or doesn't bother with them, it can severely affect their content's online visibility.
SEO directly correlates to the sales and revenue generated by the website brand. Meaning, the better the implementation of SEO techniques, the higher the sales will be.
Google Algorithm for SERP Generation
Now that we have discussed the types of SEO techniques and their benefits, let us delve deeper into how Google and similar search engines effectively optimize and curate SERPs for online searchers. This will also give you a better idea of how SEO works to make search engine curation faster and more efficient and allow you to keep track of its constant evolution.
To begin with, algorithms can be defined as a set of rules or instructions used to solve problems and perform tasks. Google algorithms essentially work the same way to bring about the SERPs you see for any query results.
How does it arrange the websites, and according to what criteria are they presented on the SERPs? This is where the constantly evolving Google algorithm comes into play. Artificial intelligence and numerous ranking algorithms curate the optimal results pages for any searches.
Despite the algorithms not being made public, there are a few key factors that impact a page's visibility and ranking,
The words mentioned in a searcher's queries are used to curate a list accordingly.
The relevance of the web pages and their reliability are taken into account when curating a SERP.
The user experience, content relevance, and technical SEO application play a role in ranking websites.
The user's and webpage service's locations are used to optimize a SERP.
The natural use of keywords in web page titles, meta descriptions, headings, and throughout the content
The number of natural content-related links to your website
Gadget-friendliness of the websites in question. Google algorithms see how compatible one's site is when displayed on smartphones, tablets, and other gadgets.
These are a few factors that play a role in generating efficiently optimized SERPs for any query. The weight given to these factors varies depending on the queries. However, remember that algorithms employed for this purpose are constantly changing and evolving.
Along with this, other search engine features like knowledge panels, carousels results, paid ads, and more take up the SERP. This brings down the number of organically displayed web pages with exceptionally well SEO-optimized content. Webpage creators, in turn, find newer, more innovative ways to implement SEO within their content to maintain their SERP rankings.
In tandem with SEO in webpages, Google algorithms decide the SERP rankings and subsequently the user traffic that a web page receives. In turn, the user traffic also plays a role in determining the ranking of a particular web page, making the process a cycle. Let us read further on what it means to drive organic traffic and its benefits for websites.
The Need and Benefits of Organic Traffic
Organic traffic refers to users' visits to websites from naturally generated SERPs. SERPs usually show both ads and SEO-optimized web pages. The significant difference between the two is that ads generate paid traffic. Ads are denoted on the SERP in the top left corner by the word 'Ad.' Every time a user clicks on these links, the website pays a certain pre-decided amount to the search engine. This is called Pay Per Click (PPC). The results it reaps are instantaneous but not necessarily long-lasting.
Organic traffic is not instantaneous but is better eventually. With paid traffic, once the paid ad is stopped, the SERP rankings for that website plummet. Therefore, it is better to invest time and effort in the top SEO techniques and let them work their magic for free!
Why is organic traffic important? Organic traffic is important because users visit your website of their own accord and interest and tend to stay longer on your website. Moreover, it is a long-term sustainable strategy for websites without spending money on paid ads.
Another reason is due to its highly targeted nature. Organically-driven website traffic has more chances of bringing in new customers or followers. This is because websites on the initial SERPs have higher rankings, meaning they are reliable and trustworthy sources.
The benefits of organic traffic are as follows:
Organic traffic is cost-effective. Strategies that increase organic traffic have a high impact at a low cost. Even if it isn't entirely free (at times), it is still cheaper when compared to PPC and has a higher long-term RoI.
It is more sustainable. As mentioned earlier, the results are instantaneous but short-lived with paid traffic. With organically-driven traffic, good SEO utilization means longevity in SERP rankings.
It results in high-quality pages. Pages with higher SERP ranking also have another advantage – good credibility and page authority. Meaning they're fast, informative, and above all, reliable.
It gives websites a better competitive edge. You can obtain this by creating a niche for your website with a better user experience and quality content. Analyze your biggest competitors' SEO profiles and always stay a step ahead.
It also helps in brand building and raking in engaged and alert users who are also potential customers.
The above-mentioned are some major benefits of organic traffic for one's website. Now, let us check out some of the most effective top SEO techniques that can be implemented to increase organic traffic!
10 Effective SEO Techniques To Get Organic Traffic
Here we list some of the best SEO techniques that seamlessly drive organic traffic to your website. This mix of the most important SEO techniques includes strategies that come under technical, off-page, and on-page SEO techniques. Let's check them out.
This refers to the methods taken to make a web page more SEO-friendly. This technique comes under on-site SEO techniques. It is important to create a website's content with a specific purpose. A well-planned content strategy is crucial to increasing the site's organic traffic. Here are some tips on building an effective content strategy.
A well-planned content strategy involves coming up with topics, finding topic-related keywords, setting goals, determining the target audience, developing a calendar, writing good quality content, and proofreading or correction. Planning the structure of your website content early on makes it easier to find information to write. This makes the process more streamlined and efficient, especially when creating and delivering good-quality content.
Extensively research topic-related keywords
Find and use seed keywords, synonyms, long-tail keywords, and other related phrases to increase the SEO score of the content. Another strategy is to make the content action-oriented, prompting the readers to keep reading or trying out new services or products without being overwhelming.
Content-related keywords can be found by opting for online services where keywords for topics are shown based on usage volume or keyword difficulty. They can also be found based on the most and least used words by one's competitors.
Easy-to-understand language
Use simple vocabulary, short paragraphs, and mix up the length of sentences. Along with this, ensure that the page isn't overcrowded with text and pictures; balance it out. Use bullet points to keep texts precise and short. This keeps the readers' attention on the article.
Ensure that the keywords aren't used too often. This takes away from the appeal of the content, making it unnatural. Keyword density should ideally only be around 2-3%. Keywords should be placed naturally throughout the text without crowding.
This practice is called keyword stuffing, and it should be avoided at all costs. Over-optimizing is yet another issue to be avoided. Ensure that the primary keyword isn't overridden by the constant use of other secondary keywords.
Optimized meta titles and descriptions
A good meta title and description with keywords placed naturally can boost the rankings and relevance of a site in SERP. It is also important to ensure that they are appealing enough to grab more visitors and get a higher CTR (Click-Through Rate, which means the number of people who click on a website against the total number who could have).
This is important since new content takes the limelight; old content may become irrelevant. Update old content and optimize it to keep it current. Remove any broken links and replace them with fresh links. Add additional internal links from the latest pages within your website. They will help the site get higher SERP rankings after the search engines crawl and index the content.
Fresh content brings in new revenue. It also gives the creator a chance to use the latest SEO techniques to aid rankings and drive traffic. Up-to-date information always takes more precedence over stale content as it may have outdated information. Producing new, good-quality, and well-researched content also helps your website gain more traction and ranking.
2. Analyze competitors' SEO strategies
It is always advisable to keep track of your competition's SEO strategies. This is one of the most vital steps in off-site SEO techniques and helps drive indirect traffic to a website. This practice makes you aware of your competitors' different methods and their benefits. It also helps generate more ideas for your website's optimization.
It can also help curate your SEO strategies far more effectively to get better SERP rankings. Check out their best-performing pages to get an idea of how they are increasing their organic traffic.
You can use tools available online to carry out the following tasks:
Find out who your competitors are. This helps you keep abreast of any new and upcoming competition and enables you to step up your SEO strategy.
Analyze the competition's best-performing pages to find any gap in content, keywords, or links. These may be elements that you haven't delved into, from which you can generate new content.
Check out their interlinks and improve existing content on your website by tapping into the addition of new internal links, removal of broken links, and using other link-building techniques.
Keep an eye out for keyword cannibalization. Keyword cannibalization refers to multiple pages on a website focusing on the same keyword, thereby reducing the traffic of those pages to a point where neither ranks high because of the other. In other words, when multiple pages focus on the same keyword and have the same intent, it causes key cannibalization. As a result, those pages compete against themselves, hurting their chances at a good SERP ranking.
Therefore, by spending a little time and effort studying your competition, you can develop excellent strategies to improve your website's organic traffic by practicing the best SEO techniques.
3. Optimize the site's user experience (UX)
UX is a central crux in effectively implementing technical SEO techniques into one's webpage. Safety, security, search engine crawlability are some factors that can enhance the user experience. It is also a good indicator of a high-quality webpage.
Google is considered the best and most reliable search engine worldwide. This is owing to its efficient ability to find the best search results for a user's query. This ability is constantly evolving to make the results more accurate to the users' needs.
When creating content, the above-mentioned aspect needs to be thought of. Meaning, if the content created isn't correctly optimized for SEO, the page will likely receive a lower ranking owing to Google's proficient ranking algorithms.
Let us check out some factors that determine a site's overall user experience:
Users nowadays prefer to carry out searches and have their queries answered through portable gadgets like smartphones and tablets. Web pages must be developed to be mobile-friendly, too. A responsive, mobile-friendly design can help your page gain more traffic and higher SERP ratings.
Google recently announced that it's going mobile, primarily relying on mobile gadget user agents to crawl sites. Simply put, mobile versions of websites will be crawled and indexed ahead of their desktop counterparts. Therefore, mobile-friendliness is a significant aspect to focus on in the coming days!
It refers to the total time a web page takes to load up. Here, the thumb rule is, the shorter, the better. Web pages that take a long time to load can dissuade potential customers and viewers.
Visitor experience relies on certain parameters, out of which good quality content is an absolute must. This keeps the visitors engaged with the website and makes them potential customers for the brand and its products.
This conversion of a user to a customer heavily relies on good marketing and great content. Good use of SEO also decides on the page's ranking, affecting the CTR.
Launched recently by Google, core web vitals provide a seamless user experience. The vitals are concerned with the responsiveness, speed, and visual stability of a webpage.
The three core web vitals are,
The largest contentful paint (LCP) refers to the loading performance of a web page. LCP occurring within 2.5 seconds or faster indicates a good UX.
First input delay is the time a page takes to become interactive; it should ideally be less than 100 milliseconds.
Cumulative layout shift measures the page's visual stability, for which the value should ideally be below 0.1.
4. Optimize for Voice and Image SEO
What is voice SEO?
Voice searches are gaining traction nowadays, with Alexa, Cortana, and Siri, and other smart speakers answering most of our verbal, vocal queries for us from online content. This is where voice SEO comes in.
Voice search is a growing and continuously expanding field that will gain more relevance with time. Therefore, it is an excellent practice to be ahead of this curve by optimizing your content for voice searches.
Voice SEO is likely to look different when compared to text-based SEO. This is because text-based SEO will be short and precise, while vocal searches are longer and more structured. Voice SEO is also more localized. Questions could refer to shops and products available nearby or the distance to particular destinations and so on.
Answers to these voice searches are direct and often, if not always, from a featured snippet (brief excerpts from sites encasing a specific answer that appeases a user query quickly).
Optimization for voice searches mainly involves the effective use of long-tail keywords, along with synonyms or similar long-tail keywords. The content's readability can also be improved by structuring it with questions for subheadings.
Is an image or visual SEO important?
Visual searches refer to employing images to conduct a search. This can be done using Google Lens, Pinterest Lens, and more. Artificial intelligence tools like machine learning and computer vision carry out these searches.
Image searches differ because, despite involving imagery, the searches are conducted by text or voice and not through an image itself. Image SEO optimizes images cleverly, giving them a chance to rank prominently in the image SERPs. This can be done by adding alt tags, file names, creating image sitemaps, reducing file sizes and dimensions, and more. Alternate descriptions or alt tags refer to the text that appears in place of an image if it fails to load. Search engines crawl through these tags to understand a picture's context for indexing it.
Giving descriptive filenames to images instead of the automatically generated ones makes the context easier and helps the image reach a wider audience. It is also important to ensure that the filename is unique to that image. Creating image sitemaps is another way to optimize images. This helps increase the chances of the images being discovered by the search engines. It also helps the search engines to crawl and index the images.
Finally, reducing file sizes and image dimensions to optimize image SEO is important as this determines the loading period for a web page. Optimizing image size is important to ensure a quick load period as long loading times can dispel potential visitors. Image dimensions should be customized according to the dimensions of the webpage and its content to give it an elegant look. Disproportionate images can take away from the appeal of the web page, so always try to avoid them.
5. Digital PR and authority backlinks
There are many link-building techniques out there: however, earning authority backlinks is the more effective of them all. This is because getting your webpage backlinked by other reputable websites leads to your page getting higher rankings. The best way to get such natural, relevant backlinks is by creating unique, highly informative content.
Another method to getting such backlink mentions is using digital PR by creating content that can be promoted through social media and other forums. Make sure that the content is inspiring enough that bloggers, journalists, and publishers will want to cover and link your work within their articles.
Finding unlinked mentions to turn them into linked mentions is yet another approach that will increase your website's backlinks. Using digital PR, you can make snippets of your content to create curiosity and drive more traffic to the website.
It is important to note that not all backlinks increase your website's organic traffic, so be careful. Spam links, low authority page links can hurt or have no impact on your page's traffic rate. However, backlinks from reputed, older domains earned by quality content and good digital PR can safely and effectively increase your page's traffic.
Digital PR helps with increased backlinks and brand promotion, awareness, and increasing sales revenue for the website's products. Work with influencers, affiliates, and more to diversify your backlink portfolio along with receiving other benefits of great digital PR.
6. Improve your website based on user intent
Google algorithms are designed to understand the intentions of its users – what they expect, what they want to search for, buy, and the answers they need. Google curates a unique SERP for each online user based on these queries. These algorithms are constantly evolving based on the data it gets from the users.
This data makes the search engine's algorithms more efficient in understanding its users' needs. Once this is known, one can create content tailored to that particular demographic, addressing their needs and queries.
Therefore, here are some details to keep in mind while creating web content.
With the algorithms getting better at understanding the user's needs, creators must improve their content according to the same to not fall behind. You can find out the user's intent and possible queries by using social media, Quora, and more.
Similarly, one can carry out research through Google Analytics to find out the most visited sites and their content. Check out comments on your blog post to further understand your visitors' needs. This can help you create more targeted content and gain more traction.
While creating a piece of content, it is important to consider why and for who it is being created. These are crucial questions to be answered as the former forms the core of your content, and the latter decides who your target readership audience is.
Knowing your audience's demographics – age, sex, gender, location, or interests – helps you create high-quality content with solid SEO techniques. Creating content that doesn't target a particular audience reduces the chances of getting higher organic traffic.
Thematic content clusters
Don't focus on keyword-oriented content creation alone. Make content in clusters based on topics or themes that interest users the most. This entails having pillar content, hyperlinks, and cluster content.
Essentially, pillar content refers to the important, high-ranking pages on a website. These are surrounded by cluster content, which refers to parts of the pillar content but in more detail. Cluster content pages also link back to the central pillar content pages.
This method satisfies user intent, increases organic traffic to the main page from the cluster pages, and promotes a better ranking for the cluster pages. That said, keyword research is still crucial to this as a part of successful SEO execution.
Another top SEO technique to get a higher SERP ranking is to use the People Also Ask (PAA) sections of SERPs. One of the benefits of being featured as an answer for the PAA section is that you can rank high twice in a SERP – first, as an answer to the PAA question, and then on the SERP page due to the high SEO content of the page.
Content creators still do not utilize this area entirely, so there are many possible ways to get one's page featured here. Using online keyword tools, creators can find the most appropriate keywords to use for a PAA question.
7. Write extensive content
Studies have conclusively shown that longer content generally outperforms shorter content. A variety of factors aids this, like higher inclusion of keywords and backlinks, among others. However, it is important to understand that this performance is subject to the informativity and quality of the long content.
Shorter content with better quality can and will still outperform longer content. Keep in mind that not everyone searches for long content. This is where user intent comes in, and it can be determined to an extent utilizing the keywords used. Some point to users looking for short, precise bulletin points. At the same time, others attract people looking for comprehensive details to develop an extensive understanding.
There is no straightforward hack to make this decision. As mentioned above, writing extensive content has its perks that lead to higher rankings and better organic traffic. Keeping a reasonable and appropriate word count can go a long way in helping the website gain traction. The first obvious way to do this is by writing long articles. The trick here is to cover as much detail under a topic as possible, making it valuable for readers. Ensure that any chosen topic is covered effectively.
Another way to make content extensive is by updating old content. This way, the old content already has a certain level of authority. So, including additional and updated information increases its relevance, length, and backlinks and results in higher SERP ratings.
One can decide which articles to improve by checking for time-linked content, i.e., topics that have constant information updates. You can check which posts or content has this potential by going through Google Analytics to find which articles have had the most organic traffic.
Infographics are pictorial depictions of information in a condensed, precise manner. This is a highly beneficial tool to use as many online users are visual learners, and infographics can make the content more easily understandable.
It is a great way to avoid information overload and forgetfulness. Infographics are more engaging, short, and accessible. The comprehension rate for symbols and images is much shorter for written content.
This technique is also more interactive, persuasive and keeps people engaged for longer periods. The quote, "I hear, and I forget, I see, and I remember, I do, and I understand," truly holds a high significance here. This is because what we see and our actions are more memorable to us in the long run.
Infographics can be anything from piecharts to bar graphs, comparisons, visual articles, caricatures, cartoons, and everything in between. They are a whimsical and effective way of sharing information. They can be backed up by blogs and articles that explain the content in detail.
Such infographics can be used to create quality backlinks to one's website to increase organic traffic. They can also be used as snippets to promote content through digital PR through social media platforms, blogs, and online news. These infographics can be obtained from the Internet, designed by paid professionals, or better yet, made by oneself. The latter gives you control over the information you want to see depicted. They can be made using MS-Powerpoint, Canva, and similar software and websites.
9. Internal linking
This is one of the underrated yet best SEO techniques. Internal linking refers to linking other pages within your website to your current web page. This can help give you an additional boost to increasing the pesky SERP rankings. This also shows Google and similar search engines the variety of content present on your website, making it more likely to get indexed and rank higher. Older blogs and posts may have a lot of topical information within them, which, when internally linked to, can help structure and bring in more traffic to your website.
Find your site's most top linked pages and add internal links where ever possible. However, keep in mind not to link the same page twice, as this can result in your content getting flagged as spam.
Internal linking, when done right, can improve a page's SEO rankings, even for the difficult words. It also shows Google the relevance of your new and old articles while simultaneously enhancing its page authenticity.
Use anchor texts or keywords to create the links. Anchor texts refer to the actual words in the content to which the page is linked. Keep these words short and simple—link over with words that are relevant to the other page. Anchor texts with links attached to them give Google a better sense of the important parts of one's website. This can also increase good user experience and engagement.
10. Finding broken links
This is another link-building technique to search for dead links and claim them. These links can either be information that requires citation or actual dead links for which the content page does not exist for whatever reason. Using online tools, you can find such citation-required links in Wikipedia; create content supporting the information reliably, and get valuable links from Wikipedia. If you have articles that need a citation and support the Wikipedia content, all you need to do is submit them. If not, write an article on that topic, which covers all its aspects in detail. All one needs then is to go to the Wikipedia page, follow the steps, get it cited, and once it is approved, your page will become a more credible source of information.
Another variation is target links that show URL errors or 404 pages, for which related content could be suggested from your end to replace the broken links in question. This results in more traffic for you and reduces the chances of visitors clicking on a broken link.
Key Takeaways
Create a good content strategy, all the way from finding topics, setting a timetable, and establishing well-laid-out plans to create content within a timeframe. Carry out extensive research on finding relevant topic-related keywords. Try to find usable long-tail keywords, too. When making your content, make sure to avoid keyword stuffing. Ensure that the use of other keywords doesn't override the primary keyword.
Optimize your content's meta titles and descriptions creatively with good use of SEO techniques. Analyze the competition's SEO strategies using online tools. This helps you revamp and improve the use of SEO techniques. Find gaps in keywords, contents, or links that you haven't previously made use of to create new content. Avoid keyword cannibalization, i.e., do not have two pages dedicated to the same keyword and content, as this reduces the pages' SERP rankings and visitor traffic.
Make sure webpages are mobile-friendly as it is a crucial ranking factor in today's gadget-led world. Ensure the simplicity and elegance of your page, which reduces its loading time. Improve user experience by not compromising on security features like usage of HTTPS, which has an additional safety protocol. Check your webpage's core web vitals as it is an important SERP ranking factor for a smooth user experience.
Optimize for voice search using SEO techniques like using long-tail keywords. Improve your page's image SEO by adding alternate tags, descriptive, unique file names. Reduce the image size to optimize the webpage and keep the loading time short.
When creating backlinks, quality is more important than quantity. Make sure your web page is linked to older, more reputable sites and domains. Authority backlink creation can be promoted by using digital PR to promote your content through social media, forums, blogs, and more. Implementing digital PR improves brand and website user engagement, promotion, and sales.
Use cluster content building. Create a pillar page and other topical articles linking back to the main page. This increases the main page's authenticity. Focus on People Also Ask and feature snippets by using curated keywords. Create informative content with up-to-date information and a high word count, as a higher word count indicates increased inclusion of keywords and links, resulting in better SEO and SERP rankings.
Update old content to make it longer, add more external and internal links to ensure the page stays relevant. Use infographics, i.e., pictorial depictions of information, to engage users with quicker comprehension. Infographics can help increase the backlink profiles for a web page.
Internal linking can help organize your website and its web pages, improve SEO rankings, rank pages higher in the SERPs, and make the user experience better. Broken backlinks can help increase your content's organic traffic. They can be found in Wikipedia for topics that require citations and from your competitors' dead links.
Conclusion
Having a good mix of off-page, on-page, local, and technical SEO makes a website rank well and drives traffic organically. In this article, you will find elucidations for how Google's search engine works, how it generates organic traffic, and its importance for SEO optimization. This article also extensively chronicles the relevance of SEO, the different types of SEO, and the ten best SEO techniques to employ to make your content better. Implementing the SEO strategies mentioned here can take your web page, user engagement, and traffic to the next level!
FAQs
1. What are SERPs?
SERPs refer to the search engine results page. This is the page the search engine moves on to once a user submits a search query. SERPs usually include paid ads, high-ranking SEO websites, featured snippets, and other features. Google uses proprietary algorithms to curate SERPs specific to users' search queries. These algorithms are constantly evolving to gain a better understanding of user intent.
2. What is SEO, and how does it work?
SEO is the process of improving the quality and quantity of a webpage to improve its website traffic. SEO usually targets unpaid or organic traffic and not paid traffic. The optimized content then receives higher SEO rankings, which increase the visibility of a website in a SERP for a query. This results in greater user engagement.
3. Which SEO techniques generate the most efficient results?
Optimizing for mobile friendliness, building high-quality backlinks, using good security features like HTTPS, and optimizing for page speed result in higher efficiency generation. Employing these techniques results in the pages receiving higher SERP rankings. This means the pages will appear higher on a SERP, increasing its visibility, revenue, and organic traffic.
4. Which SEO techniques should be avoided?
Keyword stuffing, keyword matching, keyword cannibalization, and buying backlinks are some of the SEO techniques that should be avoided at all costs. These SEO techniques reduce the ranking and visibility of articles in SERPs.
5. What are SEO tools?
SEO tools are websites that provide data and alerts about your website's overall health and success. They help you find areas of opportunities and identify areas of improvement and issues. Correcting and creating based on this can help you achieve a higher ranking and more visibility in the SERPs. People can use free and paid SEO tools to optimize their content and learn their strong suits and weak points.
6. What are SEO keywords?
These words help users find one's website online by query searches. Once these queries are submitted, websites are pulled based on the keywords used. The web pages with the highest SERP rankings are shown first for the user to choose from and explore. A website with the best SEO techniques essentially speaks the same language as the potential visitor demographic, and the keywords act as the linker navigating the user to the website.