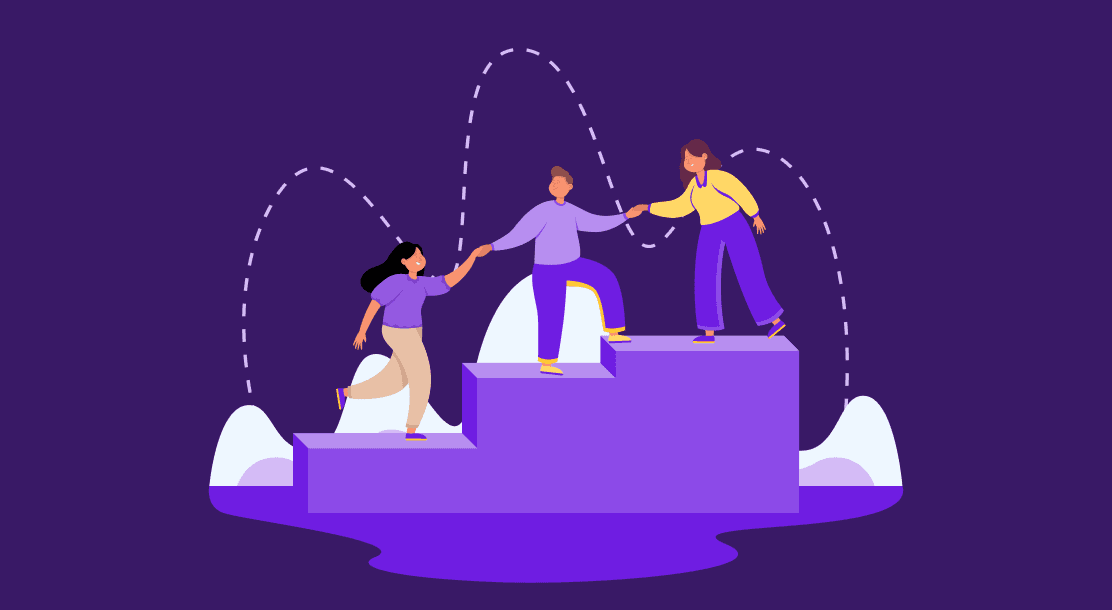 Table of Contents
Why Use Banner Ads?
20 Helpful Banner Designing Software to Use This Year
Pro-Tips for Designing Click-Worthy Banner Ads
Key Takeaways
Conclusion
FAQs
Banner ads are an important part of any content marketing strategy. They're clickable images that appear on web pages, which direct traffic to your website. Banner ads are typically used to promote sales campaigns and highlight best-selling or newly released products.
Effective banner ad campaigns grab the attention of the reader and convey your brand message in just a few seconds. If you want to create click-worthy banner ads, read on to find out about the top banner design tools that will make your job simple.
Why Use Banner Ads?
According to a 2019 Semrush study, Google's Display ads network reaches more than 90% of all internet users. This means you can be confident that your target audience is sure to see your ads. But you might think it isn't easy to target the right audience through banner ads. This couldn't be farther from the truth.
Banner ads are quite effective in this sense, as they use programmatic advertising to reach audiences based on their profiles. They are also quite cost-effective, as you only pay for the impressions or clicks you get. That means, your marketing strategy is effective to the scale of near-perfection. The only thing you need to consider is designing an ad that actually grabs attention and appeals to your audience—which is what the rest of this blog is here to help you with.
20 Helpful Banner Designing Software to Use This Year
We have divided the different banner design tools into different categories. So whatever your purpose is—be it seeking inspiration, designing, or editing—this section enlists a wide range of tools to choose from.
Finding inspiration
If you're just starting out as a designer, it can be difficult to understand how to create appealing imagery for your banner ad. So before you start your design journey, check out these resources for setting your foot on the right path.
Moat is an advertisement analytics platform owned by Oracle Advertising. A cool feature on their website is that you can search for ads based on brands. The site quite literally acts as a database for all ads of major companies.
The above image shows the results for all ads run by vegan milk company Oatly. You also get information regarding the image size, time duration of the campaign, as well as whether the campaign targeted desktop or mobile users. A great place to start your journey with banner ad design is to search competitors and other brands whose ads you've really liked.
Yet another ads database, Ads of the World allows you to filter ads by campaign type as well as industry. In this manner, you can take a look at what's trending and most appealing to audiences in your industry.
This portal is unlike any other resource for banner design. As you can tell by now, it's important for your banner to not only have good graphics, but it should also have a killer copy. The Brand New section of the website is a useful tool for inspiring banners created by designers the world over. This database not only includes existing ads but also features ideas and mockups from upcoming designers.
The log is updated every day, and you can also check the comments from their active user base. This inspirational resource is great for coming up with something that goes beyond typical ad copy. Having good content elevates your brand positioning and gets you high-quality leads.
Behance is a networking platform exclusively for designers and artists. Creators share their portfolios here. On Behance, it's easy to search for ads for particular products. In the example below, you can check the results for headphone banner ads. Like any other social media platform, likes and comments give you an indication of how popular a design is.
If your target audience mainly consists of women, then Pinterest is an excellent resource for finding banner ad ideas. The best part about this banner design tool is, if you like a particular design, Pinterest's algorithm will suggest more designs with similar elements. To make your work easier, you can add all the designs you like in a mood board on Pinterest and use it as a quick and handy reference when you're designing your own ad campaign.
Collecting resources
Now that you have some design inspiration, the next step is to collect material for your banner design. Below, we list a few banner designing software that will help you with the resources you need to make a stunning banner.
You can make simple yet elegant banner ads using just a stock image, your brand logo, and a CTA. Stock images can help keep your design clean and uncomplicated, making it quick and easy for the audience to understand their message.
If you're looking for stock images, Pexels is one of the best banner design tools you can turn to. The site has a vast selection of royalty-free images of good quality.
You can also use iconography to easily make banner designs. You can use a combination of stock images and icons, or simply choose colorful icons to create an appealing image.
For instance, Asana's banner ad, with a hand depicting the clicking action, is one of the most common yet effective banner ad creatives. Many companies use a variant of this ad, as it's highly intuitive. To create this, you can download button icons, avatar icons, and many more cool vector icons and stickers from Flatirons.
Iconography is one of the quickest ways to create visual interest. It allows you to bring in more creativity, which helps your audiences connect with your brand more easily. Keeping your banner ads clear and consistent can help you retarget existing clients for more brand impressions and, ultimately, visits to your website.
However, if you're in a niche sector, it can be hard to find icons that match your specific requirements. Well, not anymore. Noun Project is here to solve this exact issue. This banner design tool is super useful for creating high-quality graphics without much effort. If you're a brand-new company, this site can double as a logo and banner maker too.
Humaaans is a site for creating human illustrations. By using this tool, you can customize human illustrations to depict the services that your company provides in a fun and actionable manner. The best part? It's completely free, even for commercial use. You can create all types of smart graphics using this banner designing software. It's extremely easy to use too.
Unsplash is yet another royalty-free image site with excellent high-quality photos. It's also easily navigable, as it is conveniently categorized according to industry. Apart from stock photos, the site also features wallpapers 3D renders, which can add a pleasing visual appeal to futuristic websites.
Getting started
Now that you have your design resources, the next step is to put together all the elements that will go into your banner: in other words, getting down to business. This is an important step in the process, as it'll help you maintain a lucid brand tone for all your ads.
Since you've come from inspiration to ideation, it's time to get going with the actual design of your advertisement. Check out these free banner-making software options that are super simple to use.
The first step to determining the right voice for your ad campaigns is to choose the colors you'll use. To do this, the Adobe Color banner design tool can be a great resource. Remember that you have little time on your hands before a banner ad makes or breaks your site. So you need to use colors appropriately to convince your audience in a few seconds.
You need to be able to set up good contrast and use a combination of colors in your banner ad. Adobe Color helps you achieve that easily. It also lets you create a color wheel, and explore different gradients and color trends across industries and platforms. For ease of applicability, we have listed a few colors that are widely used in banner designs.
As a bright and energetic color that stands out easily, red is the preferred choice for CTA buttons. This is because it creates a sense of urgency. Secondly, red is also a top choice for food brands, as it's known to encourage appetite.
Blue is a cool color that's associated with peace and tranquility. As you can imagine, many hospitality services use blue in their banner ads.
Unlike red, blue is known to curb the appetite, and therefore, should not be highlighted in branding for food products. Blue is also a common color for corporate banner ads.
Unsurprisingly, green is associated with nature. Hence, it is used by brands that want to promote sustainability and close association with the environment. Green is also associated with wealth and prosperity. Therefore, many finance companies also use green in their banner designs.
Purple is often associated with status and royalty. It also creates a sense of mystery and magic. So it's popular in the gaming segment and taboo industries.
These colors are known to appeal to creative audiences. They also portray cheerfulness and optimism.
Pink is primarily associated with femininity and romance. Light pinks convey softness and compassion. It can work quite well for brands selling wellness products.
Black is a neutral color that people associate with timelessness. It can elevate your branding. Most advertisers stick to black for text, as it can make the writing legible.
We don't recommend using white or white tones as the main color in your ad. This is because it won't stand out against the white background of a web page. However, white is an effective color for making your text readable. As for emotions associated with white, it can convey peace and clarity. It can improve the trust factor with your audiences.
In marketing, gray is widely used to create balance. That means it's a good transitional color to bring two or three contrasting elements together. However, it can also sometimes convey dullness. So don't overdo gray in banner designs, as it may be seen as boring or unfriendly.
Typewolf is the ideal banner designing software for choosing trending fonts. Much like colors, fonts also play a role in how your customers view your brand. From free fonts and font checklists to lookbooks and learning resources, this site has everything you need to know about typography.
Let's understand a few common font styles you can use in your banner designs. Serif fonts have an inherent association with tradition, as they've been in use since the invention of printing presses. Sans serif and slab serif fonts are clear and can be read easily. So they're great for ads as they're time-efficient. However, use them sparingly if your target audience is only women, as these styles appear more masculine.
Modern sans serif fonts are slight variations of the sans and slab serif fonts. They may be slightly thinner or wider. They could also be more compact and feature more intricate curve patterns. These fonts are preferred by tech and gaming companies. Be careful about color, contrast, and font thickness while using these fonts, as they may not be as clear to read.
Script fonts, on the other hand, are fun fonts that convey creativity. Since script fonts are closer to handwriting and doodling, they tend to involve nostalgia, which is great for building an instant connection. You can make script fonts gender-neutral by using the right colors and design elements.
If you want to quickly create a professional logo, Wix features an easy-to-use logo and banner maker that can be completely customized to your liking. The editor is fairly straightforward and provides several options for customization.
If you're working with stock imagery, you may want to adjust the filters to make your photo match your brand colors. To do this, professionals use premium graphic suites like Adobe Photoshop. However, don't worry if you don't have access to these suites or if they are too expensive for your marketing budget. You can use GIMP, which offers almost-similar functionalities, and is completely free to use.
Fotor is an online image editor that's specifically curated for web graphics. The site features several design templates for social media posts and blog banners. You can choose ad banners specifically for advertising on social media platforms. The templates are fairly basic, with options to add your own imagery, icons, and logos. You can even customize the colors to your liking.
The site also has a pro version, where you have more options for stock photos, templates, and icons. However, you can find good-quality, royalty-free images in the free version as well. A major advantage of using Fotor is that you can add shadows to images and icons, which makes any banner more visually appealing.
Visme is also a free online editor that lets you quickly build banner ads from templates. This banner designing software allows you to add extra capabilities to your ads, using rich graphics like charts and diagrams. Its templates are also fairly basic, much like Fotor. One limitation of Visme is that image sizes are fairly limited and non-adjustable. You may find Visme more useful if you subscribe to the premium version. A limitation of the free version is that you cannot download files in a web-friendly format.
PosterMyWall almost exclusively contains graphic templates for promotional images. This makes it an extremely useful banner design tool. You also have plenty of options in terms of sizing, which gives you more control over the design. Many templates on PosterMyWall are animated.
However, you may face difficulty downloading them in GIF format, which is required for making your animated ads light. Lastly, the wonderful thing about PosterMyWall is that you can download the same design in multiple sizes. This means, you don't need to make three different ads for websites, mobile, and tablets from scratch. The software automatically reorients its templates to fit different sizes.
Easily one of the best online banner makers, Canva provides you with immense capabilities for creating click-worthy ads. The great thing about Canva is that you have plenty of options and templates to work with on the free version itself. Plus, if you really like a template, you may also be able to pay for just one design rather than buying a subscription. Another major advantage that Canva offers is that you can animate any design to your liking and download it in the GIF format for free.
If you're comfortable with coding in HTML5, you can try the web designer from Google. Some really cool capabilities of the Google Web Designer is that you can integrate animations and interactive content within your banner ads. Secondly, it also integrates seamlessly with other Google products, such as Google Display & Video 360. You can also run quality assurance checks on your ads, so you know they're going to perform well.
Do you plan to create plenty of banners for all your marketing campaigns? Abyssale makes it easy for you. This automated banner design tool uses AI to create banner ads in minutes. You can customize the ads to your liking too. All you need to do is choose a template and upload your text in the form of an Excel sheet.
Although the design capabilities of this software are fairly minimal, it helps in automating the process for large campaigns, helping you optimize the time and money spent on marketing.
Pro-Tips for Designing Click-Worthy Banner Ads
In addition to knowing about the various banner designing software, it is crucial to follow certain banner design tips. We've mentioned a few of them below.
Some of the top-performing banner ad sizes for 2022 are 300×250 pixels, 336×280 pixels, and 728×90 pixels.
Ensure that the maximum file size of your banners is 150 KB, otherwise, it won't load properly. To do this, you can compress your file using a free online image optimization tool.
Make sure your animations don't last more than 15 seconds.
Ensure that animated ads don't loop more than three times.
Create a sense of urgency or fear of missing out (FOMO) by using text, such as "Offer Ends Soon!"
Make different banner ads for different landing pages.
Key Takeaways
Keep the purpose of your banner simple: sales, promotions, or site visits.
Be consistent with your brand image and voice.
Ensure that your banner is simple to understand.
Use creative copy to attract audiences.
Make sure you get the grammar in your text absolutely perfect.
Keep the text concise. Your banner headline should never be more than one sentence.
Use readable fonts.
Use bright colors to make the banner easily visible on a web page or mobile app.
Use color theory appropriately. A maximum of two to three colors is recommended for a good-quality banner ad.
Take inspiration from existing ads in your industry, but never copy a theme entirely.
Always use high-quality images. Pixelated images or images that have a watermark can be grating for your brand image.
Try out interactive elements using Google Web Designer if you're familiar with code.
Conclusion
With these banner design tools, you can go ahead and start your first pay-per-click campaign online. These tools are not only helpful for banner ad designs but can also be used strategically for social media posts and blog images. Lastly, remember that good marketing and advertising don't end with good graphics. Don't forget to check out our guide for copywriting to ace your writing skills.
FAQs
1. Which software is used to design banners?
Professional graphic designers use banner design tools like Adobe Illustrator, Adobe Photoshop, and CorelDRAW. However, there are plenty of free banner-making software options, which help you achieve similar results. These include Visme, Canva, and Fotor, among many others.

2. Are banner ads still effective?
The short answer is yes. However, if you want to know the reasons why your banner may not be doing well, check out this blog. 

3. What should a banner contain?
A banner ad should contain easy-to-read and engaging text, a standout graphic, and a prominent CTA button. 

4. What is a standard banner ad size?
The most widely used banner ad sizes are 336×280 pixels and 300×250 pixels. These are now considered standard banner ad sizes.

5. What format are banner ads made in?
The most widely used banner ad format is JPEG. However, you can create banner ads with dynamic HTML scripts or animated GIFs. You can also use PNG files for static ads.

6. How do I create a logo for a banner?
You can use free logo and banner makers available online. It is crucial to decide which size and orientation are appropriate for the banner ad you're creating. Keep your logo simple so that it's easily recognizable.