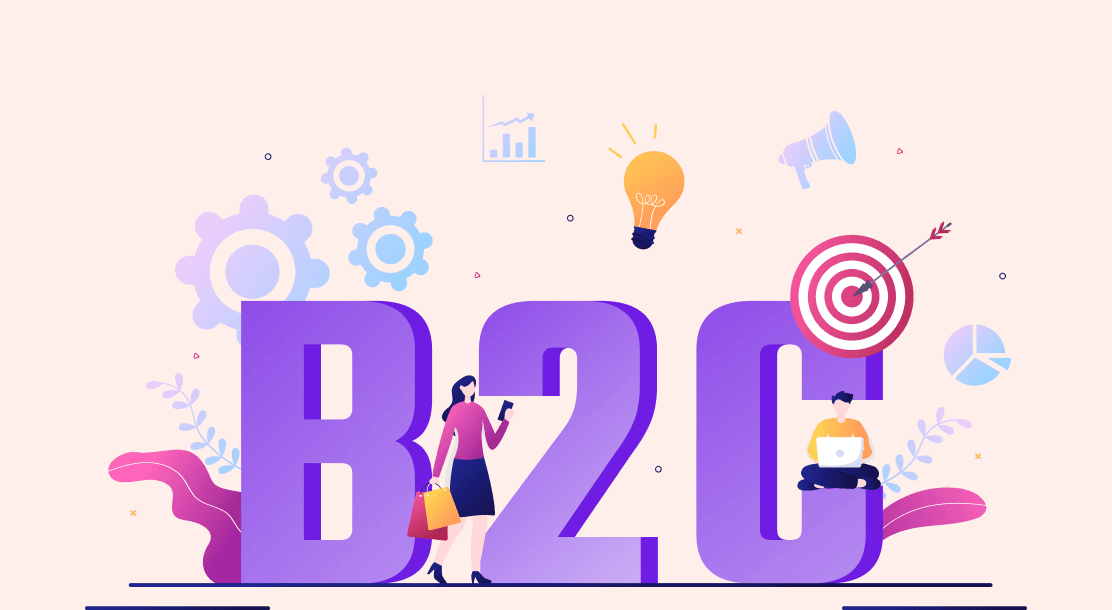 Table of Contents
What Is B2C Marketing?
How Does B2C Marketing Work?
9 Examples of B2C Marketing Strategies
Key Takeaways
Conclusion
FAQs
Michael Aldrich, an English entrepreneur, established internet shopping in 1979 to allow online transactions between consumers and businesses, and between businesses. Ecommerce is the name given to Aldrich's technique, which did not become economically feasible until the internet boom. However, it is now known as one of the earliest B2C marketing examples. After that, there was no looking back.
Knowing who you're talking to is crucial in digital marketing. Business strategies used in the promotion of services and products are referred to as business-to-consumer (B2C) marketing. Unlike business-to-business (B2B) marketing, B2C marketing techniques frequently rely on a company's ability to capitalize on the brand's value.
Ecommerce, often known as B2C marketing, is a marketing approach that uses online platforms to sell items and services to individual customers. Understanding how B2C marketing techniques operate will assist you in building a successful firm and generating large profits. B2B marketing is slightly different. A B2B organization focuses on selling its products and services to another business.
In this blog, we'll go through some of the best B2C marketing strategies examples that can also assist you in accelerating your growth. Everything you need to know about B2C marketing strategies is covered in this article. You'll learn what B2C marketing is, what B2C marketing organizations look like, how B2C marketing works, and how to acquire B2C clients by utilizing the top marketing methods. These are vital talents that can drastically improve your company's performance.


What Is B2C Marketing?
B2C marketing is a business model, which refers to the companies that sell their products directly to the customers. It is the most common type of business model, and it helps brands strike instant connections with customers.
B2C marketing helps you gauge the number of people searching for something new. It is more attractive to customers, improving interactions and customer relations. For B2C companies, the internet is the most favored platform for promoting their goods or services and performing market research.
The best B2C marketing example is Starbucks. At Starbucks coffee shops, customers can earn rewards for their purchases. These rewards can then be utilized in the future to get free drinks. Another B2C marketing example is Shopify, a prominent firm that has established a platform for small retailers to sell their products online and reach a larger audience.
How Does B2C Marketing Work?
When it comes to B2C marketing, you must keep your customers in mind. You should be aware of your requirements, desires, complaints, and challenges. You may generate marketing messages that correspond to the clients' requirements, once you've understood them.
Let's take a grocery store as a B2C marketing example. It can put out weekly ads highlighting the bargains and discounts available to customers. Consumers may be liable for rebates or replacements, which the company should discuss with them at length. Promotions can even be found on grocery store receipts and shopping trolleys. All of these are efforts to sell certain products and services to customers.
During the dot-com boom of the late 1990s, B2C marketing became increasingly popular. Back then, the term was mainly used to refer to online retailers who offered items and services to customers via the internet. Modern B2C marketing, however, apart from promoting goods, involves creating meaningful relationships with customers.
Today, B2C enterprises with an online presence continue to surpass traditional brick-and-mortar competitors decades after the dot-com revolution. They've progressed to become industry disruptors as a result of their initial success. Some of the early dot-com success stories involve Amazon, Priceline, and eBay.
B2C companies with a web presence continue to dominate traditional brick-and-mortar competitors decades after the dot-com revolution. They've lately built on their early successes to become industry disruptors. Amazon, Priceline, and eBay are important examples of dot-com achievements.
9 Examples of B2C Marketing Strategies
Here are some B2C marketing strategies examples to help make your B2C business model work wonders.
Emotions are one of the most significant factors for implementing a marketing niche. As a marketer, you must acknowledge the fact that people require special consideration.
A successful marketer should not consider their buyers as just profit-generating machines; they must be given emotional and compelling reasons to interact with the product and understand its implementation. This must be done so that your messaging and solution are accepted and even tried.
Connecting with others means becoming open and available to them, addressing any kind of query they might have regarding your offerings. Empathy and compassion are two more elements of human connection. You must work in a way that the user feels goodwill towards your brand, and would want to maintain contact with you. You can connect with your audience on a deeper level through the following tips.
The more intentional you are about cultivating particular energy around your brand, the more people will be interested in it. This is especially crucial for consumer brands, but it also applies to B2B relationships. For example, a consulting firm might be better suited to focus its messaging on why clients enjoy working with them, rather than why clients should work with them.
Consumer-centric businesses might draw inspiration from a phenomenon called fear of missing out (FOMO). It accurately describes how others impact our goals or, to put it another way, how people react to other people's experiences. Make your brand something people aspire to. For example, if you own a restaurant, you must highlight the very best qualities about it, in a way that draws people in.
One of the most amazing things about social interactions is that you can't genuinely connect with someone unless you share personal information. You can ask them all the questions you want and know everything there is to know about them. However, it is a two-way street. They must also know who you are for the two of you to form a link.
The beauty of these three suggestions is that they don't define your marketing approach; instead, they direct it toward the people you want to target. We haven't mentioned strategies or tools once in this post, and that fact perfectly exemplifies the people-centered approach we're urging you to follow.
2. Use content as an efficient tool
When we talk about engaging content, we don't mean long, overly detailed blogs or articles. Nor do we mean promoting content through highly paid commercials. We simply mean creating compelling information that is clear and articulate and adheres to your brand image. Knowing your target market and giving away incentives that will drive visitors to your brand and website is critical.
This can take the shape of blogs, social media posts, or even a backlink to a related page to help your website rank naturally.
3. Leverage social media marketing
Social media marketing aims to provide consumers with material and products they seek and find value in. Nowadays, social media is the most effective way to generate traffic and promote brands. Social media connects people across geographies and can serve as an excellent platform for creating a niche for your brand.
It also acts as a means for people to interact seamlessly. Here are a few essential factors of social media marketing.
Concentrate on the customer
Instead of focusing on your company, make your content about the customer. Demonstrate how your product or service might help them achieve their goals. You want your articles to be interesting, and focusing on the customer will help you achieve that goal. Respond to comments to demonstrate that you're available and interested in specific demands. This is an excellent B2C marketing example.
The days of printed words alone are long gone. Visual, audio, and interactive materials are becoming the norm. Why? Because the world is increasingly shifting to digital formats. Social media is a relatively new phenomenon. Regardless of the social media network you use, your material must flow smoothly. If you want to create visual material for Instagram and Pinterest, use as few words as possible.
Video content is crucial for B2C marketing. Research says that 85% of consumers find video ads more appealing. It's all about the visuals! Users are more likely to stop browsing and watching videos if they find them interesting. While videos are a natural fit for YouTube and other comparable platforms, you should try using them on as many platforms as possible.
4. Create membership programs
Customers might become committed members of your brand's community if you advertise and push membership programs for them. This could enhance client involvement with your company and give them the impression that they would be given further perks, which tend to grow with each transaction.
As customers progress through the membership tiers, they receive more benefits, strengthening their bond and commitment to your company. Most businesses run to silver, gold, and platinum membership programs to reap the benefits of the model and keep their consumers engaged.
5. Give out rewards
Purchases made through the internet can be linked to a dedicated page. This page can offer rewards such as discounts in exchange for feedback or ratings. It might also be viewed as a free present with every purchase. Below is an example of an incentive.
It not only adds value to the product you offer, but it also gives the customer the satisfaction of being a loyal one and knowing that they are always getting something extra with the product they buy, without having to pay for it. It's a win-win situation for everyone.
6. Try retargeting
This is one of the widely used B2C marketing examples. It is not as complicated as it may appear. Investing in a decent retargeting campaign can help your clients form a good impression of your company, even if they do not purchase from you right away.
Retargeting works in conjunction with linked social media apps. For example, a sequence is created if a user contacts your app or business, generating an advertisement on the next social media platform they visit.
Despite having a direct link at their disposal, the customer may not click on the ad or buy from you right away. However, seeing the advertisement enhances your brand image and helps the customer remember you for future purchases.
7. Understand influencer marketing
Influencer marketing is on the rise these days. Various types of influencers can assist marketers in this business strategy. How? They have a loyal following whose purchasing decisions are heavily influenced by what the former recommends/promotes. Influencer marketing and relationships may add value to your items by fostering deeper connections with your customers.
Although some influencers may charge a fee, look for those who will not detract from your bottom line. You could even start by delivering a gift or a sample copy of your product to pique their interest in your business.
8. Start guest posting
Another on the list of B2C marketing examples is guest blogging. Posting content on other websites (typically in the form of blogs) is known as guest posting. Debates and hashtags, as well as comments on other blogs, can serve as a terrific way to engage people, while also gaining traffic via organic backlinks to increase SEO. Not only that but personalized blogging and media appearances can also make people more interested in your services.
9. Encourage feedback
It's usually a good idea to let new customers know what previous customers have to say about your brand. Customers may see what others are saying about your brand in the testimonials section of your website. Feedback should be taken seriously not only for its ability to help you identify and correct flaws but also for its ability to provide an honest personal connection with those around you.
Key Takeaways
B2C marketing refers to companies that sell their products directly to customers. B2B is another business model, which focuses on selling its products and services to other businesses.
It is a marketing approach that uses internet platforms to sell items and services to individual customers. Unlike B2B marketing, B2C marketing techniques rely on a company's ability to capitalize on its brand value.
There are many B2C marketing examples you can seek inspiration from. Using the top 10 B2C marketing methods can drastically improve your company's performance.
During the dot-com boom of the late 1990s, B2C enterprises became increasingly popular. Today, B2C enterprises with an online presence continue to surpass brick-and-mortar competitors.
Examples of dot-com achievements include Amazon, Priceline, and eBay.
Give away something (valuable content) that will drive visitors to your website.
Investing in a decent retargeting campaign can help clients form a long-term relationship with your company.
Personalized blogging and media appearances can assist people in becoming more interested in your services.
Conclusion
Building a B2C business can be challenging at first, but with perseverance, it can be a huge success. Also, be sure to seek inspiration from the above B2C marketing examples. If you have everything in place to accomplish this, including a website with a landing page designed to attract and convert clients, you are good to go.
FAQs
1. What is B2C marketing?
B2C marketing refers to the companies that sell their products directly to the customers. It is the most common type of business model because customers are easy to market to directly.
B2C marketing is crucial for every company that sells buyers' goods or services. Restaurants, drugstores, automobile companies, fashion companies, software companies, and grocery stores all need sound B2C marketing techniques to thrive.

2. What are B2C marketing strategies examples?
Here are some B2C marketing strategies examples. 
Humanize your brand
Use of content as an efficient tool
Social media marketing 
Host membership programs 
Give out rewards 
Prioritize retargeting

3. What are B2B and B2C marketing examples?
Here are some B2B marketing examples. 
1. An oil and gas producer is attempting to market and sell an industrial pump manufacturer's products.
2. A commercial construction company aims to sell and secure a contract to develop a law firm's office space.
3. A construction company is attempting to market and sell industrial equipment to a heavy equipment dealership.
The following are some brands nailing B2C marketing. 
1. Chobani
2. Starbucks
3. Spotify
4. Everlane
5. Purina
4. How is B2C marketing helpful?
B2C marketing is helpful, as it increases engagement and brand awareness. Through mass emailing, social media outreach, and other channels, B2C marketing methods enable you to reach and interact with large audiences. As an outcome, your brand's recognition grows, and engagement rates rise.

5. What is the importance of B2B marketing?
B2B marketing is required when your firm's production is necessary for another company to sustain or improve its operations. A few instances of B2B marketing have been discussed in one of the questions above. 

6. Why are B2C marketing strategies important?
B2C marketing strategies offer your business a competitive edge. A strategy aids in the development of goods and services, with the greatest profit potential. It aids your company in making the best use of its resources to deliver a sales message to its target market. Always look up B2C marketing examples in order to revitalize your strategy.