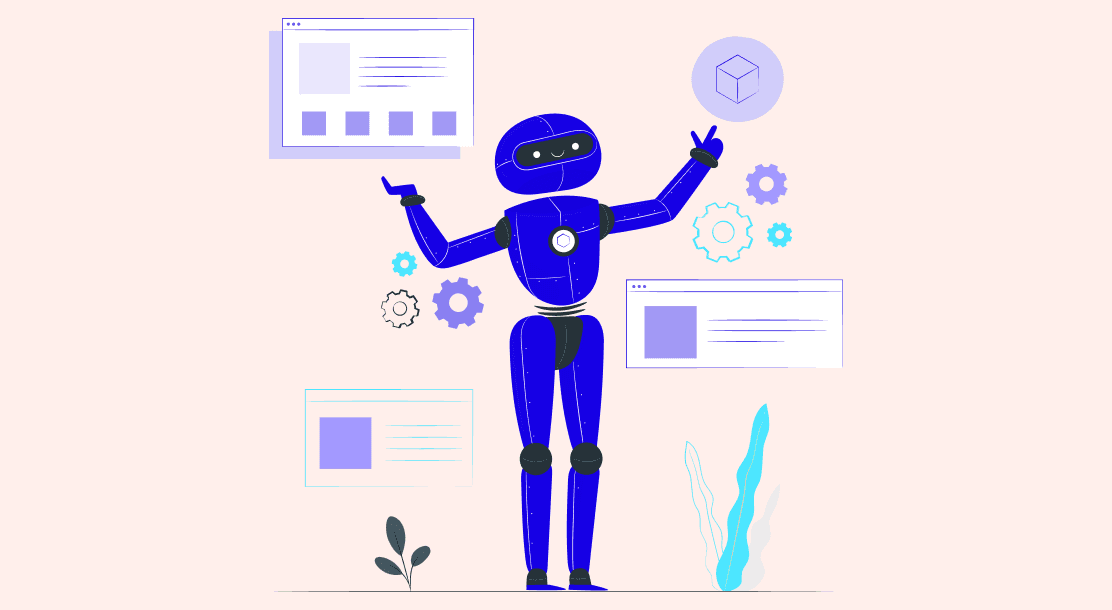 Are you looking to create high-quality content in the shortest possible time? This blog lists the best AI writing software that can assist you with solving your content writing issues right now.
In a short period, artificial intelligence (Ai) technologies have made significant advances. Traditionally, these technologies were only used for well-defined activities and had explicit instructions. They may now also be used for artistic pursuits like writing.
Creating content has grown significantly more complicated in recent years. In the face of so much competition and the constant demand for information, it can be challenging to find the time and energy to develop content that will move the needle. This is where Ai writing assistant software comes into play.
You need high-quality content and a comprehensive campaign to market your business on the Internet. However, how can you create high-quality content in the shortest possible time? We've put up a list of the best AI writing software to help you solve your content writing issues.
15 Best AI Writing Software To Ease The Writing Process For Writers
Using the best Ai writing software programs to automate your content generation is simple, whether you require blog posts, articles, or adverts.
Artificial intelligence writing software has never been more efficient than they are now as they create high-quality material across many forms and themes.
Here are the 15 best AI writing software programs of 2022.
Peppertype can be your go-to online best AI writing assistance software because their services are available for any need.
Using this application, you can easily create SEO-optimized blog entries, social media posts, Facebook advertising, YouTube video descriptions, product reviews, Quora responses, etc.
The AI-Powered Writing Partner is a one-stop shop for all of your article requirements. In a matter of seconds, you'll receive a personalized document with instructions on how to build it in only a few clicks.
So use PepperType the next time you require assistance with your final project.
With its remarkable features and quality, Jasper is the best AI writing assistant software. After being schooled by experts, Jasper can create attention-grabbing content that attracts your viewers.
This is a fantastic tool for anyone who wants assistance producing content or scripts, from writers who wish to improve their platform by building email lists to small businesses searching for a readership. It has a great feature called "Boss Mode" that allows you to create long-form material quickly.
This is the software you should be using at work to generate unique material that ranks for SEO, improve ad conversions with good copy, get rid of writer's mental block, and many more.
INK Editor is a content development tool that combines AI co-writing with SEO assistance. The tool's SEO Assistant feature helps you develop content that will rank well in search engines and generate inbound links.
Every month, over 60,000 users use INK to produce content. INK helps you get rid of writer's block, create material five times faster, and get more search traffic.
This AI co-writing tool helps in the creation of high-performing text. Users may use the AI to help them write, rewrite, and simplify phrases.
Grammarly is a powerful and one of the best AI writing assistant software you can use to improve any piece of writing online.
Since its launch in 2009, Grammarly has established itself as the industry's leading grammar and spelling checking tool.
Its powerful AI-enhanced grammar, vocabulary, and punctuation checkers will provide you with valuable suggestions to help you improve your writing. It also has a plagiarism detection engine, particularly useful when writing long-form content.
5. Wordtune
Wordtune is one of the best AI writing software programs available today. As a result, it understands the context and meaning of the words it is fed, rather than merely rewriting or checking grammar.
This technology uses neural network models and natural language to improve your writing voice and better comprehend what you're trying to convey in context.
ProWritingAid is a free grammar and spelling checker that may save authors time. The complex capabilities may be overwhelming for individuals who do not write professionally, but it is ideal if you work with course material or have pupils who do.
By combining grammar, spelling, and style checking with vocabulary development and sentence construction suggestions, ProWritingAid helps you escape the discomfort of writing incorrect phrases.
When attempting to enhance one's written work, Pro Writing Aid provides several advantages, including thorough reports that give insight into their writing improvement process and the availability of information such as closely related article themes.
Marketers, digital agencies, and e-commerce businesses will love Writesonic. This great artificial intelligence writing software simplifies the process and saves time if you write commercials, need product information, develop landing sites, or even email text.
It will allow you to simply create blog entries, social network postings, press releases, and marketing copy. It can also build hundreds of Google, Facebook, and LinkedIn ad versions quickly and simply.
WriteSonic is the best AI writing software available for free. Its artificial intelligence-powered content production system will assist you in generating higher website content and marketing content. Various articles spinner tools are available on the market that allows you to rotate material to create something fresh.
Rytr allows you to create killer content. Over 900,000 bloggers, copywriters, and marketers use Rytr AI software for writing worldwide.
It creates outstanding output quickly with just a few topics or ideas from you, which would have taken hours, if not days, of work if you had to handwrite everything manually.
This application saves you time and helps you concentrate on writing 100% unique material without worrying about grammar errors, typos, or formatting concerns. Rytr's goal is to provide a single point of contact for all your needs. SEO analyzers, WordPress plugins, and even the opportunity to communicate with other Rytrs are all available.
Articoolo is an AI-based writing assistant software that helps you quickly develop original content. They're making a name for themselves in the business and are an excellent alternative for WordPress users.
If you don't want to use Google Docs, they provide a WordPress plugin that allows you to easily rewrite articles up to 500 words.
This program's AI technology extracts all relevant data from your post, recognizes keywords and sentiment, and then rewrites the entire work in under a minute.
The content algorithm can detect the context of an article based on just a few key terms. It reconstructs the article with relevant material and keywords using natural language processing (NLP), resulting in a highly legible and high-quality piece of writing. Allow its algorithm to accomplish some of your writing tasks while you concentrate on what's most essential.
It's a tool that creates an AI article for you based on your supply data. You can effortlessly create any form of material, from news stories to blog entries, using AI Writer, and it's incredibly simple to use: you may generate the articles based on a title or keyword search. It can be beneficial to those who want content as soon as possible.
AI Writer's content is constantly current, new, and unique, and the firm emphasizes that its output is SEO-friendly since it's always created with search rankings in mind. AI-Writer not only creates exceptionally informative blogs at breakneck speed but it also optimizes them for search engines.
Sapling is an AI writing assistant software for teams that interact with customers. Using it, sales and customer service teams can write and send tailored replies to consumers.
Sapling detects linguistic difficulties and typos using a machine-learning algorithm, making it significantly more effective than standard spell-checking programs. As a result, businesses and their consumers can communicate more effectively.
Saplings' AI-based autocomplete function can detect and rectify linguistic errors better than regular spell-check tools.
The AI writing assistant software, Copysmith, is another excellent product on the list. Thanks to its many rich features, you get a lot more than you expected from it on your plate.
Their content idea templates, third-party connectors, an AI-powered workflow queue, and AL.IS experience will help you achieve unrivaled growth quality and speed.
The most distinguishing feature is that each request you make creates many possibilities, so instead of clicking "regenerate" repeatedly, you may choose from a vast list of automatically created text.
Emails, ad headlines, product descriptions, marketing text, and SEO meta titles and descriptions may all be generated with the program.
The content on Article Forge is guaranteed to be unique because deep learning is used instead of just scraping. It creates unique, high-quality content that will help you rank higher in search engines.
You may personalize your material with extra data by inputting a keyword and your desired article length into Article Forge. You may customize what is featured in the article by defining a place or a mood if you use many keywords.
You can also deploy deep learning models using the software to improve quality. In addition to writing high-quality and factually accurate articles from scratch, it is currently the only AI capable of doing so.
CopyAI may be the best option if you seek a creative brainstorming partner. It can broaden your thoughts as well as produce high-quality marketing text or content swiftly.
It comes with more than 90 built-in tools to produce digital ad copy, social media content, website copy, eCommerce copy, blog content, sales copy, and more in under 30 seconds.
Over 500,000 content marketers use CopyAI globally to produce content automatically.
This AI tool provides ten results at a time and this is one of our favorite features. Overall, it's a 10x productivity tool for writers.
Outranking is a 10X faster writing helper that utilizes SERP research to help authors create outlines and briefs, respond to highlighted snippets, and create and optimize material for optimal search engine ranking potential.
Outranking makes it simple to generate one-of-a-kind and engaging content for websites and social media platforms. The program supports a wide range of use cases thanks to automated processes and step-by-step instructions, and it continues to add new capabilities to stay competitive.
Final Words
Whether you're a startup or a large corporation, AI software programs offer a wide range of services, and you will find everything in one spot making your job easier and faster.
There are several AI writing software in the market that may assist organizations and people in avoiding blunders that could harm their brands. As a consequence of improvements in AI technology, these tools are also handy for creating exciting and innovative content.
Use one of these AI writing assistant software solutions to take your material to the next level, saving time and increasing productivity; with these artificial intelligence writing software, you can take your brand to the next level.
Key Takeaways
Artificial intelligence (AI) may assist you in producing high-quality content for your company.
AI writing assistant software can help you produce content in the shortest possible time.
Content is a crucial component of efficient web marketing that establishes you and your firm as experts.
Writing tools can generate blog posts on a specific topic by simply entering a few keywords.
AI can help you create and deliver content in real-time. Content ideas can also be generated with the help of AI writing tools.
FAQs
1. What is an AI writing assistant software?
Using machine learning, AI writing assistant software coaches users through all stages of the writing process, from research and grammar checking to localization and proofreading. These tools use natural language processing to examine text.

2. Is Pro Writing Aid better than Grammarly?
ProWritingAid is an excellent tool, but it is slower than Grammarly. While scanning, documenting, and creating a report only takes a few seconds, Grammarly does it instantly. Chrome, Safari, and desktop software for Mac and Windows are available with ProWritingAid Premium.

3. How does AI writing assistant software work?
AI writing assistant software are programs that produce material based on a set of criteria. They're made to make the task of forming content for specific themes or sectors more efficient. Their duty is to help increase material quality by making suggestions, ideas, examples, and editing advice.

4. What is AI copywriting software?
In a nutshell, AI copywriting software is a "robotic" tool that creates text automatically using a range of technologies. This program uses artificial intelligence and machine learning technology to enable near-error-free content production that connects with your target audience.

5. What is AI writing?
For marketing reasons, an AI writing assistant automates one or more aspects of the writing of this report. AI writing helpers may aid with ideation, structure, and even tone and style, freeing up time for marketers to focus on their specialties and come up with fresh ideas.