Content
9 Types of Marketing Platforms & Choosing The Right One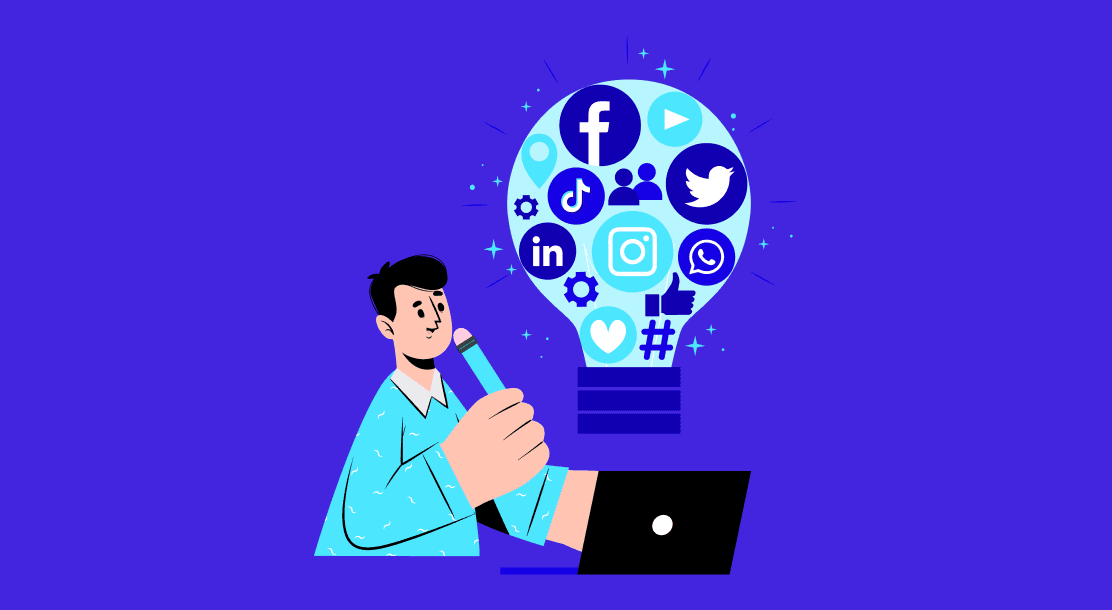 There are so many types of marketing platforms to choose from, but which is right for your business? Let's look at the top 9 types & making the right choice.
It is a no-brainer that a modern enterprise cannot survive without digital marketing. But so is the case with marketing platforms, which are essential for businesses to increase visibility, track engagement, and simplify their online marketing. Whether you're a startup or an established business, selecting the right marketing platform can make or break your marketing efforts.
With so many options available, choosing the right platform can be a challenging task. In this blog, we'll discuss nine types of marketing platforms and provide tips on how to choose the right one for your business.
What are Marketing Platforms?
Marketing platforms are the digital tools and solutions that businesses use to plan, execute, and measure their marketing efforts. Basically, they're the secret sauce that helps businesses reach and engage their target audience, build brand awareness, and drive sales. Think of marketing platforms as assistants that businesses can use to manage their marketing activities across various channels and touchpoints.
9 Types Of Marketing Platforms
Each marketing platform is built based on a specific purpose and marketing area that it targets. Depending on its features and focus area, there are nine overall types of marketing platforms available for use. These include:
1. Traditional marketing platforms
Traditional marketing platforms are physical or digital mediums that allow you to reach your target audience using offline platforms. This can include billboards, flyers, radio broadcasts, television ads, print ads, or even SMS.
Since there is a wide audience that does not have frequent access to high-speed connectivity, traditional marketing platforms work wonders since they do not require your audience to have an internet connection to consume your marketing message.
Traditional marketing platforms also include SMS marketing platforms like TextMagic, SimpleTexting, Omnisend, and other SMS marketing platforms that allow bulk messaging or SMS features.
2. Content Marketing Platforms
In a world where content consumption has increased significantly, content marketing platforms are tools that help you to create, edit, and manage content across several channels. These platforms are built to help brands strategize, design, create, and distribute their content across multiple digital marketing channels.
Content marketing tools often focus primarily on how well your content is doing on each platform, and help you optimize it to help you create a stellar brand presence and maintain your brand's voice despite using multiple channels and social media platforms.
A few examples of Content Marketing Platforms include Pepper Content Marketing Platform and Percolate among others.
3. Email Marketing Platforms
Email is still one of the top marketing channels for brand engagement and conversions. According to stats, for every $1 spent on email marketing, you can expect an ROI of $40. However, sending manual emails is highly time-consuming and almost impossible for brands that are catering to a huge customer base.
To help brands deliver contextual, relevant, and timely emails to their audience, email marketing platforms come into the picture. They help automate the email marketing process, help brands structure and plan their email campaigns, and also come with options to segment the contact list, ensuring the right emails are sent to the right people.
These tools also have advanced features like read receipts and can track bounce rates, engagement, and other metrics for each email.
Some of the top email and newsletter platforms that you can consider are Active Campaign, Mailchimp, Send In Blue, MailerLite, GetResponse, Moosend, etc.
4. Social Media Marketing (SMM) Platforms
Social media is an indispensable tool for marketers and brands in an age where an increasing number of audiences and communities are spending large amounts of time on these platforms. While the use of social media is primarily for entertainment and networking, many brands are successfully connecting with their audience using specific social media campaigns and strategies.
Social media marketing platforms help brands to handle all kinds of social media-related tasks, which include scheduling posts, monitoring engagement, and analyzing social media campaign performance across multiple channels. These platforms are built to help automate and simplify the process of managing content across multiple platforms and are ideal for improving audience engagement and maintaining a consistent brand voice.
Some examples of SMM platforms include Buffer, HootSuite, Sprout Social, etc.
5. Customer Relationship Management (CRM) Platforms
Customer Relationship Management (CRM) platforms are a centralized database where you can store and manage data about your customers, including contact information, purchase history, and communication preferences.
These platforms offer features such as lead and opportunity management, sales forecasting, pipeline management, marketing automation, customer service and support, and reporting and analytics.
By using CRM platforms, businesses can improve their customer relationships, personalize their marketing and sales efforts, and drive revenue growth.
Examples of CRM platforms include Salesforce, HubSpot CRM, Zoho CRM, and Microsoft Dynamics 365 among others.
6. Marketing Resource Management (MRM) Platforms
Marketing Resource Management (MRM) platforms are software solutions that help businesses manage and optimize their marketing resources, including budgets, assets, workflows, and campaigns. MRM platforms provide a centralized hub where marketing teams can collaborate, plan, execute, and measure their marketing activities.
These platforms offer a range of features, such as project management, asset management, budgeting and forecasting, reporting and analytics, and workflow automation.
Some examples of MRM Platforms are Wrike, ClickUp, Monday Marketer, and SAP Marketing Cloud.
7. Event Marketing Platforms
Need help managing or planning events? If your brand hosts multiple events in a year, event marketing platforms are a must-have in your marketing arsenal.
These tools help you plan, promote, and manage events, including awareness, promotions, and allowing attendees to buy tickets. For online or offline events, these tools come loaded with features that automate the event management process, right from buying tickets, and calendar blocking to timely notifications to attendees about upcoming events.
A few examples of Event marketing platforms are Eventbrite, Cvent, and Bizzabo.
8. Marketing Work Management (MWM) Platforms
Do you manage a large team of resources and projects and need a solution to help you out with your day-to-day tasks? Marketing Work Management (MWM) platforms help you do just that, as they help facilitate communication, manage resources, and collaborate on projects. It is ideal for marketing team leaders and managers to take on tasks like budgeting, strategic planning, task management, project management, and other workflows.
A few examples of MWM platforms are CoSchedule, ClickUp, Trello, Zoho Social, and more.
9. Comprehensive Digital Marketing Platforms
Comprehensive Digital Marketing Platforms are tools that usually encompass diverse marketing functions. From content marketing, website management, SEO, social media management, CRM, sales, and other areas, these tools can enable enterprises to get all their marketing activities done in a simple platform.
These platforms are ideal for companies that want a single dashboard to track end-to-end marketing and sales activities, starting from lead generation and conversion into prospect and thereby leading to a sale. It can track metrics across channels, such as email, social media, websites, and others.
These comprehensive marketing platforms are the ideal option to automate several marketing functions, right from facilitating customer outreach to brand awareness, conversions, and retention.
Examples of comprehensive Digital Marketing Platforms are HubSpot and Marketo.
How to Choose the Right Marketing Platform For Your Business?
Choosing a marketing platform can be a daunting task, so here are a few tips to help you make the right decision:
Start by identifying your marketing goals
Determine what you want to achieve with your marketing efforts. Do you want to increase brand awareness, generate leads, or drive sales? Depending on your marketing goals, you will need to choose the type of platform that can help you achieve your targets and simplify the overall process.
Know your target audience
Identify your target audience and their preferences. Where do they spend their time online? What type of content do they consume? This information is crucial as it will help you determine the kind of platforms that are a must-have for your business.
Determine how much you can spend on marketing. Some platforms are free, while others require a budget. Consider the cost-effectiveness of each platform and how it fits into your budget.
Determine the necessary features
Make sure you determine the features that each platform offers, and choose the option that is ideal for your business needs. The platform should also offer integrations with your existing tools to help you improve the effectiveness and efficiency of your marketing activities.
Understand the technical know-how for each tool
While knowing the features offered by the tool is important, knowing if you have the resources to work on these tools is crucial. If the marketing platform has a steep learning curve and requires highly technical or domain-specific expertise, you may end up needing to add resources to your team just to help leverage these tools. So the ideal option is to choose platforms that are easy to use and implement.
Finally, make sure you know the platforms that your competitors' marketing team is using and ensure that the tool you choose matches or can outperform this tool. While this is not a critical requirement, and there is no clear way to know what your competition is using, knowing what does and doesn't work for them can help you make an informed decision.
What Salesforce has done to Sales, Pepper Content will do for Content: Introducing Pepper CMP
Pepper Content Marketing Platform is a powerful platform to empower businesses to
scale content marketing efforts by marrying enterprise workflows, expert talent, and AI.
With the help of generative AI tools, powerful workflows, and a global expert talent network, the platform sets out to revolutionize the content ecosystem by empowering marketers
with an all-in-one enterprise platform.
The platform, designed with a workflow-first approach, serves as a content hub for multiple tools. It has unique AI-powered tools like Pepper Docs, Pepper's very own workspace, and an intuitive, step-by-step interface. The platform leverages the expertise gained via Peppertype.ai, launched two years ago with a global base of 400,000+ users. Not only has AI been integrated into the content creation process through powerful prompts, but it is also placed strategically along the entire content marketing process, to shortlist and assemble the perfect team of creators and experts for a customer, define strategy through smart keyword research and smart features like Content Audit and Content Refresh.
The true value of any platform lies in its ability to integrate with various tools that are already a part of the modern marketer's army. Pepper's Content Marketing Platform has seamless workflows integrated with tools such as SEMrush, Google Analytics, Copyscape, Grammarly, and WordPress, to name a few. As and when the need arises in the content marketing process, each tool presents itself – almost like magic.
Choosing the right marketing platform can be a game-changer for your business. With the nine types of marketing platforms we've discussed in this blog and the tips we've provided on how to choose the right one, you now have the tools to make an informed decision for your business.
Remember to regularly evaluate your marketing platforms and adapt your strategy as needed to stay ahead of the competition and achieve your business objectives.
FAQs
1. What are marketing platforms?
A marketing platform is a digital tool or solution that businesses can use to plan, execute, and measure their marketing efforts across different channels. It enables businesses to reach and engage their target audience, build brand awareness, and increase sales.
2. How do I choose the right marketing platform?
Choosing the right marketing platform for your business can be challenging. Consider factors like your target audience, marketing goals, budget, and resources. Research each platform's strengths, weaknesses, and cost-effectiveness, and assess how well it aligns with your business objectives.
3. What are some examples of end-to-end marketing platforms?
Some examples of end-to-end marketing platforms include HubSpot, Marketo, Salesforce Marketing Cloud, and Adobe Experience Cloud. These platforms offer a comprehensive suite of marketing tools and solutions, focusing on multiple areas such as websites, social media, email, CRM, and more.
4. How often should I evaluate my marketing platforms?
As a business, it is critical to evaluate each marketing platform and ensure that they help you achieve your marketing goals. However, it is a good idea to evaluate all your platforms once a year, basis budget, goals, and purpose. This will help you find ways to lower costs and stick with the platforms that add value to your business.