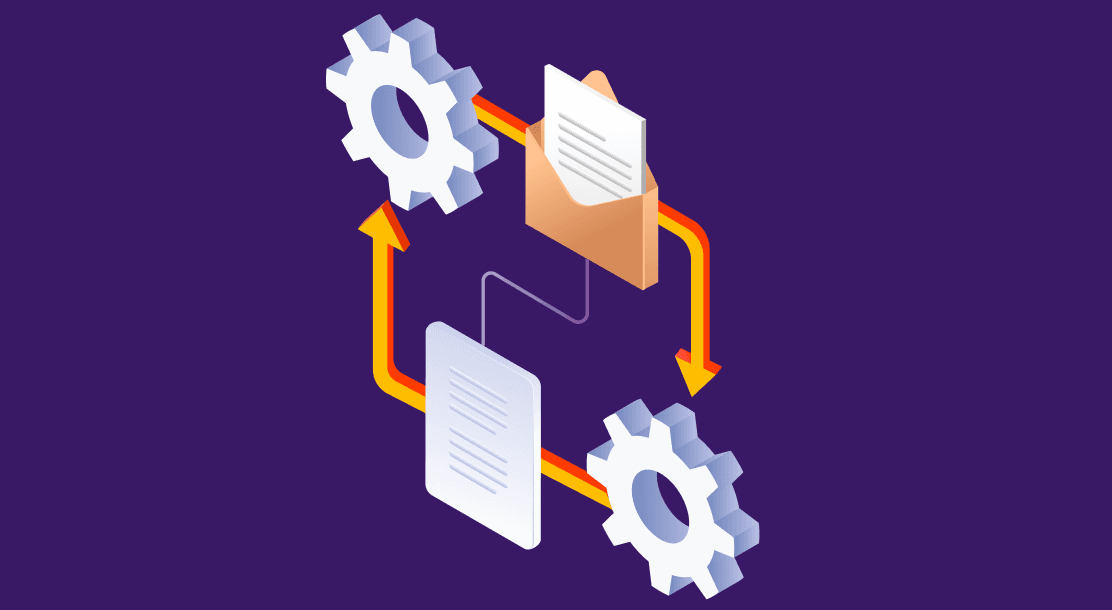 Many firms are now incorporating email marketing campaigns into their overall email marketing success strategy. Email marketing will see an increase in AI &ML in the future.
Email marketing used to be a very time-consuming and campaign-driven job. Thanks to recent advances in artificial intelligence, many firms are now incorporating email marketing campaigns into their overall email marketing success strategy. Artificial intelligence (AI) and machine learning (ML) algorithms have constantly contributed to the email marketing success rate, and it seems like the trend will stay in the years to come.
AI can profoundly impact just about every sector of the economy. It's reshaping the way businesses sell themselves. Small, medium, and big companies all use email marketing in their operations. Successful email campaigns are excellent for enhancing revenue and producing new leads.
Email subject lines written by artificial intelligence technologies are better composed than those penned by humans, says research that gives scientific viewpoint more weightage than human instinct. You may learn your brand's voice by analyzing the data the AI collects and then using that data to train the AI. Using these data sets creates subjects that increase your open rate and, as a result, your income.
7 Ways AI Will Help You Achieve Success In Email Marketing
Email marketing is booming, but it has its limitations, with saturating results after a while, according to specialists in digital marketing. As a result, email marketing was in desperate need of a comeback. Artificial intelligence has proven to be the driving force behind the shift. AI technology is revolutionizing email marketing methods. There is a noticeable boost in overall business performance, which supports the rise of the tech revolution in the process.
In email marketing, some of the advantages of adopting artificial intelligence are as follows:
● AI provides detailed marketing campaign analytics
● AI can enhance daily outcomes and outputs
● AI helps identify new clients for organizations
● AI can help firms get a better handle on their finances
● Digital marketers are increasingly turning to artificial intelligence tools for email marketing campaigns
● AI)aids in increasing website traffic and creating more leads
Here are seven ways in which one can use AI in email marketing:
1. Personalization of the email copy
About 79% of customers are more likely to remain loyal to a firm if they feel their needs are being met. Over time, devoted consumers spend ten times as much as regular customers and 2% more. Personalization is the first step in gaining the customer's loyalty and increasing the company's income.
Using deep learning technology and artificial intelligence, you can create email content that resonates with specific groups of customers and the general public. The capacity to produce email content suggestions tailored for each recipient and hence enhance conversions and engagement may be yours with this type of breakthrough in email marketing technology leading to successful email marketing campaigns.
2. Optimizing the subject line and body
Email marketing initiatives rely heavily on the email's subject line and text content. Digital marketers must carefully consider the topic and body to maximize the number of recipients who open the message and click through to the website. The use of algorithms powered by AI reduces the amount of guessing involved in digital material development.
Algorithms for machine learning allow these platforms to adapt and learn from their users. NLP (Natural Language Processing) generates the subject headings and body material, an artificial intelligence subfield. While the material appears to have been authored by humans, it's consistent with the brand's voice. This consistency leads to email marketing success.
3. Improved email delivery and content optimization
There are several techniques to increase the possibility of your email content reaching the appropriate audience. Artificial intelligence can improve all of these methods. Subscriber lists may be studied, and automated email processes can be created to send relevant material to subscribers at the right time (to encourage engagement). Use triggers to move customers through the sales funnel based on the sales stage they belong to currently. Thus, timely delivery and content optimization become the key factors for email marketing success.
4. Reporting and data collecting for email structure
Email marketing campaigns can be segmented into thousands of internal sub-campaigns and organized to maximize mailbox delivery using artificial intelligence-powered solutions. To formulate a proper email, one needs to have appropriate consumer behavior data with timely reporting. This ensures the delivery of the most successful email campaigns.
5. Improving the timeliness of your deliveries
Personalize your email delivery timings with artificial intelligence to ensure that all recipients receive your messages, increasing the likelihood of them being opened and read. Determine the time of the week when the recipients are more likely to open the emails and get converted into leads resulting in email marketing success.
6. Maintain control over your email list
Using AI technology, it's possible to automate updating contact information, such as phone numbers, job titles, and other contact details in your email databases. Your campaigns will be more successful as a result of this. As a result of AI tools, email marketing has become a streamlined process for businesses.
7. A/B testing using AI
Digital marketers have always used multivariate and A/B testing. Still, artificial intelligence and machine learning algorithms have made it possible for them to test in a way that was never possible before. When doing A/B testing, machine learning tools are becoming increasingly popular. Algorithms based on deep learning assist in formulating predictions and seeing differences between test cases that are too tiny to be noticed by the human eye.
When it comes to email marketing success, how might AI help?
Email marketing initiatives benefit from artificial intelligence in two ways:
1. Increase in revenue
According to Ricky Wang, email marketing has an estimated ROI of 4,200% (ROI but an open rate of just 20.81%).
So, how does AI fit into all of this?
Personalization is one way AI email marketing solutions may increase your open and click-through rates. And this will assist you in boosting your email earnings and deliver outstanding results from the time you've invested in such marketing. And studies back this up, as well. Hyper-personalization, for example, can result in an 800% increase in sales (ROI).
In addition, 1 in 5 consumers said they'd be willing to trade their personal information for better service.
In other words, clients anticipate more excellent open rates when emails are tailored to them specifically. Consumers usually make a purchase when they encounter a unique shopping experience, which increases revenue. Thus, you'll be able to expand your company's reach with email marketing automation quickly. Therefore, the optimum mix for email marketing success is AI and email marketing.
2. Lowering costs
With the help of artificial intelligence, email marketing initiatives may also be more efficient. As a result, cutting down on the time it takes your team to develop email marketing collateral can help you construct effective campaigns. Artificial intelligence excels in identifying patterns and insights from large data sets. That which has been shown to work over many successful emails is included here.
What's the result? Email marketing may greatly benefit from the application of artificial intelligence and help achieve email marketing success.
Here are some strategies for email marketing success:
● On weekdays, more than 85% of marketing emails are opened
● Sending marketing emails on weekdays resulted in a 91% increase in click-throughs
● Depending on the kind or type of your business, the best time to send an email will vary
● Sending email campaigns around the middle of the week is often preferable between Tuesday and Thursday
●Email interactions work best when sent in the middle of the day, at 10:00 AM or 2:00 PM
5 Best Examples Of AI Email Marketing Success
Email marketing success depends on using AI to enter pertinent data into the correct database at the right moment to deliver the correct message to the correct recipient. Below given are the five best examples of using AI to achieve it:
1. Starbucks Personalized Recommendations: Coffee shop chain employs predictive analytics to offer personalized recommendations
Based on a report from the Aberdeen Group, organizations that use predictive analytics to detect consumer demands may boost their organic sales by 21% year-over-year, compared with an average of just 12%.
Starbucks is a perfect example of a successful brand that collects and analyzes client data via its loyalty card and mobile app. In 2016, they made a public statement on personalization.
Since then, they've developed a fantastic app. It keeps track of where and when purchases are made and the date and time. As a result of this data processing, Starbucks can send customers marketing messages specifically tailored to their needs. Recommendations and special discounts can be seen in these messages when a user walks into a nearby shop.
2. Alibaba has launched a FashionAI store
Chinese e-commerce giant Alibaba has launched a physical "FashionAI" store in Hong Kong to modernize the fashion retail experience with Artificial Intelligence. China-based e-commerce giant Alibaba has outfitted its stores with smart mirrors and tags to identify when an item is being handled. A virtual wardrobe app will also be integrated into the physical store, allowing consumers to see the outfits they tried on while shopping.
A reaction to changing customer expectations, Alibaba has adopted the technology. According to a National Retail Federation poll, 80% of customers believe retail technology and innovations have improved their online shopping experience, while 66% believe brick-and-mortar retail has improved their knowledge.
3. Unilever Uses AI in Marketing: Unilever helped Ben & Jerry's identify the "Ice Cream for Breakfast" trend, which is gaining traction among consumers
Univer employs AI data centers worldwide to synthesize information from many sources, including social listening, CRM, and conventional marketing research. Unilever is a consumer products corporation. Ice cream and breakfast are linked in at least 50 songs in the public domain, with businesses like Dunkin' Donuts selling ice cream in the morning. Using this technology, Unilever identified a correlation between the two.
For the Ben and Jerry's brand, Unilever produced a variety of cereal-flavored ice cream flavors such as Fruit Loop and Frozen Flakes.
4. Amazon has launched Personalize
Amazon was one of the first to use machine learning to provide customized product suggestions. However, it has been difficult for the brand to extend these capabilities to businesses that use Amazon Web Services (AWS) for their websites.
Since then, AWS clients have been given a chance to leverage Amazon.com's similar machine learning technology in their apps via Amazon Personalize, launched in June 2019.
During the initial launch, Personalize gave up to 50% better suggestions for a wide range of fast-changing products, including literature, videos, songs, and news articles.
Personalize is already being used by brands including Domino's, Yamaha, Subway, and Zola to emphasize musical instruments, in-store catalogs, ingredient and flavor recommendations, and style pairings.
5. eBay optimizes brand language for email marketing success
Global e-commerce eBay is continually trying to engage customers. So it has many AI marketing examples to show us.
Ai-powered user experience platform Phrasee has been helping the organization to improve email marketing text since 2016.
Optimizing email marketing performance for the average brand is straightforward. A/B test a few alternative subject lines or CTAs to find which performs best. But a firm of eBay's size faces unique challenges. Creating attention-grabbing subject lines to increase open rates is monumental for a company with more than 101 million email subscribers in the United States, the United Kingdom, and Germany alone.
Due to a lack of resources, eBay turned to Phrasee for help with copywriting at scale and dynamic performance optimization. Phrasee employs natural language creation and deep learning to generate content at scale and reduce the creative load on eBay's internal staff.
Source
Computer-aided linguistics (CLA) models created by Phrasee were used by eBay so that the e-commerce giant could quickly and easily create customized content that they tailored to its brand voice, consumer demands, and current deals.
Since partnering with Phrasee, eBay has seen significant gains in essential email marketing KPIs, including:
● Open boost of 16%
● 700,000+ extra campaign opens
● 56,000+ clicks per campaign
● Average click uplift 31%
It's important to know what artificial intelligence can do before using it in your email marketing campaigns and tactics. The first step is to determine what works best for your business, where to pay attention while putting effort and achieve email marketing success.
Key Takeaways
Here are a few key takeaways for email marketing success through the help of AI:
● AI outperforms even the best copywriters by analyzing and tweaking subject lines for clicks.
● It is possible to predict future interactions using predictive analytics.
● Various email-friendly formats may be generated and optimized using AI.
● Consumers' surfing behaviors and preferences are helpful in predicting when and how often to send emails, follow up, and retarget customers.
FAQs
1. Can artificial intelligence be applied in email marketing?
Data-driven insights are generated by AI technology by analyzing customer behavior and preferences. It allows you to produce personalized emails for each of your subscribers. Subscribers will skip your email if it doesn't appeal to them.
2. How does AI aid email marketing?
Artificial intelligence (AI) can help businesses understand customer behavior and interests. If you have a large base of subscribers, you can send personalized emails to them. If your email doesn't pique the interest of your subscribers, they are more likely to delete it.
3. How does AI help email?
AI can create and optimize email-friendly content. AI automates email scheduling, follow-up, and remarketing by monitoring clients' surfing patterns and preferences.
4. How does AI enhance the marketing process?
Marketing campaigns that require speed typically employ AI. Using data and consumer profiles, AI technologies learn how to engage with customers effectively, then offer them direct messages at the right time without human intervention.
5. What does AI mean in the context of email?
Email marketing strategies may be improved and streamlined with artificial intelligence. It improves income by increasing open and click-through rates. AI in email marketing speeds up the creation of winning email campaign