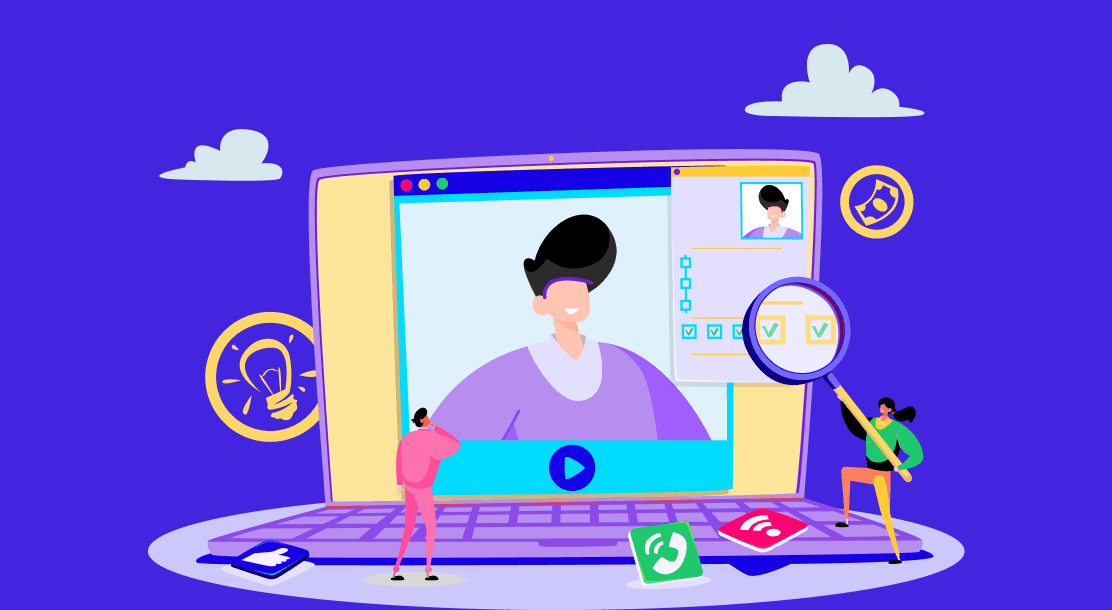 A video resume is a great way to showcase your strengths and demonstrate visually why you are the best person for the job. This blog gives you 6 tips on how to go about this.
Table of Contents
Breaking Down The Video Resume
Why A Video Resume Is Necessary For Job Seekers
How To Make A Resume Video In 6 Steps
Top Tips For Recording Your Resume Video
You can sell yourself to recruiters the old-fashioned way – by mailing a paper CV. Or you can project your personality and land the job with a video CV.
Just how TV replaced radio, the video resume is set to replace the paper resume. Technology allows you to create an impressive video CV easily. And, of course, it is more powerful. It's the closest you can get to showing up in person.
Recruiters love video resumes because they tell them much about the applicant. Also, a video CV indicates that the applicant is in tune with the times.
In this short guide, we explore the importance of video CVs and answer the fundamental question — how to make a resume video?
Breaking Down The Video Resume
In simple terms, a video resume (or video CV) is a way to sell yourself to the interviewer conversationally and visually. Instead of stating your skills and experience in a typewritten resume, your job application contains a video link. In this video link, you project yourself as the best applicant for the job.
Don't swap your written CV for a video CV. Instead, use the video resume to complement your traditional job application. Also, don't send a ten-minute video CV. Use a 1-minute video resume to sell yourself and tick off your USPs.
Why a Video Resume is Necessary for Job Seekers
Technology demands you keep up with the standards. The video resume is the new standard for job seekers. Today a job aspirant can easily create a video resume that conveys things a paper CV cannot. These include confidence, grooming, and appearance. Because video combines text and audio with visuals, it is easier for the recruiter than reading black-on-white text.
In addition, a video CV is a "pattern break." When a recruiter is sifting through two-dozen applicants and notices one with a video CV, they know this applicant is different. Companies today want to see applicants and not just "read" who they are.
The video resume has many benefits. Here's a short list:
It keeps you in the recruiter's top-of-the-mind awareness.
The video CV shows off who you are rather than listing your abilities in text.
It helps make a personal connection with the recruiter.
Gets you hired faster.
It doesn't cost anything.
The reason video CVs work is the same reason video marketing works.
How to Make a Resume Video in 6 Steps
Making a resume video is simple. All you require is a computer with a webcam and microphone. Then apply your panache and let your personality shine through your video CV. But to make it professional, follow these steps.
1. Write the script for your video resume.
Writing a script helps you organize your thoughts. Check whether your script complies with this checklist.
Don't overdo the introduction: 45 seconds is ample time.
Don't make the video too long: If you make a video CV that is more than two minutes long, you risk losing interest.
Begin with a bang: The beginning of your video CV should ignite interest. An excellent way to start is by highlighting your unique offerings to the job. The purpose of the video resume is to stand out. Demonstrate your knowledge of the job and company through what you say.
What's in it for you and them: Let the recruiter know why you are interested in their firm. And why the firm should be interested in you.
Use the video CV as a storytelling tool: Don't just talk or state facts. Use the medium of video as a way to tell your story. Make the video resume impressive and interesting.
2. Choose the technology.
A decent laptop with a camera and microphone works great for most video resumes. If you want the resume to be well-produced, use a lavalier microphone and DSLR. Also, video hosting tools like Vidyard work great when the file size is large. It is convenient to share as well.
3. Choose your setup.
Choose a well-lit, neat room for your video recording. Natural light falling on you is a good idea. Choose a quiet room that is not disturbed even by the sounds of birds chirping.
4. Create multiple recordings.
Although you touch upon the same points in every recording, your expression may differ. Throw light on what you can offer the company in terms of value addition. For applicants who feel awkward on screen, recording several takes may ease their minds. Record as many takes as makes you feel easy and comfortable with the presentation.
5. Critically evaluate the video CV and get feedback.
Once the video resume is recorded, evaluate it with a critical eye. Are you presentable? Have you put forward your USPs well? Do you appear confident? Also, ask a few friends about their opinion about the video CV. Recording another video if there is anything to change.
6. Send the video to the recruiters.
Finally, send out the video resume. Be quick with this because the early bird gets the worm!
Top Tips For Recording Your Resume Video
Ensure you look directly into the camera: When the video is viewed, it should feel like you are speaking directly to the viewer. For this, keep the camera at eye level. Look straight at the camera. Use a tripod to keep the camera at eye level. Or, set it up on a stack of books.
Natural light is better than artificial light: To improve the feel of your video, use natural light rather than artificial light. However, ensure that the lighting isn't too bright. For best results, record indoors and face a window. Use light diffusers for the best results.
Ensure excellent audio quality: Poor-quality audio spoils the show far more than poor video quality. Use a good-quality microphone. Alternatively, use a plug-in microphone – like the one used for recording a podcast.
Make good use of props: Use props that will make the video interesting. These could be a whiteboard, a laptop, or the company's products.
Eliminate filler words: Most people use filler words in conversation. This could be a phrase like "as in" or a mumble like "um." In any case, filler words don't add to your resume video. Eliminate these from the video CV.
Choose a thumbnail that grabs the attention: The default thumbnail for your video could be you scratching your head. This doesn't make a good impression. Use attention-grabbing video thumbnails.
Use your instincts: Use your instinct to define what looks good in the video. Be your true authentic self.
A Quick Summary
A 1-minute resume video can change how your recruiter sees you. Presenting yourself visually gives you a foot in the door before the employer slams it shut. It not only makes you stand out but also gives you a lead in the race.
A resume CV is becoming an essential part of the application process. Every serious job aspirant should make one. Hopefully, this article has given you ideas and a starting point from which to begin making your resume video.
FAQs
1. What should I say in my resume CV?
Be brief and specific. Let the recruiter know why you are the best person for the job. Put your best foot forward, and add a CTA at the end.

2. Are video resumes likely to gain popularity?
Yes. The reason is simple – they work.

3. Are there professional services to make video resumes?
Yes. There are services like Animaker.com, Biteable.com, and Veed.io.

4. I'm highly camera-shy. How do I make a video CV?
Record your Video CV again and again till you get the perfect shot.

5. I'm not good-looking. Is the video resume right for me?
Enhance your appearance with the right clothing, grooming, lighting, background, and props.