Marketing
5 Content Marketing Tips When Marketing to Millennials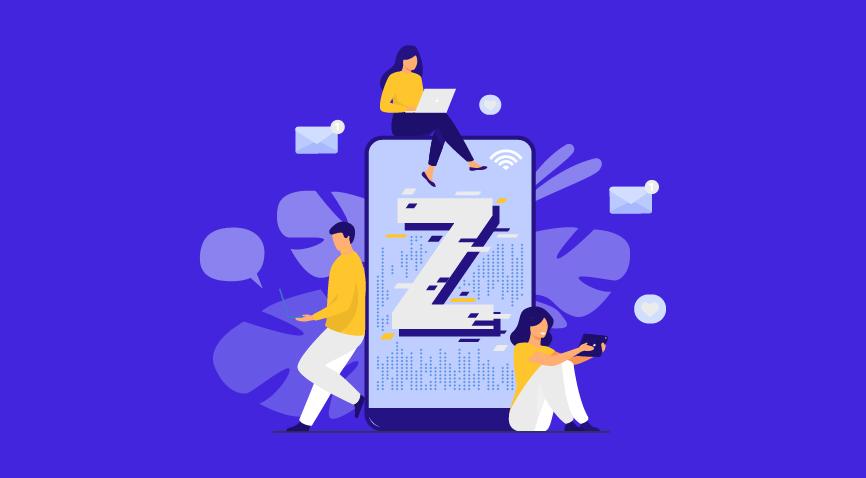 The 2020 Consumer Culture Report projects that millennials will rack up $1.4 trillion in annual spending and make up 75% of the global workforce by 2025.
'Only 90s kids will know this!' Heard this phrase before? We're sure you have.
It loosely refers to millennials or people born between the early 1980s and the early 2000s. Now, nearly 20 years since the last of the millennial was born, this demographic has proliferated to be the most populous generation globally, outnumbering Baby Boomers even in the US (according to Pew Research). As per reports, every 1 in 4 adults today can be considered a millennial. In total, this cohort was 1.8 billion strong in 2020 and is growing at breakneck speed.
For all the marketers and brands wondering how to market to millennials, here's everything you may be interested in knowing.
Understanding the fuss around millennials
One can argue that they are the pioneer generation of digital natives, tech-savvy, fast learners, and always connected to the Internet. The 2020 Consumer Culture Report projects that millennials will rack up $1.4 trillion in annual spending and make up 75% of the global workforce by 2025. No wonder they present such a lucrative proposition to businesses worldwide. Content marketing is the best way to get in front of millennials because they are perennially online. But it is easier said than done. Their attention span is shorter than a goldfish's, and their likes, dislikes, and preferences continuously evolve.
This guide will help you understand the millennial psyche better to align your content strategy more effectively around their quirks, traits, behaviors, and interests.
Five behavioral traits: How to market to millennials
Since they have been exposed to similar social stimuli, millennials share quite a few psychological behaviors. For instance, they are innately distrustful of ads, rely heavily on word of mouth and influencer recommendations, and like conducting their research before buying something.
Let us delve deeper into the millennial mind to understand why they do what they do and how content marketers can capitalize on these cognitive insights and hacks.
1. Millennials hate pushy marketing
Millennials hate the hard sell and will quickly dismiss you if you're too clingy as a brand. Instead, they like taking time and putting in the hard yards before purchasing something. Rarely would you see millennials do an impulse buy; if they do, there is a high chance they have been exposed to persuasive subliminal marketing. For a generation accustomed to using ad blockers, any sponsored content or pop-up ads that seem out of place will be rejected in the blink of an eye.
The Dos:
Create ads around their needs, wants, and pain points.
Give them a reason to share. Write a copy that speaks to them rather than at them. Tug at their emotional heartstrings than their purse strings.
To engage millennials for prolonged periods, pull them in with content that is:

Fresh/unique
Personalized/helpful
Informative/eye-opening (triggers an Aha! moment)
Funny/entertaining (stands out from the rest)
Visually stunning

If you have a unique, premium product, consider switching to a subscription model than showing tacky ads.
The Don'ts:
Don't interrupt their reading flow. If you want to show ads, time them well and place them in a way that is not abrupt or jarring to the senses.
Don't be dishonest. Millennials hate being lied to, and if they find out you've been less than forthcoming with your claims and have gone over-the-top with your features, they'll drop you faster than you can say, "Wait!". Don't exaggerate or float any misleading ads.
2. Millennials conduct thorough research
Studies show that millennials like to look stuff up on Google or Amazon, or other eCommerce websites before plunging head-first into actually buying it. This comprises the awareness and consideration stages of the sales funnel and is the place where content marketers make money and can shine.
The Dos:
Since they love comparison shopping, create a blog series to compare your product with your competitors along with various features, benefits, and price axes. Create a comparison matrix that can be shared as a snapshot on social media.
Build your reviews, ratings, and testimonials. Millennials trust user-generated content more than marketing copy and value the thumbs-up given by unbiased, neutral, impartial users who have experienced your product/service.
The Don'ts:
Don't be a dinosaur in an age of robots. Craft riveting content that generates buzz and brand awareness. Don't compromise on a strong online presence.
Don't design only for the web. Millennials are on multiple devices (mobile being the primary), so make sure your content is mobile-optimized and responsive.
3. Millennials suffer from FOMOphobia
Constantly being tethered to their screens does have its downsides. Millennials have become addicted to staying in the know and being updated on all things. It gives them a dopamine hit. So much so that they are afraid of missing out on the latest gossip or hot takes or going off the grid. Content marketing tips and trends reveal that women feel a stronger urge to remain connected than men and check their phones more often.
The Dos:
Leverage ephemerality — which is the property of lasting for a very short time — the thing that propelled Snapchat and Clubhouse up the usage charts. Content that vanishes will hook users in and create a sense of urgency.
Come up with limited-time offers and deals.
The Don'ts:
Don't scrimp on your social media updates. Be active on Facebook, Twitter, Instagram, and post witty campaigns on-trend. Out of sight, out of mind. It will boost your brand recall if users see a new post from you every time they launch a social media app.
4. Millennials care about social causes
Millennials are socially and politically aware. They connect well with brands that take a stance on social and cultural issues. In light of this, you should keep the following things in mind:
Be opinionated and discuss the latest social goings-on.
Proactively communicate your sexual harassment policies, employee policies, and green initiatives.
Showcase that you take Corporate Social Responsibility seriously by partnering with an NGO that reflects your company's values and ethos.
Don't be apolitical. Penalize racism, bigotry, and misogyny at the workplace.
5. Millennials are visual creatures
For millennials, a picture speaks more than a thousand words. They prefer visual content over textual content, as is evidenced by the latest content marketing trends. Not only do they find it easier to consume, but they are also more likely to share it in their circles. Some dos and don'ts:
Embrace video. 81% of customers claimed to have been convinced by a brand's video (Hubspot)
Create different kinds of visual content (carousels, animations, GIFs, images) to break the monotony and liven up your feed
Don't create a lot of sales-y visual content. It will lead to banner blindness and hardly get any traction.
Formats that work best for millennials
We have already seen that visual content strikes a chord with millennials, but what kind of content really resonates with them?
1. Relevant: 3 out of 5 millennials connect better with brands that put out content that matches their personality, preferences, and lifestyles.
2. Educational: Millennials are big on self-improvement and growth, so 75% of them like to consume content that teaches them new things.
3. Innovative: Millennials are early adopters, and they like being glued to the latest developments in content formats. Be it Stories in 2016 or TikToks and Reels in 2020; millennials are quick to get on the new content format bandwagon and make it mainstream
4. Social quotient: A staggering 50% of millennials would buy a product if a portion of the proceeds went to a charitable cause they deeply care about
5 More Tricks for Great Millennial Marketing
So, we have now seen why millennials are key to the success of any company. We have also identified the various formats that work best for millennials. While these formats can help you with your content marketing strategy, here are five cool tricks and content marketing tips on how to market to millennials.
1. Be precise in your communication
Research shows that millennials have a very short attention span. This is why content plans can be tricky for millennials. While marketing to millennials, content should ideally be kept short, sweet, and to the point. The best content marketing tip for this generation would be to convey the message immediately and not spend too much time with introductions, descriptions, and other explanations.
While addressing millennials, it is best to come straight to the point as to how the product or service would help them rather than build a whole story around the product's history. They are more interested in how the product or service would make their lives easier and nothing else. This generation believes in doing extensive research about the product's utility and value rather than knowing your thoughts behind the product or service.
Suppose they can identify with the product or service, the chances of converting become that much higher. So focus on the utility in your marketing communication and content marketing plans.
2. With the millennials, social media rules
According to a study by Hubspot, over 80% of millennials have a Facebook account. Studies also show that, on average, millennials spend around 5.4 hours every day on various social platforms.
While smartphones are the most popular amongst devices used by them, they are also adept at using tablets, computers, and televisions. Millennials are not only comfortable using these multiple devices, but they are also a digital generation that prefers to stay connected through these devices. While planning on how to market to millennials, social media content marketing has to be a given.
Digital content marketing using a multi-platform approach through social media would garner better results for brands than traditional marketing platforms like print or billboards.
For millennials, trust is crucial when it comes to transacting with any brand. Interacting with the millennials on social media platforms should be a no-brainer when planning any content marketing strategy for them.
Moreover, videos and visuals are a rage with the millennials. They love interacting on Reels, TikTok, Instagram, Facebook, Snapchat, and other social platforms that support videos and images. For a brand interacting with millennials, a video content marketing strategy should not be ignored. When it comes to brand building and brand engagement, even a LinkedIn content strategy might deliver great dividends for the brand.
3. Engage the millennials in two-way conversations
While interacting with the millennials, it is essential to remember that they are the first generation of customers with the power to engage with your brand and share it with others through social media. They are a generation that values loyalty. They also value brand endorsements by other users and are not swayed by fancy marketing campaigns.
You need to win their trust first and build a relationship with them to win them over. Brands must ensure that they make a two-way communication channel with millennials. Not only is it essential to create content that the millennials can share within their circle, but it is also critical to acknowledge all the brand mentions, shares, and likes from them.
Remember that today, social media is one of the strongest and most popular mediums for communication. It is also a great medium to engage and convert millennials and create a peer-to-peer online endorsement through them.
4. Blogs help win over the millennials
Various studies show that millennials are not impulsive buyers by nature. They are one of the most challenging customers who cannot be swayed just by fancy and attractive marketing campaigns. Before making any purchase, millennials prefer to research the product or service in detail, evaluate how useful the product would be for them, and then only take the call to purchase or not.
Blogs related to your brand's service or product are a great way to provide millennials with the desired research materials. A part of the digital content marketing strategy for brands, marketers should be careful while creating and posting these blogs. Authenticity and honesty are two values that millennials hold very dear. The blog content should talk about the product or service and be honest. If millennials sense even the slightest bit of dishonesty, they will most likely disengage immediately and may never return to the brand. Blogs are also a great medium to talk about brand values and messaging.
Another great way to build trust and authenticity is to include testimonials or feedback sections about the product or services on the blogs. Millennials value these first-hand accounts from other users a lot. Be consistent and regular with your posts, and remember to deliver constant high-value material to millennials if you wish to engage them in a relationship.
5. With millennials, listening to them is important too
One of the best things about the millennials is that like they expect a brand to keep it simple and transparent, they love to keep their likes and dislikes transparent too. They are usually vocal about what they love and hate. An important element of two-way communication with millennials, marketers should definitely include opportunities for collecting feedback from them in their content strategy.
If a brand truly listens to millennials, not only can this generation sense it, but they relate to the brand and become more loyal towards it. Through listening, brands can make this generation feel important and give them a sense of being part of something great.
To summarize
Millennials can make or break your company. We hope that this comprehensive guide on how to market to millennials has shed enough light on content marketing trends for millennials and armed you with enough tips and tricks to attract them more effectively.
FAQs
1. What type of content do millennials like?
Studies show that most millennials love visuals and video content as opposed to text-only content. If one adopts a video content marketing strategy while targeting millennials, not only are they likely to view the content, they are also open to sharing the same with their family, friends, and network. 
2. What are the top 5 marketing channels for marketing to millennials?
The top 5 marketing channels that need to be a part of every content marketing plan while targeting the millennials include:
1. Facebook: Over 80% of millennials have a Facebook account and are visiting this social platform regularly. 
2. Instagram: With the introduction of Reels to the Instagram platform, this audio-visual social platform has gained a lot of traction in the recent past with millennials. 
3. Snapchat: A platform to share videos and images, Snapchat is also popular with millennials, thanks to some cool and popular filters it offers. This platform is excellent for businesses to announce new launches or showcase behind-the-scenes content to customers. 
4. Twitter: A microblogging platform that is extremely popular for sharing quick, short updates, this media is a major success amongst millennials. 
5. Mobile advertising: With over 85% of millennials owning a smartphone and spending a considerable time using the device, mobile advertising or mobile-optimized advertising is bound to produce better results than any traditional means of advertising. 
3. What type of marketing do millennials respond to?
Brands cannot sway millennials by using traditional marketing channels. Social media is the strongest medium, both to market as well as engage them. An honest social media content strategy can go a long way for brands.
4. How do brands reach out to millennials?
The best way for brands to reach out to millennials is, to be honest, and appeal to their values across all communications. Millennials are a social media savvy generation, so ensure all content is social media optimized. It is also important to be active on social media and be quick to respond to audiences to win them over. 
5. What do millennials spend the most money on?
Unlike the previous generations, millennials are not known to invest their earnings in properties. They like to live in the present and are open to spending online as well as offline. The first generation of online users, millennials, like spending on conveniences and streaming services. A generation that loves to explore and experiment, they are also known to spend considerably on travel and new cuisines via dine-outs and take-aways. This generation is also known to spend on various social causes. In fact, studies show that millennials tend to relate more with brands that give a certain share of their product or service costs towards a social cause.