Content
15 Ways You Can Get Blog Ideas that Will Engage Your Visitors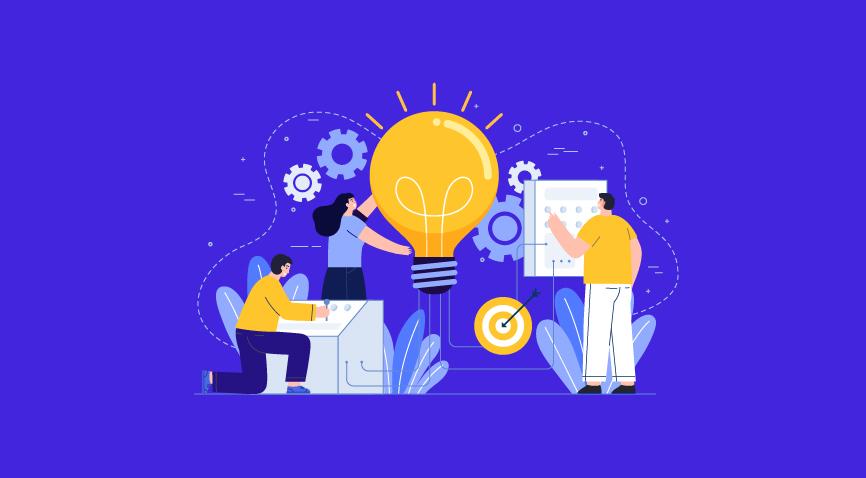 Platforms like Facebook, Twitter and LinkedIn offer audience data that can be converted into blogging topics. For instance, Facebook Audience Insights is an amazing marketing analytical tool that helps you look for topics that your target group finds interesting.
Table of Contents
15 content writing topic ideas for guaranteed results
Explore Online Forums
Inspiration From Social Networks
Ask Your Audience
Monitor Your Competitors
Follow the Trends
Do a Keyword Research
Use Online Topic Generator
Look at Search Engine Results
Explore Personal Experiences
Visit Older Posts
Raid the Comment Section
Blogs That Failed
Check Comments on Competitors' Blogs
Come up With Tutorials
Read Industry Reports
As a content writer, you may find it difficult to consistently develop new ideas or content writing topics for your blogs or articles. This becomes especially challenging when you have to put out a blog every day. But, in all honesty, it is not as difficult as it seems.
Of course, you might go through the occasional 'writer's block', but you can certainly overcome it if you know how to generate great content ideas that will engage your blog visitors.
Here are some suggestions that can come in handy.
15 content writing topic ideas for guaranteed results
1. Explore online forums
Suppose you cannot find relatable topics that can attract your audience, visit forums like Quora or Reddit. Here you can find discussions on several topics, making these forums a veritable goldmine of blog ideas. You can also search for topics related to your niche and come up with blog ideas related to your broad subject.
2. Inspiration from social networks
Social media is not just for entertainment, but it can also help generate topics to engage your users. Platforms like Facebook, Twitter, and LinkedIn offer audience data that can be converted into blog topics. For instance, Facebook Audience Insights is an amazing content marketing analytics tool that helps you look for topics your target group finds interesting. You can also look for posts that did well previously and write something related to those as you already know these will work well.
3. Ask your audience
Polls on social media can be another source for your ideas. Several platforms like LinkedIn or Instagram allow you to conduct a poll by posting a question along with the top three or four options. Your audience can choose what they prefer, and you can create topics from the options that receive the highest number of votes. You can also use Twitter to ask your audience what they would like to read about, and their answers will keep you sorted for several days.
4. Monitor your competitors
This is not to say that you should copy whatever your competitors are doing. But, just take a look at the content they are creating. See the engagement rate and observe the general patterns in their content. Check the kind of topics working for them and try to come up with ideas based on those.
5. Follow the trends
How do you do this? For instance, you can use Google Trends to monitor the latest trending topics and their search volume. This can help you decide your next topic. Inversely, you can also look for your topic in the tab and check its search volume.
6. Do a keyword research
Won't it be great if you can see what your target group is looking for? Well, keyword research helps you spot the common phrases or questions they use, and you can use the relevant phrases to create blog topics. For this, you will need the seed keywords and simply run them through your keyword research tool. Don't worry. There are several free tools available in the market to help you out.
7. Use the online topic generator
When your mind refuses to come up with new ideas, using a topic generator can be the way forward. For instance, you can use HubSpot's topic generator to help you get ideas for your next blog. All you need to do is type in your desired keyword, and the tool will generate ideas related to the keyword. Let's say your keyword is 'weight loss'. The tool will offer prompts, such as Weight loss: Expectations vs. Reality, The Next Big Thing in Weight Loss, This Week's Top Stories about Weight Loss, and so on. You can type in five keywords and choose the topic that best suits your blog.
8. Look at search engine results
Did you know that almost 51% of online traffic is generated by online search engines such as Google or Bing? You can simply use Google's search function to help you out as it also displays topics that users are currently looking for. When you type in a keyword in Google's search bar, you will see that it offers several prompts. For instance, when you type weight loss, you might see a weight loss diet, weight loss tips, a weight loss diet plan, and so on. This can help you come up with more ideas related to the prompt.
9. Explore personal experiences
Dig deep and come up with personal stories that can go well with your brand. You can talk about things you have learned so far or talk about experiences that have shaped you. In fact, failure is something people connect with. So, talk about your failures and what you have done so far to overcome them.
10. Visit older posts
This is a very obvious tip for a content writer or marketer, but it is extremely useful. Revisit your most popular blogs and cull ideas from them. You can also update your blogs with a checklist or come up with Part Two on the same subject. If you think there is scope for more content for the same blog, try to update it with extra points or subheadings. This works!
11. Raid the comment section
Your readers have opinions, and they might have poured them out in the comment section. Go through your blog comments. Maybe a user has a question related to a particular blog that has remained unanswered. Voila! You have a new blog topic there! So, read through the comments, including criticisms, for more ideas.
12. Blogs that failed
We all have had blogs that sometimes have fallen flat. Now, you can analyze what went wrong. You can also check your competitors to see if they have blogs on similar topics and if they are doing well. Check what they are doing differently and pick ideas that you can incorporate into your own blogs. Renovation helps.
13. Check comments on competitors' blogs
If your competitors have a huge following, it means a host of people would have posted their comments indicating what they want or don't. So, browse through those comments and see if you can cull ideas from those.
14. Come up with tutorials
When you cannot come up with ideas but want to engage your users, tutorials are something you can bank on. Today's audience is craving for new skills, and when you are offering lessons free of charge, chances are you will notice a surge in traffic. However, make sure that you write about something useful and in an easy-to-understand language.
15. Read industry reports
You can check industry reports to find insights that connect well with your niche. These insights can help you curate topics for your blog posts. For instance, let's say you look at a report that says that the average use of social media every day is two hours. Now, you can spin a blog around such statistics.
Key Takeaways
Use social media to generate topics for your next blog. Visit forums like Quora or Reddit. Use Facebook Audience Insights to look up topics.
Keep an eye on your competitors; use data and details that they have missed out on. Make your blog visually appealing. You may also consider including audio.
To increase your popularity and to backchannel audiences, search for guest posts opportunities.
Revisit your older blogs, improve if needed, get inspired by them. Send push notifications to your readers for any updates that you make.
Go through comments thoroughly, do not ignore criticism; it helps you grow.
Follow the trends, choose your topics wisely. Always have an end goal in mind. Read industry reports.
Do not forget to measure the effectiveness of engagement. Balance quality and quantity. Aim to create viral content but do not compromise on quality.
Keep weekly goals. Use Facebook or Twitter Ads for advertisement.
Make use of different tools. It will make your life a lot easier.
Remember, content is king. This can only be achieved if your audience finds your content writing topics relatable.
FAQs
1. How to guest post and generate traffic to your own blog?
Guest posting and referral traffic are the trendiest methods for creating backlinks to your own website. Many influential bloggers have used this to increase traffic to their own page successfully.

Collaborating with top bloggers will be another plus, as they can help promote your work on their social networks. If you are wondering where you will find such opportunities, then the answer is simple. Just Google! Simply type in your industry's keyword along with 'guest post'. You will come across blogs that are accepting guest posts. By checking guest posts by different writers, you may generate more content writing topic ideas for your own blog. Alternatively, you can freely sign up for MyBlogGuest. It not only provides information about blogs that require guest posts, but you can also share the details of topics you are interested in writing about.  
2. What to check before I decide to guest post?
Before you decide to guest post, always check for: 
The engagement level 
The audience type the blog has
The popularity of the previous guest posts 
If you are eyeing a particular blogger, you can occasionally comment on their blog. And when you pitch in for a guest post, there will be some familiarity. The timing of your pitch would also leverage the opportunity to guest post. Do not miss out on opportunities that mention you or your blogs on their own posts.
3. What are some good content writing topic ideas for a blog?
Blogging is highly competitive, and to stay in the game; you need to come up with trending topics for content writing. The content writing topic ideas you choose should be valuable to readers, as this will help keep readership. The first step is to have a better understanding of your audience and to have goals. Without goals, you aren't going any far! Once you are clear about the target audience, you are writing for you to choose from a plethora of topics that are trending in your niche. Social media is a gold mine and will be your Midas touch to find the trendiest topics.
Stay up to date about your industry and keep an eye on your competitor. Trending topics can easily be picked up from the news. While some evergreen topics to choose from would be: 
Travel (an all-time favorite for readers)
Failures and future plans (people relate a lot to self-help topics)
Troubleshooting ideas (this is another most searched topic)
Advice (include interviews of influential people)
Balancing productivity (work-from-home is the new normal) 
Contests (we all want to win)
Technology (the fourth revolution will not fade away soon)
Sharing your personal stories (personal touch generates trust)
Recipes (hit people's gluttony by blogging about the food they can ravish!)
4. What are the best content writing topics for beginners?
To come up with the best content ideas as a beginner, you need strategy, strategy, and strategy! Start by choosing the right niche. The industry should not only be of interest to you but also demand-driven. Google Trends will prove handy to pick up a niche. Before you select an industry, check out some influential bloggers' work in that niche. Understand their choice of topics and try to plan a strategy by observation and learning. Also, understand the market dynamics, choose your audience wisely. Irrespective of what topic you choose, you need to balance quality and quantity. If you are writing for another entity, understand their needs and goals.  
5. How to create good content ideas?
Good content ideas stand out from the crowd. To get the most eyeballs, you need a catchy headline. Whether you write a 1000-word or 10,000-words blog, your audience will only skim through your content. Hence, follow a structure and include mesmerizing headlines. The reader must trust your content, make it more personalized by using "you" and "I." Balancing quality and quantity is the key to success; otherwise, your blog will remain a fly on the wall. No matter how long you have been blogging, the probability of creating viral content will always remain within 1%. Viral content gains popularity quickly but also fades away fastly. If your content is valuable to readers, it will generate traffic. Slow and steady wins the race, after all. Check your competitors and include data that is missing in their work. You can also include infographics, visuals, etc., that they might not have included. Humans remember images more than words. As long as you include engaging content ideas in your work, you will always create good content.
6. What are the best ways to promote a blog?
Once published, the next arduous task is to promote your blog. You need to build a community. Announce your work through different social media platforms. Use backlinking; your readers shouldn't stick to these other platforms. Do not put all your eggs in one basket! Hence, generate traffic from different channels. Use Twitter or Facebook ads for self-promotion. Send push notifications through to announce your recent work. Your content will not be a universal truth. Hence, visit your previous works and update them with the changing needs. Whenever there is an update, let your readers know about it. This way, you will also get to advertise your recent work. Taking breaks may not be healthy for your survival in the game. Do stay active.