Marketing
10 Types of Content Your Customers Are Likely to Respond to Faster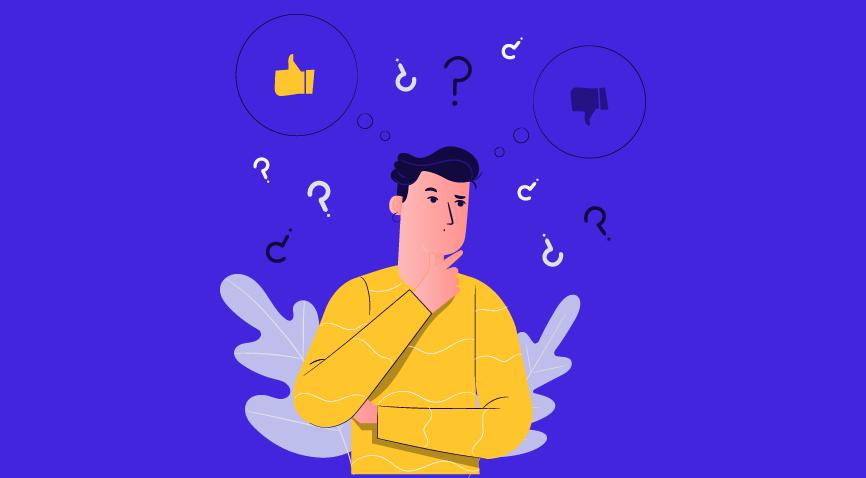 Table of Contents
Benefits of Content Marketing
Types of content in Content Marketing
5 ways to reduce customer response time
Key Takeaways
Conclusion
FAQs
Content marketing might be a buzzword today, but not everyone is nailing it. Content without relevance has no impact. Any piece of content that goes up on the web should be tailor-made to fulfill your audience's demands or address their pain points. Creating content without a purpose is as good as not creating any.
If you segregate content marketing types on your website and monitor which section of the website is gaining more traffic, you will be able to monopolize one among different types of content marketing. Before we address what types of content marketing are likely to drive traffic to your brand, let's address why content marketing is essential for your business today.
Benefits of Content Marketing
Content marketing, when done correctly, brings a wide array of advantages to your brand. Here are some of the benefits of creating different types of content:
Improves the searchability of your website
Builds a significant following on social media
Generates leads from multiple avenues
Builds trust and credibility about your business online
As many as 72% of marketers feel different types of content marketing has increased their brand's engagement and the number of leads according to Optinmonster. In fact, as much as 39% of the marketing budget is spent on content marketing by the most effective B2B marketers, says TopRankBlog. However, let's talk about the types of content in digital marketing that prove most effective for most brands.
Types of Content in Content Marketing
1. Blogs
Blogs are one of the most effective types of content in content marketing to create awareness about your products and the problems they solve. Blogs can be long-form or short-form, and there is always an ongoing debate as to which one works better.
According to a HubSpot survey, 66% of marketers used blogs in their social media content as part of their content marketing strategy. As many as 75% of B2B marketers use blogs for marketing, compared to 61% of B2C marketers.
The advantages of blogging are many. For starters, blog content is a type of content marketing that is a rich resource for your target users. The blogs also help you link information to other pages. Blogs also help fuel the website's Search Engine Optimization (SEO) while being relevant to the user. This means more discoverability for your brand.
Lastly, blogs can help build a loyal following of return users who might later opt for your services and become the end-users. No matter how old a content type they are, blogs will never run out of fashion.
Every brand hosts a blog relevant to its domain. For example, a brand in the healthcare space usually writes keyword-rich informational content related to its sector and services. It is one of the different types of content marketing, whose content can be repurposed into other types of content like videos, podcasts, and many more.
2. Infographics
This type of content marketing uses less text and more visuals to show data like charts, posters, etc. Infographics are easier for the end-user to understand since they provide a lot of information at a glance.
Infographics can also share information about the brand or help new users with relevant data about the service or product. According to Visme, 67% of B2B marketers use infographics to communicate their brand's message, and 32% believe that the most important form of content for their business is visual images.
Infographics are one of the most comprehensive types of content in digital marketing that hold incredible reshare potential and earn backlinks or social media impressions.
For example, with the outbreak of COVID 19 in 2020, most brands shared infographics about hygiene and social distancing. This made it easier for users to understand the steps and safety measures. A long blog might not have done the job so well.
3. E-books
These are some of the most detailed types of content marketing. E-books work as a resource or a lead magnet which refers to a piece of content that a marketer gives in return for the user's information like an email id.
E-books could be in-depth guides or well-researched documents that provide knowledge to the audiences. While they take longer to create, they are one of the most-used tools to collect user data. Unlike blogs or videos, e-books also help create credibility about your brand as a subject-matter expert. It also gives the followers a downloadable piece of this content entity that they can own forever, thus, enhancing its value.
4. Short-form video content
According to Optimonster research, video marketers get 66% more qualified leads per year. Short-form video types of content in digital marketing are a hit amongst millennials known for their low attention span. Instagram stories, reels, GIFs, etc., are playing an incredible role in attracting and retaining users. Landing pages with videos are 53 times more likely to rank on Google's first page.
The need for short-format videos became more prominent when YouTube launched 'YouTube Shorts', their version of 'stories' in 2020. The feature allows creators to post videos of less than a minute in vertical format.
The best examples of short-form content are mobile brands like iPhone and OnePlus that use video teasers to build anticipation for an upcoming product launch.
5. Podcast
Content creators have embraced the idea of podcasts in the last five years. It has emerged as one of the most popular content marketing times in recent years, as it allows the consumer to feel a connection with that brand's 'voice.' With companies like Spotify, Amazon, and Google making significant investments into the podcasting ecosystem, this space is expected to grow exponentially by 2025.
Today there are over 5 lakh shows on the internet and over 18 million episodes. The low cost of creation and access to distribution channels makes this medium a goldmine for marketers.
The top 4 podcasts content marketers must listen to in 2021 are Advertising Is Dead by @varunduggi (@ivmpodcasts), How I Built This by @guy.raz (@npr), Pepper Spotlight by @pepper_content (@hubhopperofficial), and The Passion People Podcast by @eplogmedia.
6. Webinars
Webinars have fast become a common type of content in digital marketing for most consumer-facing brands. A webinar is an online event hosted to enhance the brand's credibility or awareness. According to this survey, certain platforms saw a steep hike in webinar hosting activities during the pandemic.
Moreover, according to statistics by ON24 73% of B2B marketers feel that webinars are great to generate high-quality leads. Apart from being a lead magnet, they can also bring something of value to your existing consumers.
The success of a webinar comes from being able to integrate your product or service into the mind without seeming like a sales pitch. For example, Trello, the project management tool, hosts webinars about productivity, roadmaps, and plannings — all of these keep the integration of the product at its core.
7. Live chats
A live chat interface on your website is a definite way to enhance the user experience. A survey about the feature found that over 41% of all users expect a website to have a chatbot or a similar application. This is also an excellent way to generate leads and retain users on the website. Additionally, it is a great way of aligning your content marketing efforts with customer service. Since users usually want instant answers to their queries, chatting is the best way forward. You can also use an application like Facebook Messenger.
The best use case for such types of content marketing is eCommerce websites. A pop-up chat window usually encourages you to ask doubts when a user spends too long on a page without an action.
8. Polls, surveys, and quizzes
These are website integrations that keep users on your site with engaging content. It helps lower your site's bounce rate and improves retention. Interactive content such as polls, surveys, quizzes, interactive infographics, videos, etc., is a popular type of content used by brands. Some companies also offer free assessment tools and calculators as well.
The best example of this type of content in digital marketing is the use of a 'free quote generator' or 'rate of interest calculators' found on most insurance or fin-tech websites. While they do provide wholesome information, they also work as a comprehensive lead magnet.
9. Research and case studies
Both these types of content marketing are different but fulfill the same purpose. They provide robust data and research that adds value to your user and helps enhance the trust in your brand.
A study by Content Marketing Institute claims that over 75% of all data-backed marketing content helps users trust the brand easily. The research and studies published by your brand must remain relevant to your domain and be original.
These content marketing efforts help drive traffic to your site from online searches and create an image for your brand as a resource of information. For instance, a platform like Hubspot and Sprout Social provides an extensive repository of data and research for marketers; while skillfully promoting their platform.
10. Newsletters
We like to believe that social media killed newsletters and email marketing; however, most companies still use these mediums as their primary source of communication. In B2B marketing, this number is as high as 93%, says a study.
Email marketing and newsletters are one of the most engaging types of content in digital marketing as they allow hyper-personalization and targeting. Email marketing tools like Mailchimp, SendinBlue, and others allow list segmentation based on your users' behavior. For instance, you can create trigger emails for website visitors who spend a certain amount of time on your website but do not convert. Email drip marketing is a great way to use your existing content assets like case studies and reports to keep your users engaged.
But that's not all!
Types of content are just the tip of the iceberg. There are many more content marketing tips that you can experiment with as a marketer, so it is crucial to keep your eyes on current trends. It is also essential to be aware of the effectiveness of each of these content types based on the buyer persona and where they lie in the buyer journey. Just knowing different types of content is not enough; you need to be able to use your content marketing strategy to the fullest. If you employ the various types of content for customer services, you can create an efficient workflow to handle customer interactions and manage your reputation online. However, when it boils down to responding to customers, you need to have a solid plan that sparks efficiency and facilitates excellent experiences.
Let's find out how.
5 ways to Reduce Customer Service Response Time
Now that we know the different types of content in digital marketing, you can use them to target customers. Your customers are likely to respond faster. Let's delve into some content marketing tips to make optimum use of your responses to customers. Firstly, getting customers to notice your content leads them to take action and respond. On the other hand, businesses also have to handle customer responses effectively. That's why you need an organized content marketing strategy to reduce customer service response times. Just like how customer responses complement your business, customer service has the power to make customers feel important.
Here are 5 ways you can leverage your content marketing strategy to reduce customer service response times.
1. Use customer service software
We've all heard of CRMs and how beneficial they are to companies of all sizes. Consolidating all your customer data in one place is a great way to provide great customer experiences. Using customer service software is ideal if you deal with many potential leads at the same time. Having all the data in one place lets your enterprise curate experiences befitting to the particular customer interactions. If you have multiple types of content in digital marketing, try to monitor which type is yielding the most engagement.
For example, if you already know the name and address of a customer before you pick up their call, it can help you greet them with a warm message. Just like the content of character, wise marketing tactics speak volumes about a brand.
2. Employ email auto-responders
Email marketing is a big deal for businesses today. But if you have too much on your plate, it can be hard to follow up and keep every customer engaged. That's where personalized email auto-responders play a vital role in customer service interactions. Not only does an automated response reach the customer with acknowledgement of their query, but the data is stored securely for you to follow up with the ideal resolution when you get the time.
Email marketing is one of the different types of content that would save you tons of time and resources. Using email auto-responders can also be particularly useful when posting jobs on social media, using different types of content to engage with readers, or collecting market data for your content marketing strategy. Also, it saves time typing out a whole email for every customer when the matter can be resolved by a template for commonly asked questions, directing recipients towards the solution.
3. Use time-based email alerts
Time-based email alerts are a great way to nurture leads. Almost every content marketing strategy has the potential of using time-based email alerts to nudge recipients towards taking a particular action. They are an efficient way to keep your target audience in the loop while telling them that you value the time they've spent interacting with your product or service.
For example, if you have video editing software on trial with limited features, you'd obviously want users to pay and unlock the premium features. That's how they get to experience your innovative application truly. Using time-based email alerts can help position a solid content marketing strategy to remind them of your premium features awaiting confirmation. This increases the chance of trial users becoming customers, especially when they enjoy your content. This type of content marketing methodology saves a tonne of time costs in establishing a sales funnel for your business. Besides, you can fully personalize the mailers offering different types of content like ebooks, guides, infographics, videos, and much more.
4. Use text shortcuts and templates
This approach is a no-brainer for everybody using a computer. Keyboard shortcuts and text shortcuts play a vital role in saving time on various operations. Whether you're in the middle of a content creation strategy or just exploring multiple types of content, life is so much easier with text shortcuts. For example, making text italicized or bold, you don't really need to fiddle with all the drop-down menus when you have a shortcut. And if at all, the task at hand requires a lot of rapid copy-pasting, you can save time in spelling the customer's unique last name using just the keyboard shortcut. Yes! This saves response time in so many ways.
The same applies to using pre-constructed templates to make videos, edit documents, create SLAs or build a proposal. This form of content marketing type saves time and resources. Using pre-built templates can help you serve customers better by just keying in the relevant information where necessary, not wasting any time on design every time.
5. Segregate different types of customer queries
The use of cloud telephony services has contributed immensely to improved customer service operations. In fact, using centralized systems to manage and dictate the flow of customer interactions with your company is a huge bonus. It becomes so much easier to segregate different types of customer queries using an IVRS script. You just have to be witty with the content creation strategy.
Your speech-to-text service can help customers self-serve themselves or resolve queries almost instantly, without even having to connect with an agent. This practice is common and appears in many forms. Using an intelligent data collection method to segregate the contact details of forms that customers fill in can help you prioritize based on value. If your customer is closer to buying your product, you would have already known by the time the data reaches your screen. If the customer just wants to know more, the charming sales guy can pick up the conversation.
By segregating different types of customer queries or interactions, agents and companies can save a tonne of resources while streamlining their sales funnel. And at the core of every sales funnel is your content marketing strategy. Just be sure to keep updating your marketing mojo when the data shows you new avenues to explore. Using different types of content, you can build a community through fruitful and engaging customer interactions and efficient customer service operations.
Key Takeaways
Content marketing helps in improving searchability and generating leads by providing valuable information to the audience.
By making valuable information accessible, content marketing builds trust with the audience.
Your website should cater to the content needs of your target audience. If they engage with video content, you must provide, or if they want detailed infographics, try to make it for them. Your audience will determine your success.
Mix and match with different types of content in digital marketing.
Live chats are a great way to solve customer problems in real time.
Use auto email response templates, text-based email alerts, and customer service softwares to reduce customer response time.
Conclusion
Mix and match with different types of content in digital marketing. You need to track on-site traffic to check if your SEO efforts have materialised. You will be able to analyze the success of using types of content in content marketing by tracking the number of conversions after you have introduced a new content piece, or experimented with some layout. It is no secret that well-researched pieces of text content and bite-sized video content marketing types are always in demand.
FAQs
1. What are the different types of content marketing?
The main types of content marketing are based on:
1. Visual content: Photos, infographics, video
2. Textual content: Blog posts, articles, etc. 
3. Audio content: Podcasts, videos that include voices and sounds
4. Interactive content: Forums, polls, surveys
2. What is a content marketing strategy?
Content marketing is simply a way to build an audience for your website by creating and communicating valuable, helpful information.
There can be different types of content in digital marketing like videos, podcasts, articles, blogs, white papers, and case studies. These pieces range in length, so there are opportunities to speak about products or services on a smaller scale or provide more information on specific cases when the topic warrants it. In other words, give the readers high-quality content they need or want at just the right time in their lives when they're ready to buy.

3. How does the use of different types of content help your business?
Different types of content help your business in different ways. It can be any type of content, but the more engaging it is, the better it will work for you.
Social media content is one of the most versatile and powerful types of content marketing to attract and keep new followers on your social media channels. Studies have shown that images are a perfect social media tool that can significantly attract new followers who might not have seen another post about you otherwise.
In order to help your business, use relevant and fresh content on different platforms that are popular with your target demographic. This will give potential customers various ways to learn about you, which has a significantly higher impact than one-sided information coming from only one channel or medium.
For example, consider using tweets to promote recipes and Facebook updates for specials if you're in the food biz. Both offer clever workarounds for those wishing to not "live tweet" every day but still keep social media simple and measured (assuming Twitter's all they want!).

4. What are 5 content marketing tips used by creators?
1. Include customer-centric content: Creating a blog and generating content based on what customers are interested in helps your audience feel like they're part of your community. 
2. Create valuable, captivating content: Provide quality information that draws your readers in and then invites them to subscribe to your website. 
3. Engage with users on social media: Establishing relationships with an online following can help you effectively promote the company's content across multiple channels. 
4.Consider incorporating video marketing: Incorporating different types of content in digital marketing would yield better results.  Post high-quality video content that is both engaging and informative for potential business clients. 
5. Update social profiles regularly: Especially with links back to new or popular pages on the site that will increase traffic for individual pages. Domain authority is what you need to stand out on search engines like Google.
5. Why is customer response time important?
Customer response time is important because it impacts first-time users, repeat customers, and every interaction in the customer lifecycle. Customers who do not receive responses within a few hours assume they're not a high priority or will be ignored altogether. If this problem persists over time, customers are more likely to leave for a competitor or internally complain about your company's service to management, ultimately resulting in higher churn rates and revenue losses.
By delving deep into customer analytics without neglecting client success metrics like engagement rate, task completion ratio, conversion rate, etc., and using different types of content across multiple channels, you can gauge how fast your team is responding as well as the quality of their response based on what they share.