Persuasive Whitepaper Designs
Top 1% designers & subject matter experts

Communicate complicated ideas with simplicity

High-quality, every time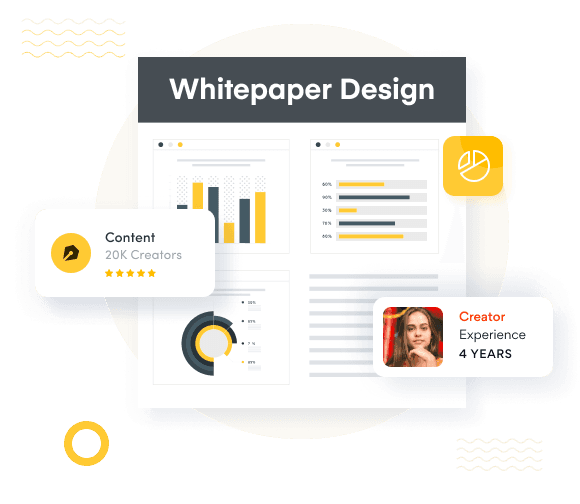 2500+ Businesses trust us with their content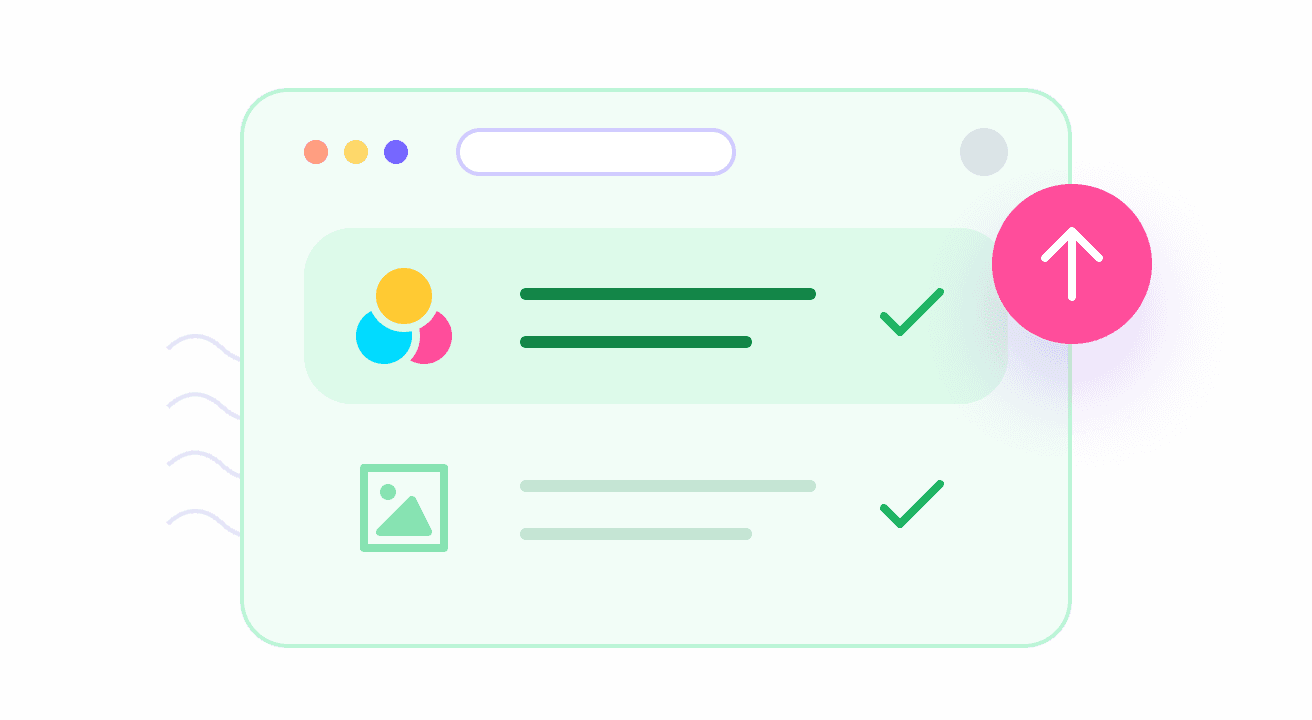 Inform, not Intimidate
White papers can be pretty dense without a readable layout. Get good design to help you inform your readers better.
Generate more Qualified Leads
White Papers serve as a great tool to generate leads but only if people find it easy to go through them. Expert designers at Pepper can help you achieve that.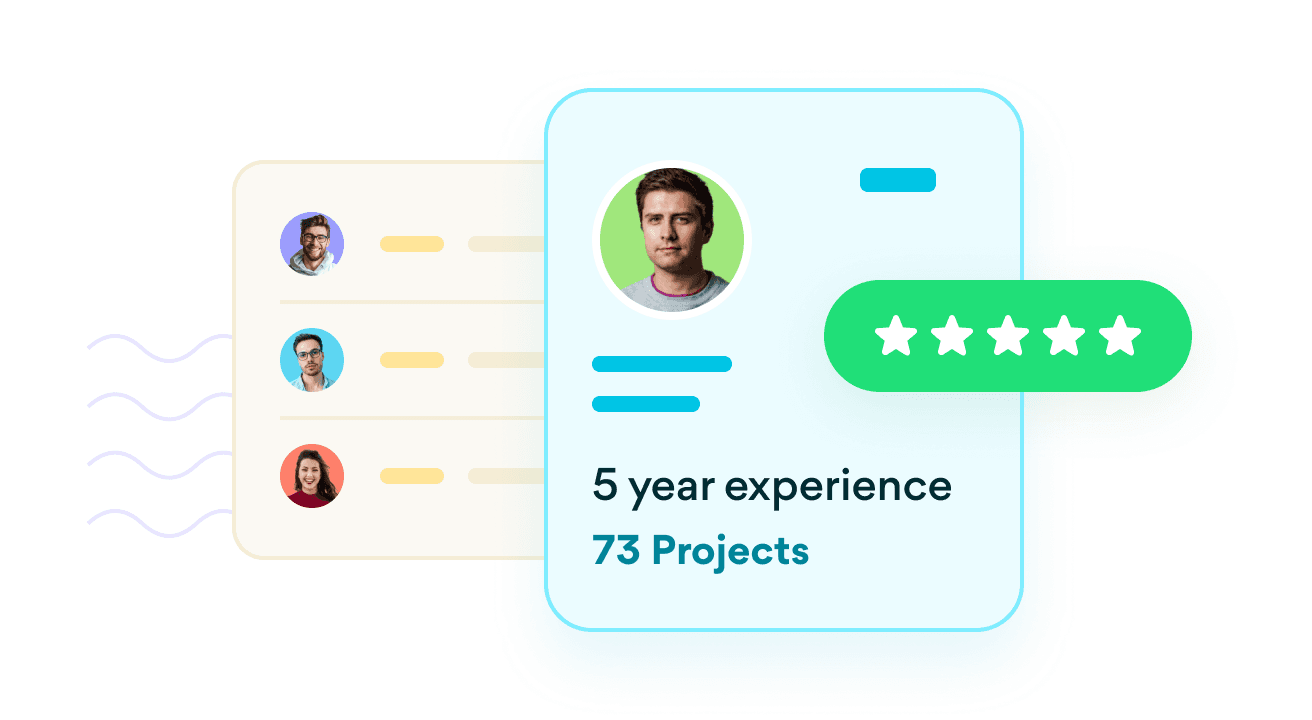 Professionally Designed with World-class Quality Standards
We do not settle for anything less-than-perfect. Our professional designers ensure that you receive top-notch work with world-class quality standards.
We understand design projects
50,000+
Designs delivered
800+
Designers on the network
800+
Happy brands
1%
Selection ratio
Creating a perfect White Paper is a 3-Steps Process
1
Share your vision
Create a whitepaper design brief using our hassle-free, guided flow. Get a preliminary quote and estimated delivery time in under a minute.
2
We assemble the best quality team
Our algorithms ensure the best-fit designers are briefed, readied, and launched into your project.
3
Track progress on your dashboard
From commissioning to designing to delivery, we keep you in the loop at every stage.
Order your First Whitepaper Design
Fastest Turnaround Time
Premium yet Affordable
Unmatched Quality Designs
Frequently Asked Questions
How does whitepaper benefit a small business?
Whitepapers benefit small businesses by building credibility and trust for the business, showcasing its line-up of old, new, and future products, generating sales leads, and increasing customer engagement. Whitepapers also compare the growth of a business over its years of operations.
Will the design match my brand's persona?
Yes, we can design a white paper that fits right into your brand image. The only design constant is a clean and easy-to-understand flow. You will have to share your brand guidelines to help us align with the brand better or you can choose from sample guidelines.
What if I do not like the quality?
Our creators start their work after thoroughly going through your brief and their research. If something still feels amiss, they can revise the design to your liking by offering up to two iterations.
Can you deliver within a strict deadline?
At Pepper, our creators understand and respect deadlines. Our creators work at lightning-fast speed to ensure enough time to incorporate the customers' feedback in the final output.
Can I commission a bulk order of whitepapers?
Pepper has a network of thousands of well-qualified creators. There is no limit to the size of the team, that the platform can assemble for your project. So yes, our platform can handle the bulk orders with ease.
What industries does your service cater to for whitepaper?
We have worked with individuals and brands from every industry and have gained rich experience along the way. So, whatever your industry is, our platform can deliver impeccable white paper designs for you as well.
Can I not create white paper designs myself?
Yes, you can. But our creators have designed for thousands of brands that they naturally understand what works and what doesn't. It gives them an edge that others do not have.
Can a white paper design really help my business?
Of course, it can. A whitepaper is a mix of a sales copy, a press release, and an authoritative document. It does so much, from presenting a new product to educating people to persuade them and form opinions. It also helps businesses generate leads with strong intent.
Who uses white paper designing services?
From new market entrants to market leaders, businesses release white papers all the time. Amongst them, those who want to engage more prospective customers with an in-depth consumable document use white paper designing services.
What goes into designing a whitepaper?
Designing and researching for a whitepaper is an exhaustive and time-consuming job. Whitepaper design services involve researching, collecting, and analyzing data, designing infographics, and making comparisons between your and your competitors' business outcomes and goals.
Why 2500+ brands trust us with their content needs
Present your Whitepaper with engaging design.
Whitepaper design format should be able to give insightful information about a business to generate leads. Whitepaper is a unique marketing tool and hence whitepaper design should be curated accordingly.
What can whitepaper design services do for your business?
A whitepaper is referred to as a report, document, or sales tool created by a business. It is a binder in which a company presents a backgrounder on its products and services, sales data, profit and loss, amongst many things.
It is an incredibly versatile document that has many purposes. A business can prepare a whitepaper to inform its customers about its philosophy and the different products or services. A business can also prepare a whitepaper for business-to-business marketing. In that instance, they include a lot of statistical information to seek prospective customers and investors. Not just that, it is a useful tool to have for a business as you can chart your company's growth through the years and see where and when you faltered.
Creating a whitepaper might seem easy on the surface. However, designing and collecting information for creating a whitepaper is an extensive job. And if you are a small business that doesn't have any free hands around, you might find it difficult to create one. Because to design a whitepaper-
The first and foremost step is to decide upon the target audience for the whitepaper and figure out what information is important to share with them.

Study similar whitepapers to understand how they tackled the research question and analyze issues within that.

You need to conduct extensive research on how the market is performing and how your competitors are performing.

You need to analyze and do a comparative study of the data you collected against your performance.

Design different types of infographics.
Therefore, whitepaper design services are of great help in this situation as they take charge of collecting all of the necessary data for you, compiling and analyzing the data, and presenting it with the help of infographics. Not only this, whitepaper designing is handled by experts who give proper citations and references wherever those are required and will even go the extra mile with providing comparable data.
The whitepaper design offers a unique marketing strategy.
Whitepapers don't have mass appeal and are used for a very niche group of people. However, if you are a small business, whitepaper is a marketing tool used to retain old customers and appeal to prospective customers. This promotes transparency and builds trust with the customers by displaying that your brand operates ethically. Small businesses can also use this document as a proposal to appeal to other businesses to invest or become stakeholders.
Designing a whitepaper document is extremely beneficial-
Whitepaper acts as an advocate in the decision-making process of customers and businesses.

It acts as a case study of different testimonials from customers who found your product and service helpful.

They are a very extensive document that can be used to compare the progress of the business by itself and with its competitors.

With the help of whitepaper, a business can inform and educate its customers about their products, showcase new products, and explain other aspects of their business. Ethically conscious customers appreciate transparency from a business. And this builds credibility and trust for your brand.

Whitepapers that are well designed and contain valuable information help a business build its mailing list and generate sales leads. You are also increasing engagement with your customers.
Why choose whitepaper design services?
A lot goes into writing a whitepaper. And if you want useful insights, well-researched, and in-depth analysis in your whitepaper, which is also effectively designed, then you might require the assistance of professionals. Since there is just too much information and statistics provided in a whitepaper, your reader may lose interest if it is not presented effectively.
That is why whitepaper design services are available to small businesses. These services conduct research, collect data, analyze the data and form a conclusion, but they also work on their formatting and presentation to match the business' brand identity and image.