Community
15 Writing Communities: Supporting Your Solo Endeavor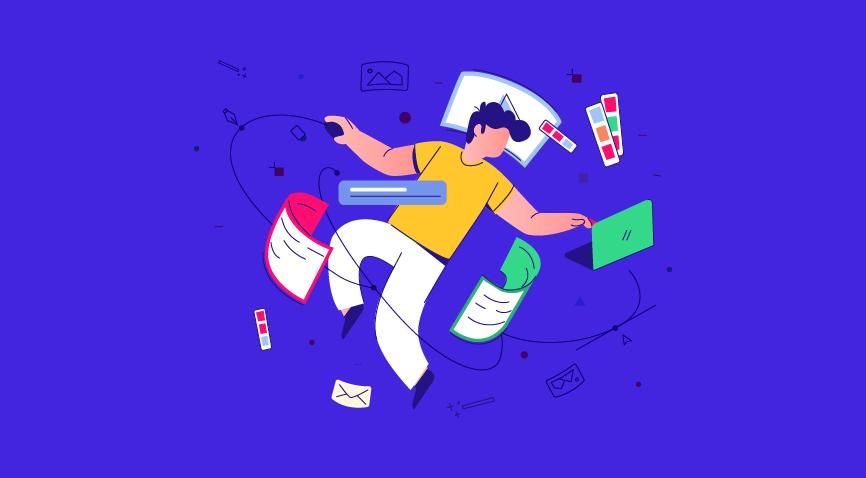 Table of Contents
What are Online Writing Communities?
Benefits of Joining Writing Communities
15 Best Writing Communities To Join Right Away
Key Takeaways
Conclusion
FAQs
Writing has been considered a lonely journey. Of course, you write for yourself, for others, but whatever you do, you have to gear up and put your thoughts out in the form of words. But does writing feel like a lonely art? Is it that we have misinterpreted the loneliness of writing?
Writing demands the utmost dedication and commitment of your mind. A single noise can destroy your atmosphere of writing. It requires a lot of concentration, and it's challenging to achieve that amid noises. Thus, we separate ourselves from the world when we put our heart and creativity out. After spending hours and days on a certain write-up, don't you feel like showing it to someone who would share valuable feedback on it?
You may be collecting views from your family and friends, but we all understand that not everyone can fine-tune writing as a writer. We need someone who knows the ins and outs of writing to provide honest and genuine feedback. Here comes into consideration the online writing community.
As the name depicts, writing communities are where writers worldwide connect virtually to support, encourage, and help their fellow writers. Nobody can understand writing better than a writer, and if you are just unsure about anything related to your writings, maybe the tone of it or the writing style, a single message can clear all your doubts.
Writing communities are essential for gathering reviews on your writing and helping you in many other ways. The benefits of online writing communities are immense, and there is an abundance of writing community websites composed of writers of different genres, levels of experience, and much more.
Benefits of Joining Writing Communities
Thinking about joining writing communities but doubtful about it? No matter which online writing community you enter, it will hardly hamper your career. On the contrary, you can enjoy multiple benefits by joining some of the best writing communities. Let's look at the five significant benefits these communities provide.
1. Offer valuable feedback
As a writer, your objective is to understand the audience's mind and craft writing accordingly. Focusing on the reader's mind is vital for connecting them with your writing, which isn't easy. Writing communities are appropriate platforms to share your work and ask for genuine feedback. The community offers you detailed feedback on the tone of your writing, its flow, and whether it's attractive from the reader's point of view.
2. Source of support and encouragement
No matter what we do, we all need somebody to uplift and support us in our journey. In a writing community where all the writers unite, you will never feel alone. You get support on those hard days when you don't feel like writing and appreciation for achieving even a little success.
3. Improves your writing process
Writing communities can help you improve your writing. Here, writers share their own experiences from their journey and the methods and resources that helped them. Some can be great fictional writers, and others non-fictional. Whatever your genre or problem be, you can get everything in this place.
4. Great place for networking
What can be better than a writer networking with fellow writers other than writing communities? When you connect with other community members, you learn about their mistakes, successes, experiences and gain plenty of knowledge for them. Further, you also get to share some beautiful bonds with the other writers.
5. Get help with writing
Writer's block is a common concern for all writers, and when it hits you, you can run to these writing communities to seek help with ideas, creativity, and writing.
15 Best Writing Communities To Join Right Away
Impressed by the pool of benefits a writing community provides? Now, it's time to join one, or maybe some of them. Let's look into the collection of some of the best online writing communities and find the perfect one for you.
Absolute Write is a large and active writing community of over 68,000 writers. Here, you can participate in discussions on every genre, from politics to science, pop culture, freelance writing, writing exercises, and more.
The best part? This online writing community is highly active and famous. You can easily find like-minded people here.
Are you looking for critique and feedback for your writing? AgentQuery is an excellent place for you. If you are an author who has completed their manuscript and looking for the next step, this community can help you connect with publishing agents. Moreover, you can find many promotion advice, agents, and self-publishing tips here.
National Novel Writing Month, known as NaNoWriMo, is one of the most famous online writing communities. Consisting of many writers across the globe, this community supports and encourages writers to upskill their creativity and writing.
NaNoWriMo is widely popular for its November challenge of completing 50000-word novels in 30 days. This might sound impossible, but the dedicated writers have proved their excellent skills in this challenge.
This writing community organizes NaNoWriMo every year in April and July to empower writers to perform better under the guidance of experienced writers.
As the name suggests, this online writing community is the place for all criticism and feedback from other writers. Established in 2003, the Critique Circle is one of the oldest and best-writing communities comprising beginners and experienced writers.
There are many reasons to join this community, the most important being the chance to receive honest feedback and interact with some of the best writers. In addition, Critique Circle offers storyboarding tools, writing prompts, workshops, and plenty of other things.
One of the largest science fiction and online fantasy communities, Chronicles offers the perfect place to discuss books, news, and writing related to science fiction and fantasy.
If you're interested in these genres, this writing community can help with many threads, challenges, workshops, and active support from the community.
Does self-publishing interest you? If yes, this writing community is your go-to place. Bookrix assists with publishing and marketing your books. Even if you are a beginner, this community has many writers and readers who can offer you valuable feedback at every step of your writing.
We can't deny that we all doubt our writing, maybe as beginners or even as experienced writers. But unfortunately, self-doubts are bound to happen, and this writing community can help you overcome all your insecurities.
So, if you need any encouragement while writing or want to clear your self-doubts, you should join the Insecure Writer's Support group without any second thought.
This is an international and paid writing community. Most writers in this community are established authors, and they provide deep and valuable feedback on your writings.
You can get continuous support here, from drafting your content to publishing it. Thus, paying to join this online writing community can be worth your money.
If you are looking for a writing community that focuses on niche threads, you have found the best place. Along with numerous subreddits, Reddit helps the writer by providing writing prompts and other informative content related to writing.
You can easily find countless subreddits depending on your interests and other useful stuff since this is a community of writers from various niches and experience levels.
Scribophile organizes workshops, webinars, and tutorials for a community dedicated to authors, no matter to which genre they belong.
This community offers excellent features, but some are limited to its paid membership.
A writing community exclusively built for women, She Writes, has more than 30,000 members, making it one of the largest communities for "she" writers. This place offers a great collection of resources regarding writing, editing, and marketing and
If you are a woman writer searching for a supportive community of fellow writers, it's highly suggested to join this fantastic space.
Talentville is the most appropriate online writing community for those passionate about screenwriting and networking. The community is always open to providing genuine feedback on your writings and pushes you to increase your skillset to make a perfect ScreenCraft.
Here, you can also make meaningful connections with professionals, including managers, founders, and agents who are usually part of the community to hire new talents.
Younger writers who want help with genre-specific information can join Underlined, started by Penguin Random House.
You can even find quizzes, the latest news on books, QnA sessions with authors, giveaways, and much more.
It is a free writing community offering various tools and resources to craft your content. Whether you are a writer, editor, or a teacher, it has quizzes, workshops, webinars, writing and marketing tools for everyone.
A fun and friendly community of writers covering topics from simple tips on writing to a detailed discussion on something else, Figment is a fantastic place to get started with. The members here are very active and always lend their support when required.
Key Takeaways
An online writing community is a group of writers of different genres and experience levels who unite to support each other.
There are numerous advantages to joining writing communities. You need to find your purpose and join them.
An online writing community is like a family of writers who will support and uplift you in your journey.
You can get constructive criticism from writing communities that can help you improve your writing.
You can interact with excellent writers and learn from their experiences by joining writing communities.
There are plenty of writing community websites to find and join the best online writing communities depending upon your choice.
Conclusion
Writing communities are a great place to form meaningful connections with other writers and make yourself a better writer. In addition, being surrounded by people of the same profession helps you gain confidence and learn other facts on the same.
We have looked at the plethora of benefits that writing communities serve. A writer should join such communities to become a better version of themselves. Since there are plenty of writing community websites, you need to find and choose the ones most suitable for you.
FAQs
1. What is a strong writing community?
A strong writing community is a group of writers who are always ready to help you with writing tips, tools, and other resources. In addition, this community offers genuine feedback on your writings, which can help you to improvise your writings.
Moreover, you can interact with many fellow writers, know about their experiences, and learn about different books and writings.

2. What is Wattpad?
Wattpad is a social storytelling platform for readers and writers to share their stories and learn about the narratives and experiences of others.

3. Where can I submit my writings and get paid?
Several sites offer a good amount based on your writing if you want to submit your writing work and earn money from them. Copyhackers, Listverse, Narratively, Reader's Digest, Writer's Digest, Copypress, Fiverr are some sites where you can get paid for your writings.

4. Where can I publish my writing for free?
The platforms that offer free article publishing are Medium, Linkedin Articles, EzineArticles, Scoop. It, Issuu, Yudo, Article Alley, and a lot more.

5. Which site is best for writing blogs?
Nowadays, there are numerous sites to write and publish your blogs. Some of the most popular sites for writing blogs are Wix, Linkedin, Medium, WordPress, Weebly, Ghost, Blogger, and Tumblr.

6. What is an online journal called?
An online journal is commonly called a blog or, more specifically, a personal blog. Here, you can share your thoughts, life experiences, and anything you want the world to know about you.