Marketing
A Brief Guide to B2B Inbound Marketing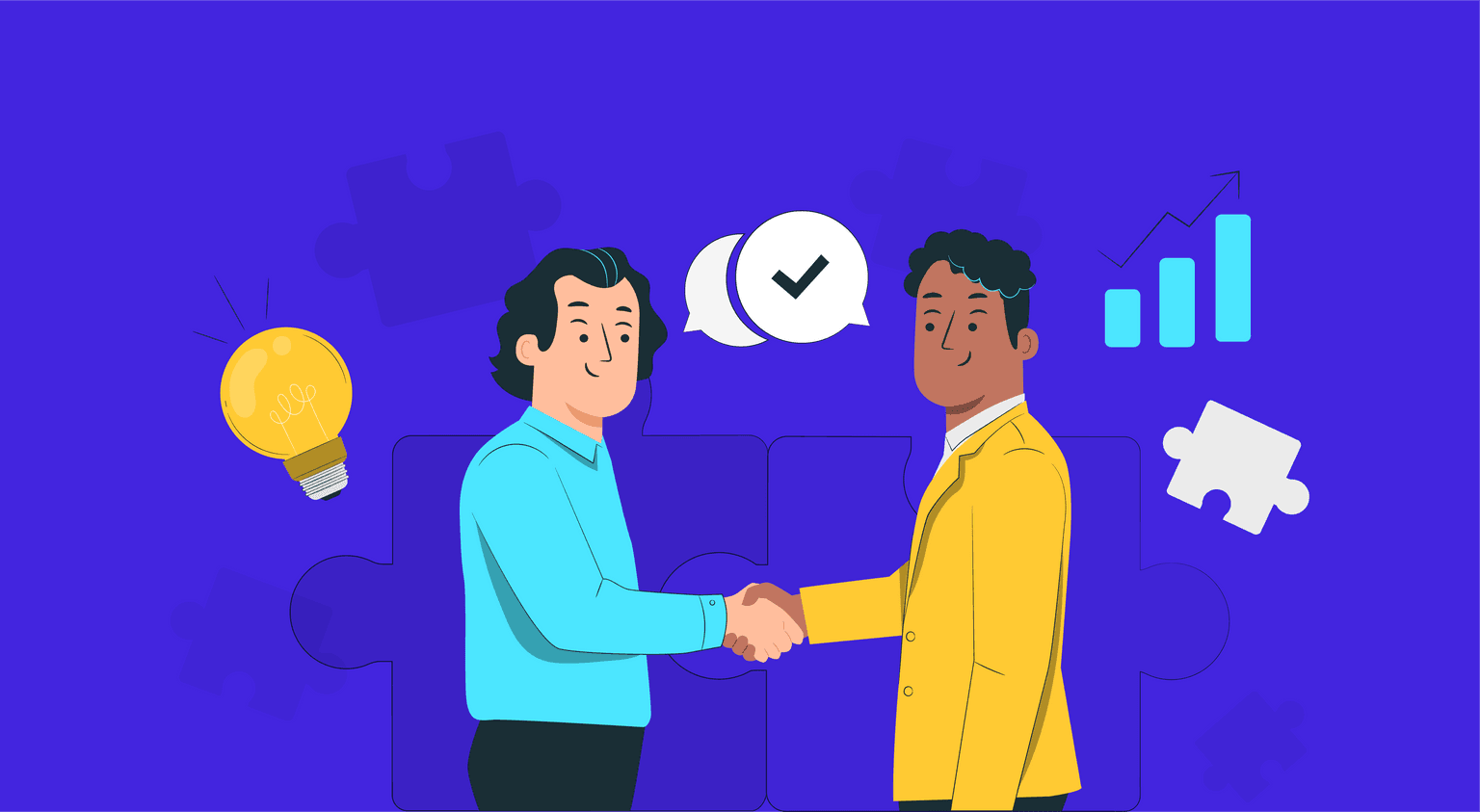 B2B inbound marketing is the process of helping potential customers find your company, often before they're even in the purchasing stage of the buyer's journey.
How do you define successful marketing? The finance team's creativity that earns gasps and applause may seem like a good sign. Still, the only definitive indicator of effective marketing is your audience. Marketing to the wrong audience bleeds resources.
Outbound marketing often ends up targeting the cold audience – sometimes the wrong audience – or even only a fraction of your potential audience size. Inbound marketing is the way to connect with all those seeking your solution or services.
In B2B inbound marketing, your primary audience is another business, not an individual. How do you reach that target audience? How do you address their concerns? And how do you convert them? This blog answers these questions and then some more.
What Is B2B Inbound Marketing?
Inbound marketing is a branch of marketing that attracts your potential clients to your business instead of chasing them through ill-targeted messages. It is the process of helping potential customers find your company, often before they are even in the purchasing stage of the buyer's journey.
Creating content that your prospects find valuable can build brand awareness and recall. It helps you meet your clients where they are. Finally, inbound marketing answers clients' questions and creates valuable content and experiences – online or offline – tailored to their needs.
B2B inbound marketing matters for your business because of the following reasons:
It builds trust among your clients – both current and prospective.
It helps you establish authority in a competitive domain.
It helps you generate demand.
It is cost-effective and delivers long-term results.
Brief Guide to B2B Inbound Marketing
Inbound marketing is an ever-evolving branch of any growing B2B business. The toolkit and 'tried-and-tested formulae' that worked for boomer marketers are as good as a DVD player today. You can't fight a battle with primitive weapons, let alone win against your competition and take home the shining trophy of your customer's undivided attention – and down the line, loyalty.
In other words, you need an up-to-date B2B inbound marketing toolkit – one that caters to your target audience at different stages of their customer journey.
An inbound marketing strategy for B2B is a framework for creating resources, distributing content, and planning the workflow to nurture leads and move them along the funnel. Here is what you can do to develop a B2B inbound marketing plan.
1. Identify your target audience
Regarding B2B marketing, your target audience is an organization. But the organization is not making purchase decisions; a human being is doing that and identifying them are crucial for effective B2B inbound marketing.
2. Design a funnel
Once you identify your target audience and how you will reach them, the next step is to design a funnel.
3. Awareness
The client has little to no prior interaction with your brand at the top of the funnel. They are only looking for a solution to their problem. As a result, they may find you through a search engine like Google or at an expo.
Irrespective of the touchpoint, getting the client to share their email address or schedule a demo is difficult – albeit invaluable – in the awareness stage. Warm leads generally fall into this category.
4. Consideration
This is when the prospective client is actively considering your solutions and services but has not yet made a decision. They may need in-depth resources to understand your services and how it would help their business.
Hot leads and qualified leads fall into this category. Clients may be more willing to share their contact details for a personalized experience and spend more time interacting with your website or other channels than those in the awareness stage who want quick answers.
5. Decision
This is where your qualified leads either make the payment or say goodbye. Limiting friction between the stages is usually a great way to ensure the decision is in your favor.
But, what if the decision is not in your favor; is the client completely lost? Or is there an opportunity to resolve their concerns and win them back?
Leverage the behavioral insight you have and continue providing them with valuable content. Make sure you don't sound too pushy, though. The one-and-only rule of B2B inbound marketing is to help your audience so that they come to trust your expertise.
6. Closing the loop
This is the final stage that many overlook. You should continue catering to the needs of your existing clients. Close the loop with retention and, if possible, upsells. Your existing clients will go on to become loyal customers and brand evangelists.
Channels for B2B Inbound Marketing
Each business is unique, and what works in one industry – or even for a business in your industry – may not work for another. But here are a few good places to start.
Website landing pages
Blogs
Social media platforms (Facebook, LinkedIn, Instagram, Twitter, Pinterest, etc.)
Email
Podcasts
YouTube channel
Types of Content for B2B Inbound Marketing
Create content for each stage of the funnel, tailored to the different channels you are using. Remember to identify the user's intention and tailor the messaging to the context. Additionally, your content needs to be empathetically aligned with your potential clients' needs.
1. SEO with pillar pages and clusters
When seeking answers, people often turn to a search engine like Google. Understanding their query and attracting them with quick responses and in-depth guides is a great way to get off on the right foot.
2. Newsletters and blogs
Keeping your audience up-to-date on industry news and delivering insight that proves valuable to them builds relationships and establishes your expertise.
3. Case studies
Otherwise known as social proof, case studies reassure prospective clients that they're in good hands.
4. Whitepapers and other resources
These are a must for B2B businesses, especially those with multiple solutions.
5. Video content
Video content is taking off in the B2B market. It embodies the 'show, don't tell' axiom. Add a CTA so that the viewers know what they should do next. Video content ranges from product demos to testimonials and repurposed blog content.
6. Content for social media channels
Social media marketing is an indispensable part of digital marketing today. Instead of fluff that doesn't add value to your client's journey, create (or repurpose) content that provides some value and guides them back to your resources hub.
7. Marketing automation and lead-nurturing workflows
This includes drip email campaigns and segmentation for delivering valuable content through the client life cycle.
Besides these digital channels, you should also create resources that your business development team can share with your existing and prospective clients. Creating a workflow with organized resources helps you deliver a consistent customer experience.
Conclusion
Marketing is ineffective unless you keep your target audience in mind, and no other audience is as critical and fickle as business customers.
B2B inbound marketing is a sustainable way to generate demand, nurture leads, and retain clients. It establishes trust in your expertise and nurtures your relationship with your clients.
FAQs
1. What is the difference between outbound and inbound B2B marketing?
Outbound marketing almost exclusively reaches out to your potential clients, irrespective of whether they are looking for your services and solutions.

Inbound marketing is about positioning your business when potential clients seek answers, solutions, and are ready to invest in your services.
2. Is PPC inbound or outbound marketing?
Since PPC, like SEO, is contextual, query-triggered, or part of a remarketing campaign, it is inbound marketing.
3. What is the difference between content marketing and inbound marketing?
Content marketing and inbound marketing share similarities, but they are not the same. They work on different levels and work towards different goals. 

Inbound marketing is about reaching your clients when they are looking for something. On the other hand, content marketing includes creating, distributing, and promoting content. You can do content marketing without having an inbound marketing funnel, but you can't generally do inbound marketing without any content.
4. Do you need SEO for inbound marketing? 
If your blogs and web pages attract most of your target audience to your business, SEO may play a huge role in effective B2B inbound marketing.
5. What are examples of B2B inbound marketing?
1. Topical blogs
2. Social media campaigns
3. Ebooks 
4. Growth-driven website content
5. (If possible, viral) videos
6. Web-based seminars (Webinars)
7. Drip email marketing
8. Influencer marketing