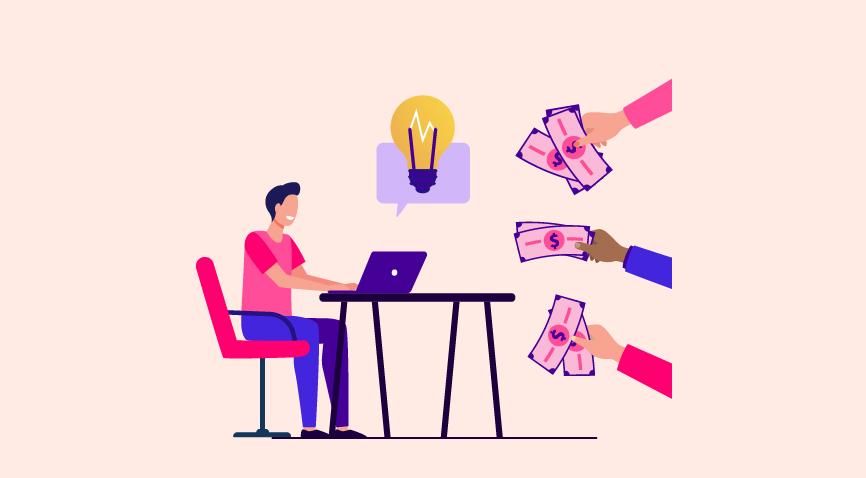 Read through for a thorough understanding of what affiliate marketing is, its benefits, tips to earn more money, and examples of popular affiliate marketing programs.
Table of Contents
What is Affiliate Marketing?
How Does Affiliate Marketing Work?
Benefits of Affiliate Marketing Model
How to Find Affiliate Programs?
Affiliate Marketing Tips to Make More Money
Best Affiliate Marketing Examples
Several bloggers and influencers are making a lot of money online by promoting various brands' products and services. Affiliate marketing is one of the many ways to generate an online income and leverage the rising tide of digital marketing.
Put simply, in affiliate marketing, people partner with brands and set up a website where these affiliate links are placed. They are paid every time they drive a sale. Believe it or not, pro affiliate marketers are making six figures from this lucrative revenue stream.
According to marketing experts, affiliate marketing will generate a massive $8.2 billion in sales by 2022. So without wasting any time, let's get you acquainted with what affiliate marketing is.
What is Affiliate Marketing?
Affiliate marketing is an online sales strategy where a business tries to increase sales by partnering with others targeting the same audience. These other businesses or individuals are called affiliates, and they promote another brand's product because they earn a commission on every sale done through their recommendations.
As an affiliate marketer, you just have to promote a business's products or services on a social media platform, blog, or website. As soon as someone purchases through your link, you earn a commission. Thus, it is a performance-based opportunity for the affiliates.
How Does Affiliate Marketing Work?
After knowing about affiliate marketing, we're sure you must wonder how to do affiliate marketing.
Here is the answer to your question. To become an affiliate marketer, follow the given steps:
Several affiliate marketing programs are operating in the online space. Find and join the most suitable one for you.
Choose which products and offers to promote
Get a unique affiliate link for each product or offer you would be promoting.
Now find spaces to share those links to reach a wider audience. You can share them on your website, blog, or any social media platform.
You are good to go now. Anytime someone makes a purchase using your links, you earn a commission.
You can even promote a company's products and have a direct revenue arrangement with them. However, it is better to join a network to act as an intermediary between you and the company.
The network becomes responsible for payments and product delivery, thus bringing accountability to the whole arrangement. The Amazon Associates affiliate program is the most popular for promoting any item sold on their platform.
Benefits of the Affiliate Marketing Model
The affiliate marketing model has received wide acceptance in the e-commerce space. This is because it offers immense benefits to the companies and the affiliates.
Some of the most prominent benefits of affiliate marketing are as follows:
No risk
You can simply join an affiliate program free of cost. All you have to do is promote a product without even creating one. There is hardly any risk for the company as it has to pay only after the desired outcome is achieved.
It is performance-based
Since the affiliates are only paid when a sale takes place, they are highly motivated to make that sale happen. This makes them more efficient and focuses on what really needs to be done. The company can also rest assured that they will get what they have paid for.
Wider audience base
The more affiliates promote your products, the more potential customers they will reach. Most of the affiliates already have large followings, and by partnering with them, companies can leverage their audience base to expand into new markets. This can give brands a stronger online presence.
Boost brand awareness and reputation
The affiliates can be popular bloggers or trusted websites. When such a reliable source recommends any company's products, it does have a positive impact on the brand reputation. When an affiliate promotes a product, his followers are likely to be more confident about buying it.
Cost-effective
This is the most cost-effective form of marketing since you are required to pay only when a sale happens. This is unlike other forms of marketing where you have to invest resources, irrespective of the final outcome.
Moreover, it is pretty easy to expand into new markets with the help of affiliates instead of implementing a costly marketing campaign.
Drives website traffic and sales
Affiliate marketing is also an effective way to drive more traffic to your page because more sites will link to your page. This will give you more opportunities to convert those visitors into customers.
Affiliate links might not directly impact your search rankings, but they sure will indirectly impact people searching for your products and visiting your website.
How to Find Affiliate Programs
Finding the right affiliate program can be quite a task if you are new to it. Some companies have their own affiliate programs, while most use an affiliate network.
The best way to find an affiliate program for yourself is to explore an affiliate marketplace or platform. Some of the popular platforms include:
ClickBank
ShareASale
AvantLink
FlexOffers
RevenueWire
Another way is to look up the websites of the products and services you would like to promote to see if they have an affiliate program. You can find affiliate programs of large e-commerce companies like Amazon and Shopify on their websites.
Moreover, you can even directly approach the business whose product you really like and are willing to promote. The business might have an affiliate program in place, and if not, they might be ready to come up with an arrangement for you.
For instance, you can reach out to a business dealing in fitness products if you are a fitness and wellness blogger.
Affiliate Marketing Tips to Make More Money
Here are some tips for affiliates to get buyers purchasing through your affiliate links.
Get to know the products you're recommending inside out.
Many people get into affiliate marketing to make quick money and not genuinely help their followers. Those people do not tend to last. If you want to be successful as an affiliate, you need to be an expert on the products you recommend or at least a reliable source of information for people wanting to know about that product.
This might take longer to deliver results, but people will trust your recommendations once you have established yourself.
Write product reviews and tutorials.
Most people read product reviews before making a purchase online. They trust other customers' feedback more over the brand's claims. As an affiliate, you can engage people already looking to buy that product by writing reviews or giving tutorials on how to use the affiliate products.
This is more likely to drive sales and reduce your efforts of convincing the audience to buy the product.
Pay attention to what's trending.
The more followers you have, the more successful you can be as an affiliate marketer. You need to create engaging and shareable content to keep people hooked to whatever you post.
Keep yourself updated on everything trending and create content related to that. This will draw more audience towards you. Buzzfeed earns a significant amount of money through affiliate marketing.
It does so by publishing content that inspires or supports purchase decisions. As a result, it has created this vast network of people who love their content.
Take advantage of peak shopping seasons.
As an affiliate marketer, your end goal is to make sales. Utilize all the effective marketing strategies. One of them involves promoting products around peak shopping seasons, such as New Year's, festivals, Valentine's Day, and other popular occasions.
This is the time when people are actively searching for products to buy. Peak shopping seasons also offer excellent opportunities for affiliates to build an audience.
Promote audience-recommended products
When you have just started as an affiliate marketer and are unsure which products to recommend, you can always go with products that your target audience recommends.
Look for products with positive customer reviews and join its affiliate program. This way, you can get paid for products that people already liked and were looking to buy.
Before selecting any product to promote, indulge in customer research. Engage with audiences and listen to their opinions and preferences. Then decide on the best affiliate program for you.
Set up an Instagram affiliate shop
Social media platforms like Instagram and Facebook are perfect platforms for affiliates to build a following. These platforms are further evolving to be ideal marketing platforms by adding many marketing features which can help affiliate marketers to promote different products.
Instagram tested a new affiliate tool that would allow affiliates to discover products, share them with their followers and earn commission on every purchase.
Instagram also launched a feature of affiliate shops in the testing phase. Once it is finalized, make sure you have a large audience base to benefit from them.
Best Affiliate Marketing Examples
1. Amazon
The Amazon Associate program is probably one of the largest and most popular affiliate programs. The program offers millions of products sold on the Amazon platform for affiliates to promote.
Different affiliate linking tools are available for bloggers and larger websites. The affiliates can earn up to 10% commission.
One fantastic feature of this program is that if someone follows an affiliate link and adds the product to their shopping cart, the affiliate earns a commission on the entire cart. Moreover, Amazon also has an Amazon Influencer program for high-profile influencers with a large following.
2. Skillshare
Skillshare is an online course platform. It offers courses on multiple topics, such as business management, visual arts, and photography.
Skillshare's affiliate program has become very popular since affiliates can earn a commission on paid subscriptions and free trial signups. Each affiliate has a personal, real-time dashboard to keep track of their traffic and payouts. SkillShare gives opportunities to the affiliates to access all its courses and promote any course they think the audience would find appealing.
3. Airbnb
Airbnb offers a two-pronged affiliate program to grow its business from both sides- hosting as well as renting as a guest. Most of its program features are not public and known to affiliates only.
It has an affiliate questionnaire to see if a person is a good fit as an affiliate. The fantastic thing is that the affiliates promote more than 4 million Airbnb properties in 191 countries.
Affiliate marketing is an excellent way to make money online. With time, this marketing form is evolving and expanding rapidly. Initially, you could share affiliate links on blogs or through emails only. But now, with the onset of social media marketing, new horizons have opened up for affiliate marketers allowing them to earn a massive sum of money.
Key Takeaways
Affiliate marketing refers to a marketing tactic that promotes a company's products in return for a commission each time a sale is made through your link or recommendation.
There are many affiliate marketing programs or networks to choose from if you are interested in becoming an affiliate marketer.
Affiliate marketing offers several benefits to both the merchant and the affiliates.

It has no risk for any stakeholder.
It is performance-based
It can expand your audience base immensely.
It leads to a boost in brand awareness and reputation
It is cost-effective for brands
It leads to an increase in web traffic and sales for brands.
You need to join any affiliate marketing program to become an affiliate marketer. One way to do so is by browsing affiliate platforms like ClickBank, AvantLink, FlexOffers, and many more.
Another option is to visit the websites of companies whose products you're interested in and find out if they have an affiliate program.
FAQs
1. What is affiliate marketing?
Affiliate marketing involves a partnership between a company and an affiliate. As an affiliate, you are required to promote the company's products. In return, you earn a commission every time a sale happens through the unique affiliate link you share on your website, blog, or any social media platform.
2. What are some significant benefits of affiliate marketing?
Affiliate marketing benefits both the company whose products are promoted and the affiliates. It has no risk for any party, is cost-effective for companies, and is performance-based. Moreover, it can help brands expand into new markets and drive sales.
3. How can you get started with affiliate marketing?
– Join any affiliate marketing program or network of your choice. 
– Once your request is approved, you will be given a unique link for each product that you'll be promoting. 
– You can promote the products by sharing the links in your blogs and social media pages.
4. What are some popular affiliate marketing programs run by businesses?
The most well-known programs are Amazon, SkillShare, AWeber, AirBnB, Leadpages, ConvertKit, and many more.
5. Which platforms offer affiliate programs?
There are many affiliate platforms or marketplaces where you can find the affiliate program of your choice. They are ClickBank, AvantLink, AffiliateNetwork, FlexOffers, and ShareASale.