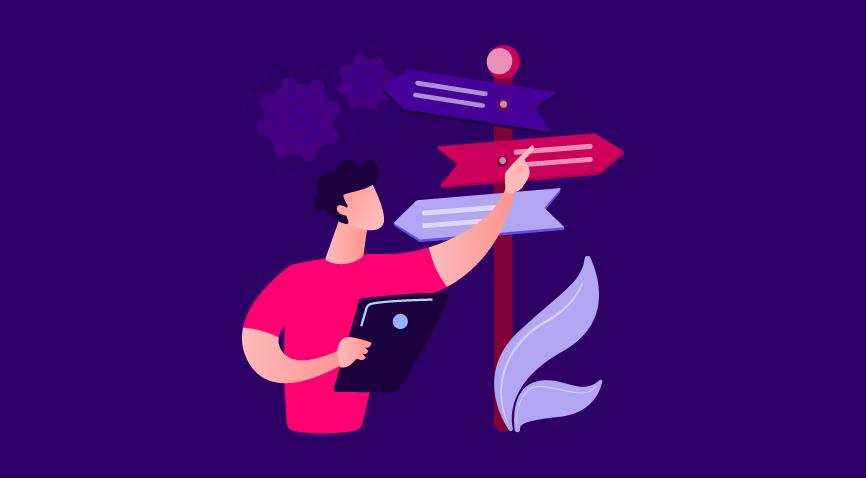 Content marketing surveys help you extract valuable information from your audience. This blog shows you how to create them.
Nearly 40% of marketers are spending substantially on content marketing. However, if you desire to evaluate your performance in creating great content marketing campaigns, you should have valuable, regular feedback. It implies that you must be aware of what others feel about your content. And content marketing surveys are a fantastic method of knowing just that.
If you deliver a content marketing survey to your clients or subscribers, you also give them an appealing piece of information to engage with. Also, you are accumulating information that will help you produce and streamline content for future campaigns. This blog will discuss content marketing surveys and the importance of creating them. So, let's dive in.
What Is a Content Marketing Survey?
A content marketing survey is a type of content that helps your customers engage with your brand. A survey will be useless if the audience does not participate. Surveys and other forms of engaging content marketing provide a more in-depth understanding of the consumer. A content marketing survey also aids in capturing your audience's interest.
Why Should You Create a Content Marketing Survey?
Embracing content marketing is crucial for firms worldwide in this era. Online surveys are the most powerful yet underutilized instrument in most marketers' toolboxes. Performing a content marketing survey allows you to discover actionable insights that can be used to generate data-driven predictions about appropriate marketing initiatives. Below are some essential reasons why content marketing surveys are necessary for your business.
1. It helps you understand your target audience
A survey can assist you in dealing with one of the most challenging situations. It can provide you with information about what inspires your target audience. You will also have your intended viewers' attention when you can understand and prioritize their issues. When you design a content marketing questionnaire, you gather data from a variety of sources in an attempt to comprehend what the customer needs.
Social media and analytics provide a wealth of information about what people do on your website, and how they interact with your business. But you'd like to go into their heads. The only method to do so is to inquire. Once you've identified your audience's trouble spots and preferences, you'll have a good foundation on which to build your thoughts and content ideas. Every piece of content must be laser-focused on resolving or emphasizing a pain point or difficulty.
2. It influences the user's decision-making process
A content marketing survey aims to increase your company's exposure and its products. It also improves the trust aspect that makes a customer more inclined to engage. To produce content that will have a strong influence on their decision-making, you should first understand the types of material that the intended audience desires. A survey will help you with all this.
3. It inspires your content
When creating content, you would want to provide links to any sources that support your assertions or viewpoint. You may build a linkable item by providing original research, statistics, or data for your business or specialty. A single, solid collection of data and survey may be used to several content sources to maximize value.
4. It helps produce leads
Another main purpose of undertaking any marketing survey is to generate leads. The aim is to persuade new customers to your company. Content marketing surveys help you reach out to consumers who haven't made a purchasing decision yet. They find your company through each piece of valuable content and get intrigued. Once they visit your website, you can provide them with further data that guides them to buy the product or service.
5. It affects the audience's consumption behavior
Every business wants its consumers to read and appreciate its content, make a purchase, and recommend it to others. A content marketing survey asks the right questions that can help you gauge how your audience consumes your content. Also, it may determine how the material is influencing offline behavior. Recognizing this allows you to create more relevant and appealing content in the upcoming times.
6. It boosts your overall marketing efforts
Content marketing surveys help assess the effectiveness of your current content marketing initiatives, while also showing you how to construct new initiatives. As a result, all companies need to consider including frequent surveys into their existing content marketing strategies. This allows you to regularly check in with the audiences to verify that your actions are in place, and to course-correct as required.
6 Tips to Create a Content Marketing Survey
A content marketing survey may be done in various ways, including in-depth interviews, online surveys, etc. A market survey is the most effective resource for selecting which market research approach to employ to achieve the most remarkable outcomes for your unique business aims. It aids in understanding your intended audience and the production of content. Here are some things to consider when creating a content marketing survey.
1. Make use of a survey-generation tool
You are not required to design a survey manually. Various online programs, such as Google Surveys, allow you to develop and distribute surveys. A huge number of marketers do content marketing, and some of them actively work with survey creation software. Furthermore, a few services offered by these tools are entirely free. However, you will need to invest some money, if you desire more advanced functionality and the option to trademark your survey.
2. Use structured questions
To have the most exciting and precise answers, try to keep the questionnaires closed. Have a rating scale of 1 to 10 and a "yes/no" format. As a result, your audience will not feel obligated to provide lengthy responses.
3. Don't insert too many questions
Keeping the survey questions to a limited number can help users complete them efficiently. However, if you genuinely have some more questions to add, it's up to your requirements. As much as possible, create a short and to-the-point questionnaire, and avoid repetitive questions.
4. Try social media polls
You can use social media platforms to run polls and to elicit a wealth of information. Polls and questions raised on clients' Facebook pages or groups can yield excellent results.
5. Insert a CTA
Create a call-to-action (CTA) button that directs individuals to the survey. Use a clear and visible CTA for better results. To ask people to fill out a survey, emphasize the importance of timelines. Don't start your survey until the user becomes acquainted with your brand.
6. Make an incentive available
If you offer something to entice your audience, they will be more likely to complete the survey. So, include a small giveaway, or offer discounts or coupons to attract more customers towards your content marketing surveys.
This blog includes brief knowledge about content marketing surveys and the best reasons to include them in your campaign. Content marketing surveys come with a vast set of benefits, so without further ado, create one now!
Key Takeaways
Your survey should assist you in engaging better with your consumers and building loyalty.
Make use of the best survey creation software.
Avoid including an excessive number of questions in your survey.
Closed questions with a "yes/no" format or a grading scale should be used.
FAQs
1. What kinds of content marketing queries can researchers ask in a survey?
Content marketing survey questions can be used as multiple-choice questions (MCQ) to understand product offerings better. You can also use some scoring questions to rate your business from a grade of 1 to 10.

2. How do content marketing surveys help businesses?
Content marketing surveys help you find your intended audiences. They also help you access specific demographic data and learn almost anything about your customers, including their likes and dislikes.

3. What is the significance of content marketing questions in a market survey?
Organizations would like to create content to persuade customers to buy or increase brand awareness. Moreover, tracking such behavior can be difficult, because many promotional strategies take place offline. With the right content marketing questions in your survey, you can learn how your content can or cannot influence offline consumer behaviors.

4. What characteristics distinguish an excellent content marketing survey?
A quality content marketing survey includes more than just a series of questions. A good survey should be neither too lengthy, nor too short. The surveys you make should have objectives. The questionnaires shouldn't be so tricky that users neglect to answer, but they also shouldn't be so simple that they don't get any helpful information from them.