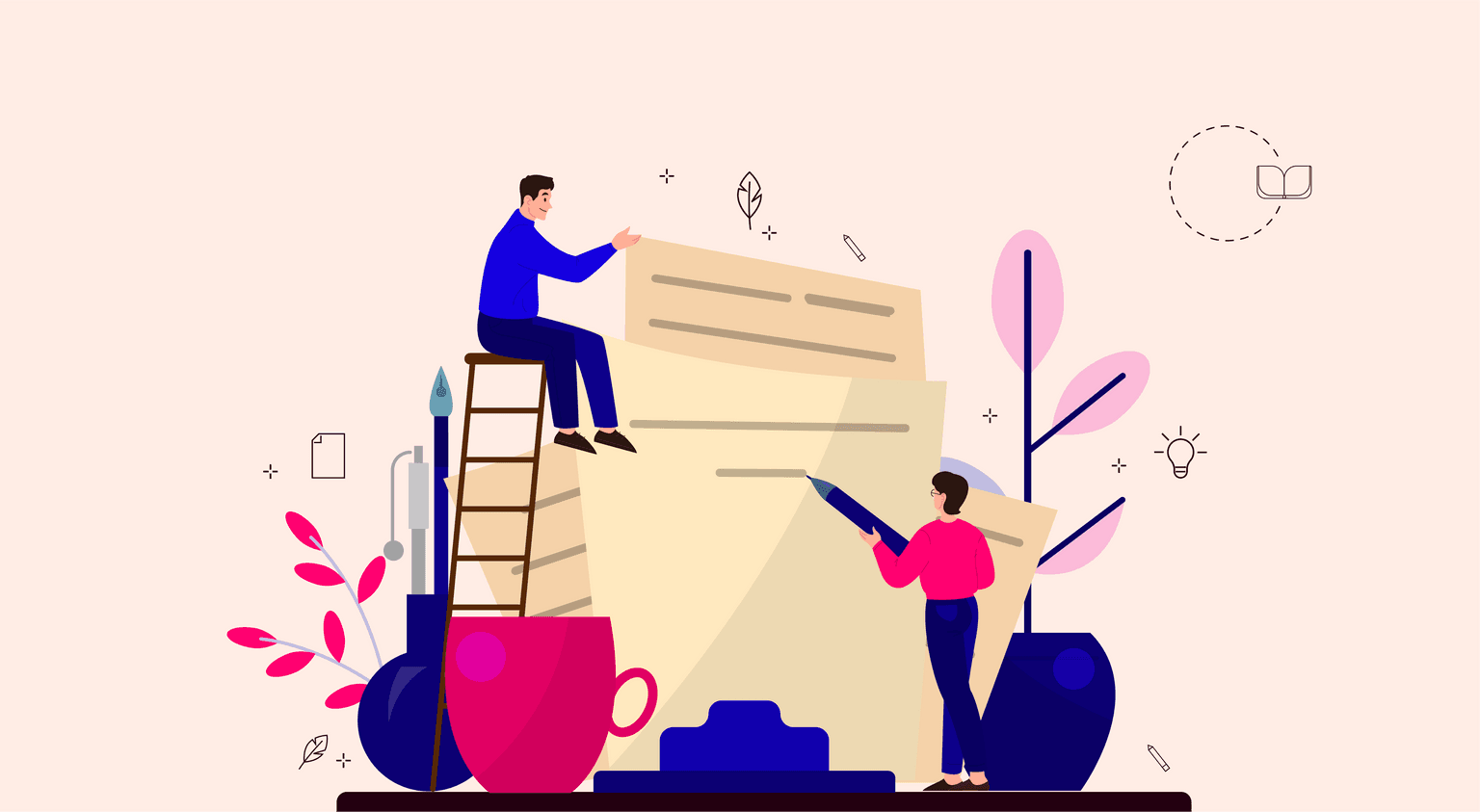 Table Of Contents
What Does a Copywriter Do?
Setting Up a Copywriting Job
Conclusion
Key Takeaways
FAQs
'What does a copywriter do?' is a question asked by most people who don't know what copywriting exactly is. Copywriters are a unique lot, and today most of them specialize in writing catchy online content. They are adept at technical topics and have a good knowledge of SEO, which helps them drive more traffic to the websites. It takes a highly imaginative and creative person to make a successful copywriter. In a nutshell, a copywriter is the backbone of an ad agency.
While pondering over the question, one may reasonably assume that a copywriter spends the entire day focused on creating a copy. That wouldn't be doing justice because there's a lot more a copywriter has to do. Here are some of a copywriter's typical responsibilities.
So, what do copywriters do? Contrary to popular belief, copywriters cannot merely restrict themselves to copywriting. Sometimes, they may have to spend a couple of hours writing a sentence, which is done only after thorough research and intense analysis. Some of the typical responsibilities include:
1. Conducting extensive research
Copywriters conduct intense research to gather relevant information and collaborate with the product and sales teams to optimize the copy. The copy they create has to be persuasive and convince the reader about the genuineness and benefits of the product. Each project is different, and it takes creativity and research to create marketing copy. Copywriters need to determine user behavior, which calls for in-depth analysis and understanding the buyer's persona to understand their likes and dislikes.
Copywriting involves much more than researching; once the research part is done, condensing a ton of material into a nutshell is one of the primary responsibilities of a copywriter. Whether it is for online or print publication, creative writing and extensive research go into crafting the copy. You may be writing for the pages of a website, which includes the home and landing pages, or the sales pages, including the product descriptions and brand tags. Copywriting also involves writing copy for email and social media marketing. Researching keywords and inserting them in the text is a copywriter's responsibility.
3. Collaborating with the product and sales teams
So, what does the advertising copywriter do, other than writing copy? They collaborate with the product, sales, public relations, marketing, and advertising teams. They also work closely with their clients and their representatives to understand what needs to be included in the marketing copy. Highlighting the benefits of a product or service, and dwelling on how useful a solution it provides is the responsibility of the copywriter. A day at a copywriter's desk includes brainstorming sessions with various teams, before finalizing the ad copy.
4. Analyzing and optimizing
While it is difficult to calculate the number of views your copy gets in print media, you have key performance indicators (KPIs) like the number of page views, repeat customers, and new customers for the website. A copywriter takes into account such key factors while setting the goals and strives to achieve them by tracking the campaign results and making quick changes wherever necessary.
Firstly, you must understand that being a copywriter is not an easy task. Moreover, copywriting is a highly competitive domain, and besides mastery over words, you'll need to put in long hours. The interesting part is you don't have to have a formal degree in advertising; hence, the job is open to almost anyone and everyone. Having a Bachelor's or Master's degree in English will certainly help; though, that's not all it takes. If you are serious about the job, you may want to pursue any of these paid advertising courses.
As you can't get a job right away, especially at the start, it makes sense to join as an intern (paid or unpaid) to get the hang of it and be ready for a full-time position. Quite a few freelancers work as ad copywriters, though they may have turned to freelance after a stint at a regular ad agency. Even freelance assignments can help build your portfolio, which you will have to provide while applying for a full-time job. Most copywriting jobs come through referrals, and fewer than a third of the job vacancies will come from advertisements.
Conclusion
A copywriter's job isn't for everyone. Unless you have a way with words, you can't hope to make any headway as an ad copywriter. It pays to increase your word power before attempting to intern as a copywriter, before graduating to a full-time copywriter job.
Key Takeaways
Besides pitching your brand to a niche audience, a copywriter helps promote your product or service using a creative campaign. A copywriter collaborates with the key team players to ensure that the brand is portrayed in the right light, and the product is presented with the benefits highlighted.
FAQs
1. What role does a copywriter play in an advertising agency?
Copywriters are responsible for crafting marketing copy or content that's catchy and convincing.
2. What does copywriting mean?
Ad copywriting is nothing but the text found in promotional pieces. The very purpose of ad copywriting is to be gently persuasive but leave a strong impression in the readers' minds.   
3. Where do copywriters work?
Copywriters work in ad agencies and spend most of their time writing catchy copy that appears in promotional material for selling goods or services. 
4. What are the fundamentals of copywriting?
1. The fundamentals of copywriting dictate that a copywriter must have a practical purpose while writing ad copy. 
2. Copywriters also need to understand the benefits of the product they are writing about. 
3. One of the basic principles of copywriting includes understanding your target audience and using words that go down well with them. 
4. Seasoned copywriters know how to say it briefly but impressively.
5. What does it take to be a copywriter?
1. There are no hard-and-fast rules when it comes to copywriting, but you won't be able to do it without strong writing skills. 
2. Besides being a creative thinker, you should also possess excellent communication skills. 
3. A copywriter must convey a lot in a few words, for which you have to hone your writing skills to perfection. 
4. You must be an excellent researcher to be a successful copywriter and know how to find the information you need.