Content
Types of Content that Can Be Outsourced to a Content Writing Service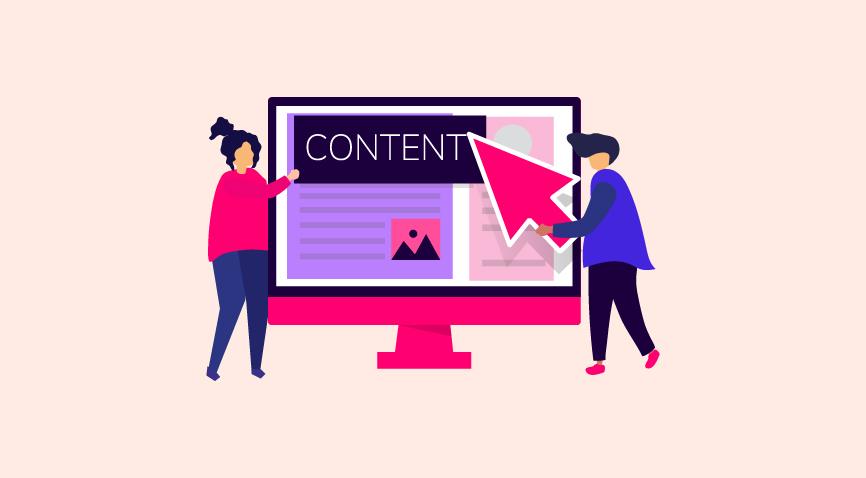 A large part of a brand's success depends on its ability to put out the right content. According to the Content Marketing Institute, content is one of the most effective ways to promote a business.
Table of Contents
Types of Content Writing Services
Why Do You Need Content Writing Services?
Why is Outsourcing Content Writing Well for Your Business?
Types of Content to Outsource to a Writing Service
Drawbacks of Outsourcing Content
Conclusion
Key Takeaways
FAQs
Today, in the era of digitalization, content marketers and businesses have to rely on good content writers to help them achieve their branding and marketing goals. And this can be easily achieved by opting for the most comprehensive content writing services. It is the most important aspect to engage readers and add value to their lives. A large part of a brand's success depends on its ability to put out the right content. According to the Content Marketing Institute, content is one of the most effective ways to promote a business.
Most content marketers agree that when it comes to content, consistency is the key. So, you need to ask yourself – do you have the ability to hit your target? Do you have an in-house team to produce quality content? And, if the answer is no, then you should consider to outsource content writing to a professional content agency.
Types of Content Writing to Outsource to a Service
Social media is one of the leading platforms to use for promotion. Posts on social media are considered to be the most effective types of content for B2C.
In this fast-paced digital era, you need to communicate and engage with your audiences. If you do not have an in-house team for content, you can outsource content writing to agencies that employ content experts to do the job. These agencies offer consistent plans and also run schedule posts and promotions for you.
You may wonder, why should you bother hiring an expert to take care of your Facebook page right? But the fact is that each social media platform is different. What works on one platform wouldn't necessarily work on another. Hence, it's important to hire someone who is experienced in this field.
According to a recent study by HubSpot, B2B businesses that used blog content consistently got 4.5 more leads than those who blogged less. If you are looking to produce high-quality blog content for your brand consistently, then to outsource content writing to a professional service is a good idea. Writing services take care of your blog content writing and plan your content schedule accordingly.
According to Thomas Griffin of Optimonster.com, typically, 70% of people who visit your website will never return. Thus, having the best content for your website that includes description pages, about pages, etc., is crucial to retain visitors and convert them into leads. Planning content for these pages is essential as they take your audience to the correct destination on what they are looking for, leading to conversion.
Emails are another form of marketing tool that more and more businesses adopt to communicate with their audience and keep them updated about the company. It includes brand promotions, discounts, expansion plans, and other communication related to the business.
When it comes to email content, it should be well-targeted and relevant so that it works wonders for your business. You need to go through the various types of email copies and choose what best suits your business. When you outsource content writing to professionals who will also take care of your email content, you can be sure that they will perfectly design your the content to suit your target audience.
Currently, video content makes up most of the internet traffic. According to a Cisco report, by 2021, video traffic is expected to be more than 80% of all internet traffic. Also, video content will most likely show up on the first page of search results, and people who watch videos are also 80% more likely to purchase a product.
Video content must be personalized, short, and sweet. Personalized videos have a higher retention rate, and viewers are more likely to watch them till the end. Suppose you are unfamiliar with video content and would like some help to create video content for your brand, hiring a content outsource specially for video content is the best idea.
Whitepapers are detailed reports that offer solutions to a problem. When you use a whitepaper for marketing, the goal is to persuade the reader somehow or the other. As many as 79% of B2B professionals share whitepapers with colleagues.
Though whitepapers are supposed to be persuasive, it's important not to make them look too promotional. You do not want to say something like, 'our product is the best'. It would be best if you leave it to the reader to reach that conclusion. If you're not too sure about content writing for whitepapers, hiring a writing service to take care of your content will be helpful. There are several types of content writing that can be outsourced to agencies including such technical content requirements.
Infographics are a type of content that presents information and data in a visual setting. It helps your audience to understand complicated information easily. Infographics are good for brands that are looking to boost their traffic. Since infographics can be tricky to create, it's best to outsource content writing and creative creation of infographics to a professional service with the right expertise.
Types of Content Writing Services
The best content marketing agencies offer many different types of content writing services, starting from Facebook posts to newsletters to ebooks. Content marketing consists of different types of content.
The most common types of content writing services offered by the best content marketing agencies are:
1. Blogging
Writing blog posts is the most common form of content writing. Blog posts help boost the search engine visibility of your website and rank your web pages higher on the SERPs (search engine results pages) of the leading search engines such as Google and Bing. Regularly putting out valuable and high-quality content helps the search engines determine the usefulness and the user-friendliness of a website, which results in a higher ranking on the SERPs. Thereby boosting your SEO efforts.
2. Copywriting
Copywriting is an important part of web content writing that covers writing copy for the website, business descriptions, sales collateral, advertisements, press releases, and infographics. Copywriting forms the crux of writing content for your website. Although many organizations overlook this aspect of content writing, it is advisable to outsource copywriting services to the providers of the most comprehensive website content writing services of your choice.
3. Technical content writing
Often revered to be the most taxing job, technical content writing can be your best bud if you know the ins and outs of your business and its products and services. Technical content writing allows you to explain how your products and services benefit the customers. And the best bet is to hire a technical content outsource to do the honors for you. As much as SEO content writing services can do the job for you, technical content writing services help you educate the customer on the how-tos, dos, and don'ts regarding your products and services.
4. Social media posts
According to recent surveys, more than 40% of the world's population is on social media networks. From your beloved Twitter to Facebook, LinkedIn to TikTok, social media has penetrated the lives of human beings and affected lifestyles in the most disruptive ways possible. If you have an online business with zero social media presence, then you are losing out on a plethora of life-changing business opportunities. Ask any of the leading content writing service providers, and they will tell you the importance of publishing social media content. Reach the maximum number of people where they belong most of the time. Choose your words wisely, as they can make or break the deal.
5. Emails
Although email campaigns are a huge part of copywriting, you can always innovate with your email campaigns and treat them separately from other copywriting practices. While most copywriting is done for people unfamiliar with your company and its products and services, email campaigns are for your loyal customers who already know about you. You can churn out the best when you outsource content writing to a professional and creative content service providers to keep your loyal fan base engaged and interested.
Why Do You Need Content Writing Services?
If you have an in-house content development and marketing team, you have the biggest asset that an organization can have. But, when you don't have one, what do you do?
The best solution is to outsource content writing to top content writing service providers. They specialize in writing different types of content ranging from SEO content writing services to creative content writing to website content writing services.
You need to talk to experienced writers who know the ins and outs of your business niche so that you can yield the best results from the providers of the best content writing services.
Why is Outsourcing Content Writing is Good for Your Business?
Often, creating content falls into the laps of the marketing team that usually always has its plate full. In such situations, content starts taking a backseat. Any marketing content strategy is far from successful if the content produced is not avant-garde. Let's look at why outsourcing can be the best thing that has ever happened to your business:
Starting a business can be expensive. The money needed to create a company leaves the business owner with little or no money to hire full-time employees to manage their branding and marketing. So, if hiring a content team is beyond your budget, delegating your content creation to a writing agency is the most cost-effective option for you. Today, many professional content writing agencies offer great writing packages for different types of content writing for business.
What does your brand offer? What are the benefits of your service or product? All these points must be listed clearly at the start so that your content resonates with your target audience. Hence, having an external eye can be helpful for your business. Writing services or freelancers will know how to describe your features in the language that attracts your customers. Generally speaking, an external writer offers a fresh perspective on your services and products.
Poorly written content pieces can turn customers away, making them lose confidence in your brand. Writing services offer professional and polished content that helps attract customers and increase brand awareness. Content writing isn't an easy task and always remember that everyone who can write cannot always write good content.
Good content writing is all about using the right words at the right time to draw attention. Apart from grammar and correct word usage, your writing should be optimized for SEO as well. When you outsource content writing to a authorised service, they ensure that your content is SEO optimized with proper keyword research.
Consistency is vital when it comes to content writing. Producing content consistently can be difficult, especially if you have a small business where you handle everything independently. Outsourcing your content production to a writing agency will help you achieve your content marketing goals.
To write a well-researched 2000 word blog can take many hours, if not days. If you outsource content writing to professionals, it gives you more time to concentrate on your business.
Drawbacks of Outsourcing Content
While there are no apparent cons of hiring professional content writing services, it might not be such a good idea for businesses with sensitive company information. Banking companies or those in biomedical field might want to have an internal content team than handing over their confidential information in hands of outsiders.
Hiring outside agencies also takes away the opportunity for your company to nurture inhouse talent that knows the ins and outs of you business and creates accordingly.
It might be slightly expensive to hire agencies that charge by the hour than have an internal resource. This can happen if you require specialist content like financial or medical literature.
Conclusion
This is the ultimate list of all the types of content you can outsource to a writing service. When you outsource content writing to the providers of the most comprehensive content writing services, it can help you reach your business goals in a faster and cost-effective way. Another advantage of outsourcing your content is that you can concentrate on other important aspects of your business.
Key Takeaways
With content marketing taking the center stage, it is important to ensure that your brand is creating the best types of marketing content for their brand. If you have an inhouse team, great! But, if you don't, it is time to hire a professional content outsource.
The content agencies provided different types of content writing services including blogs, social media, whitepapers, web pages, etc.
You need to outsource content writing because it can save you money compared to what you will spend when hiring and training an in-house content resource.
A professional content outsource also provides a fresh take on your content needs and deal with all types of content in a professional manner with proper background research in place.
You can also be more consistent with posting content if you outsource content writing.
FAQs
1. What is it to outsource content writing?
When you don't have an in-house team of content writers, you hire experienced writers to send relevant messages to the target audience. This is called outsourcing your content needs. Content writers know the dynamics of your market niche and can help you deliver the best products and services
2. What are the different types of content writing?
Content writing can take many shapes; they are as follows: technical content writing, blogging, emails, copywriting, and writing for social media posts.

3. How do you outsource a writer?
The best way to outsource a writer is to go online and calculate your budget and needs; if a content writer matches your budget and needs, hire that writer and help them out with all the resources they need to write the best content possible.
4. What are the most reputable content writing services?
Pepper Content, SEO Butler, WordAgents, Pepper Content, Verblio, Hoth Blogger, Writer Access, Content Cucumber, Human Proof Designs, Content Development Pros, and Hire Writers.
5. Why should you outsource content writing?
Certain things are best left to the experts, and content writing is one of them. By hiring experienced content writers, you allow your customers the opportunity to be treated with business-relevant messages targeted towards the market niche