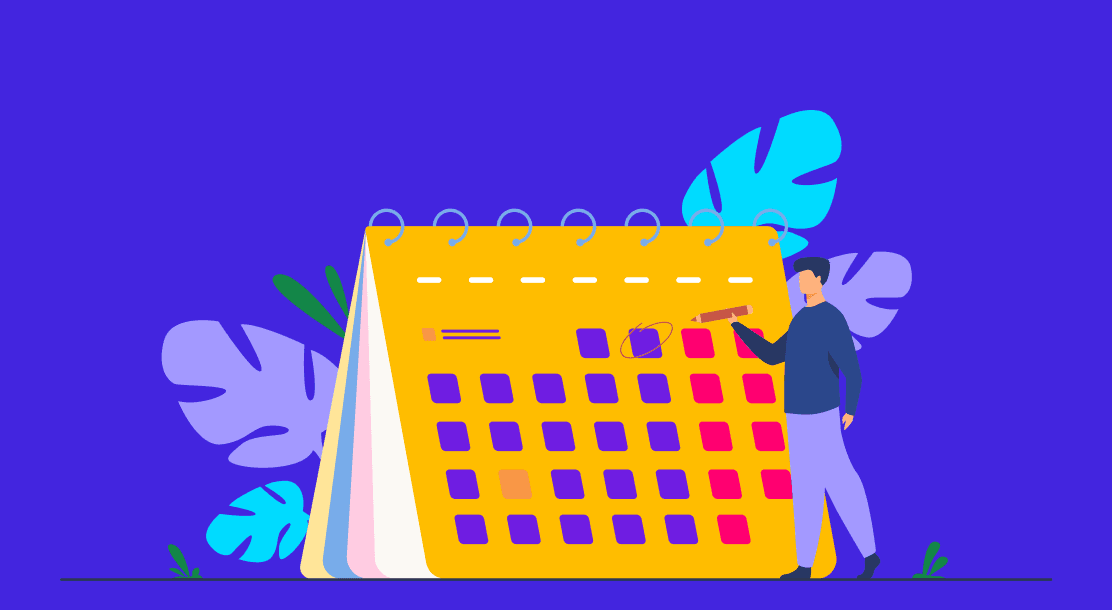 Leave your competition behind and touch new heights. Follow these tips to design marketing editorial calendars to increase business efficiency and productivity.
You must have heard or read that "content is king." Well, it's true. Your business attracts customers who you can turn into potential clients with good content publishing. But to do so, you must synchronize your efforts, which can be done with the help of an editorial calendar.
A strong marketing editorial calendar will help you consistently publish content, which is key in the digital branding world.
By now, you must be intrigued about what an editorial calendar is and how you can make one for yourself or your organization. This blog will address these questions and more.
Let's get started!
What is an Editorial Calendar?
Remember when school and college lectures and timings were pre-decided, and all you had to do was be on time with the right reading and writing material? Well, a marketing editorial calendar is quite similar, but you have to design it according to your business requirements and convenience.
This calendar will predefine tasks like editing/writing a blog, posting the blog online, etc., which will help ease the branding process. And when your content publication strategy is well-defined and structured, it sits well with your audience and search engine.
In summary, setting up a 2022 editorial calendar is essential to the success of your online marketing strategy. Now that you know what a content calendar is let's learn how to design the calendar.
To help you with this, we have listed ten amazing tips to help you stay consistent with your publishing schedule.
10 Tips to Make the Ideal 2022 Editorial Calendar
When planning your editorial calendar, use a calculated approach to ensure it helps you consistently produce quality content. These 10 tips will help you curate an ideal marketing editorial calendar.
1. Define your objective
Your business objective is the first step in designing your 2022 editorial calendar. Once that is defined, you will have a tactically designed calendar via which you can easily stay on top of your content marketing efforts.
Establishing your objective at the start of the process will help you create your calendar. You can have different objectives, such as,
Increasing website traffic
Better SEO rankings
Publishing dates of multiple articles
Lead generation and conversions
So to put it in simple terms, clearly defining the objective drives your content and digital branding.
2. Determine publishing frequency
You don't have to publish content daily; instead, you should determine your publishing frequency. This can easily be done with the help of a publishing calendar where you can mark the activities on any given day.
Depending on how often you post online, you will need to adjust your expectations accordingly. Although it won't be enough to publish once a week, you should post on alternate days and engage with your audience.
You can gain better insight into your audience's preferences by diving into your analytics. This can help you determine how often you should publish. So remember to be consistent at all times and adjust your calendar to fit with both your audience and your business objective with ease.
3. Brainstorm ideas
When you want to create a highly productive and efficient content calendar, you will have to fill the empty spaces, which is tough. To do this with minimum effort, you will have to brainstorm ideas and develop original and unique ones.
While brainstorming for ideas for your content calendar, keep your audience in mind and the niche you want to target. As new brainstorming ideas come to mind, you can add them to a separate spreadsheet.
Also, you might want to consider categorizing your content, e.g., long blog posts, short blog posts, social posts, videos, infographics. As a result, you won't exhaust your audience's attention by simply posting the same type of content every time.
4. Mention the right information
Having a precisely detailed content publishing calendar is crucial for any business. So it is essential to mention all the required details about the content and its publishing on the calendar.
You can include information like post date, type of post, writer's detail, etc. All this will help in streamlining the entire publishing process.
Also, ensure you don't overcrowd it with information. Instead, mention only crucial information that impacts your publishing schedule. Because when you overcrowd the calendar, it makes it challenging to select the task for a given day/time.
5. Plan the keywords in advance
Publishing content is a challenging and energy-consuming task, and we all want to get it right the first time. Having a content calendar plays a crucial part in achieving this feat.
You must optimize your SEO efforts to rank better on search engines to achieve this. It's particularly vital to research keywords before writing and documenting long-tail keywords you intend to use in your content. Aside from helping you rank better, keywords can also provide tons of content ideas.
So when you design your calendar, make sure to mention the keywords in advance, which saves you the hassle and time of collecting them from elsewhere. For this, utilize several tools that help you pick the right keywords for your business.
6. Pick the right format.
There are several ways to can design your 2022 editorial calendar. You can create and maintain one in a spreadsheet or a Google sheet. It all depends on you and your team's convenience.
It is essential to select the right one as it gives you and your team an easy-to-use interface and smooth navigation. Also, you can keep track of what the entire team is doing. You can also maintain a track record of user engagement in your format.
This can be done in a spreadsheet, but several automated tools do the same job. So if you go for an automated tool, choose one that your company will use for its implementation—that provides the features or interface it needs most.
7. Design a content cycle
Having a marketing calendar eases your branding hassle and helps you have a streamlined content cycle. But the other way round is also true if you have a predefined content cycle like what type of content you want to publish when it is to be posted, and who the writer is.
If you know the answer to all these questions, you can design an even more efficient marketing calendar. Because this will help you easily mark these details on it and increase its efficiency.
Having a content cycle is very important when you have several writers, editors, and publishers. Having a thoughtful connection cycle increases their efficiency and productivity.
8. Choose an individual
Having an editorial calendar is great for your business, but it also has its own set of challenges. For instance, when multiple individuals handle the calendar, it becomes confusing to understand who made the changes and why.
So to overcome this and make the whole process smooth, it's better to put the onus of handling the calendar on just one individual.
Pick someone who is proactive and has active communication with the whole team daily. Also, they need to be up to date with the recent market developments to serve this role in the best way possible.
9. Keep it flexible
When you design an editorial calendar, make sure you keep it flexible—it shouldn't be too tightly packed with tasks. Keep an opening space for other tasks or changes that might accompany the publishing journey.
Although it's good to keep a steady flow of content ideas that are "evergreen," you might have to post content related to recent development. And when you can easily adapt to such changes, your credibility in your field will improve.
Also, you don't have to stick to pre-decided topics. Instead, create scope for change. Don't be afraid of incorporating spur-of-the-moment topics into your calendar. All you have to do is be flexible.
10. Update regularly
Just designing the editorial calendar is not the end of it because as your business grows, you need to evolve your marketing strategy as well. And to do so, you will also have to update your 2022 editorial calendar.
It is important to realize that the earlier you plan your content, the better it will be for your users. Keep in mind that the dynamics of your industry can influence how you plan ahead. Hence, always have a backup plan as well.
Also, include a feedback loop for your team members to point out the required changes. When you and your team are consistent, you'll have to update the daily status in the calendar. All this makes publishing and editing your content easy.
We hope all these tips we mentioned above are helpful for you in designing your 2022 editorial calendar. Your business/blog will benefit greatly from incorporating an editorial calendar.
With a calendar, you ensure posts are timely and informative by planning everything based on your timeline and knowing exactly who you are and whom you want to reach. So wait no more, design your editorial calendar now, and begin your journey to smooth success.
Key Takeaways
Consistently sharing content makes customers more likely to remember you when they need to make a purchase.
Your social media posting schedule can be planned and organized with a content calendar.
You will gain a better understanding of your customers' requirements, which you can use to make your business better.
A marketing editorial calendar saves your time and energy and increases your work productivity and efficiency.
FAQs
1. Why do I need an editorial calendar?
Having a calendar saves your time and helps produce better content because you follow a systematic approach to content production. Also, it streamlines the entire process, from ideation to publication to promotion. 

2. How do I create an editorial calendar? Do I need paid software? 
You can create one by following the tips we mentioned above, and you don't have to use any paid tools unless you want to. 

3. How should I structure my editorial calendar?
It all depends on you and your team's requirements because just as we all have different identities, we all have different business requirements. So when you structure your editorial calendar, keep important tags like title, publication date, writer's name, etc., in mind.
4. How do editorial calendars differ from content calendars? 
There is not much difference between these two terms. It is just the usage of both that sets them apart. A content calendar covers one aspect, but an editorial calendar usually covers every step from publishing posts to sharing content on social media as outlined in an editorial calendar.

5. How does the marketing editorial calendar affect your business?
You know when and where to place/post the content when you have a calendar. You are in constant touch with your team and know all the deadlines.

6. Do I need the back of my editorial calendar?
It is not necessary to have one, but it would be somewhat smart to have one because there are chances that you might lose the other one due to any reason. 

7. What are the benefits of having an editorial calendar?
Helps streamline the publishing schedule
1. Helps track engagement of the team
2. Helps gather inspiration
3. Helps foster creativity
4. Helps keep your publishing consistent