Branding
The Ultimate Guide on How to Rebrand in 2022 (With Examples)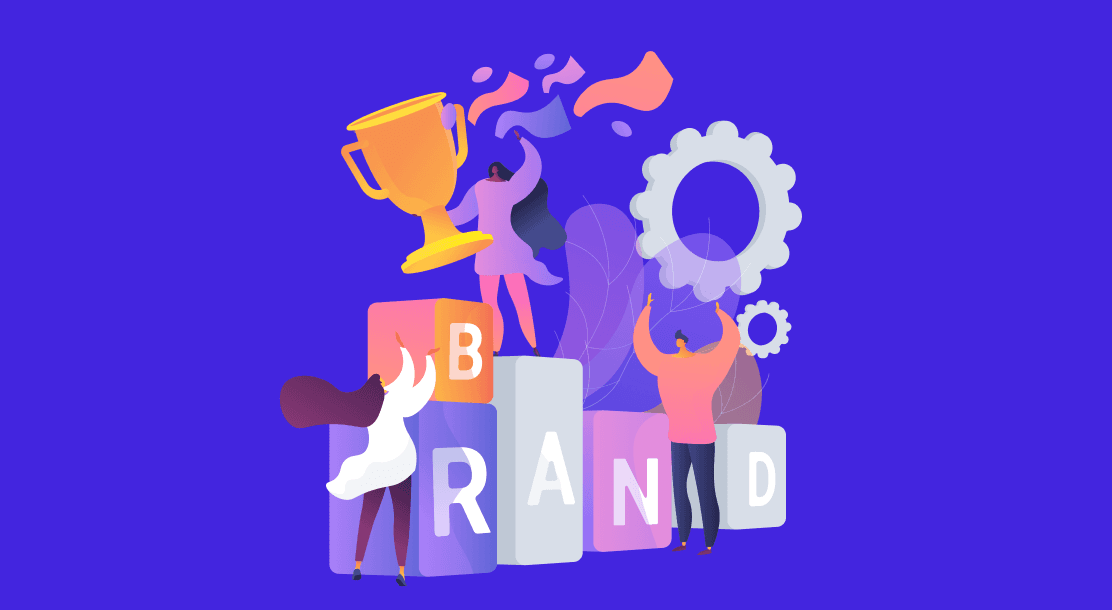 Table of Contents
What is Rebranding
Necessity for Rebranding
Brand Identity
Types of Rebranding
Top Successful Rebranding Tips
5 Incredible Rebranding Strategy Tips
Key Takeaways
Conclusion
FAQs
"Brands and customers alike, do evolve"― Bernard Kelvin Clive.
Branding helps in distinguishing your company from others. It uses features like company logo, tagline, design, product, packaging, and even customer experience to differentiate you from your competitors.
Companies often have to rebrand after a few years to stay relevant to their target market. Branding or rebranding is one of the most important processes in marketing for customer interaction. This article can be your rebranding guide to help you make good rebranding choices while creating your brand identity and growing your business.
What is Rebranding?
Rebranding is a marketing strategy for developing a new and differentiated identity in the minds of all stakeholders. The guide to rebranding focuses on creating a new name, term, symbol, design, concept, or combination thereof.
Simply put, when the brand characteristics of an already established organization are altered to change its existing image, it is rebranding. It aims to give an already existing brand a facelift for it to compete in the ever-evolving market.
Rebranding does not focus on changing the brand's visuals alone but also on internal operations. For any brand, its image is created by how it is perceived in the market. Rebranding is the favored strategy if the brand is not attractive or the target audience can't relate to the brand.
Necessity for Rebranding
Before we talk about how to rebrand successfully, let's discuss why or when you should consider rebranding.
Over time, brands can become outdated, and rebranding is then considered the best option. Big brands that are considered the best rebranding strategy examples include Apple (which has rebranded three times), Starbucks (rebranded four times), and Pepsi (which has been rebranded 11 times).
Even Facebook Inc. rebranded its parent company to Meta by Facebook more recently. The question, "how to start rebranding," should play on your mind in case of the below reasons:
Keeping up appearances
To keep a brand looking fresh, it is important to keep up with the marketplace and contemporary styles with a rebranding.
Location change
When expanding into different markets, rebranding helps fit into their culture and identity.
Market repositioning
If the target audience has changed, then changing the brand to include these changes will be helpful.
Change in philosophy
When the vision, mission, values of the brand change, you need to rebrand. This can involve a complete rebranding to reflect the new philosophy.
Mergers and acquisitions
You will need to focus on how to start rebranding if companies come together. A complete rebranding may be necessary to align correctly with the merged target audience.
Customer-focused
With changes in consumer behavior and technological advances, rebranding will help customer retention.
Leadership change
Most brands are linked to the leaders. It might be a good time to rebrand to reflect the new identity when a new CEO comes in.
Rebranding can be an intimidating task. However, once you are past the basic questions like how to successfully rebrand, how to start rebranding, or how to rebrand a website, successful rebranding provides numerous rewards.
Brand Identity
One of the main goals of rebranding is to communicate the brand identity better. Before we go further into how to rebrand, let's understand what a brand identity is.
A brand identity identifies and distinguishes the brand in its audiences' minds, like color, design, and logo. Building a brand identity needs a strategic effort, and every element needs to go hand in hand for the overall brand identity and business goals.
A successful brand identity is often considered the company's most valuable intangible asset. Below is a step-by-step guide for building a strong, cohesive, and consistent brand identity.
Analyzing the company and market
A complete analysis of the company's strengths, weaknesses, opportunities, and threats helps determine the goals and the steps required to create a brand identity.
Creating unique visual elements for your brand that reflects your ideas
The ads should be crafted to appeal to a specific market and appear on channels and sites where potential customers are likely to see them. Brand identity should be something unique and easy to recollect.
Connecting with customers
Selecting a language that suits the brand's personality is very critical. Consider creating a story around the brand, as it helps build connections with your target audience.
Types of Rebranding
Before deciding how to rebrand, it is essential to understand the various types of rebranding. It will help you decide between a partial refresh/rebrand or a total rebranding. In the case of an established brand, it's better to choose a partial rebrand. However, if you are still in the earlier stages, a total rebrand is better.
Brand merger or acquisition
When two existing brands come together to form a new brand, the companies would need to develop a rebranding exercise to give it a new brand identity. It is better to do a complete rebranding to combine the two companies in these situations.
Brand refreshing or partial rebranding
These can be simple changes like updating the logo or changing the brand colors. This is less intensive than a complete rebranding process. It involves updating all existing logos and printing materials. In partial rebranding, you will also need a better understanding of how to rebrand a website.
Full rebranding
A complete rebrand involves tearing down the brand and building it back up from scratch. A complete rebrand is a labor-intensive work. This may be a good idea only when the brand is not connecting with the target market.
Top Successful Rebranding Tips
Change is one of the most uncomfortable yet inevitable concepts. In today's fast-paced, technology-run society, every company is trying to keep up with the current consumer trends. Rebranding, though not easy, has many benefits.
It can, however, also lead to some significant downfalls if not done correctly. Here are some tips to help you rebrand and ensure that it goes smoothly.
Purpose behind rebranding
Before you plan to start rebranding, ensure you have a clear purpose. Evaluate what you want to accomplish with the rebranding and what changes you want? It is critical to have a specific and defined purpose before putting a structure to the rebranding.
New brand vision
A clear vision is an essential step in rebranding. With a purpose in place, your vision can start taking shape. The vision is more like the visual representation for rebranding.
Make it known
With the purpose and vision helping set your goals, go public with your rebranding. Ensure your current customers and target audience know about the rebranding, as they will feel more connected. Spread awareness of your rebranding through events, media, and/or advertisements.
Stay consistent
Even while changing a lot of elements during rebranding, ensure to preserve the basic core of the brand. Fresh new colors and graphics are good, but people should not feel that they no longer know you as a company.
Be creative
As rebranding is an opportunity to start with a blank slate, try out new and creative marketing strategies. The new brand should stand out over the others.
Apprise your vendors
Make sure you notify your vendors of the change, as they are integral to your growth. Eventually, these vendors will help in strengthening the community and its connections.
5 Incredible Rebranding Strategy Examples
A rebranding strategy solves various problems and challenges, like stagnation in business, change or expansion in target markets, confused or alienated clients, loss of competitive advantages, etc.
The correct rebranding strategy makes a significant difference in business. Below are five successful rebranding strategy examples that could inspire you to change your business.
​​
Synonymous with donuts, this brand no longer requires the actual word "donuts" for customers to identify them with.
Learning: Your customers should always identify with your brand, even if you change a part of or the full name.
One of the better-known brands for rebranding strategy, there was initially nothing special about Old Spice. The company created a fresh millennial identity for the brand and sent a message that the brand was fresh and relevant. This helped the brand become a viral sensation without even changing its logo.
Learning: All a brand needs sometimes is to change the experience.
It was best known for its durable household products in the 1970s. It became relevant again after rebranding, based on how customers think, act, and behave in today's world.
Learning: By aligning new branding to the company's origins, you will avoid alienating loyal customers.
This company was running at a loss in 2009 until they successfully rebranded. Rebranding is often a tool for positive change.
Learning: Tapping into new technologies, like chatbots to take orders via social media, show customers you are committed to their needs.
​​
The rebranding of LEGO is known as the most significant turnarounds in corporate history. Sometimes the most well-loved brands can become lost. The famous toy company invested in what worked and got rid of what didn't.
Learning: It is important to get back to basics sometimes and then focus on growth.
Key Takeaways
Do some customer research before rebranding.
Rebranding is much more than visuals.
Look outwards, see the customers and define the rebranding.
Keep it simple and keep it authentic.
Don't hesitate to make a bold move.
Anticipate some negative feedback.
Think outside the box.
Be consistent with your branding.
Conclusion
A rebranding guide involves much more than just changing the visuals. It has to add value, bring a new perspective, be of importance to the customers, use unique selling points, tell a story, and much more. If these are not included in the rebranding process, then the entire strategy can be short-lived.
Rebranding can be the key to changing the direction of the company's growth. Having a clear vision and purpose is the key to how to rebrand. Rebranding is never an easy process, but sometimes change can do a lot of good.
FAQs
1. What is the entire point of rebranding my business?
Rebranding aims to influence the customer's perception of a product or service. This can be done by refreshing the brand, making it more modern and relevant.

2. How to rebrand for my company?
Rebranding stimulates growth, expands the horizon, increases profits, and gains a competitive advantage for any business. Rebranding can happen at any time and multiple times during your business's life.

3. How often should I rebrand my company?
Rebranding is one of the most natural parts of a company's evolution. Even established brands tend to go through a major rebranding every 7-10 years, with partial rebranding more frequently.

4. How to successfully rebrand my business?
One of the most significant criteria for successful rebranding is good research. Most companies focus on planning the design and promotion of the new brand but miss out on market research.

5. How to rebrand a website for my business?
Rebranding a website requires upfront research, conceptualizing a name, brand identity design, engaging campaign, and finally, the launch.

6. How to start rebranding?
Self-awareness is key to a successful rebranding process. It is all about going to the core. What you stand for, your aims and vision, and eventually modifying your image to reflect these changes.