GIFs
Sourcing and Using GIF for Content Marketing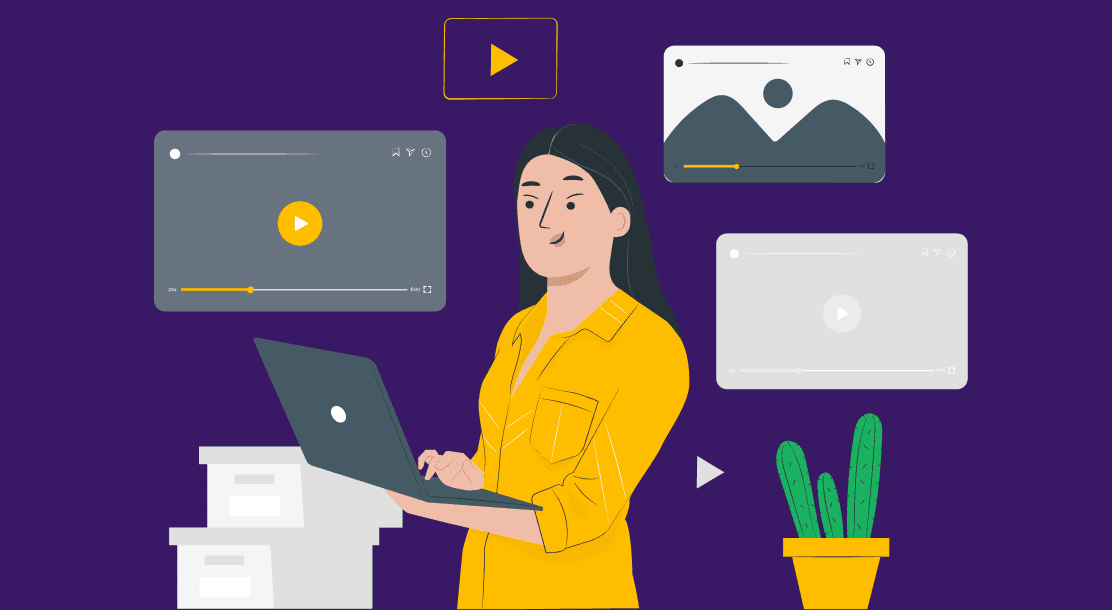 GIF for content marketing has become a key to visual storytelling amongst the younger audience. They're easy to create, share, and boost customer engagement.
Table of Contents
Why Use GIF For Content Marketing?
3 Ways To Create GIF For Content Marketing
How To Use GIFs In Content Marketing?
Key Takeaways
Conclusion
FAQs
If content marketing is a 500-page novel, GIFs are the chapter titles.
Like their literary counterparts, they're short and sweet summaries that help you understand what's going on in a larger piece of content. GIF for content marketing can make your campaigns more fun and memorable. Just as you remember the title of every chapter in your favorite book (right?), you'll remember GIFs that are clever or funny.
GIFS – a combination of the words graphics interchange format, have been around for more than 30 years. They are short animations or videos looped for humorous or surprising effects. Don't discount the power of the animated GIF just because it's adorable and hilarious. Your brand should be using GIFs in content marketing today.
Why Use GIF for Content Marketing?
Sharing GIFs on social media is one of the most popular ways to get a laugh or two out of your customers, friends, family, and even strangers online. Static images have been a popular resource for product marketing for decades, but GIFs go one step further.
They are a powerful way to inject your brand voice into your content and a valuable storytelling tool too. GIFs have become a part of our daily lives. They are a dynamic way to display information and create short, engaging content to be shared across multiple social media platforms.
You can design branded GIFs for content marketing to attract, educate and entertain your audiences. You can also create, upload, and share GIFs easily and quickly from your mobile using free tools.
3 Ways to Create GIF for Content Marketing
Content creation using GIFs makes it easier for people to connect with them emotionally. And when people make an emotional connection with your content, they are much more likely to remember it.
Companies like Slack, Buffer, UberConference, Walmart, and McDonalds have successfully used GIFs in their content marketing. Still not convinced? Here's why content marketing GIFs are so relevant today.
There are plenty of websites and free tools that let you use fun and creative GIF for content marketing through pre-made GIFs anyone can use to communicate with their audience.
If you are not sure where to start with GIFs or how to incorporate them into your content marketing strategy, check out these free tools that you can use to create GIFs for content marketing today:
Free online databases
Giphy and Tenor are the most popular online databases of freely accessible GIFs. These are by far the simplest ways to make basic GIFs. You can head to Giphy over and drop in a video URL from Youtube, Vimeo, etc., or upload your video, trim it down to the length you want, and export it as a GIF. They also provide you with free tools to create and edit animated GIFs with captions using images.
Giphy Capture is a free app from the makers of GIPHY that allows you to simply record what is happening on your screen, then edit it and upload it directly from the app. LiceCap is another free app that lets you record what is happening on your screen as a GIF file.
Similarly, you can explore GIFmaker.me, Tumblr, Imgur, Ezgif, MakeAGIF, Imgflip to make animated GIFs from pictures, videos, or Youtube and share them with your audience on social media.
Free software applications
You can create your branded GIF on Canva using your brand images and logo with free and paid subscriptions on this easy graphic design platform. It has a massive library of commonly used simple content marketing GIFs made from texts, pictures, videos, and illustrations.
Primary product promotion content writing GIFs like Sale, Order Now, Offer, Launch, etc., are easily accessible- it takes less than 5 mins to create a promotional video or post on Canva.
Likewise, GIFMaker is an iOS app that helps you convert videos or images into GIFs. You can use GifGrabber – a Mac app, to make GIFs from video files or YouTube clips without watermarking. Besides, you can make GIFs from any video from your Mac with a Gifrocket application. GIF Me! is another app that works on Android and IOS to create short clips using different methods.
Advanced photo editing tools
If you want to get more advanced with your GIFs, Adobe Photoshop is probably the best option for you. You can edit the colors and speed, add text or a logo, or even create an animation from scratch. If you know how to use Photoshop (or any other photo editing tool for that matter), then do not wait for another second to express your creativity!
However, there are some limitations to this option as it's not as easy as other options, and the GIFs made this way are heavy files that may not be compatible with certain social media platforms.
How to Use GIFs in Content Marketing?
The Internet is all about visual content, and what better way to illustrate your point than a GIF? We are happy to see more and more brands using this form of online communication to enhance their content marketing efforts.
Not only are GIFs fun, but they can also be effective in showing off a product or service in action or a reaction. Here are some ways to use GIFs for content marketing:
Tell a story
GIFs are a great way to tell a story in just a few seconds, but they're only as good as the story you want to tell. There's a big difference between being funny and being interesting.
Funny isn't inherently valuable, but interesting is. If you can create an intriguing GIF series that touches on something meaningful or memorable, it'll be a better use of your time (and your readers' attention).
The key to using GIFs to tell a story in content marketing is figuring out how to add value with them. GIFs can be used as a sort of digital shorthand to convey emotions like surprise, awe, and even sarcasm that may not come across in plain text. Always consider how you want your customer to feel and remember you.
Show off your product features and value
Using case snippets from the customer journey can be the perfect way to demonstrate value in a fun and engaging way. Substitute text with visuals in content creation using GIFs wherever possible.
If you have a simple product feature that you want customers to use, turn it into a GIF. Or, if you have a value proposition that needs explanation, GIFs could be the perfect solution. Even when you don't have something physical to show off, GIFs can help explain the emotional benefits of using your product.
Incorporating GIFs into your content marketing campaign can be a great way to stand out from the crowd and generate viral traffic.
Direct your customer to take action
Next time when you write "Click here to learn more" or "Buy now" on your website, maybe change that up a little bit. Use a GIF instead of a static button. GIFs are a more compelling call-to-action (CTA) tool than traditional text or video because they seem more like a personal touch than an advertisement. They also serve as a distraction from the hard sell while still delivering the message. A recent study by Skyword found that content marketing GIFs on landing pages increase conversion rates by 130%.
Talk to your customers
GIFs can be used as an element of surprise and delight to increase engagement when communicating with a community.
A casual and friendly communication allows your customers to feel welcome, appreciated, and valued by your company. It is also a great way to show your company culture. Responding to a customer support query with a GIF shows them that you are there to listen and care about their issues, big or small.
Branded GIF stickers and text-based GIFs inject personality and humor into your content marketing strategy. Animations have proved to be an effective way to get a reaction from viewers on social media, so try using GIFs in your posts to see how they resonate with your audience.
Add humor to a dull long-winded post or article.
When you're web content writing, GIFs help break up long blocks of text. They can be used in many ways to add humor and lighten the mood of any post or article. They can emphasize an important point you might be making if the reader needs to pay closer attention to what you've just said.
Anytime you think your article is getting a bit dull, you can use a GIF to lighten up the mood! Although, you should recognize the quality of humor and match it with the tone of your writing. Adding GIFs to your blog posts, emails, or website copy can be a great way to keep readers engaged and enhance their experience.
Animate your data
It's no secret that reading data can be tiring. Luckily, we don't have to live in a world where only data nerds care about data stories. GIFs can make your content marketing presentation or infographic more engaging.
They're a fun and effective way to explain complex topics, showcase boring figures, trends and statistics, and so much more. Animating data allows you to present information in a more creative format that makes it easier for everyone to digest. You can display the growth of your company or product using cute animated charts. By adding movement and color- you can make an otherwise flat chart or graph come alive.
Show how to do something
How-to posts or guides are the most popular types of content in online marketing. These posts have the potential to drive a ton of organic traffic through search engines, and they can also help establish a brand as an authority in its industry.
While you may have a great how-to post, it can take your post to the next level by adding content creation GIFs to demonstrate a point or show a step in a process. Let's say you have a step-by-step guide on how-to-make scrambled eggs. You could replace an image with a GIF for each step to enhance your lesson and make it easier for the reader to follow along.
Send captivating email newsletters or promotional emails
Add action to a newsletter or promotional email using animated GIFs in email subject lines. It helps you catch the reader's attention and stand out from other mail in their inboxes. Share promotional emails with cute content writing GIFs or animated ads of your products rather than a static image.
Go viral!
GIFs provide great content for sharing ideas and emotions. They can also evoke strong emotions in people – emotions like happiness or excitement can be great for creating viral content.
Key Takeaways
GIFs are one of the best ways to get your point across on social media.
You can create cute and beautiful ads using GIFs that can help you stand out in your followers' feeds.
GIFs are more engaging than static images and more easily digestible than videos.
They are easy to create content marketing pieces shareable across many different platforms.
Several free online tools such as Giphy let users create their GIFs using images and videos from various sources.
Conclusion
GIF for content marketing has become increasingly popular to show off brand culture, products, and services. They are short enough to be engaging but long enough to demonstrate what your product does and how it can help users. GIFs allow you to easily and quickly say what you mean while boosting customer engagement at the same time.
FAQs
1. Why are GIFs so popular?
They convey a wide range of emotions, from sadness to joy and everything in between.

2. How are GIFs suitable for customer engagement?
When done right, they make your content more engaging. Ensure that you're understanding the tone of the content and place an appropriate GIF.

3. Why are GIFs important in content marketing?
They can help you increase your organic reach and drive traffic to your website.

4. What is the main benefit of using GIFs in social content?
Videos are often too long and expensive to produce for most social media marketers. GIFs are short (and loop), making them easier to create and share.

5. How do you make a GIF for content marketing?
It's super simple! All you need is an image or video file and the free Giphy app.