Content
Skills Required for Copywriting: An A-Z Guide for Successful Copywriting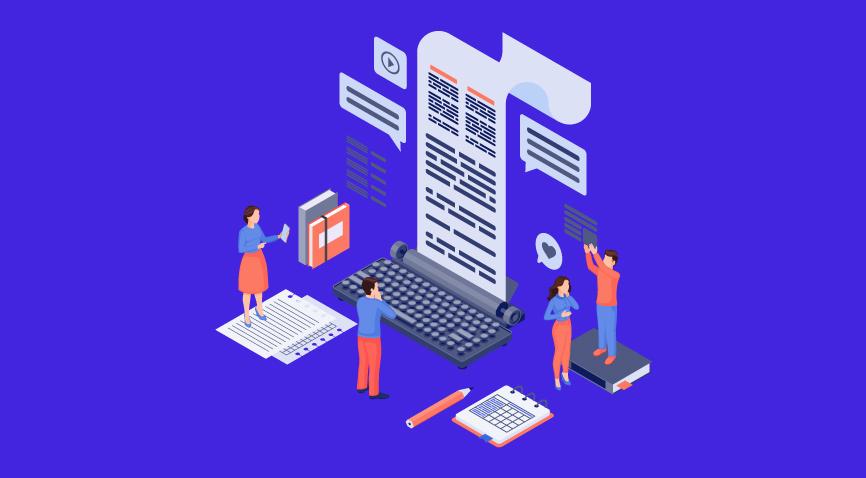 Table of Contents
What Makes a Good Copy?
Who are Copywriters, and What Do they Do?
Copywriter vs. Content Writer: The Difference
Sharpening the Skills for Copywriting
Key Takeaways
FAQs
"Let's talk about writing. Writing is hard." Perhaps no sentence resonates better with a copywriter than this one lifted from the coveted copywriting guide, 'Hey Whipple Squeeze This: The Classic Guide to Creating Great Ads'.
Copywriting is the art of boosting business. It gives you wings, inspires you to think big, and makes you want to just do it!
A successful copywriter has mastered the skills required for copywriting, just like he mastered walking as an infant.
But, what makes a copywriter and, thus, the copy a raging success?
What Makes a Good Copy?
Before we set out to find how to improve copywriting skills, it's essential to understand what a copy is. In advertising, a copy is written or spoken words used to direct the target audience towards a particular goal. A copy aims to sell the product or service that is being discussed. Thus, a copy is always target-oriented and explains the brand's vision. It is meant to be insightful yet short, flashy yet humble.
Think of any commercial brand today, and there will be a copy you have probably come across. Even Facebook (now Meta) or Apple needs advertising copies to explain their businesses to prospective customers.
A good copy guides customers and convinces them to make the purchase, sign up for the newsletter, apply for the course or enroll in the webinar.
How do you characterize an impactful copy?
A good copy:
Is brief: Copies need to be crisp, short, and to the point. A good copy informs the audience with just a few words. But, it has to be bold and audacious! Take a look at the ABC Daytime advertisement below to get an idea of efficient copywriting.
Is informative: The challenge is to keep it brief while making it informative. A good copy can make or break a band. It prompts the consumer to make an apprised decision. Would you sign up for a course that says, 'Learn to be a copywriter from the best', or 'Master the art of copywriting with the Copy Master in 7 days'?
Is clear: A clear copy is easily read and apprehended by the readers. It is self-explaining and unambiguous. When writing for an advertisement, it is crucial to keep the target audience in mind. A good copy has crystal clear clarity and is free of local, religious, or geographical bias.
Is honest: Honesty is also the best policy, even in copywriting. The honesty of the copy impacts heavily on the credibility of an advertisement. A good copy is a truthful one. Misleading and misrepresented words can damage the reputation of the brand. One of the surest ways of winning the audience's trust is, to be honest. The effective copywriter is the one who can point out even the demerits of a brand in a poignant manner. Here is a great example from Chipotle:
Who are copywriters, and what do they do?
"What does the ad want to say? Not you, the ad."
Copywriters are the messiahs of the advertising written word. Acclaimed Chicago ad executive, Bruce Bendinger, explains copywriting in his book – The Copy Workshop Workbook. He writes, "Copywriting is a job. A skilled craft. Verbal carpentry. Words on paper."
Copywriters are thinkers with a creative bend who are always looking for ideas. They make you laugh, cry, feel enraged, all within ten or fewer words. They engage people and persuade them, guiding them in their journey towards the brand.
Copywriters can work for either marketing or advertising agencies or freelance for brands. They are tasked with developing meaningful, unique copy for advertisements, marketing collaterals, websites, podcasts, or more. They also craft scripts for audiovisual advertisements and live events, like an outdoor brand awareness program.
Here is a brief of what copywriters do:
Write for print advertisements
Social media advertisements
Digital advertisements like PPC landing pages
Audio and audiovisual scripts
Product pages
Website sales copy
Campaign emails
WhatsApp or SMS bulk ads
Copywriter vs. Content Writer: The Difference
A common perception is mistaking a copywriter for a content writer. While a person may be both, there are low-key distinctions between the two vocations.
The primary purpose of a copywriter is to sell the product. The end goal of a content writer is to educate the audience about the product. Thus, copywriting varies from content writing in its purpose.
Also, copywriting is aimed to be short, sweet, and direct. On the other hand, content writing can be long-form, detailed, and contextual. The collateral for content writing can include white papers, journalistic articles, case studies, while copywriters draft scripts, advertisements, and social media posts.
Sharpening the Skills for Copywriting
David Ogilvy, the British advertising mogul, once said—"I spend a long time studying the precedents. I look at every advertisement which has appeared for competing products during the past 20 years."
An essential copywriting skill is the ability to conduct good research. A skilled copywriter needs to be adept with all advertisements—the old and the new. They need to be mindful of how copywriting evolved over the years and what ticks with the audience. A vital part of research is competitor benchmarking to help the copywriter understand the ways of rival brands. Besides, it is always a good source of motivation, as attested by David Ogilvy, the copywriting legend himself!
A successful copywriter is always focused on the reader. They know what their audience enjoys and give it to them with a fresh twist.
The best copywriters search for inspiration around them. They have made it a habit to think about new ideas, new ways of communication, and new approaches. You have probably seen a copywriter with scribbled notebooks, sitting alone and staring at the wall!
To be a copywriter, here are six skills you need to check off your list:
Learn how to draft a tagline and headline
Learn how to write for an audience
Learn how to play with grammar
Learn how to think outside the box
Learn how to understand the brand
Learn how to accept feedback and criticism
There are no hard and fast rules that can teach you to be a copywriter. The best way to improve copywriting skills is to practice and then practice some more. Also, it's always advisable to boost your vocabulary skills. The more words to play with, the better!
Key Takeaways
Let's recap the skills required for copywriting that we highlighted in this article:
Copywriting is a creative process that also requires analytical and research skills. Since the primary objective of a copy is to persuade readers to fulfill an action, a copywriter has to be skilled in marketing. They need to understand how the brand functions and be the voice of the brand for the readers.
Copywriting is anybody's game! Anyone with the right skillset and passion can be a copywriter. Also, there are no age bars. So, it's never too late to become a copywriter.
To improve copywriting skills, read more books, watch movies, and indulge in discussions with friends and families. You never know where an idea can be conceived!
FAQs
1. What do I need to become a copywriter?
To become a copywriter, you require a working smartphone or laptop and a good internet connection. You will also need to be a creative thinker and harness the skills we've mentioned above in the blog. In addition to this, you may also require access to software like plagiarism checkers, spelling and grammar assistants, and Microsoft Word or Google Docs. 
2. Do I need a degree to be a copywriter?
Most agencies look for candidates with a Bachelor's degree in any related field like Mass Communication and Media Sciences or BA in English. However, the copywriter needs to have a portfolio showcasing their body of work. The portfolio can either be a sample of their copywriting prowess or a collection of advertisements the writer has worked on previously.
3. How much do copywriters earn?
According to Indeed.com, a job searching platform, the average base salary of an Indian copywriter is ₹3,02,028 per year. The average base salary of an Indian copywriter per month is ₹21,814. The salary range is higher for experienced copywriters with dynamic portfolios. Mid-level copywriters can draw up to ₹5,00,000 per year. Some copywriters also work remotely or as freelancers and earn more if outsourcing clients are from developed countries.
4. Can beginners be copywriters?
The answer is a big yes! With the right passion and skills, anyone can be a copywriter. If you're beginning out, it's likely going to take some time to find your voice as a copywriter. You can opt for online copywriting courses to get your career started, do internships with reputed agencies and tune in to webinars by copywriting maestros. You should also invest time in researching and keeping yourself up-to-date with the latest trends in advertisements.
5. What are the pros of being a copywriter?
Honestly, it's the thrill of waking up to a new day with endless possibilities. It's an exciting yet demanding job that will keep you on your toes. If you enjoy working in a fast-paced environment, this is one of the most rewarding jobs you can undertake. It offers you the chance to write on a variety of subjects. Besides, there are the added perks of brand samplings and always being on demand.
6. Is copywriting a good career choice for me?
Although you are the best judge of whether a profession suits you, copywriting is a lucrative job. It opens up the door to the advertising world, a thriving business even today! More and more companies are looking for talented copywriters to tell their brand stories to the world. As more brands made the digital shift, the demand for copywriters is only increasing.