Content
How to Master SEO Content Writing: A Copywriter's Guide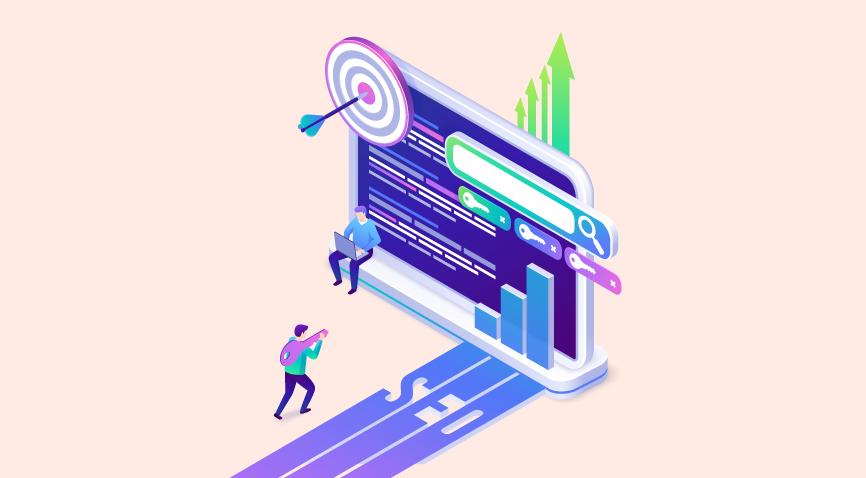 Table of Contents
17 SEO Content Writing Tips
Key Takeaways
Conclusion
FAQs
Do you have it in you to master SEO content writing? If you think you do, then this article is for you! But, before we go into detail about SEO content writing, first familiarize ourselves with SEO.
SEO stands for search engine optimization. It is a digital business marketing strategy that increases the quality and quantity of traffic from search engines to the directed website of a business. As we all know, a search engine is a web interface used to direct Internet searches to the required websites. A few examples of commonly-used search engines are Google, Yahoo, etc.
According to a study by Smart Insights, nearly 81% of Internet users use search engines to look for any service or product, and 74% of the purchase online. This shows the magnitude of searches done on search engines and the volume of business it can bring.
In SEO, businesses with websites on various search engines work to optimize the traffic flow from that particular search engine to their website. Given that similar businesses own multiple websites, it is crucial for any business to consistently engage their visitors for maximum returns. But to get SEO to enhance your business is not as easy as it sounds. This article will help you enhance your SEO strategy by improving your SEO content writing and applying various other methods to garner maximum traffic to your website.
SEO Content Writing Tips
Your business website is the interface that connects you and your customer. Many businesses have more than one product or service. As a result, most tend to have multiple websites for each product or service. However, this creates a hindrance in your website's reach, and SEO takes a hit.
The solution is simple. Build one single website. And create multiple web pages for the different products or services within it. A prime example of this is an automobile company. An automobile company may have different cars or vehicles among its products. Still, it has just one website in which multiple web pages cater to each product separately.
Remember, this depends on the size and nature of the company. For example, this strategy may not suit a big MNC with multiple companies or brands under its wing. Such MNCs would benefit more from creating different websites for different brands.
In short, choose the right website strategy depending on the nature of your business. But ensure that it is relevant to SEO guidelines for the best reach.
2. Use impactful headlines
Now imagine you are an author who has written a novel. But, the title is very lackluster with a dull front page. Despite the story within your book being outstanding, the chances of its selling will be meager.
Like the book, your website's headline is the first thing that your potential customer will read, and it may very well form their first and last impression. Your headline needs to catch the viewer's interest, which in turn will increase traffic on your website and improve sales.
The headline must be short and crisp and must convey the essence of your website effectively. Creativity plays a key role here as it is challenging to have a concise and compelling headline. Also, make sure you don't oversell your product or services in the headline itself. Remember, the headline aims to lure viewers to visit your website.
3. Write for your reader
In SEO, content can have two different perceptions. The first is that of the business owner, and the other is the visitor or user. The owner has to have in-depth knowledge of the product/service he is offering. So naturally, it is easier for them to understand the product's essence. The visitor, on the other hand, is a potential customer. So, the content related to the product or service must be easy for them to understand to make an informed decision. A poorly written web page will lead to visitors leaving the site in the shortest time possible. Also, a business needs to highlight the USPs of the product/service in a short, simple, and elegant manner.
When the product or service has a few technical aspects, make sure the product description is written in simple words so that laypeople can understand it. For example, an automobile company need not write about its engine in great detail. It merely needs to highlight its USPs like engine power, maximum speed, engine efficiency, etc. In a nutshell, create website content with the visitor in mind.
Search engines work on keywords. Keywords are words that frequently appear on any website. Most keywords in marketing are affiliated with the product or service which a business sells. For example, a company manufacturing mobile phones may have the following keywords, 'smartphone,' 'mobile phones,' 'smartphones under X$,' etc. These keywords help the search engine optimize a user's search and direct them to websites with these keywords.
The keywords must be mentioned at least 4-5 times within the first 100 words of the website's content. Also, the keyword must be present in the heading of the website. For example, the same smartphone website can include a heading like 'The best 4G smartphones with 4 GB RAM for less than Rs. 2000.' In this heading, the three keywords used are 4G, Smartphone, and 4GB RAM.
But make sure you do not use more than 5-6 keywords per website and that the keywords are limited to your product. Having limited but effective keywords in your website and heading will improve the chances of your website appearing among the top web searches for those particular keywords or products and, as a result, will increase the traffic to your website.
5. Work with a good web designer
Design your website to impress. Your overall design should be elegant, easy on the eye, and the website must be user-friendly and free of bugs. A website riddled with bugs and loading issues will frustrate visitors and will be unable to handle traffic whenever it increases. As a result, hire a good web designer to design the website aesthetically and ergonomically and ensure it runs smoothly even at high traffic.
6. Use images generously
Images will make your website more lively and attractive. With instant gratification ruling today's online visitors, images save the day by letting your visitor know about your product or service in one go. Written content is part of implicit marketing, where the viewer has to read content to be convinced that this is the product or service for them. Images are part of explicit marketing and leave a lasting impact on viewers while subtly convincing them to buy the product or service.
Again let's take the example of an automobile company. Imagine the website has only a written description of a car. Every feature of the car – right from engine specifications to the safety features and looks – is described in words. Without a picture, it will be tough for a viewer to actually get a gist of how the car looks and performs. They will, therefore, quickly lose interest.
But, if the website has images of the car at various angles, with a less wordy description, the customer will be able to make a more informed decision. Thus, images play a key role in enhancing the content of your website and increasing traffic.
To improve SEO with images, add image alt texts. SEO recognizes words – so adding keywords in your image alt text will help improve SEO-driven traffic.
7. Structure your website
Structuring your website is crucial for user ergonomics. If a website is not structured correctly and is confusing to use, visitors may not be too comfortable returning or even purchasing from it in the first place.
In SEO, you must assume that your customer is not tech-savvy. Structure and design your website correctly, with all the tabs to different web pages visible. If possible, add instructions on using the website and navigating web pages. Also, make sure the link to important web pages is visible in big task buttons rather than minimal and difficult-to-spot link options. Also, try to place the webpage link options either on the top of the screen or on the left-hand side of the screen.
According to a study by Datareportal, there are currently 4.55 billion social media users worldwide, approximately 58% of the global population. Companies or brands either build their account with hundreds and thousands of followers or hire social media influencers with a vast reach to thousands of users worldwide to market their products.
The advantage of social media is that businesses can make their product known to a large number of people without any geographical constraints. This makes the cost of marketing per customer very low and the strategy very effective. Infant businesses can also paste their website links on social media posts from where direct sales can occur. Again, this method is of great help to companies as their profit margin increases vastly. Thus, by leveraging social media to your benefit, you can increase the traffic on your website and effectively improve your SEO to increase sales.
9. Analyze your customers and viewers
This is a significant step in enhancing your SEO. The first step in this is to obtain a potential customer database. It is important to analyze how your potential customers behave, which sites they prefer, which products they like, and their feedback on your products or services. Also, analyze the percentage of lead-to-customer conversion. Various database companies can help you with the above analysis.
These exercises will give you an idea of what the customer wants, who the potential customer is, and how to improve your marketing strategies and website to increase the business reach further. It also showcases your drawbacks and the improvement you need to bring to your products or services. It also helps businesses and companies target the right customer base and use keywords related to potential customers' searches. It also enables you to identify which search engine is optimal for your company and maximize your reach. Hence, investing in a data analysis company will be fruitful if the business uses this behavior analysis to help your SEO efforts.
10. Promote affiliate marketing on your website
Affiliate marketing is a digital marketing strategy in which businesses or merchants voluntarily do the marketing for other businesses/merchants. This strategy can significantly increase your presence on search engines and increase your website traffic. But you must be wondering why a business would market for you. Well, you have to pay them a commission.
Let's take the example of a company called XYZ that wants another company, ABC, to market it. ABC will put up XYZ's ad or popups. When a customer visiting ABC's site clicks on XYZ's ad or popup and makes a purchase, XYZ will give some percentage of that sale amount to ABC as a commission. This is a win-win situation for both XYZ and ABC.
With the help of affiliate marketing, you can increase your reach and website traffic. It is an added advantage, especially for startups looking to improve their presence on search engines and traffic.
11. Use Google Authorship
Google is the most widely used search engine in the world. According to Review42, the total number of Google users worldwide forms 90% of all Internet users, 4.39 billion. Google provides many tools to help content writers and web designers write and design their websites to enhance their SEO and improve their reach. One of these tools is Google Authorship.
Google Authorship provides authority and validity to the viewers and the search engine. With an uncountable number of websites available on search engines, businesses must validate and verify their websites so that the viewers have a sense of authenticity. It also enables website authors to add their photos along with a byline.
But how does it help your SEO? Firstly it makes your website authentic. Secondly, it improves the click rate of your website, thereby improving your reach on the search engine. Lastly, as the ownership of the website is confirmed, it gives the viewer a better sense of trust and increases the chances of a sale.
12. Keep your website updated
Updated content is crucial for a website to run smoothly. Let's take the automobile company's example again. If the company introduces new car models and does not update them, its website visitors will not know about the latest models. Hence, potential customers could be lost. Apart from this, a regularly updated website ensures that the website doesn't have bugs, runs smoothly, and loads well even when the traffic is high.
It also gives the customer the impression of being genuine and maintained well.
13. Make content relevant and appealing
There are many types of businesses and customers. For example, in the B2B (business to business) model, a trade occurs between two companies or businesses; the end-user is not a consumer but another business model. Trade occurs between a company and the end-user in the B2C (business to consumer) model. Both of these business models require a different approach to their consumers.
In the B2B model, you don't need to explicitly sell your product or service to the consumer. Hence, the website content needs to be short and crisp. However, in the B2C model, since the end-user is the customer, it is crucial to elaborate on your content and make it appealing. The content must be explicit with all the information about the product/service. Also, for the end-user, you have to put in additional information like discounts, comparison with other products, the effectiveness of your product, etc.
14. Work with social media influencers
Social media marketing can be done in two ways: either a business creates its own social media account or targets social media influencers. The latter is a more feasible option as it may take months, if not years, to increase organic traffic on social media. Influencers are social media users with a massive following. By working with an influencer, your product or service can reach their audience without you doing much on your own social media page. You can also customize the influencer's post to resonate with your SEO content and garner more interest among followers.
Keep in mind that influencers charge a fee, but they bring experience in promoting products or services, quick-to-follow followers, and a short time in which your product or service gets the awareness it needs. Social media marketing through influencers is quick, economical and vastly increases the reach of your business.
15. Personalize your message
Who doesn't like a personalized message? A personalized message can be delivered along with a product or service or during the festive season. This exercise may not garner new customers but will definitely keep your existing customers loyal as it conveys that you care about them.
Asking for your customers' birth dates will also allow you to wish them on their birthdays or send personalized text messages on special occasions.
16. Identify the right digital platform for your website
The digital space is vast with multiple platforms. As a business owner, you must recognize which digital platform to market on to be more efficient. Different platforms require different strategies and content. Identify your customer base and their platform preference.
As mentioned before, images play a key role in enhancing your SEO content. Similarly, using videos and images will improve your SEO content even further. Suppose the automobile company – which we gave an example of earlier – uses videos along with its written content and images on its website. It will impact the viewer even further, thereby increasing the chances of a sale. Videos also offer viewers the perception of a company in sync with the latest marketing trends.
Key Takeaways
Keep all your content under one website.
Headlines are crucial in making a good and lasting first impression.
Remember, the content of your website is for the viewer who might be a future customer.
Use keywords related to the product your website is selling.
A good web designer is crucial for enhancing your SEO.
Structuring the website is crucial.
Use Google authorship to validate your website with your name and image.
Affiliate marketing is an excellent way to improve the traffic on your website.
Lastly, make sure that your content is appealing to the end-user
FAQs
1. What is SEO?
SEO stands for search engine optimization. It is a way to improve a company's website by using important keywords and various strategies to make the website glitch-free, popular, and visible on multiple search engines.
2. What is SEO content writing?
SEO content writing is the art of writing content for a website to ensure it is optimized. SEO content writing aims to enhance your website to be more popular and appear on top of the search engines when particular keywords are searched for.
3. What is the role of emails or SEO content writers?
The primary role of an SEO content writer is to use various strategies to make sure that a website appears at the top of search engines whenever a relevant keyword is searched for.
4. What are the different SEO content writing strategies?
-Use of keywords
-Audience analysis 
-Ergonomical website 
-Appealing content
-Use of various tools like social media, Google Authorship
-Use of images and videos, etc.
5. Is SEO content writing similar to conventional content writing?
SEO content writing is pretty similar to conventional content writing. However, the main difference between the two is that in SEO content writing, the writer is trying to get the attention of the search engine and viewers on the search engine, whereas, in content writing, the writer is only trying to get the attention of the reader.