Sales
A Step-by-Step Guide to Creating a Sales Process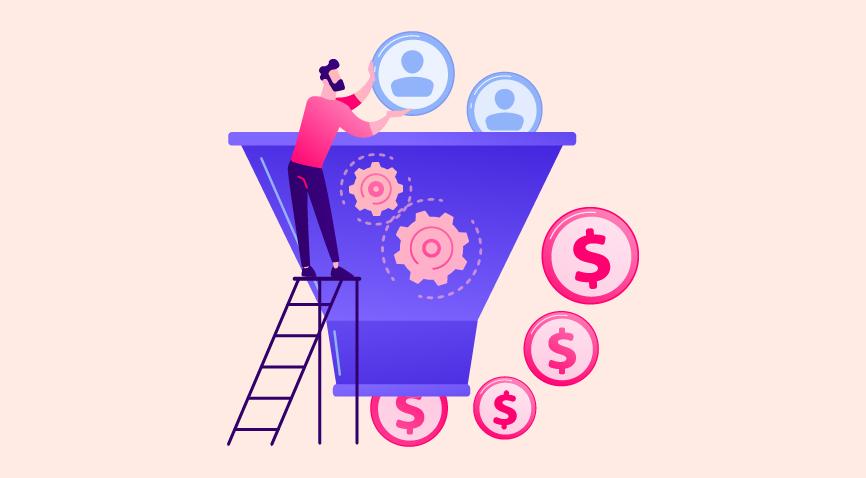 Creating a sales process does not happen overnight. However, nor is it rocket science. Learn all about it in this blog.
Table of Contents
What Is a Sales Process?
A 7-Step Guide to Setting Up a Sales Process
Key Takeaways
Conclusion
FAQs
With sales being crucial to the success of any business, creating a sales process helps companies build a loyal customer base. You must learn the sales process to find prospects and build a lasting relationship with your customers. You may refer to a sales process guide created by experts to help you in creating a sales process for your company, and still, feel clueless by the end of it. This blog is an endeavor to explain the sales process step by step.
What Is a Sales Process?
A sales process, or selling process, involves the interaction between a seller and a prospective buyer or customer. As a method, it has been used by several companies to improve sales performance and consistency. Most businesses rely on the seven-step selling process to augment sales and increase revenues.
A 7-Step Guide to Setting Up a Sales Process
Here's a comprehensive list of steps required for creating a sales process.
1. Conduct prospecting
Prospecting is the process of locating and distinguishing prospective buyers or customers. It helps you figure out how you can meet the needs of your prospects and is the first step in creating a sales process. In this step, You need to take the affordability of your product into account as well.
It is a research-intensive process that helps find your ideal customer. To begin with, you must create a list of prospects and screen them based on distinguishing questions to determine whether they are business owners or average homeowners. Learning about their profits or income helps you determine if your product is suitably priced for them, making it easier to narrow the funnel.
The screening process is crucial to establish the prospects' current requirements. For instance, if you are selling final expense insurance, you must look at customers over 60 years, rather than 30-year-olds.
2. Lay the ground
Before you contact your potential customer, you need to lay the ground or prepare adequately. Ideally, you must have all the crucial information at your fingertips, including product specifications, price, discounts, payment methods, competitor rates, etc. You may want to learn as much as possible about the customer to engage with them better.
In this stage of setting up a sales process, your sales team needs to prepare the collateral for the sales presentation. Your potential customers may have a hundred questions, and you need to have supporting data to provide the appropriate answers. It is better to rehearse well before contacting the prospects.
3. The initial approach
During this stage of creating a sales process, your sales team makes the initial approach and tries to make a personal connection with the potential customer. Personalizing your meeting is a crucial step in breaking the ice and building a rapport with the customer. It has to be an interactive session, wherein prospective customers get actively involved and speak out their minds. In this way, you can bond with your customer and lay the groundwork for a long-term relationship. This stage offers an opportunity to offer a small gift or a bonus discount to encourage the customer to make the decision quickly.
4. Create a sales presentation
By this stage of creating a sales process, you must have built a good rapport with the prospective customers, knowing their needs and understanding their pain points. It lets you customize your sales presentation, demonstrate your product or service, and explain how useful it is in solving their problems. The trick lies in offering a solution to their problem, rather than trying to sell a product or service. In this stage, you need to make sure you have strong ad copy in place.
Typically, sales presentations involve a flurry of activity, including tours, product demonstrations, infographic/video presentations, or other visual aids to convince and convert the customer into a buyer. This is when all the research you have conducted until now pays off. For instance, if you are selling a push manual lawn mower, you may want to pitch an eco-friendly electric model, provided the buyer has the budget. Any sales process guide will emphasize the need to upsell whenever there is an opportunity.
5. Manage objections
The sale can never take place without managing the objections the customer raises and answering any last-minute questions they might have. These questions and objections present a fantastic learning opportunity, wherein you get to know a lot more about the customers, especially their pain points. Researching and preparing well in advance helps you have the requisite information to manage customer objections.
Your sales team must listen to the concerns and questions of your customers. Developing such listening skills helps identify and understand the customers' challenges and address them accordingly.
A typical example is the case of an investment company. Let's suppose a customer tells you they cannot invest right away due to financial constraints. You must promptly offer them additional benefits (incentive) or other promotions if they make the purchase right away. It is easy to influence the purchaser by reiterating the increase in cost, or loss of value if the purchase is not made within the given timeframe.
6. Close the sale
Closing the sale is the most important stage of creating a sales process. You've already convinced your customer to opt for your product or service. Now, you need to explain the terms of sale to them and ensure they understand them well before purchasing.
As any sales process guide will tell you, you need to submit a proposal to initiate the closing of a sale. The sales team must also negotiate the prices, sign a contract, and receive the payment (in advance, if so stipulated). Meanwhile, if the customer raises an objection, or expresses any concerns, the same needs to be addressed. The buyer must be well aware of the terms and conditions spelled out in the contract. It is also important to mention the return/refund policy, as the customer has the right to return goods they think are not up to their expectations.
Typically, companies encourage sales personnel to upsell at this stage of the process. They may even offer expensive alternatives or additional products complementing the original product. Salespersons must thank the customer at the end of the deal, and not end the interaction abruptly.
7. Do an after-sales follow-up
Sales teams need to follow up after each sale is completed. Such a prompt follow-up action helps build a lasting relationship between the sellers and customers, leading to customer retention. Retaining customer loyalty is crucial for the brand to sustain itself in the industry. It is still imperative to nurture customer relationships to automatically make your users brand ambassadors.
Your sales team can send a short thank-you note to the customer, or, better yet, they can call to thank them for their continued loyalty and support. It presents an opportunity to request the customer to rate the service provided, and write a testimonial, which is invaluable to the company. Expert sales process guides hail the benefits a company reaps by asking the customer to post a review on social media.
Follow-up also presents opportunities to complete the final touches to the sale, sign new contracts, deliver and install the ordered products, etc. If done the right way, the final step often leads to a renewal of business, favorable reviews, and referrals to new customers.
Key Takeaways
The sales process is often an interactive session between the seller and the potential customer. When the seven standard steps of the selling process are adhered to religiously, a sale is often guaranteed.
Even though the first three steps described above focus exclusively on researching your customers' needs as well as their pain points, they take your sales presentation halfway. We address customer concerns in the final four steps to close the deal and build a lasting relationship.
Typically, a selling process applies to both B2B and B2C clients, as your sales team follows the same steps described above. These are the steps that help build a robust customer base.
Conclusion
While the products and services offered by different companies may vary, the sales techniques they adopt, and the sales process guide they follow, more or less remain the same. Selling becomes easier by creating a process that has already been tried and tested.
FAQs
1. How do you create a sales process?
Creating a sales process starts with building product knowledge. If you look up any sales process guide, you'll learn how crucial it is to research your ideal prospect before doing anything else. Setting up a sales process also involves prospecting and lead generation, two factors critical to increasing sales. You must then segment your leads, and analyze each individual's needs, before following up and closing the deal.

2. What's the first step in creating a sales process?
The first step in creating a sales process is finding your first customer, which can be achieved by researching your potential customer database. You need to plan your approach before making the initial contact by determining specific customer needs. 
However, before you make a sales presentation, you must select the appropriate product or service you plan to sell. Also, be prepared to handle objections from the customer before you close the sale. Remember that setting up a sales process is a step-by-step activity that involves intense planning and execution.


3. What is the most challenging part of setting up a sales process?
It is rather challenging to be honest while selling. Typically, dealing with fussy customers can be pretty challenging, and catering to certain whims and fancies can test anyone's patience. Being patient and understanding is probably the most challenging part of a sales process. Rejections and failed deals are common and must be handled with grit and patience.

4. What's the best definition of a sales process?
Any sales process guide set up by an expert will tell you that a sales process can be defined as a predetermined series of steps taken to convert a lead into a customer. It involves several steps in a sales journey, starting with the initial contact and culminating in the closed deal. Defining an enterprise's sales process and channels is essential for selling goods and services successfully.

5. How can you create an effective sales process?
You can start by reviewing the various stages in the sales pipeline. Follow this up by creating a list of all the internal activities required for every step in the process. You must also visualize the sales funnel, and ensure that it is measurable. You may adjust the process as needed, based on the sales metrics.