Peppertype.ai
The Expanding Role Of Artificial Intelligence In Digital Marketing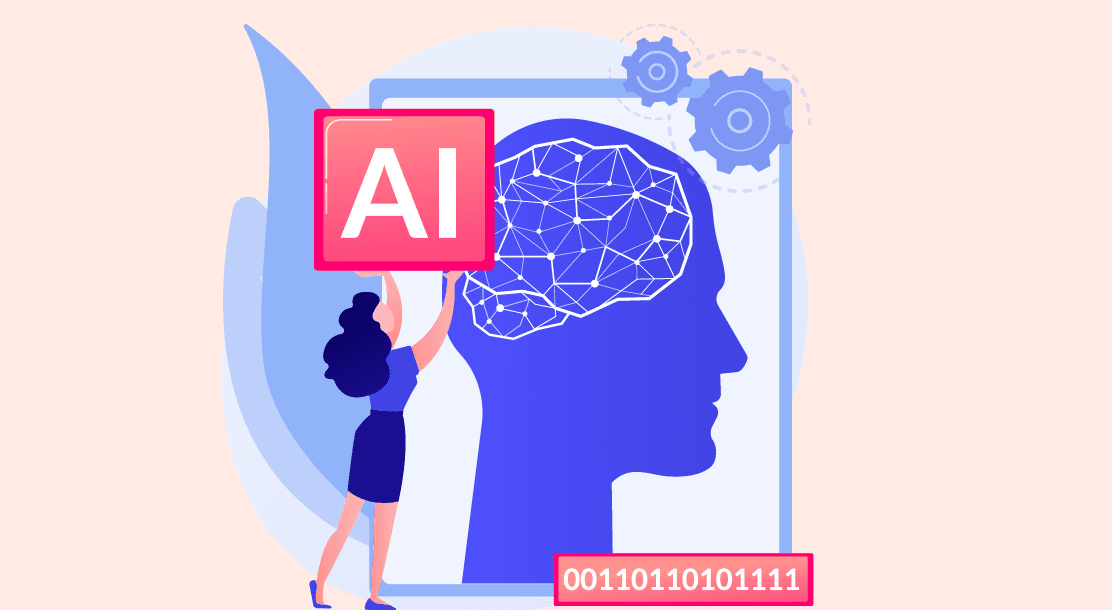 Table of Contents
Types of Digital Marketing
What Does a Digital Marketer Do
What is AI
Benefits of AI in Digital Marketing
How to Implement AI In your Digital Marketing Strategy
Key Takeaways
Conclusion
FAQs
Digital marketing campaigns powered by AI have already enveloped our world. There is a good chance that you have already spent your bucks on a product that was put in front of you because of digital marketing powered by AI. The role of artificial intelligence in digital marketing is crucial, unchallenged, and expanding. From valuable consumer insights to laser-focused marketing campaigns, AI cuts through the crowd and connects your product with interested buyers.
AI's domination in digital marketing is directly correlated to the need for making an impact in a very saturated online space.
Digital marketing is the utilization of existing consumer insights to develop marketing strategies targeting a particular group of customers online. While marketing is the process of promoting your products and services through research and advertising, digital marketing takes the process online. Digital marketing is a departure from billboards and newspaper ads. It is quantifiable, interactive, and targeted at every step of the campaign.
The emerging generation with shifting purchasing power is reliant on the Internet to tell them what to buy and who to buy from. Digital marketing works in the service of online customers but impacts the entire marketing model of all industries involved. Here's all that you need to know about it:
Types of Digital Marketing
Digital marketing comprises many types. Some are listed below:
Search Engine Optimization
Email Marketing
Pay-per-Click
Mobile Marketing
Affiliate Marketing
Social Media Marketing
Content Marketing
Marketing Analytics
What Does a Digital Marketer Do?
A digital marketer works with a team of copywriters, performance marketers, designers, and social media experts to launch marketing campaigns on various sections of the Internet. A digital marketer aims to expose your product or services to as many eyeballs as possible and generate convertible leads that turn into customers.
Here's a pictorial representation of all that a digital marketer does:
What is AI?
Artificial Intelligence (AI) is a branch of computer science that mimics human intelligence. AI mimics human cognitive functions of problem-solving and learning to untangle a web of developing data in real-time. Natural language processing, speech recognition, robotics, image recognition, are some of the core activities associated with AI.
AI's indispensability comes from its cost-effective performance and light-speed delivery. It is unfair to regard AI as a human replacement, for humans could never study millions of data points within seconds and interpret the buying patterns of a demographic. AI is less about replacement and more about incorporation. With the elimination of repetitive tasks, one gets enough time to make smarter decisions that serve them well.
The role of AI in digital marketing goes farther than the incorporation of machine learning into your campaigns. Brands like Spotify and Amazon are successful users of AI-powered digital marketing campaigns. AI expands the realm of possibility in a digital marketing space by automating tedious tasks and executing data-driven campaigns that maximize ROI.
Benefits of AI In Digital Marketing
Executing a digital marketing campaign in this day and age without tapping the full potential of AI is like paying for a buffet and departing after the appetizers. Here is how AI has transformed digital marketing:
Increased productivity
AI automates tasks on the go and saves ample time and resources. AI spearheads the digital world with dozens of real-time operations in a single juggle. Traditionally it would take a considerable amount of time to review customer reports, extract insights, and assess data to formulate a digital marketing campaign.
With AI and machine learning in digital marketing, you can pick and point figures from a stream of flowing data and analyze it in seconds. The decision taken with AI is based on performance and contextual data and isn't prone to human lethargy or bias.

SEO and A/B testing
AI simulates the integral parts of a website's SEO to test marketing strategies in real-time. Oftentimes these minute alterations stand between increased traffic and enhanced conversions. With AI, you can generate multiple prototypes of UX design and perform A/B testing on your content to determine the best performing option for yourself.
Eminent social media presence
AI incorporates analytics and sets refined targets for potential customers. It has a distinguished way of filtering data sets to determine the most lucrative audience for your product.
AI identifies potential customers and previews relevant content to them. This builds a to and fro relationship with your target group. Understanding your audience and studying the buying patterns of your existing customers can serve as vital feedback for formulating future marketing campaigns. AI's software targets potential customers and generates a convertible lead.
Real-time semantic analysis
Going through millions of impressions and collecting feedback on new launches has been made easier through AI. AI uses natural language processing and performs semantic analysis of every new sentence released within a time frame. Oftentimes, the context of the situation escapes the human, but that doesn't happen with a programmed bot.
Customer service via chatbots
AI moves with the flow. Setting up an AI chatbot on your website to handle customer queries and a 24/7 response rate is a tremendous way to handle your business. Because a majority of questions posed are generic and repetitive, an AI chatbot can take care of your customers in all wee hours of the day. High scaled industries have embraced chatbots as the primary medium of communication with their clientele.
Elite user experience
The use of AI in your UX design gives your website a digital facelift. Artificial intelligence uses historical information to perform enhanced services. With an AI-powered module, you get a chance to execute thinner user interfaces with fewer hindrances and automation of mundane tasks — all of which are essential tools to build a loyal customer base. Furthermore, the use of hyper-personalization, human-face recognition, and visual effects make your website stand out from the crowd.
Increased Return on Investment (ROI)
Employing AI in your digital marketing and AI campaign streamlines the target audience and reduces the chances of trial and error. Automation of lists saves time and resources, which ultimately brings the cost of your campaigns down. On the other side, AI increases the chance of conversion by enhancing customer experience through personalized content.
The role of AI in digital marketing is not running your campaigns on autopilot. It is having a virtual assistant taking care of all the directions and discoveries of an evolving atmosphere, allowing you to have a focused hand at the yoke.
Targeted marketing
AI processes your spending data, glances at your results, and prepares actionable insights which can promptly be acted upon. The simplification of this process prevents bleeding out of resources in the name of experimentation. A large-scale application of this results in smartly targeted digital marketing campaigns that deliver desired results and a greater ROI.
Consumer behavior predictions
While traditional digital marketing is all about generating demand for your product, AI takes it up a notch by discovering its interested audience. Many factors influence customer behavior — AI mines data from social media and determine the buying pattern of a demographic. AI in digital marketing capitalizes on these insights to offer personalized ad campaigns to targeted regions.
Highly personalized campaigns
The other day, I was looking to make a video determine ad for my real estate business. As soon as I closed google, I was served with a personalized ad on how to make real estate videos on a video editing app. I was served with a digital marketing campaign powered by AI. That's cool, right?
Highly personalized campaigns are possible with AI, which studies browsing behavior and many factors that influence customer choice. It extracts insights, employs NLP, and delivers targeted campaigns at the doorstep of a prospective consumer.
How to implement AI In your Digital Marketing Plan
Digital marketing revolves around data points and analytic insights. The evolution of marketing in the online space is solely dependent upon the fuel it needs to carry on, which is data mined from the digital footprint of Internet users.
Every time the Internet expands its data sources and platforms institute another customer touchpoint, analytics becomes unmanageable. AI prevents your digital marketing campaign from getting lost in the crowd with its high-powered data analysis and targeting tools.
AI converts an overwhelming amount of data into applicable insights that formulate precisely targeted digital marketing campaigns.
How to Implement AI In your Digital Marketing Strategy
Here's how you can implement AI in your digital marketing plan:
Curate your content through AI
It's not easy to wade through a couple of hundred gigabytes of content to reach your end goal. Such is the world of the online world. Marketers turn to AI to syndicate the entire process of content generation from analytics and algorithms. AI brings the contextual relevance of content to air and draws better insights from limited options. The feeds of Facebook and Twitter use AI to organize content and present a curated feed to individual users.
Use AI in Email marketing
Email marketing is a proven concept for digital marketers. It is a fast, cost-effective, and efficient way of maintaining communication with your current and prospective customers. But the email blasts and the oversaturation of the space have turned the page on its glory. AI breathes new life into your email marketing strategy by personalizing your content, scheduling emails, and a tracking dashboard.
Construct your website with AI
Having a functioning and responsive website is essential to your business, and AI-powered websites are leading the space with impeccable DIY website building sites like The Grid, and WIX. AI-powered websites and DIY building tools evaluate a user's preferences and style and chew out a professional-looking website within minutes. You don't have to ring up your website manager for minute changes, because you can do it yourself.
Improve content creation with user AI insights
AI accomplishes the tedious task of writing and editing your content and making it presentable to your audience. You can create original content with precise SEO placement to drive maximum results — all without lifting a finger.
A fine example of this service is Grammarly.
International news websites like the Washington Post and New York Times are already using AI to create data. Content platforms such as Peppertype.ai offer content creation services using artificial intelligence. You can write Google ad copies, website headlines, tweets, marketing ideas, Facebook posts, generic ad copies, and social media captions through the amazing AI tool of Peppertype.ai.
Employ chatbots
Chatbots are AI helpers, programmed to provide 24/7 customer assistance. The application of chatbots in industries such as healthcare, e-commerce, and banking has revolutionized customer service. The AI bot counters the mundanity and repetitiveness of queries posed by concerned customers with detailed and purposeful answers as many times as possible. Handling this kind of volume is not possible for humans. AI expands the limits of brand responsiveness and provides elite customer service.
Let's take a look at the interactive chatbox at peppertype.ai
Personalize your content
Artificial intelligence uses elite market analysis tools such as machine learning algorithms and data analytics to study customer behavior and predict buying patterns. Through thorough analysis with data points, you can curate personalized ad fields for individual accounts. Although it is important, personalization in digital marketing goes far beyond first-person communication and chatbots.
Digital marketing campaigns that use personalization to serve their audience's interest receive better reach and engagement rates than traditional methods of fixed demographic targeting. The impact of personalization enhances user experience and builds brand impression amongst a wide audience of prospective customers.
Key Takeaways
AI has revolutionized the way digital marketing campaigns perform.
The role of AI in digital marketing is unchallenged and its expansion is irreversible.
AI enables the breakdown of insurmountable data into actionable insights.
AI doesn't replace human labor, it incorporates better areas to put it.
An underestimated benefit of AI is the elite customer service and 24/7 assistance.
AI in digital marketing doesn't put your campaign on autopilot but allows you to have a focused hand at the yoke while every other development has been taken care of.
Conclusion
The digital marketing reality of the coming decade will depend upon two things: detailed algorithms and mature AI. Capitalizing on the expanding role of AI in digital marketing is no longer a hustler's dream. Being the face of efficiency and productivity, AI has changed the way we do business online. The best time to get on board with AI-powered digital marketing campaigns was 5 years ago, the second-best time is now. Let's go!
FAQs
1. What does AI bring to digital marketing strategies?
AI analyzes data at a light speed and interprets buying behaviors to connect your target audience with the products they are looking for. AI bridges the gap between your product and its potential buyer.
2. Is AI a part of digital marketing?
AI is the ultimate tool for the curation and customization of your potential customers. It collects data and interprets, and applies it to your marketing campaigns.
3. What is the difference between AI and Machine Learning?
AI is a technology that instructs machines to mimic human behavior by emulating human intelligence. Machine learning is a branch of AI that enables machines to absorb information from past data and allows AI to simulate human behavior.
4. Is AI a cost-effective way of digital marketing?
AI is a one-time investment that can result in a 39% revenue increment in three years. It is a cost-cutting tool in the long run, and more than 50% of businesses have experienced a break-even within 2 years.
5. What is an example of AI in digital marketing?
The product recommendations of e-commerce sites like Amazon and Flipkart are enabled by AI. The entire sphere of programmatic advertising and tailed ads are a part of AI-powered digital marketing campaigns.
6. What role does AI play in a digital marketing strategy?
AI opens doors for hyper-personalized communications with customers at every level of marketing. It is a departure from generic listing and target groups, as in zeroes in individual accounts, and predicts their buying patterns.
7. How can AI change the digital marketing industry?
AI ends the guesswork, cuts through the clutter. It uses data analytics to formulate the most effective digital marketing strategy possible. The enabling of data-driven analysis enhances productivity, eliminates repetitive tasks through automation, and increases ROI.