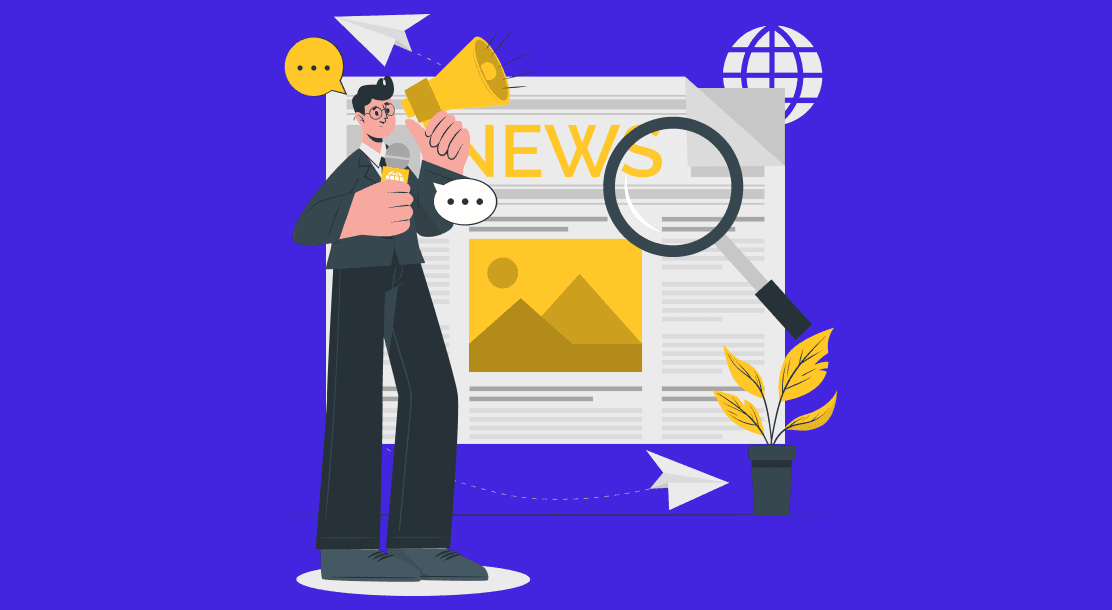 Table of Contents
Why Are Press Releases Important?
10 Press Release Templates to Swear By
Key Takeaways
Conclusion
FAQs
If a company does something newsworthy, such as launching a new product, organizing an event, hiring a new CEO, they need to get the word out. A press release is a quickest and most cost-effective way to inform the public. The aim of a press release is to garner the attention of the business's target audience. Their ticket to grabbing this attention is through journalists. A press release contains all the essential details a journalist would need to break the story. Therefore, writing a press release is serious business. There are several press release templates you can take cues from to write an intelligent one that'll get you noticed.
Why Are Press Releases Important?
Here are a few points that illustrate the importance of a press release: they can serve as perfect reasons for you to skim through some sample press release templates.
1. They increase visibility
In today's fast-paced online world, out of sight is out of mind. Modern consumers have a plethora of choices. You have to be on top of their mind to be their number-one pick. A press release in the media will ensure your name is floating around, and people keep hearing it.
2. They are cost-effective
A press release is a quick and economical method to let the world know about your newest innovation, be it for a product launch, event, or service. A well-written press release motivates journalists to carry your story.
3. They are mutually beneficial
Journalists need news, and you need them to publicize your innovation. So, you need them and they need you. It's a symbiotic relationship, so feed it and send out that press release.
How to Use a Press Release Template
Using a press release template is a simple task. All you have to do is follow a format that has the following key elements.

Logo: at the top right or left corner of the page goes the company logo.
Dateline: Following the logo is the dateline, which is on the left corner of the page.
Address line: The address line or venue can either be below the date or against it on the right.
Headline: The headline comes below the date and address, in the center of the page. It tells the reader what the story is about.
Body: The body text is written like a news report, and elaborates on the story.
Boilerplate: At the bottom-left of the page goes the boilerplate or the "about us" section, where you can expand a little about your company.
Ending: The end of the press release should sound conclusive.
Your job is to enter your company's details against these broad elements.
10 Press Release Templates to Swear By
Here are some of the best press release format templates you can use.
1. Product launch press release template
A new product launch always calls for an announcement. Write a smart, eye-catching headline rather than the boring, old, "Product Launch". While writing a press release for a product launch, make sure to do the following things.

Illustrate what's special about it.
Talk about its features or design.
Mention how it will benefit customers.
You can also compare your product to other similar products offered by different companies or competitors. Try to avoid generic phrases, such as, "We're happy/excited to announce…," "We are honored to present…," etc. Instead, focus on the specifics. Pitch to industry-specific publications. For example, if your product is a night cream, you should ideally pitch it to a beauty magazine.
2. Book launch press release template
Think of a book as any other product. Books have their own, distinct features, such as genres, characters, themes, etc. They also have specific target audiences. You must include the following pointers when writing about a book launch.

Focus on what's in it for the readers.
Give the reader a look and feel of what they're getting into, by adding an excerpt from the book.
Add quotes by reviewers or the author themselves.
Some readers do judge a book by its cover, so adding a cover image of the book will give your press release an edge.
3. Product update press release template
If your product is old, people may be used to it. A sudden shift might make them apprehensive, so gently explain in the piece why the change is for the better, and make them believe they actually needed a change.

As a rule of thumb, include the following details:
New and exciting features
How the improved product will help more than the older product
Where consumers can purchase it

People who are attached to your product might have several doubts about. Linking a video demonstrating its new qualities or including a few points on how to use it can slowly get them acquainted with the new version.

Include quotes from sponsors or CEOs to add a sense of legitimacy. If the developers believe in the update, so will the users. Just go out there with conviction.
4. Album release press release template
Mention the genre your album belongs in. In the headline, highlight the name of the artist or band. Write about some songs on the track list and how they're linked to each other. If it's an online release, include the link to the teaser. It can be a SoundCloud or YouTube link.
Certain additional details can make your copy look smart. Find them below.
Quotes from the artists or band members
If there's a collaboration, briefly explain the story behind it.
If the artist is doing something different from their preferred genre, mention it.
Adding an image of the album cover also makes your piece visually appealing.
Along with the date of the release, you must mention the platforms the album will be accessible on.
5. New company press release template
Companies cannot exist as isolated organizations. They need context. They can't exist without validation. The first step to building a company is to grab its audience's attention. Every sample press release template will show you that informing the readers about what the company offers or specializes in, and why they do it, is of utmost importance. A few things you must add to it are as follows:
Talk about the company's story and its future goals
Talk about how it's different from other companies specializing in similar areas.
Put in an offer for reporters to have a one-on-one with the founder/CEO of the company.
6. Event press release template
Events are a traditional way of getting face-to-face with journalists and your audience. They're a great way to interact with journalists in an informal setting, and even build contacts that can come in handy later. Events can be press conferences, product launches, summits, award ceremonies, or movie screenings. Certain key things that a sample press release template for an event should have are as follows:
Event description: venue, date, time and agenda
Names of important guests, sponsors, speakers, etc.
Besides this, you can add some images of the venue or VIP guests too.
7. New appointment press release template
Companies often hire new talent. But how is this information relevant to the audience and, why should publications carry out your story? It's because they show the state of the job market. And if you can justify your stance in your press release, anything can make for a good story. So what should a hiring announcement press release mention?
Who the new employee is
Their designation
What their previous role was
The years of experience they have in the field
Some of their key achievements
Additionally, use some quotes by the employee, and you're good.

8. Branch expansion press release template
So you're expanding operations to a new city or country, and opening up a new branch. You need to share this big milestone with your audience. You can check out several free press release templates online, just like the one above, which will tell you what details to include. Start with the most basic details.

Headline: write the company's name and the new city/country it's setting foot in.
Inform why it chose that particular city/country, and how it'll fulfil the company's purpose.
State any other launch plans you might have.
As a good practice, add a few photographs from the launch event. You can also add a short video of one of the employees showing viewers around the new space. Including a map to the new building can also be beneficial. Closing with a short bio of the company's founders is a must.

9. Industry report press release template
A good trick to increase your company's recall value is to release your company's performance report. Think of it as a report card. Releasing such a story manages to catch a lot of eyeballs. It also establishes your company as one that is committed to its field and keeps a track of its data to do better in the future. In such a press release, there are certain crucial elements, such as the following.
Share key statistics and milestones you've achieved, keeping in line with the industry trends.
Mention the steps taken or research methodology you used to acquire your data.
Don't forget to add quotes from founders or employees, showing how they feel about the overall performance and what they thought they could do better.
10. Statement press release template
When we say press releases, usually the template that comes to people's minds is this one. It's the oldest type of press release template that exists. It is a written statement of your position on an event or occurrence. Certain key elements of such a press release include the following.
Addressing the event or occasion
Explaining one's stance in it
Justifying why you are of the opinion you've professed

Usually, police press conferences or resignations choose this format. Make it short and to-the-point. It should be objective and information-heavy. You don't have to try to make it creative or quirky.
Key Takeaways
Press releases are a cost-effective and a mutually beneficial way to increase your company's visibility and recall value.
All press releases have the company logo, headline, date and venue, summary, boilerplate, and ending.
When using a free or sample press release template, customize the details under the broad headers to suit your needs. Personalize according to your target audience.
In every press release, the "what", "where", "why", "when", "who", and "how" should be clearly demarcated.
Adding quotes is a must, as it lends a sense of authenticity to your release.
If you can, add images or videos links to add quality. They help break the monotony of text.
Conclusion
Press releases are an important part of a company's publicity campaign. They help determine the coverage you're getting. If you're writing for the first time or writing something different from what you've done before, press release templates can help you get it right. You don't need to follow them word-to-word, but getting a general idea of what needs to be written will help you craft a better story.
FAQs
1. What is a press release?
A press release is a written announcement delivered by companies to the media. Their purpose is to inform the public of any newsworthy happening, such as a product launch, hiring a new CEO, etc. 

2. What are the components of a press release?
The company logo, date and venue, headline, summary, boilerplate, and closing are the main components of a press release. 



3. How long should a press release be?
It shouldn't be longer than two pages. 

4. How to email a press release to a journalist
Here are the steps to send a press release via email. 
1. Start with a catchy subject line.
2. In the body, write a short introduction and attach a PDF. 
3. You can even type the press release in the email.
4. Give your regards in the end and add your signature.
5. How many types of press releases are there?
There are many types of press releases, some of which include music release press release, branch expansion press release, product launch press release, and many more.