Generative AI
Pepper Content Roadshow: The 45-Day GenAI Expedition and its Findings
45 days
7 cities
9 events
100+ attendees
Innumerable conversations
With the cumulative effort of our small, yet brilliant team of driven individuals, the Pepper Content Roadshow: The Gen AI Expedition Across The States commenced.
And it was nothing short of exceptional.
Pepper's Expedition Across the States
In an interview with Pepper Content, Mark Kilens, Former CMO at Airmeet said, "Content marketing has matured a lot and now it's really about creating a media-centric type of culture. It's not just about the content. It's about the experiences that surround that content."
And what better way to curate experiences than events?
The months of September and October have been quite eventful for Pepper Content – to say the least. After the raging success of our roundtables series in Indian cities like Delhi, Mumbai, and Bangalore, we knew we had to take our quest to uncover marketing secrets to the United States.
Pepper hit the road, hosting a series of roundtable events across the US over a span of 45 days. With 9 events in 7 bustling American cities, it was all about diving deep into the future of marketing with some of the industry's best.
In every city, the goal was the same: engage, discuss, and dissect the future of marketing amid generative AI with the experts in the business.

Getting the Leaders Under One Roof
Over 500 CMOs and more than 100 marketing leaders from top Fortune 1000 companies and large enterprises including Walmart, Google, Oracle, Airbnb, and Amazon, convened to directly share experiences, tackle challenges, and strategize on the future of generative AI in marketing.
Some experts who participated in the roundtable series are:
Niree Perian – Director of Global Content and SEO at Shopify
Matt McAllister – Head of Marketing at Yelp
Darcie Lamond – Director of Content and Brand at Airbase
Crystal Typermass – Director of Marketing at Harvard Business School Publishing
Hoon Kim – Content Production Lead, Marketing, and Creative Operations at Airbnb
Ladd Martin – Head of Global Marketing (Gaming) at HP Inc.
Kimberlee Archer – Head of Augmented Reality Marketing at Snapchat
Bala Vishwanath – CMO at CoreStack
Gaurav Bhuwan – Head of Brand, Content, and Creative at Tata Consultancy Services
Trevor Wade – Head of Brand Marketing at BHG Financial
How Generative AI is Reshaping Marketing Narratives
One of the central themes of the series was exploring the potential of Generative AI in marketing. Generative AI and its applications in content creation have been making waves in marketing because this technology, often recognized by popular models like ChatGPT, has not only made a mark but has also stirred conversations among industry experts.
According to Gary (add name, designation), agencies are now treating ChatGPT "like a member of the team for brainstorming."
This makes sense because according to Salesforce's recent survey, about 51% of marketers are either using Generative AI or testing it in their professional settings, with one of the most common use cases being inspiring their creative thinking.
Let us look at some key highlights from the discussions:
1. The role of generative AI: Assistant, not a standalone
The sheer ability of Generative AI to produce high-quality initial drafts is undeniable. Whether it's kickstarting a blog post or putting together the foundation for a social media campaign, AI tools have shown commendable expertise. However, a consensus among industry leaders suggests that these tools are best viewed as invaluable assistants rather than complete standalone solutions.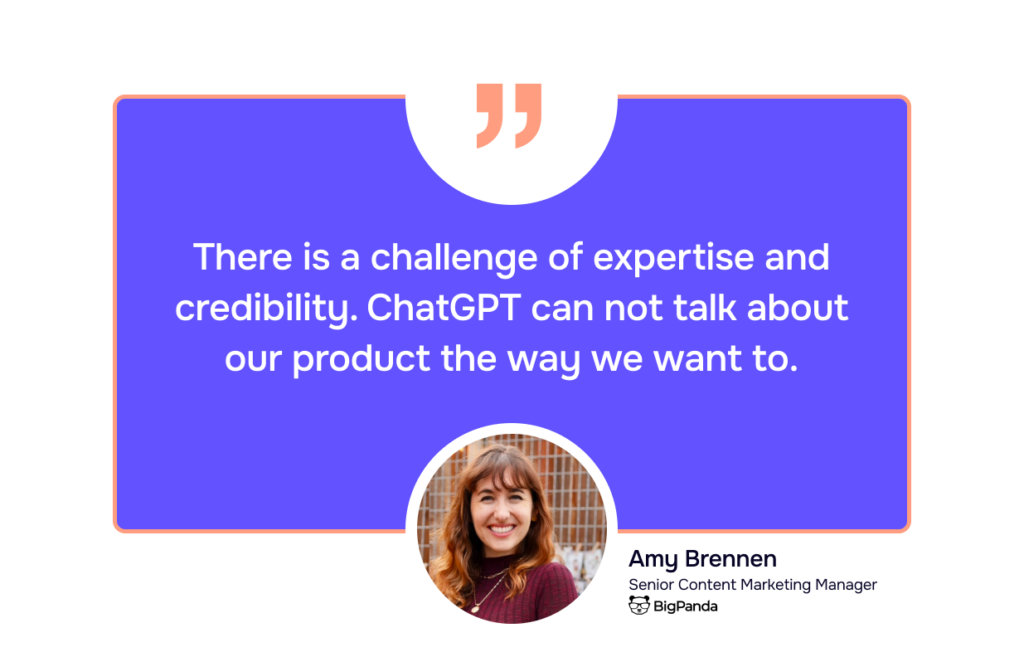 This presents us with the following:
Opportunity: A generative model can churn out content at a pace no human could match, making it a valuable asset for businesses looking to scale up their content efforts.
Limitation: It is essential to realize that no machine can entirely replicate the nuance, creativity, and strategic thinking of a human mind.
Solution: Taking the Human + AI approach by infusing AI-generated with a human touch for final refinement.
Adding to the conversation, Rohan Kulkarni, Founder and CEO of TheWordsmith.ai, talked about how "true marketing comes from first principles and GPT is not a threat right now." However, with everyone using similar AI tools, he also highlighted the challenge of a potential lack of unique differentiation in marketing content.
2. Content ideas and repurposing: AI's strong suit
One of the standout applications of AI in content strategy is generating content ideas and repurposing existing material.
For instance, transforming webinars into engaging blog posts, analyzing vast amounts of data and recognizing patterns, getting content suggestions that might have otherwise gone unnoticed, and more.
In fact, according to a recent report by Superpath, repurposing stands among the top 5 uses of AI tools in marketers' workflows.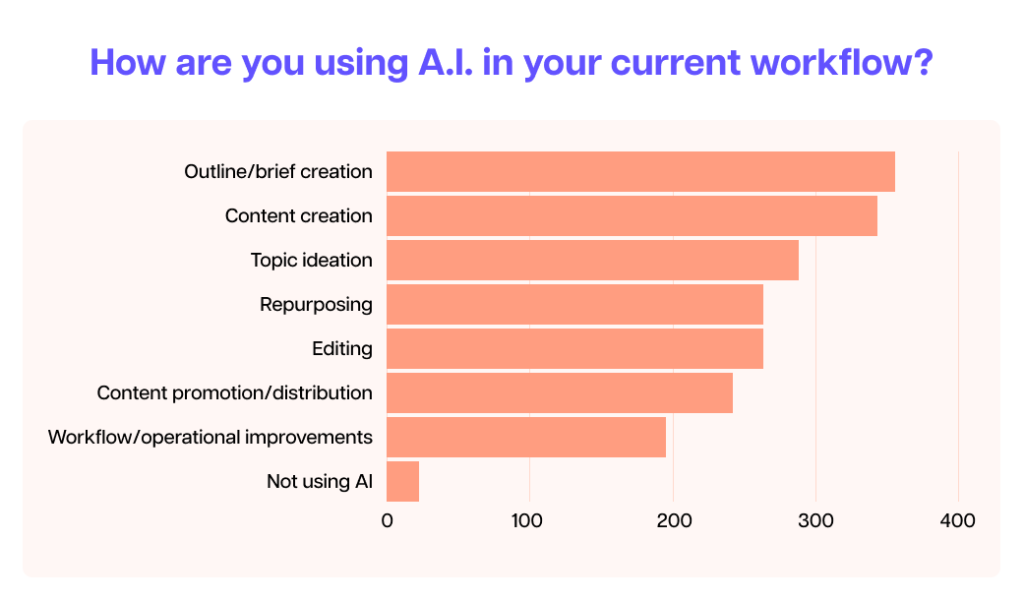 However, it's worth noting that while AI is adept at such tasks, experts argue its limitations in producing content that's optimized for search engines at an expert level.
True SEO expertise involves staying updated with the ever-evolving algorithms, understanding audience intent, and crafting content that not only ranks but also resonates.
3. Generative AI: Newcomers are fans, with caveats
Generative AI has been receiving its fair share of attention, and newcomers to this technology have generally expressed admiration for its outputs. The quality, coherence, and relevance of the generated content often leave first-timers impressed.
However, as with any tool, there are considerations to bear in mind.
According to experts, the emphasis on verifying the factual accuracy of AI-generated content has been a recurring theme. Additionally, while AI can produce content that seems technically flawless, there's an irreplaceable value in the human touch, whether it's infusing emotion and storytelling or ensuring brand alignment.
A survey by McKinsey & Company lists inaccuracy as one of the top risks related to generative AI.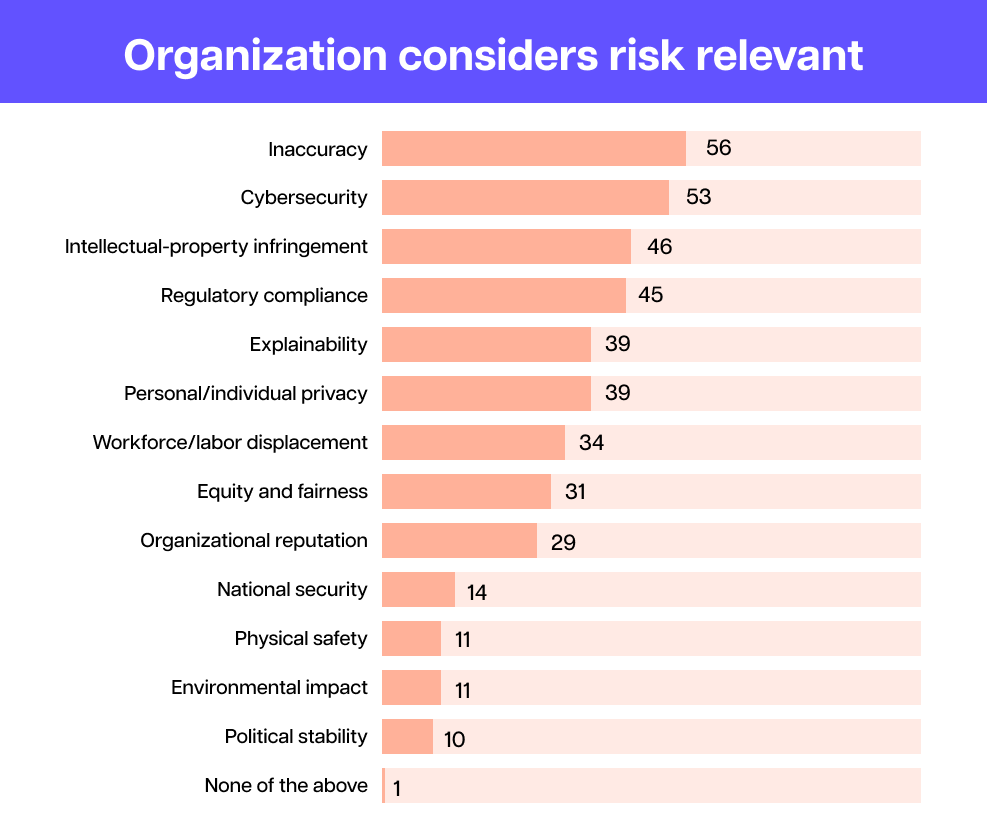 Concluding to Prep for the Next Big Thing
The Pepper Content Roadshow Roundtables was more than just a series of events. They were a confluence of ideas and strategies that promised to shape the marketing landscapes of tomorrow.
As Generative AI continues to evolve and influence content creation, one thing remains clear: the collaboration between humans and machines is not just beneficial—it's essential.
While AI offers automation, speed, and scalability, the human touch ensures authenticity, emotion, and strategic alignment. At the end of the day, it's we who need to figure out ways to find a synergy between AI and humans.
Till then, keep experimenting and innovating (and click here to stay updated with our latest events, webinars, roundtables, and more).