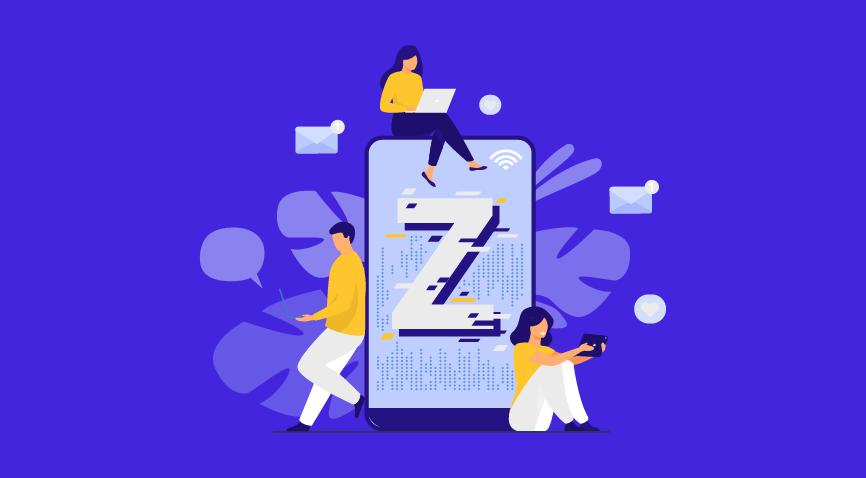 Millennials are surprisingly easy to reach. This blog shows you how to build a millennial marketing strategy that will promise returns.
Millennials would be the first generation to have grown up in a digital world. They make up a substantial portion of today's market. They are, no doubt, a population brands should tap into if they really want to improve their revenues and thrive in highly competitive industries. They are tech-savvy, goal-oriented, and frequent spenders whenever it comes to products they care about and value. This is why a millennial marketing strategy is essential. If millennials are your target market, it's critical to understand the following.
How this generation differs from the others.
What they appreciate most
What influences their buying choices
We've put together a simple guide to interacting with millennials and marketing to them. Apart from some basic information on millennial customers, we'll also offer you key points to consider when marketing to the millennial target market.
Who Are Millennials, And Why Should You Care About Them?
Though there are many conceptions about who a millennial is, anyone born between the years 1982 and 2002 is generally considered a part of this demographic. They come after Generation X and before Generation Z. It's why they're referred to as Generation Y. This implies that Gen Y consumers are between the ages of 18 and 38 approximately. If your target group is between the ages of 18 and 24, there's a strong chance they share certain characteristics with the classic millennial.
While you should treat these generalizations with a pinch of salt, there are certain tasks you need to carry out to reach out to this generation in the best manner possible. This group is tech-savvy since they've had access to the internet for most of their lives. They are known to conduct thorough research about products before they buy them and look online for solutions to some of their most challenging questions.
Millennials enjoy mobility and even flexibility because they are multitaskers. Many members of this generation work from home or even have workplace flexibility that promotes productivity from any location with internet access. Millennials also emphasize the significance of experiences rather than possessions.
The fact that this generation has a significant amount of purchasing power is why there is so much hype about them. They are known to have a purchasing power of $200 billion. And as more millennials join the workforce, this figure is only anticipated to rise. The bottom line is that if your target audience is in this demographic, it's worth focusing on and amplifying certain digital marketing strategies.
10 Tips on How to Cater to the Millennial Target Market
Have you ever encountered the expression "Strike while the iron is hot?" It implies seizing the chance while it's available. That's the same withThe same goes for millennial marketing campaigns. Here are a few ways in which you can successfully sell to the millennial target market.
1. Make social identity a priority
Millennials are a unique group. One of the primary characteristics that distinguish them from other generations is their passion for supporting causes that align with their ideals.
Showing off your product or what it offers isn't enough anymore. In your branding and marketing, you must mention what your brand is doing to help society. Do you, for example, employ environment-friendly materials in the products? How would buying your products benefit the community? Is it the goal of your company to leave a mark on the world?
If you want to persuade these folks to support your business, you must not only supply high-quality merchandise but also demonstrate that you aren't just in it for the profit. Let them realize how you plan to improve the planet. That way, they'll be much more likely to assist you by purchasing your products.
2. Create a solid sense of community
The rise of social media has made it simpler than ever for organizations and brands to communicate to their target audiences. Our second suggestion is to use online channels to foster a strong feeling of community.
Millennials are tech-savvy, and they increasingly rely on social media. They also enjoy becoming involved. Make sure the information you're offering to them is as interesting as possible. You can accomplish this by starting a community forum. You can conduct polls, ask appropriate questions, or seek their input on specific topics relating to your company. Make them feel as if their opinions are valued.
3. Produce educational content
Millennials are drawn to the kind of content that has been tailored to their preferences. Any information that emphasizes "purchase now" will divert their attention. In this environment, your material should serve a clear and precise purpose: to meet their demands and educate them well.
In this way, your marketing strategy will not come off as overbearing, but rather as helpful, piquing their curiosity. Because millennials appreciate authenticity, and emotionally sound content marketing approach may have a significant impact on them.
4. Tap into user-generated content
Millennials value being recognized for their accomplishments, and owing to digital media, anyone can do it by simply uploading user-generated material.
Through user-generated content (UGC), you can build an instant connection with your customers. UGC is essentially content about your brand that is produced and shared by your users. You must not only think of new ways to promote your brand's service or product, but you must also listen to whatever your audience has to say regarding you. User-generated content, when used correctly, can assist you in approaching your target demographic at a significantly lower cost.
Hosting social media campaigns is a great method to get people to publish content about your brand. For example, ask people to share photos or videos of themselves using your products, and to mention you in their posts. You can also establish special hashtags for your campaign, and ask the public to insert them in their captions so you can reach them more easily.
5. Respond quickly
People demand speedy results, now that practically everything is conducted online. Many millennials choose to communicate with brands via social media. You must reply swiftly and responsibly to all inquiries and complaints. The internet age revolves around instant gratification. Take note that, thanks to modern technology, it's simple to spread information about a customer's discontent, which might harm your reputation. It's a good idea to keep an eye on what people have been saying about you online so that you can handle problems quickly and avoid negative news from spreading.
Furthermore, avoid utilizing generic auto-comments and, to the maximum extent, personalize your responses. It is quite beneficial to respond rapidly to their needs. Before actually sending a text to a brand, many millennials research online for answers. So if you discover them addressing a specific issue, make sure to provide quick and effective ways to solve it.
6. Consider the larger purpose
Gone are the times when all you had to do was tell people how unique your product was. More than just the quality of the products, its list of specifications, or how it operates, millennials want to know why your company created it in the first place.
You must demonstrate what issue your product solves and how your organization can add to the community's well-being. Businesses that make an attempt to improve society are admired by the public. If you have a fantastic product, demonstrating that you care about a relevant cause might earn you added points with your customers, especially millennials.
7. Keep your branding consistent
Brand awareness can be aided by consistency in the creatives. It is a good idea to adhere to a theme that best reflects your company's values. It's simple to do so by picking which colors you want to emphasize in your photos, the design and location of your brand's logo, and other elements that might highlight your branding. A brand style guide may help you streamline your branding activities. It is indeed a good idea to maintain a consistent tone in your messaging, so that your viewers can identify your brand as soon as they come across it online.
8. Keep it real
Authenticity is important to millennials, so be genuine with whatever you put out. Avoid hard-selling or overselling. Make it clear how your product can assist your audience, and be honest in your responses.
It's also a wise idea to show your audience what happens behind the scenes, such as when you're creating a product or media content. It gives the impression that your company is more approachable and transparent. You can also add a personal touch to your content by showing photos or videos of the staff at work, engaging in diverse activities.
9. Start listening
A lot of companies spend a fortune to figure out what their target audience wants. While that's still useful, there are instances when all you need to do is listen to what your audience has to say. Many millennials communicate their feelings about various causes or topics on social media, and what they mention on the platforms where they spend their time is often more authentic than whatever you receive through paid polls.
Take some time to read and consider the feedback you obtain, as well as the content that individuals tag you in. Pay close attention to what your customers have to say about everything, always. You can often get great ideas from what they've shared online.
10. Customer service is vital
In business-customer interactions, millennials are extremely picky. They expect customer support to nurture their needs by immediately responding to whatever their problems are. Therefore, you need a relationship-driven customer service team.
Millennials dislike the thought of prolonged responses to complaints, inquiries, or requests for help. In comparison to previous generations, their perspectives on customer service have shifted dramatically. If possible, your company should have a system in place that appropriately labels and monitors their complaints. One viable solution is a mechanism that creates a unique ticket number and keeps meticulous records.
By utilizing millennial marketing strategies, your company has a big opportunity to grow and succeed. Because these folks are competent at using computer gadgets, technological growth gives you a better advantage. You can improve your sales to a greater extent by having a sense of awareness of their inclinations and dislikes.
Key Takeaways
You should always prioritize tasks that will allow you to meet customer expectations and save time.
Keep in mind that millennials have varying perspectives and expectations regarding many things.
The tremendous amount of information available at their fingertips has a significant impact on their lifestyles. Hence, never try to deceive them with exaggerated marketing.
FAQs
1. What does the millennial target market want?
Millennials want things that help make the world a better place, technology that helps them save time, and customer support that they can brag about to their peers.
2. Why are millennials of so much interest to marketers?
Because of their cumulative size as a worldwide cohort and the subsequent impact they have on society and culture, millennials are critical to marketers.
3. What are millennials most concerned about?
Millennials are concerned about global issues such as climate change, wildlife extinction, gender discrimination, and genetically modified organisms (GMO), among many other causes.
4. What do millennials value the most?
Millennials place a great priority on the security of family and life values, as well as the prosperity of their own lives. They also support policies that ensure a good work-life balance.