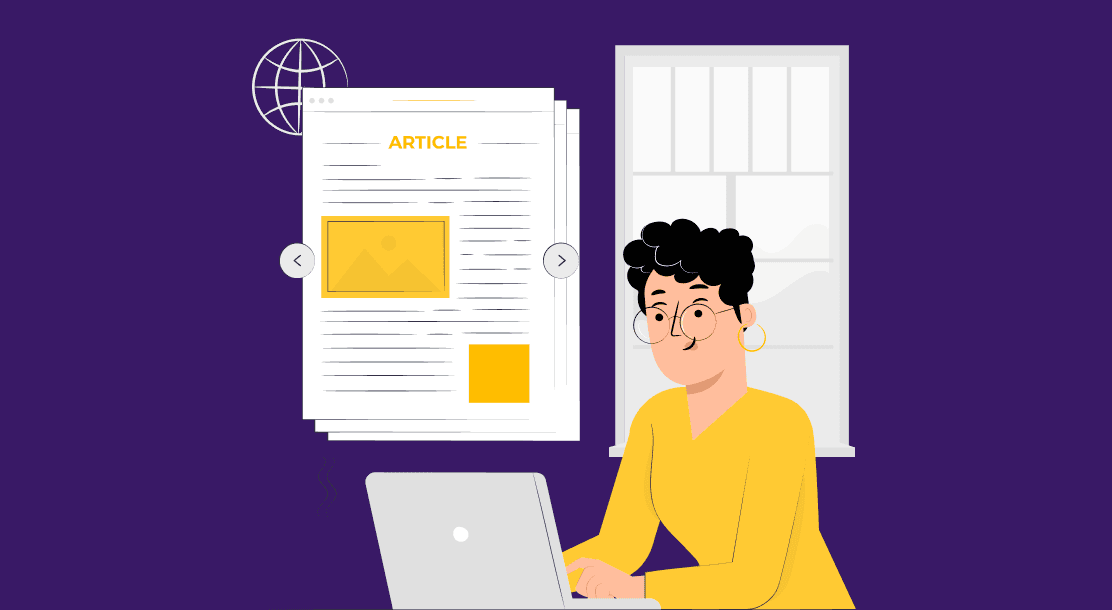 Are you interested in creating long-form content, but don't know where to start? Use these tips to master the art of long-form writing.
We all know content is king in the digital world, and when it comes to writing content for your business/service, it has to be top-notch. Anything less than that won't help your business rank on the first page of search engines.
There are many options available when it comes to writing content for your website. You'll have to, however, finalize your niche, topics, and the amount of time and energy you can dedicate to content creation.
Long-form writing can prove to be both fascinating and rewarding. And as a writer, you must have seen long-form content performing well on several platforms, wondering how to write long-form content that converts. In this blog, we will talk about how to write long-form content and become a pro at it. But, let's first understand what long-form writing actually is, and why you should consider it.
What Is Long-Form Content?
Understanding long-form writing is no rocket science. It can be simply understood as any form of content that has more than 1,000 words. The length of your content depends on several factors, such as your business requirements, SEO guidelines, audience preferences, etc. In reality, the answer boils down to the quality of the content you produce, and the relevance of the material you're providing.
Why and When to Write Long-Form Content
According to a report published by Backlinko, long-form content gets 77.2% more backlinks and more social shares than short-form content. Looking at this figure, you must have understood why you should go for long-form writing.
Now, let's talk about when you should write long-form content. Just like knowing the ideal length of a piece, knowing when you should go for long-form writing is also imperative. If you want to write an informative piece, such as a guide, case study, white paper, and more, then you should absolutely opt for the long-form format. Also, if you want visitors to stay on your website for a longer period of time, then longer pieces of content are ideal. A great benefit of long-form content is that it helps you generate traffic.
However, there's one caveat here. With people's attention spans getting shorter by the day, it has become imperative to craft engaging content. Most people are likely to skim through the first paragraph and decide whether they want to continue on your website.
So, keep in mind that if you want your article to be read till the end, you need to engage your visitors right away.
7 Tips You Should Follow to Ace Long-Form Writing
Creating content is a challenging task, because it requires dedication, time, brainstorming, and motivation. By adding new, valuable elements and information to a seemingly simple topic, you can enhance your piece tenfold. Let's talk about a few things you should keep in mind to write mind-blowing long-form content.
1. Understand your audience first
You must know that your audience is the true judge of your content. You need to design your content based on your consumers' journey, as they can be at a different stage in their buyer's journey from where you expect them to be.
That is why your writing should always be goal-driven. In the long run, you can only build a loyal audience by serving them with valuable content and focusing on the right niche. One of the most effective ways to tap into your audience's needs is by conducting audience research.
2. Choose the right topic
Once you have understood your audience and finalized your niche, it's time to select a topic that will keep your audience engaged. You can make use of SEO tools to find popular and relevant keywords and topics that are performing well on the internet.
You must also decide on the publishing format that best exhibits your intentions. Your choice of format depends on what makes the most sense for your topic. You can go for a tutorial, a guide, an editorial, etc. However, if you're marketing a product, it's web content writing you'll mostly do. The key is to pick something that resonates with your audience. And don't make the mistake of thinking that the format doesn't matter. Remember, even the smallest of things, can make the greatest impact on your creative process.
3. Form a research strategy
Once you know your audience and have finalized your topic, it's time to dig deep into the topic to formulate an outline for your piece. After all, you have to write long-form content. You'll have to keep all the material at hand to write the article.
You can start by gathering information that is easy to find, and then move on to gathering statistics and other external sources that are hard to find. You need to have all the pieces together, just like the human body, if you want your content to function/perform properly. And with a well-established research strategy, you can gather all the information/data that is needed to write a beautiful piece of writing.
4. Include facts and numbers
Your characters—whether they are fictional characters or people you interview for an article you are reporting—will come alive on paper if you pay attention to the details that make them unique.
So, when you plan on writing long-form content, one thing you need to make sure of is to make it credible. To do this, you will have to share statistics and reports from authentic sources, combined with your take on the matter. Also, remember to link to the original source of your research or study. Simply put, you'll have to create a conducive environment to entice readers to read more. Another great benefit of adding numbers and statistics to your piece is a higher search ranking.
5. Make it interesting
Including visuals, such as images, infographics, videos, GIFs, etc., in your content is important. It is a known fact that many of us are visual learners. Also, many marketers believe that having visuals in their content has increased their website traffic.
Visual elements, such as images and infographics, also make the whole piece interesting and more palatable for the reader. They aid them in understanding the content better.
6. Save your reader's time
Always prioritize your audience's needs. It is the first thing that you need to keep in mind when designing your content. So, you should do everything you can to help your reader save time.
For instance, you can add a table of content Table of Contents, so the readers can move directly to the part they are interested in. We say so because often, people arrive on a site not to read the whole article, but rather to find certain information at a specific time. Hence, the rest of the post may not be relevant to them. Having the ability to switch to the appropriate section allows them to find what they are looking for.
7. Keep an eye on your competitors
You must be wondering how this is going to help you ace writing long-form content. While it may not help you improve your writing skills, it will help you avoid some common writing mistakes.
Research what long-form content your competitors are posting and how much engagement they are getting on that particular piece. Analyze the numbers and see how you can make the content even better and more beneficial for your business. You can even observe the mistakes your rivals might be making, and avoid them in your own work. This will help smoothen out the creases in your content creation process.
Many people used to think that a reduced attention span of the audience long-form writing won't do good for their business. But that's not the case. It gives marketers the opportunity to create meaningful, sharp content. With long-form writing, you provide your audience with more in-depth, well-researched, carefully crafted content.
As a marketing tool, it provides several advantages, such as establishing brand identity, boosting conversions, and acquiring the top spot on SERPs. The evergreen nature of long-form content is another untold benefit. We hope that this blog not only answers your question about how to write long-form content, but also helps you understand its importance.
Key Takeaways
Long-form content is an evergreen way to engage with your audience.
You are sure to generate more leads for your business if you use long-form content marketing.
Your company's brand awareness will also rise through long-form writing.
Just make sure that you also optimize the content for search engines, without which it won't perform well.
FAQs
1. What is the difference between long-form and short-form content?
There are many differences between short- and long-form writing, such as the audience, format, research strategy, etc. But the one technical aspect that sets them apart is the word count. Anything less than 1,000 words falls in the category of short-form content.
2. How to decide the type of content I should use for my business?
Deciding the content type for your business depends on many factors, such as your business goals and target demographic.
3. What are the essential components of good content?
There are many essential components that make up good content. Some of them are relevance, engagement, and credibility.
4. How to decide the tone of the content?
Deciding the tone of your content is an important task, because it affects your user engagement to a large extent. So the things you need to keep in mind when deciding the tone are:
– Brand image
– Audience 
– Platform
5. How to optimize content for SEO?
Optimizing your content for SEO can help your content rank on SERPs. Here are a few things you need to consider:
– Optimum keyword density
– Meta title and meta description
– Backlinks
– Alt text
6. How can I analyze the performance of my content?
The definition of successful content varies according to the objectives and target audience. But you can usually judge any content's performance in the following ways:
– Search engine rankings
– Website traffic 
– Likes, shares, and comments on social media 
– Inquiries, leads, and sales