Content
International Podcast Day: Best Podcasting Advice And Tips For Beginners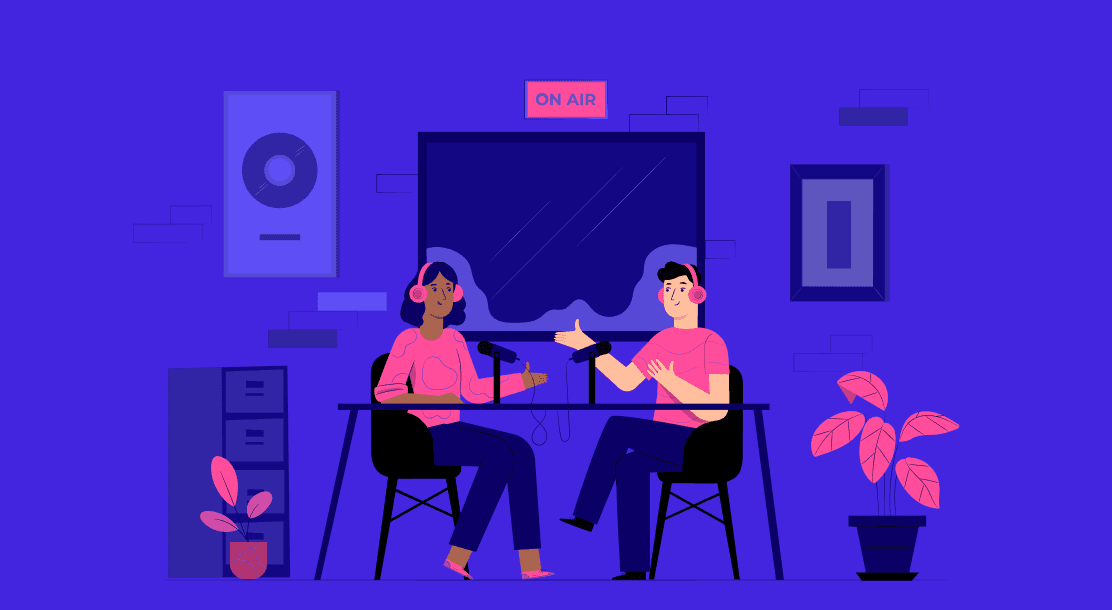 Craft the podcast content with care; having a host to help you reach a broader target audience makes perfect sense. Invest in the right equipment and software.
Table of Contents
What is a Podcast?
What makes a Podcast Successful?
Best Podcasting Advice from Top Podcasters
Key Takeaways
Conclusion
FAQs
Did you know that a podcast lets you develop a strong following and is an excellent way of establishing yourself as a thought leader in your domain? According to a report, there were 850,000 active podcasts totaling 48 million episodes in 2021; currently, there are over 2 million podcasts.
Podcasts may be slightly more complicated when compared with other methods of reaching out to your audiences, like blogs and other written content. However, the below-mentioned Podcast tips for beginners will help you reach your audience through this medium. But before that, let's understand what a podcast is in detail.
What is a Podcast?
A podcast is a compilation of a set of audio files that can be downloaded or accessed on the Internet. Podcasts comprise several recordings, which are known as podcast episodes. Generally, individuals host podcasts, but you may choose to have a co-host to add variety and excitement. Two people can start an idle banter and progress to sharing stories and trending news.
A person who creates a podcast is known as a podcaster. You can host your podcasts on streaming applications like Apple, Spotify, Stitcher, Google, iTunes, etc.
What makes a Podcast Successful?
As with any other content, a podcast should be compelling and consistent, always keeping the target audience in mind. Other podcast tips for beginners include remembering that the listeners play a critical role as they are the ones consuming the content. In short, the podcast should deliver an enjoyable experience. It is essential to research your topic well to get a clear picture of what the show will convey.
Best Podcasting Advice from Top Podcasters
1. Know the purpose of your podcast
You must be clear about the purpose of your podcast. You may be doing it to grow your business, or you may be a business or management expert keen on offering your advice to your audience.
Comedian Joe Rogan's podcast is an excellent example of a successful podcast. Apart from being a successful comedian, Rogan is a trained martial artist and a former Fear Factor host. Did you know that his podcasts were powerful enough to help a US presidential candidate?
Closer home, The CEO magazine published a list of successful Indian business podcasts as early as 2020. Forbes India podcast figures are high on the list, which delves into the journeys and views of critical persons working behind the scenes to create cover stories and special reports.
2. Learning the basics before you begin
You should watch many research videos and read books before launching your podcast. You can even listen to podcasts that tell you how to podcast. However, you will never know how it works until you work on your own.
Kathi Laughman, CEO of The Mackenzie Circle, shares podcast tips on building brand awareness in a new market on her recent podcast. Her earlier podcast was on how small companies can land the best STEM talent. The best thing to do is to listen to some podcasts of persons whom you admire and try to get invited as a guest to test the waters.
3. Seek an expert's help and guidance
There's nothing wrong with seeking help from an expert to learn the finer aspects of podcasting. Most successful podcasters will be happy to share their knowledge with aspiring newcomers. Several professionals offer coaching on how to start a podcast.
Learning from their mistakes helps you avoid making them yourself and can help launch you smoothly. Reach out to a successful podcaster to learn more about podcasting before venturing on your own.
4. Try to provide value with your podcast
Many people are willing to listen to you when you provide valuable information. Providing value is one of the best podcasting practices, though it is essential to stick to a timeframe. Your goal must be to deliver the best value in the shortest time possible. If you have enough clarity in these areas, your podcast is sure to become a success.
Shane Green is an example of a podcaster worth emulating; he is a culture consultant to several Fortune 500 companies. Green runs SGEi, a company that helps corporate organizations develop a culture to attract the best talent.
5. Identify your USP
Remember that unique concept and style is the USP of any podcast. It is the podcasting best practice worth maintaining. It is essential to be different from being noticed in the jostling crowd of 2 million+ podcasters. However, creating a niche for yourself takes time and several episodes.
Remember that most listeners can give worthy suggestions. Keep your ears open and be ready to accept feedback, as it can help you hone your skills and establish yourself as a much sought-after podcaster.
It is worth following the multi-award-winning coach Cheun Cheun Yeo, a successful podcaster working with business executives across 30 countries worldwide.
6. Rehearsals and preparation are important
One of the best podcast tips beginners can get is the importance of rehearsing and preparing before your podcast goes live. Merely talking won't help, but striking the right balance between talking and interacting is crucial.
If you are open to fielding questions, come well-prepared and always have a backup plan. You must be prepared to face questions you may not have answers to and should know the best way to handle such situations. Listen to Kathy Bernhard, President, KFB Leadership Solutions, to learn more about handling tough performance conversations with managers.
7. Your podcasting must be consistent
Podcasting is one of the best ways to propel yourself as a thought leader in your domain. To succeed, you need to build a strong following, for which you need to be consistent in your podcasting.
A bi-monthly podcast is a minimum requirement for your target audience to remember you. You can increase the frequency to once a week and stick to a particular day of the week and a regular timeslot.
Consistency pays; if your listeners can predict your activities, they will look forward to your podcasts. Follow Jon Dwoskin to understand the Jon Dwoskin experience and know all about his deep-dive talks that give a new level of understanding of podcasting.
8. Be conversational and friendly
The best podcasting advice you can get tells you how important it is to be conversational and friendly to your listeners. Not all listeners tune in to a podcast in the cozy comfort of their homes. Some of them may be at the jogging track, while others may be driving or taking a break while at work, and most of them prefer to listen to a conversational podcaster who makes the podcast memorable and worth listening to.
Always look for a new angle to share with your listeners, and leave them asking for more. Rebecca Lee Ray's Rat Trap radio podcast is probably one of the most listened to a podcast in recent times with exactly these qualities.
9. Create a Podcast Bank
One of the podcast tips beginners must take seriously is to create a bank of podcast episodes (at least 10) before launching. Create your schedule of upcoming podcasts and let your listeners know in advance.
Creating a podcast bank enables you to maintain a consistent schedule. Once people listen to an interesting podcast episode, they start looking forward to the next.
Having a CTA helps, especially if your podcasts are business-oriented. Debra Kasowski is a millionaire podcaster whose podcasts cover leadership, business, and human potential. She has several rave reviews and testimonials that speak for her super-consistent podcasts.
10. Don't be a copycat
The easiest thing to do is to mimic other successful podcasters. Remember that you have to avoid creating plagiarised content. Don't be discouraged that the market is saturated and already tapped to the fullest extent possible. You can always think of unique content you can present in your podcast to make it engaging and exciting.
Focusing on the topic helps a lot, and picking out the trending topics is the secret to your podcasting success. Listening to Allan Dib's podcasts will give you a fair idea of how to create unique podcasts that can remain evergreen. His one-page marketing plan is a hit in the podcast arena, where he discusses his failures and successes as a serial entrepreneur.
11. Use your guests as a bridge
Using your guests as a bridge to market your podcasts makes sense. Everyone knows that building your target audience is one of the biggest challenges in podcasting, and you must use all the resources you have to reach relevant listeners.
One excellent trick is to use guests who already enjoy a considerable following. If you can coax them to share your link to the podcast with their followers, it is easy to make them your followers quickly. All you need to do is add them to your email list and shoot out emails when your podcast goes live. Krista Neher is a regular guest at popular podcasts and is worth following and adding to your podcast as a guest.
Advice from Pepper Content's Resident Podcast Hero, Pawan Rochwani:
Pepper Content runs a podcast called Pepper Spotlight to interact with industry leaders from the content space and has done over 40 episodes. Pawan Rochwani, Lead Community, Events, and Partnerships, at Pepper Content, hosts this show. According to him:
Shoot a minimum of three weeks in advance to stick to a consistent schedule
When starting a podcast, get a grasp of your TG. In the case of a brand podcast, have the brand name in the podcast's title. Create a suitable schedule and think about how you will do lead generation around the podcast or meet your brand goals.
Invest in various new-age tools that support podcasting, especially for a brand podcast.
Conclusion
The above tips should help you launch yourself as a successful podcaster. Remember that being original and presenting engaging content is crucial to succeeding in this area, apart from teeming with podcasters presenting content in various genres.
FAQs
1. How do I start a podcast as a beginner?
Begin with choosing a trending topic that appeals to you. You must give your podcast a name before delving into writing the podcast description. Pay attention to the podcast format, and ensure that the artwork and music match the topic and text. Acquire reliable podcast equipment and software, test it before you start, and try to choose the best podcast hosting service.

2. What should I do on my first podcast?
Begin by cordially welcoming your audience. You must introduce yourself as the podcast host by giving your first and last name. Delve on what inspired you to take up podcasting, and share the release schedules. 
Talk about the podcast structure to your audience. When you are done, bid goodbye to your audience and share information about when they can expect the next episode, including the date and time.

3. What should be the duration of the first podcast?
While your regular episodes can be long (30 to 50 minutes), your first episode must be kept short. It is not advisable to exceed 15 to 20 minutes in your first podcast episode. It is better to make a short podcast, say 5 to 10 minutes. The crucial thing is to grab and hold your audience's attention to make your first episode a success.
4. Can I earn money from my podcasts?
There are various monetization strategies for podcasts. You can create paid membership tiers after your podcast becomes famous. There is also good revenue from sponsorships and ads, or you may want to join a reputed advertising network. After a few episodes, you can sell premium episodes, and there is also good money in selling repurposed podcast content.