Content
How to Write a Customer Testimonial: 7 Effective Tips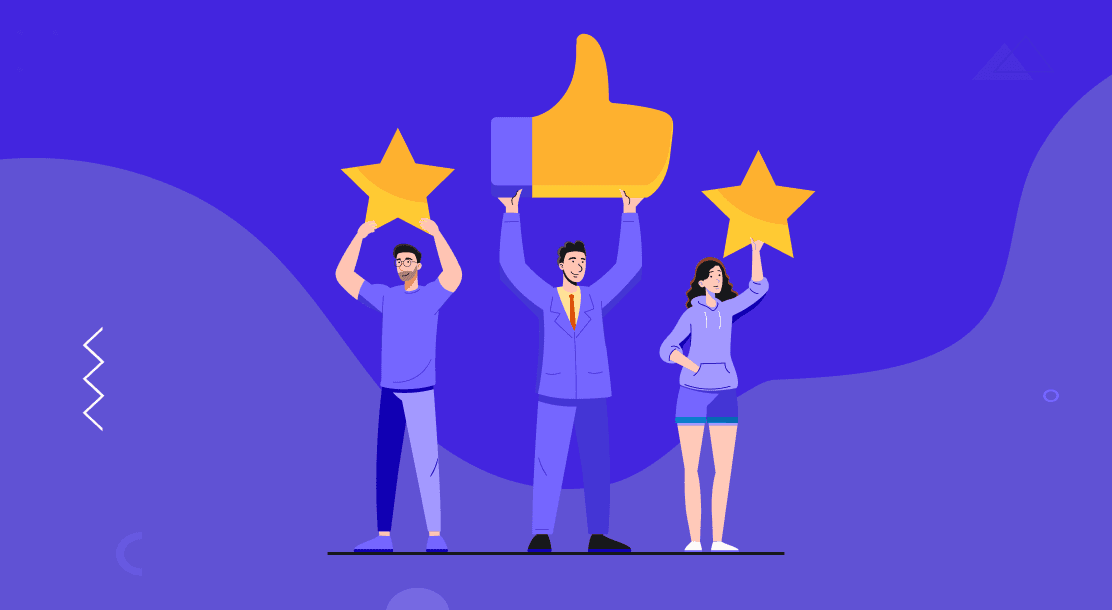 Table of Contents
What Is the Importance of Testimonial Writing?
7 Ways to Write Customer Testimonials
Key Takeaways
Conclusion
FAQs
Whether you are a small business or a massive brand, you cannot develop your business with just the existing customer base. There is a constant need to expand and grow, which can be done by reaching out to more people/potential buyers in your niche. Before we proceed towards the question, "How to write a customer testimonial?" it is essential to reflect upon the importance of testimonials.
In order to convince a total stranger to buy a product you are offering or purchase a service from your business, some social proof might be necessary. A customer testimonial is a powerful tool, rightly appropriate for such a situation. All successful businesses have a testimonial page that acts as proof of their remarkable work and makes their service/ products seem legitimate. It combines quotes and experiences from an existing or past customer.
What Is the Importance of Testimonial Writing?
Testimonials are sales tools, and they are crucial to the process of effective content marketing today. Without them, your company/brand cannot offer reliable social proof of your company's work. It is a statement of its reputation. Here are some reasons why testimonial writing is important.
1. It builds trust and credibility
As a business, your reputation is your biggest asset. Before making an online purchase, people look for positive reviews and enthusiastic words of appreciation from those who have used a product or service from your brand. Personal recommendations and online reviews are extremely powerful. They add credibility to your brand.
2. It provides social proof
Don't we all get enticed by products endorsed by celebrities, or visit cafés recommended and praised highly by a friend? We sure do. When making a purchasing decision, we all look to each other or someone who might share an experience relevant to our purchase. Customers, by instinct, rely on social proof.
3. It lends a human voice to your brand
When an individual vouches for a brand or business, we get attracted by the human-interest angle to that product or service. That is what makes customer testimonials so effective: they humanize your brand.
4. It brings in more conversions
When a customer interacts with a positive review or a testimonial, their chances of purchasing the product increase manifold. They are more likely to convert.
5. It builds credibility
No one would be interested in reading a brochure or letter filled with plain information about your product. But embed a video within your email newsletter and more than half of the customers will tap onto it, if not watch it completely. With customer testimonials, it becomes easier to elaborate on how you can offer a solution to the audience's pain points.
7 Ways to Write Customer Testimonials
Here are seven ways that will show you how to write a customer testimonial that inspires trust.
1. Facebook reviews
From the list of timeless testimonial-writing tips, the first way of crafting an extraordinary customer testimonial is in the form of Facebook reviews. Facebook is the easiest and the most noticeable social media platform used for marketing.
In case you are a local business, chances are, there exist reviews left by customers on your business (Facebook) account. You can reach out to those customers and request them for more detailed or elaborate testimonials. If you do not already have reviews on your Facebook page, you can always ask people to drop a comment on your posts about your products and services.
2. YouTube testimonials
With video marketing gaining ground, a video review is, without a doubt, stronger and more appealing than a text-based testimonial. Seeing video testimonials will also encourage other customers to create their own video testimonials. YouTube testimonials are the best way to allow your customers to speak for your brand by lending it their own voice and identity. If it is a shareable link, you can add it to your brand's YouTube channel or even share it on your website.
A number of brands have a separate list of customer testimonials on their YouTube channel. In today's fast-paced world, video reviews on YouTube are the most engaging testimonial example. If you are popular on YouTube as a brand or have a significant following, you might not even have to ask customers to share video testimonials; they might do it themselves gladly, in order to be featured on your channel.
3. LinkedIn recommendations
Marketing, copywriting, freelancing: name it and LinkedIn has a niche audience for it. Reviews and recommendations are highly popular on LinkedIn. There is an in-built feature on the platform that allows other individuals to leave a recommendation for you, which is specific to one or more of your listed skills.
You can ask your friends, colleagues, and clients for recommendations. You can then use these recommendations to promote your business. The best part of LinkedIn recommendations is that they are bound to reach your target audience. If you follow or are a part of groups relevant to your niche/industry, your recommendations are visible to just the right people.
However, you cannot get reviews on a company profile on LinkedIn. You can only get reviews and recommendations for individual profiles. If you have your company employees actively using LinkedIn, you can ask them to get individual recommendations for the work they have been handling for your brand. This can be incorporated on a testimonial page or a page dedicated to your team members, with their consent. Good recommendations on LinkedIn will help you establish yourself as a prominent voice within your specific niche.
4. Local search directories
Are you wondering how to write a customer testimonial that reaches local, potential buyers? Well, the answer lies in local search directories. Search directories are of immense importance to local businesses.
Google Business, Yelp, and Yahoo Local, among many others, allow members to write reviews about businesses in their local areas. These testimonials are one of the first things people will see when they type the name of your brand/business into the search bar on Google. You can also share some of these reviews on your website.
5. Niche review sites
While it is a good idea to get reviews on Facebook, YouTube, and other social sites, what you equally need to reach your specific target audience are niche reviews. Google and Yahoo are sites that apply to all businesses, but there are different sites that are specifically associated with your niche.
For instance, if you are a travel agency or you sell tour packages, sites like Tripadvisor and Travelocity might be relevant platforms you could get reviews on. Every industry has a number of niche sites that you can target, in order to get to the target audience you cater to. A lot of people who might be dedicatedly following these niche sites will get a first impression of your brand from reviews on these sites. And just like local search directory reviews, you can share niche site reviews on your website.
6. Social mentions
Since we live in the age of digital marketing, the best idea is to fully adapt to it. There is a high chance that tons of reviews and recommendations have been written about your company or your offerings, and you are unaware of them. These could be on other sites, blog forums, social media posts, individual YouTube channels, etc. In order to unearth and utilize them, you need to set up daily email notifications through Google Alerts and Mention. These tools will help you find reviews hidden in plain sight.
7. Reward customers for their efforts
Another essential one on the list of timeless testimonial-writing tips is appreciating the effort of the ones who leave reviews and recommendations on your social media channels or website. Customers need encouragement to post their thoughts, and they truly deserve a little appreciation for taking the time to post a review about your business.
It is a good idea to offer them a clear incentive. For example, a number of fast-food chains offer customers a chance to win a lucky prize in return for leaving a review or filling out a survey form. You can use discount coupons, offers, and special deals, or whichever method acts as an incentive for your customers to leave a review about their purchase or experience. Ensure that the site you are offering them incentives on permits you to do so. Google and Yelp are known for not allowing direct incentives in exchange for reviews.
Key Takeaways
A customer testimonial is a powerful marketing tool that combines quotes and experiences from an existing or past customer.
Customer testimonials are now more effective than ever, owing to their high shareability on social media.
Online reviews add credibility to your brand, function as social proof, and increase conversions.
With customer testimonials, you can easily elaborate on how your brand offers a solution to the audience's pain points.
Facebook reviews are highly noticeable and can be written elaborately.
YouTube testimonials are the best way to allow your customers to speak for your brand.
Local search directory reviews and niche site reviews are important avenues of making an impression on potential customers.
Google Business, Yelp, and Yahoo Local allow members to write reviews about businesses in their local areas.
Customers need encouragement to post their thoughts about a brand, and they deserve a little appreciation for taking the time to post a review about your business. Good testimonial writing involves giving them a clear incentive for their effort.
Conclusion
What is known as word-of-the-mouth advertising in traditional marketing takes the shape of customer testimonials in today's world of online marketing. Customer testimonials are now more effective than ever, owing to the high shareability of social media content and the availability of platforms that connect audiences worldwide. With these extraordinary testimonial-writing tips, you can use testimonials effectively for marketing. We hope this blog effectively showed you how to write a customer testimonial.
FAQs
1. What should a customer testimonial include?
Effective customer testimonials should include the person's name, title, company, and a picture, if possible. All these elements add authenticity to a testimonial, and thereby prove the credibility of the person/business being vouched for.

2. What is the purpose of customer testimonials?
Positive customer testimonials are helpful in establishing your credibility and reliability as a business or brand. Negative reviews can hamper your growth as a business. Testimonials give you an opportunity to show your potential customers why they should trust your brand. 

3. What is the difference between review and testimonial?
Testimonials are written by customers and are typically posted on your website. Reviews are also written by your customers, but they are posted to their own social media pages or social media sites or review sites, such as Facebook, Twitter, LinkedIn, Google, Yelp, etc.
4. How to ask clients for a testimonial?
In order to ask a client for a testimonial, you should determine the right time to do so, and give them a reason to say yes. Decide whether you want to use automation for sending requests or personally. Make it convenient and easy for the client by offering them options (let them choose between a written, video, or audio testimonial.) Send them a few simple questions they can use while recording or writing the testimonial.
5. What are examples of testimonial letters?
A letter of testimonial is a statement made by a past or current customer of yours. It functions as a positive advocate for you or your business/brand. Using it, you can support the claims you make about your company or your offerings.

6. What are the different types of testimonials?
Client testimonials are written/recorded in different forms, which include video testimonials, image testimonials, interviews, peer reviews, social media testimonials, audio testimonials, etc.