Content
10 Tips on How to Edit Content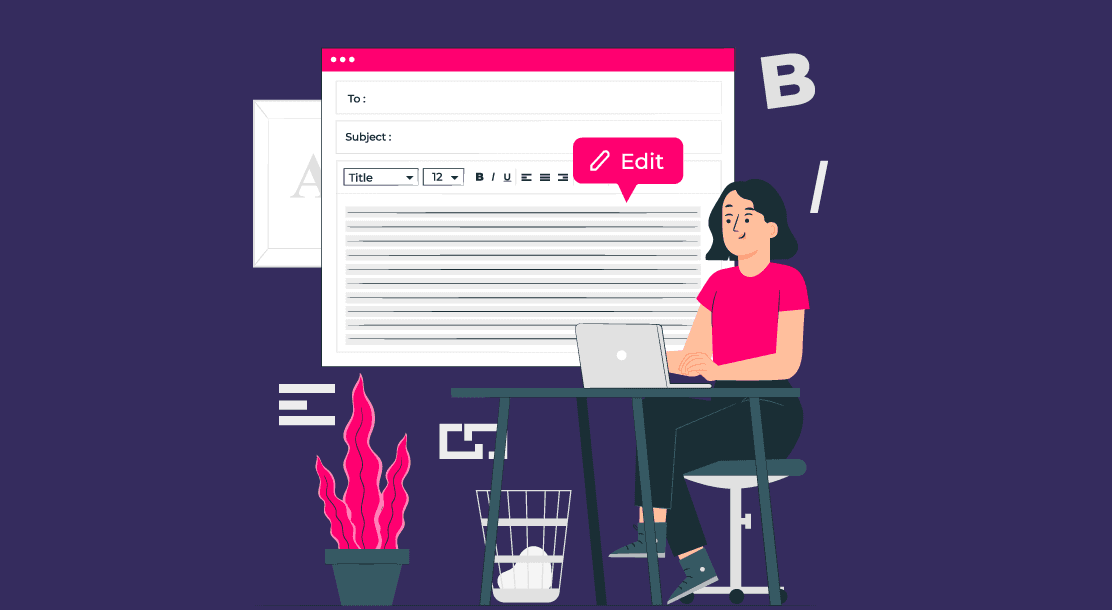 Are you struggling to edit your self-written content? Here are 10 helpful tips on how to edit content like a professional every time you write your own content.
Be it a novel, prose, book, or listicle, most writers' biggest dilemma is how to edit the content after the writing process is done. We agree the process can be tacky but is it impossible? Definitely not.
In this blog, we bring you 10 tips on how to edit content that's self-written.
10 Tips on How to Edit Content That's Self-Written
1. Change the formatting or document type
Adhering to the same font style, color, or document type over and over again can tire your vision. If you are using Google Docs for initial writing and curation, switch to a PDF version or, better, take a printout to avoid long screen-time. It is a proven way to up your editing efficiency.
2. Be careful with the Thesaurus
Ensure your language is clear and explicit, and then engage a Thesaurus only when necessary. Don't use a term or phrase unless you're convinced how to interpret it. Keep an eye open for grammatical and wording errors.
3. Read aloud and edit simultaneously
By rehearsing each line back to yourself, you can close the gap between your psyche and those elements of your work that are overlooked. It's a foolproof method to edit content yourself. Also, remember to prefer active voice before passive – cut to the chase, do not wander around.
4. Study of a style manual
So you use APA, Chicago formatting? Cool. Which one, particularly? Style A or Style B? Determine what literary style guide corresponds to your work. Follow the proper criteria and include them in your proofreading brief regarding italicizations and parentheses, footnoting, and more.
5. When to proofread?
Having dropped a cue about proofreading in the last section, it would be wise to tell you when to proofread. When you edit content, proofing must be the final stage. Because you'll be revising phrases and passages when you proceed, looking for grammatical corrections or running a word processor before submitting your completed copy will take longer, and it is not worth it.
6. Stop repeating the same terms
Avoid relying on specific lexical items whenever you are stating a fact; readers would know if you rehashed yourself. Strive for a wide range of experiences. For identifying repetitive terms, use a word repetition meter and a glossary to look for substitutes.
7. Edit gradually; not all at once
Too tired or scared to start editing? Do this: divide your chores into sections, ensure that your thoughts flow naturally, and look at the grammar and syntax on a progressive level. Take things forward gradually and do not rush to undertake every activity together.
8. Too many adverbs can steal the magic
Adverbs will become less necessary if you just employ definite and exact words and grammar. You could still squeeze one of them in now and then. Nevertheless, expert writers who argue against adverbs confess to doing so occasionally- but much of it would be poisonous.
9. Avoid extras like preludes and prologues
A prelude is mainly the history of the text's characters. The background story will not usually give the components of suspense, tension, or mystery—it just consumes your editing time. Unless necessary, do not use a prologue. Place the audience in the immediate, in the middle of the narrative. Let it shiver with suspense and crispness; avoid the extras.
10. Using fillers is not the rule of thumb
To eliminate repetitive terms/expressions, use the Ctrl+F function to look for "here," "the," "there," and "that." To attain brevity and sharpness in your content, minimize these fillers as much as possible.
Final Words
Keeping these tips at your fingertips would aid you in editing self-written content and improving your overall writing process. With these tips on how to edit content, you can ensure phenomenal quality content.
FAQs
1. Is there a specific format or application through which we should edit content?
If you have created your draft on Google Docs or MS Word, preferably convert that into a PDF to highlight and add comments to your own work for further improvisation.
2. What's the best way to reduce word limit in self-written work?
The best way to get over the wordiness of your texts is to eliminate fillers. It not only shortens but also strengthens your art of writing.
3. How to deal with constant editing if it starts to feel too much?
Divide your chores into sections, ensure that your thoughts flow naturally, and look at grammar and syntax on a progressive level—to manage this.
4. What are some common errors that go unnoticed even after considerable editing?
Repetitive use of terms like "seems to be," "prior to the fact," "very/really," and our favorite one – "the"- makes the text look congested and unnecessary. Get rid of them while you are editing.
5. Which are the tools to choose for checking the grammatical accuracy of self-written content?
SpellChecker and Grammarly are some excellent tools to edit your work via artificial intelligence. Don't rely solely on them, though.