Content
Quality Vs Quantity: How To Create Quality Content With 5 Tips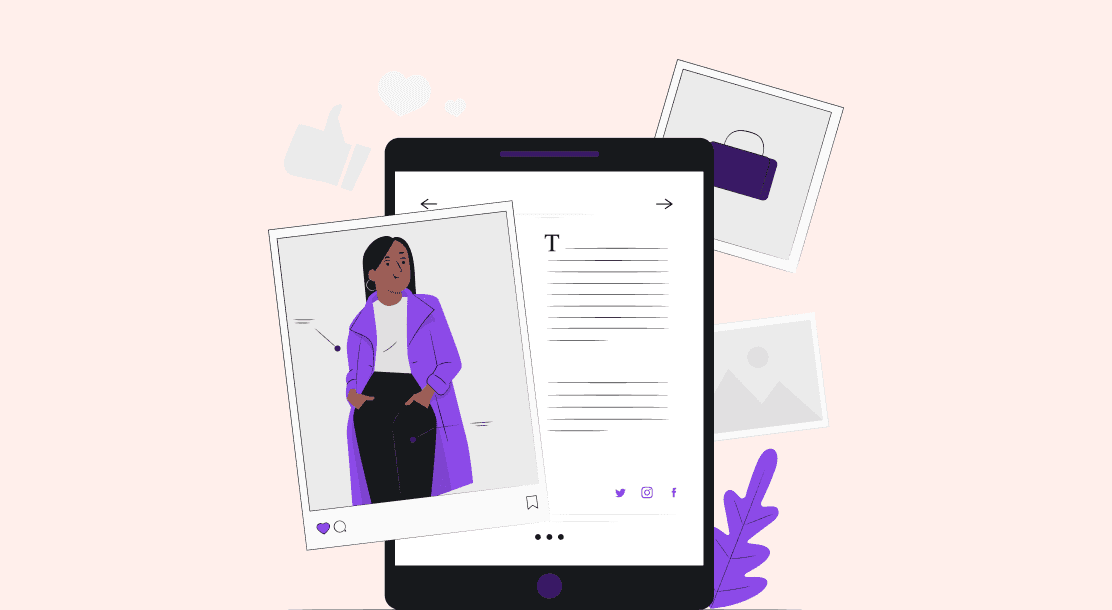 Table of Contents
Quality Content and Quantity Content: The Definition
Importance of Creating Quality Content
5 Tips on How to Create Quality Content
Key Takeaways
Conclusion
FAQs
Content quality vs. content quantity, the debate has been raging forever, and it is quite easy to side with quality in this debate. As they say, "If you're doing something, better do it right." More is definitely better in a few things in life; however, when it comes to content marketing, it is quality and not quantity that really matters. As content has to live up to the brand reputation, it must be engaging, helpful, and entertaining.
Content creation with value will help the brand stand out and rise above the noise. Creating quality content not only needs framing the masterpiece in proper grammar and keywords, but it also needs dedicated research and quality substance. In this article, we will focus on how to create quality content, understand the importance of good quality content, and look at some tips on how to make quality content.
Quality Content and Quantity Content: The Definition
Creating quality content is a measure of how good or well-written a piece of content is. Factors like content that gives the searcher what they are looking for, or value that someone finds from the content, define content quality. Quality content is also a measure of how easy it is to find an answer to a query. Content that drives traffic and eventually sells is quality content.
On the other hand, quantity content is measured by how much content is published over a period of time. Unlike quality content, which is subjective, content quantity is a factual number. It is thus advisable to understand how to improve content quality rather than the content frequency or content cadence.
Importance of Creating Quality Content
One of the key questions is how to create high-quality content, as it is the content that attracts users to the website, gets them talking, and engages with the brand. Creating quality content is the foundation for any website and helps attract the right audience. The content needs to be unique, consistent, and identifiable to build credibility and trust while strengthening the brand's reputation. These are a few tips on how to make quality content.
Any business will struggle to grow in the digital world unless you provide quality content. Creating quality content benefits the user who reads it and benefits the websites' search ranking. Without quality content, SEO doesn't serve a purpose; it is like a body without a soul.
5 Tips on How to Create Quality Content
Content has always been considered the king on the digital platform. Content quality holds the trump card in the success of digital campaigns. Here, we discuss reasons to focus on content quality.
1. Engagement
Creating quality content engages readers and ensures they return to the site as they find the content useful, informative, and interesting. High-quality content creates a positive user experience and motivates readers to share it with others. This, in turn, creates an opportunity to sell your product or service more. Also, with more content shares, it helps the brand become more visible.
2. Conversion rates
Quality content directly converts to more visitors, which results in more buyers. Quality pages create a trust for the brand and often boost conversion rates. Creating product-specific content, like product descriptions, product reviews, FAQs, blogs, and videos, helps potential customers make decisions and leads to sales.
3. Click-through rates
One of the main goals for creating quality content for digital platforms is to reach out to the maximum number of people. The click-through rate (CTR) indicates the potential customers who click to learn more about the products and increase sales. The content's headline is the first step and critical to ensuring an increase in CTR.
4. Search engine rankings
Search engines clearly focus on high-quality content and are awarded the top spots in the results pages. Higher search engine rankings bring in more web traffic, and this helps sell more products and generate leads. Creating landing pages with high-quality content is mandatory for any marketing strategy.
5. Builds brand trust and authority
Readers value the opinion of well-researched and quality information on the website, enabling them to build trust in the brand. Quality content should focus on professionalism and be written, keeping the target audience in mind. Credible content will build followers and create authority for the brand.
Key Takeaways
High-quality content should be unique, valuable, and engaging
Content should focus on topics of utmost relevance to the audience, not search engines
Content can include testimonials, facts, statistics, and success stories
The quality of your content helps position you as an expert
Create content thinking outside the box that may not be directly related to the product or service you provide but is relatable.
A conversion is considered as valuable as a well-engaged audience
The business strategy should give importance to quality content for websites or marketing
Conclusion
Creating quality content is one of the best ways to secure your authority within your business. Set a website up for success with high-quality content and relevant topics to engage the audience. In fact, one of the most challenging aspects of SEO is how to create quality content that is better than your closest competitors. The best thing about web content is that it can be edited and optimized repeatedly.
FAQs
1. Which is better content: quality or quantity?
Quality content is much more important than quantity. Better results can almost always be achieved if you focus on quality over quantity.
2. Can you get both quality and quantity content?
Monitoring and optimizations can balance both content quality and quantity. It requires sophisticated performance to balance high quality and scalable quantity.
3. What is the meaning of content quality over quantity?
Quality over quantity fundamentally means choosing the content of high-quality matters more than the frequency of the content.
4. How to create quality content for digital platforms?
The readers determine the quality of the content. A well-thought-out, readable, and attractive content can be considered high-quality for users and search engines.
5. How to improve content quality simply?
The quickest way to improve content quality is by making specialized content. Engaging subject-matter experts for the content can improve the content quality.
6. What makes content good, quality content?
Great content should be interesting and engaging and provide a great user experience. For any content to be good, readers should have a clear view of what's in it for them.