Content
A Guide on How To Become A Technical Writer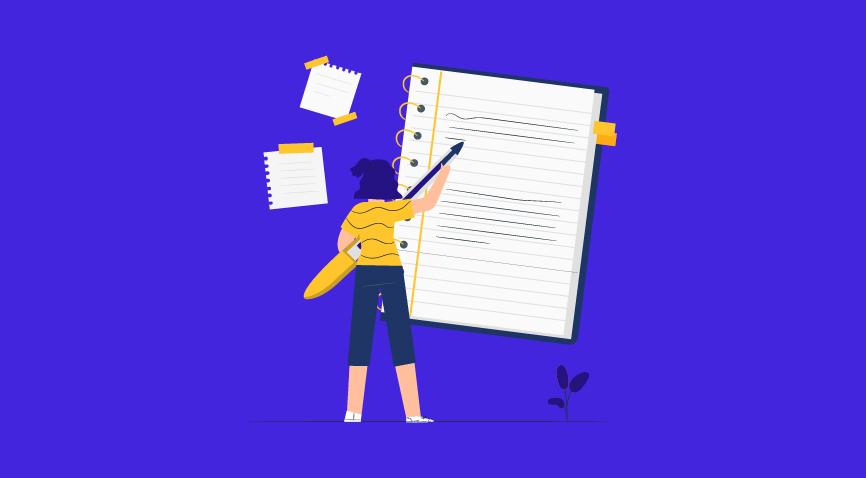 Table of Contents
Defining Technical Writing
Role of a Technical Writer
How to Become a Technical Writer
Key Takeaways
Conclusion
FAQs
Technical writing is one of the most demanding skills in the era of increasing technical gadgets and software development companies. As a technical writer, you can charge for every written word because you help companies sell their products (be it physical like mobiles and laptops or virtual such as software and tools) and services.
This guide will tell you about everything involved in being a technical writer. Let's take a deep dive.
Defining Technical Writing
Technical writing involves writing about a particular subject that requires direction, instruction, or explanation. So basically, the writing style needs to be straightforward, informative, and explanation-oriented.
Apart from so many writing varieties, there are three common types of technical writing.
Traditional: Repair manuals, medical studies
End-user documentation: Electronics, consumer products, how-to guides
Technical marketing content: Press releases, catalogs
Let's deep dive into each one of these and see what they exactly mean!
1. Traditional technical writing
Traditional technical writing is written explicitly for professional and technical audiences. A niche-specific writer should write traditional technical content, which means they should have excellent knowledge about that particular topic. A traditional technical writer could also be a coder, engineer, licensed pharmacist, chartered accountant, or computer programmer because being in a particular professional world builds credibility and helps the writer to pour their deep knowledge into their work.
Having a professional degree in any of these fields doesn't mean that you don't have the chance to be a technical writer. What matters is your practice, expertise, and experience. As you start learning about the technical writing world and implementing those learnings, no one can stop you from being a top-notch traditional technical writer.
Some traditional technical writing examples include medical experimentation summaries, legal case analyses, industry articles, technical specs, company FAQs, and API documentation.
2. End-user documentation
The whole motive of end-user documentation is to craft the entire technical content so that a non-technical reader can easily understand it.
Whenever you buy any electronic or consumer product, you must have received a how-to or manual guide. That's the end-user documentation. User manuals for cellphones, laptops, televisions, booklets, or how-to guides for blood pressure and diabetes checking machines also come under end-user documentation.
As we discussed in traditional technical writing, being a professional in a technical industry adds credibility to the author's writings, but it doesn't apply in end-user documentation. Because in the latter one, the writer needs to understand the product and its uses. The writers should convey the issues in their writings that a user might face while using the product and overcome that in the manuals or user guides.
3. Technical marketing content
Technical marketing content is more inclined towards marketing the products and driving sales. You can place this under the genre of copywriting.
Some examples of technical marketing content can include an email series to promote products, sales pitches to existing or potential clients/customers, promotional brochures, advertisements, and press releases.
The Role of a Technical Writer
Here is a list of all the tasks of a technical writer.
First of all, any writer has to craft an outline by brainstorming and researching the ideas to produce the exact content that goes with the target audience.
The art of researching is indeed the most important in technical writing compared to any other writing industry. This gives technical writers the advantage of writing with in-depth explanations and communicative styles.
Technical writers carry out extensive research to incorporate technical concepts such as legal case studies, medical procedures, and engineering processes in the documents to give clear and concise information.
They research their target audiences, craft the content tone, and design accordingly.
They include infographics, charts, images, and diagrams to increase readability and make the content more visually appealing.
And, of course, editing and proofreading is the soul of any piece of content that ensures zero error in the content and always gives a chance to rephrase some parts to make it more understandable. And, it's one of the most important skills required to be a technical writer.
Skills required to be a technical writer
Now, here's a complete list for you to help understand that what skills you need to master as a technical writer:
Research skills
To provide more in-depth knowledge to your readers, you need to do extensive research. Doing research and organizing your outcomes to one place, and presenting it all together is important technical writing skills.
Writing skills
You might wonder why we're even considering this here, but so many writers underestimate this. It's NOT only about writing; it's about writing in a pleasant way so that the reader doesn't have to feel confused.
You are writing with a purpose, and your reader is reading with a purpose. The purpose is to learn and understand something new. As a technical writer, you must minimize their time to think and increase their knowledge.
Technical skills
As we've mentioned before, you don't need to be a certified professional to become a technical writer; you need to have a basic understanding and knowledge of the technical industry.
Even a house can't stand without a strong foundation; the same rule applies everywhere. You should have some basic knowledge of your relevant field or niche.
Communication skills
We all know that communication is an important skill for everyone. Still, in technical writing, it's even more important because while doing your research, you might need to interview some professionals to understand the industry or the product or service you are writing about.
Your communication skills also impact your writing style. If you have better communication skills, this will come up in your writing and make your content more impactful.
Design skills
Outlining is an important task in any type of content, be it articles, blog posts, emails, ads, etc. You need to be creative to make a great outline and decide whether to add graphics or not and if yes, then what places will be the most suitable.
These are important to make the content more visually appealing and increase readability.
Now, let's move to the last step of our discussion.
How to Become a Technical Writer
As discussed above, you don't need a specific degree to become a technical writer.
If you are tech-savvy and love to research and break down complex topics into simpler ones, you can definitely become a technical writer.
Here are some steps for you.
1. Get your Bachelor's degree
Getting a degree in technical fields such as communication or journaling can be advantageous. It's advisable to explore different industries and niches before committing to writing for only one; if you have decided your niche beforehand, you can specialize in that particular industry to increase the probability of your jobs.
2. Do a technical writing course
Taking additional courses to become a technical writer can be a good option because a good course teaches you all the skills required to be a technical writer, such as communication skills, designing skills, writing skills, researching skills, etc.
Many colleges, universities, and even private coaching institutes provide these online and offline technical writing courses. Some online courses are pre-recorded, enabling you to go at your own pace and complete your course.
For instance, if you are a college student or are working and want to become a technical writer, go for an online pre-recorded course.
3. Decide your niche
The best method to decide your niche is to think about your interests. What excites you and produces a spark of curiosity – is it medicine, SaaS, or data science? The whole point of getting you into this thinking process is to help you make aware of your interests.
Choose the most familiar niche, which goes with your interests.
4. Learn from a mentor
Starting alone is a difficult task in any field, be it writing, marketing, starting your own business, or anything else. So, if you feel like you lack a support system, you should go for a mentor.
A mentor can help you build your basics to get your first job in technical writing. Yes, it's true! Whether you want to know about the best courses to learn technical writing or if you are confused with deciding your niche, your mentor can help you with all of these.
That's why it's always a great decision to have a mentor to help you build your successful technical writing career in your initial days.
5. Build your network
Your network is your net worth. Today, nothing is more important than building your professional network, especially in the industry you are willing to work in.
You can build your network both offline and online. Attend workshops, seminars, and other networking events where professionals with advanced expertise come and meet. That's a great chance to network or make connections with these high-professional people to gain knowledge and pitch your services to them. When it comes to online, you can join some organizations or groups of tech-savvy people or where experts from tech industries hang out.
6. Build your online presence
In the era of digital marketing, where everything is online, it's important to build your presence online as well.
You can choose any platform that matches your vibe and adds value to your professional life. You can create and post your writings and designs either in the form of a blog or social media posts. This also builds your authority and presents you as an expert in your field.
7. Build your portfolio
It is the most important task to start your technical writing career and get a job as a technical writer because you can't get a job if you don't have a portfolio (in most cases). The usual concern of every writer is what to add to a portfolio without any experience.
Here's what you can do,
Decide your niche
Pick some trending topics within your niche. (You can do this with the help of any search engine).
Write mock/sample content pieces such as blog posts, emails, ads, etc.
Publish it on your website or any content publishing site. (You can also make a pdf of your content pieces).
Mention your skills, expertise, and USP (unique selling proposition) in your portfolio. Also, never confuse your expertise with your experience. You don't need to have 10+ years of experience to be an expert.
You are ready to send your portfolio to your potential clients!
8. Work under a professional technical writer
Getting a job, especially in the tech industry, is difficult for beginners. But, you need to get a job as soon as possible to start working and building your expertise, and increase your experience.
And to get a job quickly in your initial days, you should consider working under an experienced professional technical writer who has been working with clients for some years now. Because they have a lot of work to do, they outsource their work to new technical writers who can match their writing style and expectation level.
So, to get a job initially, you can pitch to professional writers within your niche with your portfolio and start working with them.
Key Takeaways
Technical writing should be simple, digestible, and easy to understand. You don't need to use jargon and fancy words to prove your expertise as a technical writer.
Technical writing is in huge demand today. All you need to do is to go in the right direction and learn the right skills, of course, from the right place.
Remember that technical writers need to research and communicate their content topic and create and organize your content to make it more informative, educational, and visually appealing.
Researching your target audience is just as important as researching your content. Without knowing your audience's pain points and desires, you cannot put the right words to paper. This means you will not be able to achieve your goals related to that kind of content as well.
5. And, last but not least, always ensure you add value to your content in your audience's lives.
Conclusion
Woah! You have successfully completed this full-fledged guide on how to become a technical writer. But, it's not the end! Yes, it's not the end; it's the beginning of your journey of becoming a successful technical writer.
It's easy to become anything you want; you just need to follow the right path. I've provided you with all the necessary information that you need to become a technical writer; now, it's your job to make it happen.
With that said, just keep in mind, your readers are human, so treat them well. Whatever you write, write like a human because this is what you are. Don't write like a robot; write in a way that your readers would feel like they are listening to your words!
FAQs
1. What is necessary to become a technical writer?
The most necessary thing is to have the right skills and expertise within your industry. But apart from that, a bachelor's degree or experience in particular subjects such as engineering, data science, communication, journalism, etc., can be an advantage.
2. How do I become a technical writer with no experience?
Follow these steps to become a technical writer even if you have no prior experience:
1. Do some courses in technical writing and earn a certificate
2. Decide your niche
3. Create some mock samples
4. Build your portfolio
5. Start connecting with your industry and niche experts
6. Start pitching to work under experienced technical writers.
7. After gaining adequate knowledge, start pitching to companies you want to work with as a technical writer.
3. How do I work from home as a technical writer?
You can work as a freelance technical writer if you want to work with multiple companies while sitting at your home. The process is exactly the same as you do to get an in-house technical writing job.

As a freelance technical writer, you can work with different companies, primarily in the IT, SaaS, manufacturing, and medical industries.
4. What are some examples of technical writing?
Some examples of technical writing can be press releases, reports, business proposals, datasheets, blog posts, manuals, how-to guides, product descriptions and specifications, white papers, case studies, legal cases, industry articles, technical specs, company FAQs, and API documentation.
5. What are the most common technical writing mistakes?
Here's a list of the most common technical writing mistakes:
– Not having a clear outline and structure of the entire content.
Trying to use more fancy words and jargon makes it harder to read.
– Not using punctuations correctly.
– Not able to maintain a consistent flow in the writing style.
– Not being straightforward and not being on-point.
– Making the whole content overwhelming for the reader.
6. What is the language used in technical writing?
Plain language. Because technical writing is all about delivering technical content to a general audience, and they can be a tech person or a non-tech person, so it's your duty, as a technical writer, to present the entire content in the simplest way.
7. What is the typical daily function of a technical writer?
Researching, communicating with team members, creating outlines, writing the whole content, editing and proofreading the content, incorporating infographics, charts, diagrams (if needed) all come under the day-to-day tasks of a technical writer.