Freelancing 101
From Engineering to History to Comedy Writing: A Freelancer's Journey!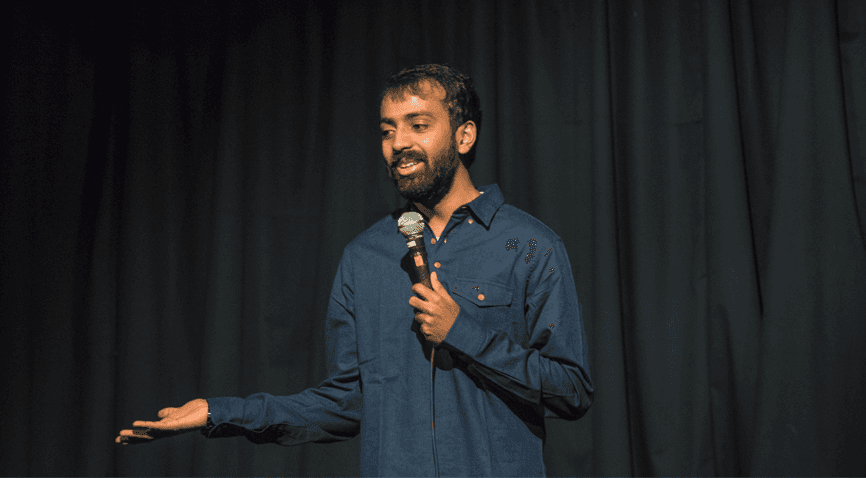 Meet Kritarth Srinivasan, a master at dissecting any topic and making it sound hilarious. He has been writing comedy sketches, scripts for ads, and rants for social media for over nine years. He takes pride in admitting that he is a sucker for validation (aren't we all, Krit?) and being an engineering drop-out to pursue history!
However, Kritarth's talents are not restricted to just these… He is also an avid traveler, among other things.
On never having the dreaded Monday blues…
That's right. Kritarth has never seen the inside of an office (whoa!). A freelancer from the get-go, he always knew that a traditional 9-5 job was never on the cards for him. He says, "why should I log in and log out when I am getting the work done from a different desk in a different part of the world."
"I would never work as an in-house writer for a company!" he adds. "Imagine coming into work every day and writing the same genre of content, for the same people, with the same people." Getting vivid work each week makes being a Pepper Content Freelancer all that more exciting.
On practice not making a man perfect….
When it comes to forgetting our incredible shower thoughts — we've all been there, done that. But Kritarth here is smart. He pens down his 'thoughts' just an hour before his standup comedy sets and experiments them on his audience. Doing this, he says, ensures that his jokes don't sound like TEDxTalks. Now, whether it bombs on stage or gets applauds, that is on his audience that evening.
Having an elephant's memory helps when you're not trying your jokes on your people before you walk onto the stage. Your friends could be biased, your fellow peers would probably throw in a laugh or two because they have the kind of wit and humor it is required to be a comic, but in the end, it all boils down to one question: Do the audience laugh at your jokes?
On having downtime…
It's not a surprise that comics love to take a bit of downtime every now and then… of course, sharing jokes and making people laugh is not all that they do, right? When asked what he does to take time off from his writing, open mics, and podcasting, Kritarth said something we all do — binge-watching your favourite show or binge-reading your chosen writer.
"Stand-up comedy keeps you really busy Certain months of the year. In those months I like taking fewer writing gigs to make room for 'me-time.' And freelancing with Pepper also makes it easy to deny gigs; without make you lose future work for your actions" he adds.
What he is watching this weekend: Formula 1: Champions (S1) On Netflix
What he is reading this weekend: Malcolm Gladwell's Blink: The Power of Thinking Without Thinking.
Non-fiction books are the best when you want to get stupid information that works best for your stand-up. Remember, wasting time on the internet is not really 'wasting time' if you know how to utilize it to its fullest.
On travel writing and being the guy who intrudes your privacy…
From New York's Time Square to Meghalaya's Double Root Bridges, Kritarth's travel history is as diverse as his jokes. After dabbling a bit with travel writing and running his own blog, he realized this joy-inducing activity doesn't pay his bills. So, instead, he just travels for himself and the small joys that come along with it.
He once finished a 600-Word Pepper assignment on the flight to his holiday. It's one of the incredible perks of freelancing that Kritarth would hate to let go of.
Next time you travel, especially in the hills, make sure you ask your cab driver to share his pen drive with you so you can copy all his songs to your laptop — believe it or not, you'll end up finding some kick-ass gems to take back home.
He says he doesn't go out of his way hunting for stories, but that's what comes as part and parcel of being a comic; people and their stories become part of your set and sketch in some way or the other…
Comedy…Art or Science?
Kritarth claims comedy is nothing but science. Being inherently funny, he says, is a talent for sure but standing in a room full of people while you're having a one-way conversation trying to make them laugh is hard work!
On not being viral enough…
Virality as a concept, says Kritarth is an end product of not being self-critical — which he indeed claims he is. So, there, if you're wondering how a comedian as funny as he is, isn't viral yet, you have your answer!
Adding Pepper To His Life…
Pepper Content is another one of his many freelancing jobs. He finds working with Pepper easier than any other client so far. As Kritarth puts it: "The platform, the friendly editors, and the endless collection of clients  — it all makes my time with Pepper Content memorable."