Freelancing 101
A Comprehensive Guide to Choosing Freelance Writing as a Career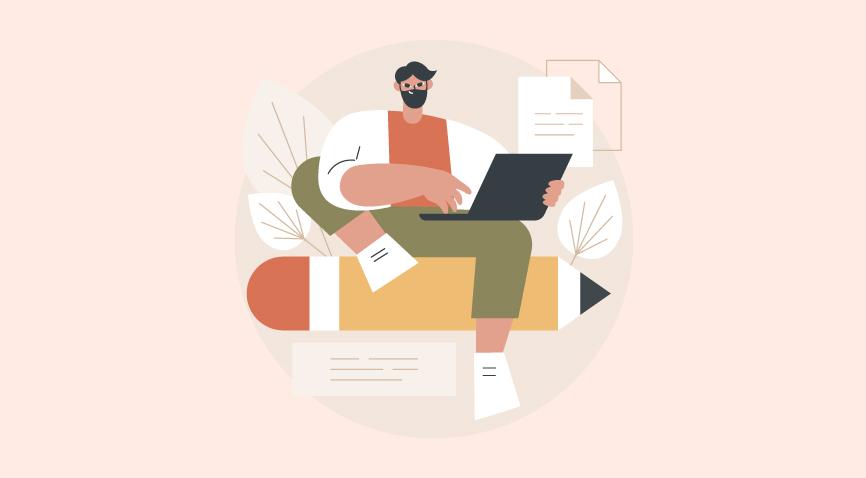 Table of Contents
What is a Freelance Writer?
5 Things You Should Know As a Rookie Freelance Content Writer
The Qualifications and Skills of a Freelance Content Writer
Why Choose Freelancing as a Career?
Conclusion
Key Takeaways
FAQs
With the meteoric rise in the popularity of digital media marketing, the job of a content writer has become a highly lucrative one. Most businesses require content writers and are often looking to hire. Moreover, there isn't necessarily a qualification required to pursue freelance writing as a career, making it a fairly accessible job. But, the best part about content writing as a profession is the fact that you can do it as a side-gig, as a freelancer.
A career as a freelance content writer has become quite alluring due to the above-mentioned perks. But, rushing into things is never the best way to go about it. So, here are a few things you need to know before you start your career as a freelance content writer.
What is a Freelance Writer?
Unlike a full-time, or even part-time, employee, a freelance writer is a self-employed contractor for an organization. Usually, when you freelance, you handle a number of clients at the same time. As a freelance content writer, you could choose a specific channel, industry, or type of content to specialize in, which several writers do.
It is important to keep in mind that a content writer, freelance or otherwise, is not a content strategist. The writer will not be in charge of strategies utilized in the creation and delivery of engaging content; a freelance content writer is only given a brief on the topic, on the basis of which he or she must create the type of content requested by the company.
As in every job, there is a learning curve to being a freelance content writer along with a few things that you learn on the job, with experience. However, it is always handy to conduct your research beforehand to be as prepared for the job as you can possibly be. Here, we have a few questions to which you should know the answer before you start your career as a freelance writer.
The market rate should not be your concern; you should charge for what you're worth. This doesn't mean you disregard the market rate; it just means you take both of those into consideration before setting your own price. Your experience, while valuable, is not the be-all and end-all. The quality of your work matters more. Here are tips to help you decide your charges.
Your niche
Number of words in the assignment
Frequency of the work you are given
Nature of the work (whether you're starting from scratch or given a draft to improve upon)
Amount of research involved
Time required
Taxes
Minimum monthly income through freelancing
2. When should you negotiate?
Negotiating over freelance work is very commonplace. The key to succeeding in the field is to know when to budge and when not to. You need to know which of the deals is worth negotiating over and by how much. Here are a few things you should consider:
Will the work be recurring?
Have you done this kind of work before, or will it be new?
Will you be able to get more work references from this client?
Will this be a long-term opportunity or does it have potential to be?
How many articles do you need to write per month?
Depending on the answer to these questions, you can decide whether or not you should negotiate. Ideally, recurring work that you've had experience with can be a long-term opportunity where you get over 20 articles to write per month. This is an offer that you should try your best to accept.
3. Does the contract clearly mention the terms?
It's important to seal the deal before you start working. Sign a contract and ensure that all the terms you negotiated are part of it. Skipping over the signing of the contract is a mistake often made by people who are just starting out. The lack of a contract clearly stating your terms leaves you wide open for anyone to take advantage of. Here are a few things to ensure is included in a written contract:
50% advance payment
Rest 50% of the payment to be made upon submission of the content
The amount of work you will be doing for the given amount
Number of edits you will make to an article
4. Do you know SEO, HTML, CSS and WordPress?
This part might sound difficult and scary but rest assured it isn't. These skills are fairly basic and can be picked up with the help of a few properly curated Google searches. WordPress as a website is very user-oriented and easy to navigate. There are themes you can choose from, which basically take care of more than half the problem. The rest can be learned while operating it as it is a very user-friendly website design. HTML and CSS on the other hand might be a little harder to grasp. But, the good news is you only need to know the basics, which can be learned via a short course or crash course as well.
SEO or search engine optimization is the process of increasing the traffic that your website has by appearing more frequently in search engine results. This is done by using several different keywords that can be put into the content you write. You do need to keep in mind, research of the keywords is necessary as search algorithms change continuously.
5. Should you opt for a retainer?
Honestly, it depends on you. If you like the flexibility that working as a freelance content writer provides you, you should stick to it. However, if you are interested in something more concrete, you could ask the company for a retainer. A retainer will allow you to write a select number of articles per month, for a certified, fixed amount of money. In some ways, it is more reliable than the contract you sign as a freelance content writer; but it does strip you of the wiggle room you get when working as a freelancer? Consider all of this!
The Qualifications and Skills You Need As a Freelance Content Writer
You do not need a specific degree or any qualifications, for that matter, to become a freelance content writer. However, having a Bachelor's degree in communications, marketing, English, journalism, or a related field, will allow you to thrive as a freelance content writer. You will also need to be fluent in the language you will be writing in. Ideally, the quality of your work should speak for itself so that your qualifications do not factor into it. They need to merely give your freelancing career a leg up.
The skills that you need as a content writer are quite straightforward.
1. Understanding of SEO
SEO is an integral part of content writing and digital media marketing. You need to be able to not only understand SEO, but also be able to produce content that is SEO friendly and will gain traction under the algorithm.
2. Research skills
You will be given topics that you might not know anything about and asked to write over 1000 words on them. It is important that you have the skills to research and learn about the topic so as to be able to write about it further.
3. Organizational skills
A freelance content writer could be working with several different companies at the same time, on several different assignments at the same time. Therefore, it is crucial to maintain everything in an organized manner so as to avoid confusion as well as ensure a smooth workflow.
4. Adaptability
You cannot let yourself get stunned by an unknown topic, a new format of writing, a change in writing style, or even a change in the algorithm. The digital media marketing world is fast-paced and ever-moving, so you will have to adapt to it and move accordingly.
5. Focus
This one's pretty self-explanatory. You need to be able to focus on the article at hand so that you can deliver the required articles in a timely manner.
6. Creativity
There is an abundance of websites online. No matter the topic you pick, chances are, someone has already written an article on it. The only way to stand out from the crowd is to utilize your creativity.
7. Ability to meet deadlines
Timeliness is a factor in every job, but when you are a freelance content writer, it is one of the most important ones. Meeting deadlines ensures that the client will trust you with more work, which will help you out significantly in the long run.
8. Delivering quality content
If the content you deliver is not worthy of the amount the company is paying you, they will ask you to make edits. The more edits you have to make, the more time is being stripped away from another project you could be doing instead. Try your best to submit a spectacular draft, so as to make sure you get minimum edits to work on.
Why Choose Freelancing as a Career?
The opportunities as a freelance content writer are endless. Establishing a career as a freelance content writer is not impossible. Better yet, with the current rise in interest in the field of digital media marketing, content writer jobs are available in abundance. Once you build a portfolio of your work, getting work becomes easier still.
Conclusion
Content writing as a career is growing in popularity due to its ease and accessibility it. With all the development content writing as a career has seen in the last decade, you could say that the market for freelance content writers is ripe. Freelance writing as a career is something anyone can pursue with the help of a few Google searches or by taking a few short courses. If you wish to start a career in freelance writing keep the above-mentioned things in mind and you are sure to be successful.
Key Takeaways
Know your worth and charge accordingly.
Whatever terms you reach at the end of your negotiation, put them on paper and make sure they make it into your contract. A legally binding document stating all the terms you agreed to is necessary to protect you.
Develop a deep understanding of SEO so as to ensure that the content you deliver helps boost SEO for the company.
While qualifications are not necessary to start your career as a freelance content writer, they will help you out. However, it is more important for you to possess the necessary skill set of a content writer.
Freelancing as a career is achievable as long as you put effort into it.
FAQs
1.

What is freelance content writing?
Freelance content writing is writing content as a self-employed writer for several different companies at the same time.
2.

How much do I charge as a content writer?
A writer on a beginner level should ideally charge either 0.5 to 0.75 paisa per word.
3.

Can I get a job as a content writer with no experience?
While technically you can get a job, it will depend upon the quality of your work. The best way to start out as a content writer is to apply for an internship or start your own blog so you have something to show potential clients.
4.

How can I learn freelance content writing?
You could apply for a short online course to learn content writing, which will give you an advantage when applying for jobs.
5.

What qualifications are required to be a content writer?
A Bachelor's degree in communications, marketing, English, journalism, or related field is helpful, not mandatory.
6.

How much does a beginner freelance content writer make?
A freelance content writer with 0 to 2 years of experience, should expect to make somewhere around 3.5 lakhs per annum – 4.0 lakhs per annum.