Expert Speak
Episode #5: How Content is Aligned With Data to Achieve the Best Results at PhonePe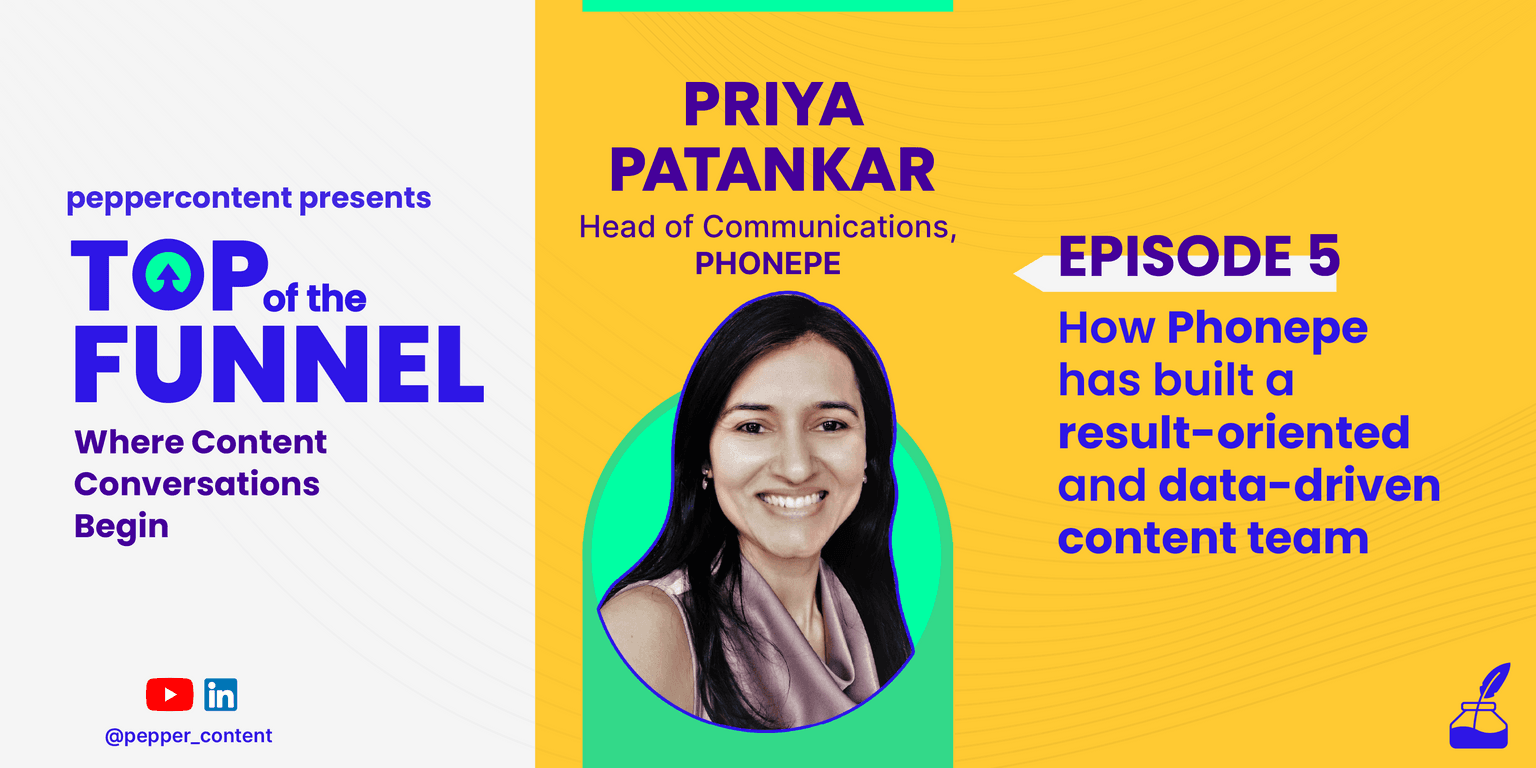 The most successful content marketing strategy is one that doesn't rely on any single strategy. Read this blog post to find out the essential elements of a good content marketing strategy. Read more here.
Data, advanced tools, and insights have changed how we market and, eventually, how content creators must create. Content writers must uplift their game by understanding the impact of their work in real-world contexts like lead generation or how much traffic a piece of content is driving.
Natasha Puri, Content Marketing Lead at Pepper Content, talks to Priya Patankar, Head of Communications at PhonePe. Priya has over two decades of experience under her belt, and during this time, she has seen the birth of content marketing – where the first content was a well-written brochure. Today, content and content marketing are tasked to fulfill specific goals and achieve very tangible results.
Natasha Puri: Our guest today is the head of communications at PhonePe and has held similar roles at companies like Flipkart, Dr. Reddy's, and TutorVista. This chat promises to be very revealing as far as the evolution of the role of the content in organizations across various fields goes, from online payment to healthcare and communications and even more.
I'd love to know about your journey, what all you have done, and what you're doing currently at phone pe.
Priya Patankar: My journey started two decades back. I briefly worked with Indiatimes.com. I was there for six months. The dot com boom had just begun, after which I moved to a telecom company in a similar role. That was possibly my first exposure to content marketing.
In those days, content marketing didn't exist as a separate function. Each communicator or professional was expected to write well, communicate well and bring their piece to a conclusion. For instance, you were given a project which included talking to your employees and external stakeholders. And the expectation was that you would design the entire communication flow. What should it look like? Should it be a brochure? At what point does an email get sent? So what we were doing was a precursor to what is now a content marketing function. We just got the chance to experiment, make mistakes and figure out what to do.
After that, I worked in another telecom company called active Alcatel for a while and moved to Dr. Reddy's internal communications role. There I was editing the employee newsletter and managing the internal communications, and the exciting part was that I was talking to a workforce spread across countries. So we were talking with people based in countries like Russia and Ukraine. We spoke with employees working as scientists on drug discovery and research and employees working on the API chemicals, so it was very diverse. And the newsletter was something that was the glue that held everything together.
I think this was a precursor to the days when everything was on an intranet. We had just started developing our internet, and everybody wasn't as well-connected as we are today. So I think it was my first exposure to understanding how a multicultural, multi-locational communication setup works.
After that, I worked with TutorVista, which is an education company. Everybody was remote. It was one of the first companies which had a remote workforce.
Everybody's working remotely nowadays, but in those days, it was unheard of. Students were in the US, and the teachers were in India. We were trying to sell an offering to parents in the US. This was tied to demand generation. That is where I learned how content has to work to an outcome. Previously, whatever I was doing, you could find out the outcome anecdotally. There would be feedback like the newsletter was brilliant, or we would win an award. How do you measure this?
When you're doing demand generation, it is tied to a specific outcome. If you're selling a summer course, how many people have signed up for that course? These types of questions made me delve deep into demand generation. At Flipkart, I was in the CRM team, working on the emails and notifications tied to driving a specific behavior.
I've seen the evolution of content from a nice-to-have thing to a necessity. In the initial days, everybody liked well-written brochures, emailers, and web content. But nobody even thought of measuring its impact. Now, this habit has evolved over the years. I'm happy about it because now we are doing something measurable.
Natasha Puri: How is your team internally structured?
Priya Patankar: We have a team of five marketing writers with different skill sets. One of them is more SEO and SEM-friendly. Almost all of them are comfortable in writing for a consumer internet product. Our offering is wholly sold to an app. We reach out to consumers through the PhonePe app only. Some writers are more comfortable with digital assets, so they write long-form articles. All of them report to me.
We have a Head of Growth who manages digital marketing, CRM, performance, growth, and monetization. And if you'll notice, a common theme across all of them is performance channels. In all of this, the only different thing is PR, for which I work directly with our CEO.
This team of content marketers works with external agencies or internal teams, especially the creative team. They make sure that the designs are impeccable and are brought to life the way they imagined it. They also work very closely with each channel owner; for instance, for CRM, they work very closely with the team that is running email campaigns or with the team that is handling notifications.
One of the things I've noticed and I'm proud of is that any marketing writer isn't unaware of their impact. It's imperative. They have an excellent understanding of how this is going to happen. How is this campaign being targeted? They can work more confidently with the business teams because they are not just writing copy. They are the ones who know what works.
Natasha Puri: I see this as a big challenge in this space, finding writers and building a creative and result-driven team at the same time. Can you walk me through how you manage that challenge? Is this quality something you develop over time internally, or do you look for people who can do both when you're hiring?
Priya Patankar: No, I can't hire like that. Most organizations don't function like that.
Yes, we do want creativity. During hiring, I make prospects go through a writing assignment, which is pretty standard for any content role. I have undergone many such assignments myself, including for this job. I give them a certain problem, and I'm looking for how they would lay it out and use various content channels to solve that. Their orientation towards data is something we have to work towards. I'm consciously making it a point to build this from day one.
I tell them that we are not going to be intimidated by the data you're seeing. We need to understand the outcome of what we are doing. If you've sent an email, you need to know how many people opened it, how many unsubscribed, how many clicked, what was the conversion? And then, over time, you need to see the pattern that will emerge. There are specific terms, phrases, subject lines, imagery that would've worked. After building that POV, we finally standardize it. We start putting together a playbook for others who join after us.
If you're telling a business owner that this kind of content does not work, you cannot say, this is because I think of it like that. You will lay out that data. You will say these are the five formats we've tried out of which this kind of format has worked well.
Natasha Puri: You spoke about using content and communication for demand generation. I'd love to talk more about that. Could you explain with a campaign as an example?
Priya Patankar: I'm personally proud of an investing series I did some time ago regarding successful campaigns. We had taken a cricket analogy in general investing. In India, when it comes to mutual fund investing, most Indians are still doubtful about it. They are still confused, maybe because there are many complicated financial terms for everybody to understand fully. That is why, to simplify the concept, we started a 'mutual fund team.' We ran a series of blogs. We created a set of landing pages, and all those emails also equated to an investing journey like playing a match.
As a batsman or a captain, you would pick a team. Similarly, depending on your risk appetite, this is how you should be selecting suitable mutual funds. We ran this for almost 6-7 months with a consistent set of communication. Everything was based around cricket only. In terms of the campaign's success, we ran this campaign towards the end of 2019 until the middle of last year. And in August last year, when we ran this campaign, we launched ten new mutual funds across PhonePe Wealth.
Economic Times Banking, Financial Services, and Insurance (BFSI) recognized us as one of the upcoming players in the mutual fund space. So, the award boosted our rep, considering we were among the newest players in the segment. What is also noteworthy is that we never had an external communication effort. We did no advertising on TV. We did not put out any ads. What was the cause for the success? It was just content marketing. The blogs, emails, newsletters, and in-app ads, that's it.
Natasha Puri: If you were to look to experiment with specific formats, what formats will work for you specifically in this online digital payments industry?
Priya Patankar: The approach is funnel-oriented. To give you an example, let us take insurance and investing. Users need a lot of time to make comparisons. There, you need to experiment with longer formats. But, for instant payments like recharge, it is simply understood. The user only cares about how quickly it can be done. So if you can have a small GIF that only shows those two simple steps, it makes sense. So the user sees the GIF, makes the payments, and goes about his day. But in investing, users will demand much more information. So the funnel makes a difference for sure. When I'm trying to communicate something for the first time, I wouldn't mind experimenting with the longer form content versus a repeated user. A repeat user is more of a nudge, reminding you to do X Y Z and that the user doesn't need to be sold the product.
We also marry that to something called channel affinity. Some users just prefer email, and some users prefer notifications. So I think channel affinity is vital because if a user is non-reactive to a mail, and still you are choosing to communicate with them over email only, it's a lost opportunity.
So marry the user's age and stage in life to his affinity to a particular channel. That makes a difference in targeted rank. Since I manage a CRM, I emphasize that. And my team of writers also asks the business teams about who all will receive a piece of content. Such an attitude makes a difference. A tier one audience would react very differently from a tier two audience. You have to tailor the communication. The one size fits all approach is wholly gone.
Natasha Puri: Can you talk about a recent campaign during the pandemic or before that, where you found great success with content or communication?
Priya Patankar: Last year, when the lockdown happened, we ran a series of personalized email campaigns. These were tailored to every city. So when the first lockdown hit us, most of us were trying to scramble together and find grocery stores and healthcare or outlets, which are open and delivering. What we needed was either the link or the phone number we could call and get home delivery. So we ran a city-by-city campaign where our business teams put together a list of folks delivering with the phone numbers or the website links. It was a one-click order. And this campaign was successful.
Our users appreciated the fact that we put this together for 10-15 major cities. It was beneficial. It was retained, and it was shared. The intent was more important than the content itself.
Users retained the lists for multiple months. I know they shared it on WhatsApp with each other. I think that got us a lot of goodwill which was worth it.
Natasha Puri: So this also talks about how the role of content is changing because, earlier, it used to be so much about the brand and what you can do for your customers.
Now it is changing. It's more about the customer, about adding value, about educating and informing. Even the customers are highly educated and well informed, and so they don't want direct salesmanship.
It is essential to know the customer well. How do you ensure that your team is aligned on that? How do you drill that inquisitive mindset despite it being a content role?
Priya Patankar: One thing that helps is making them attend the business meetings. I make sure that our meetings aren't just a creative briefing. They do not need me for that. The meeting they are attending is the target the business has signed up for. It's a high-level conversation. They need to be on the same page with the business team to do problem-solving effectively.
If you don't put content people with business people, they'll never understand the issue; hence, a solid solution will never be achieved. You have to make them a part of the solution. For example, this is a target the business team has signed up for this month. These are the new numbers they need to acquire. I ensure we make the content team a part of those conversations. I also make sure we make them a part of the conversations where we are sitting and doing a post-mortem of what happened with our campaigns; the performance.
So they are a part of the solution, and they know what impact they are driving. There is a responsibility. So that makes a lot of difference because then they're thinking a lot more deeply, and there's a lot more research going on. If there is a team of writers writing about mutual funds, they sign up for 7-10 other apps. They see how they are communicating. They invest. So they are going a lot more deeply into the problem. It's not superficial.
Natasha Puri: What does the future of content marketing look like?
Priya Patankar: One big trend that I'm seeing is a lot of companies are going multilingual. Our app is also available in 11 languages. A lot of my CRM is done in multiple languages. My blog is multilingual. Content marketers also realize that multilingual checkpoints also make a lot of difference. Having content in many languages will help new users of various backgrounds understand our product better.
This entire multilingual trend is going to become a full-fledged content marketing domain. It will have vernacular content such as localized blogs, vlogs, socials, etc.
The possibilities are endless, and it's exciting. So I'm looking forward to that.