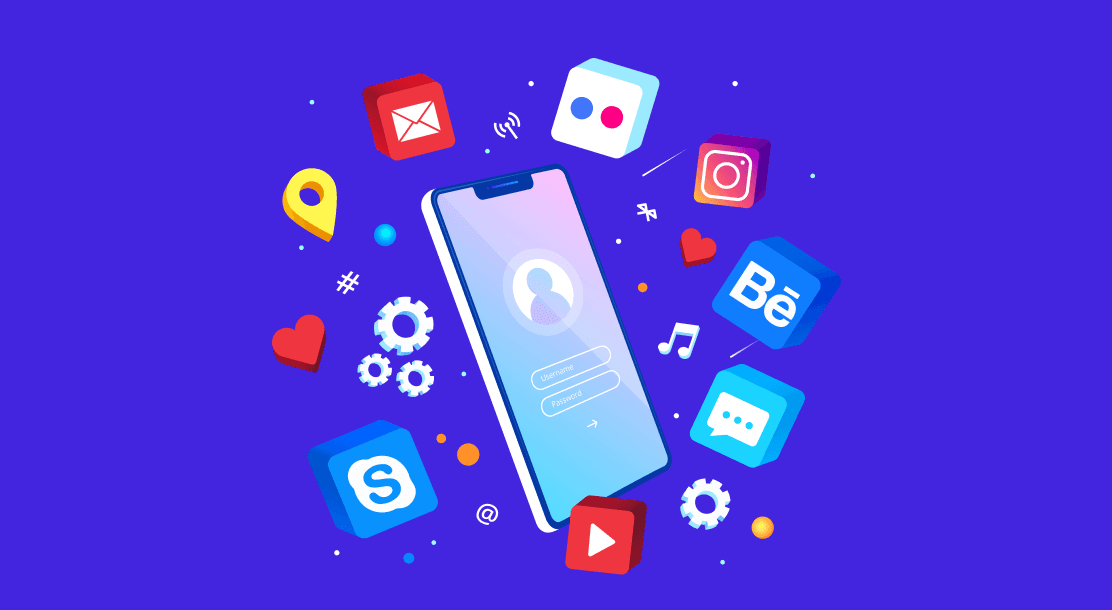 In this article, we list seven of the most effective apps for mobile phones and also highlight what makes them so great.
It's not possible to carry your laptop everywhere to access applications quickly without any hurdle. Similarly, there might be some times when you need to use a particular application, but you need to open your PC to do so. Besides, the desktop applications do not offer complete flexibility like fingerprint authentication, voice search, etc.
Due to all these reasons, mobile effective apps make so much more sense. Some applications are exclusively made for mobiles; then there are others that are simply a mobile version of a business website. Nevertheless, mobile applications have become a mode of survival and a medium for carrying out daily activities quickly.
7 Must-Have and Effective Apps for Mobiles in 2022
Below is the list of 7 of the most effective mobile apps available on the market right now.
Instagram is one of the most popular social media platforms through which you can connect with everyone all across the globe. You can make a profile for personal or business use. Instagram is used by several businesses to promote themselves and drive the traffic directly to their website. Apart from this, one can even grow a career on Instagram through influencing, affiliate marketing, vlogging, reels, and more amazing features.
App Highlights
The "stories" feature, first appeared on Instagram before Facebook, makes it easy to capture photos and video that disappear automatically within 24-hours
In-app photo and video editing feature for on-the-spot uploads
In-app shopping allows users to connect with brands they admire and search for new products for sale
2. Uber – Cab Service App
Uber is a US-based cab company with services across the world. It offers different transportation services to everyone through their app on iOS and Android. You can book a cab by giving the pickup and drop locations at any time of the day. Other fleet options are displayed to book the cab as per the space you require. Apart from this, you can book outstation rentals, bikes, and so on.
App Highlights
Excellent GPS integration with Google Maps allows its users to drop pins on exact locations and give the option to make their location known to the driver
Option to pay in cash in parts of the world where digital payments aren't widespread
Perfect and on the spot price calculation so that riders know what they're paying upfront
3. Airbnb – Travel Booking App
Airbnb is mainly an application through which you can book homestays without any hassle. This platform is one of the most popular ones offering homestays in multiple cities across the world. Besides, Airbnb makes sure to offer discounts and promos, which is why it has become one of the best mobile applications. Several air flight companies and travel firms have collaborated with Airbnb for the last few years.
App Highlights
There are powerful filters to find the precise accommodation you want with ease, down to minute details like if the place has an iron to iron clothes or a desk to work.
The easy-to-use in-app communication makes conversation between hosts and guests simpler to coordinate.
Fully integrated payment system includes the ability to pay for incidentals too.
4. Netflix – Entertainment App
Another fantastic application that has gained popularity throughout the world is Netflix. It is a streaming app that will allow you to watch movies and web series at the cost of a subscription plan. Apart from this, you will also have access to entertainment shows exclusive to this platform only. Furthermore, the contents available at Netflix are updated constantly to see new movies and web series with ease.
App Highlights
Personalized suggestions based on previously viewed content allows users to find new content within the app
Option to download shows on the app itself to view later without connectivity
Parental controls to allow parents easily control what content their children can and cannot watch within the app itself
5. Amazon – eCommerce App
Amazon is one of the most popular eCommerce platforms where you can find almost everything you'd want like groceries, electronics, clothes, fashion accessories, furniture, and so on. It also serves as a business platform as many retail companies can sell their products through this eCommerce application.
App Highlights
The app has a high-tech, seamless return feature if you're not satisfied with a product
Each product has a "Buy Now" button on its sale page for a quick purchase
6. Dropbox – Storage App
Dropbox is a cloud-enabled storage application like OneDrive, where you can upload different types of files and store them in the cloud. Therefore, your mobile will be free of space shortage issues. Besides, it can be used as a mail repository.
App Highlights
The application has an easy integration with other top apps
There is no file-size limitation on uploads
Files can be uploaded and downloaded on multiple devices
7. Spotify – Entertainment App
The last application that has gained immense popularity in the market is Spotify. You can stream different types of songs in several languages. Therefore, it has been accepted by most countries in the world. Moreover, it has a unique feature called 'Podcast' where you can hear stories, news, and other such audio.
App Highlights
Premium members have the option of downloading and listening to music without internet connectivity
Users can create and share playlists with their friends
The algorithm tracks your song preference and creates a tailored playlist for the user
Conclusion
We're in a day and age where we are all heavily reliant on mobile applications. Just like we have explained above, effective apps for mobile are one that makes your life convenient without you even realizing it. For instance, travelers who rely on a mobile app to book accommodation for themselves, cinephiles who like to watch movies on the go. If any mobile app fails to perform as expected, the business is unlikely to succeed.
If you're considering building a mobile app for your business, consider your web content writing services to get the most perfect and SEO-targeted content.
FAQs
1. What makes a good mobile app?
A good mobile app is one that combines the market, user, and product in a smart way. These factors need to work in tandem to provide the user with good performance, unique value, and great usability.
2. How much memory space will a mobile app take?
The total memory needed by the mobile apps will differ from one software to another. For example, Instagram uses more memory than Netflix.
3. How can I secure my information on the mobile app?
You won't have to worry about protecting your data because mobile applications are protected with an encryption algorithm, SSL, and even double-layered authentication factor.