Content
The Day-To-Day Life Of A Copywriter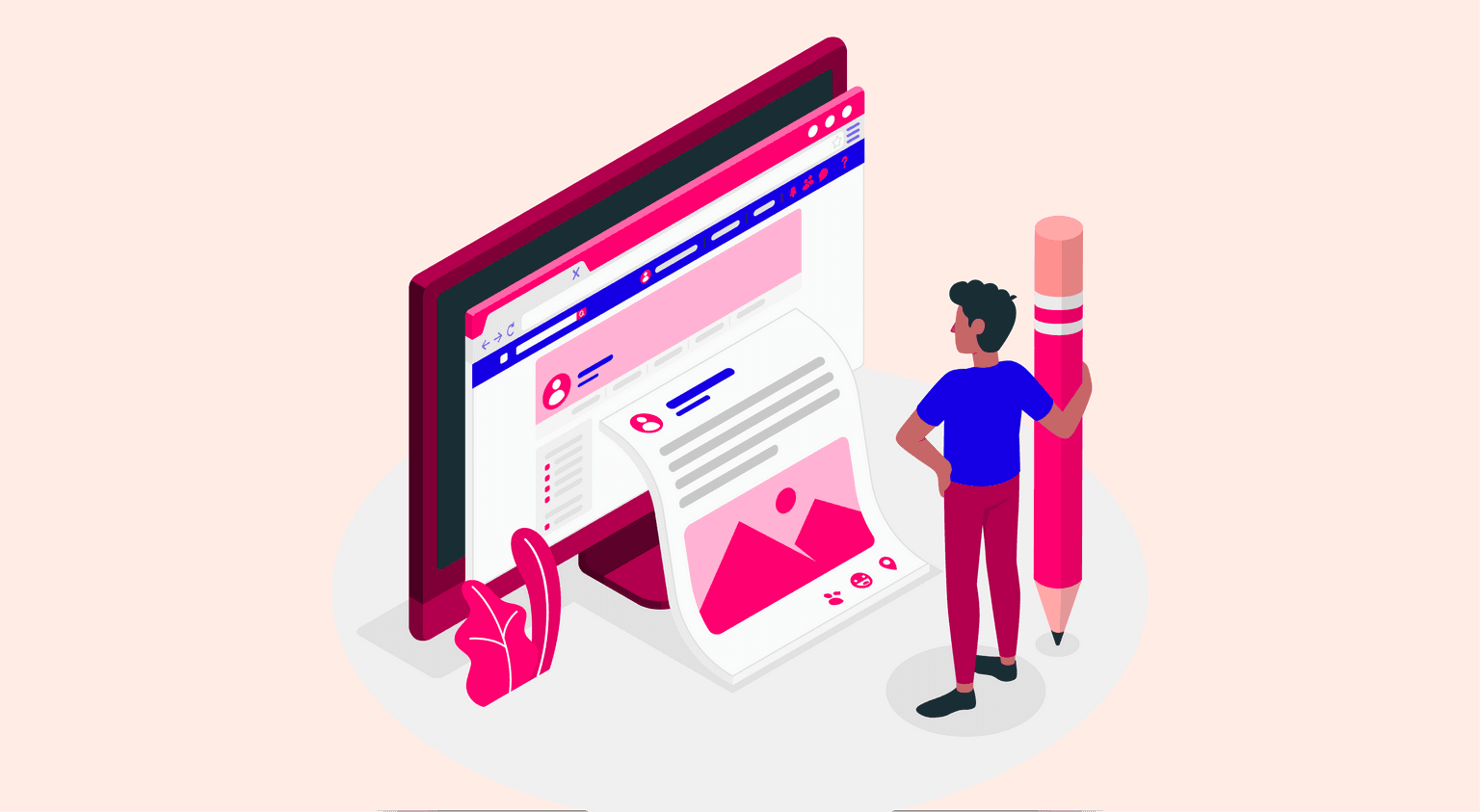 Table Of Contents
Introduction
What is Copywriting?
Skills of a Digital Marketing Copywriter
A Day in the Life of a Digital Marketing Agency Copywriter
Key Takeaways
Conclusion
FAQs
We are all surrounded by ads. They're in our notifications, social media apps, billboards, movies, TV series, magazines, and so on. Some of them grip us, and there are some that we hate. Every time you see an ad that gets you thinking, a copywriter sitting in his office chair does a little happy dance. But, who are these copywriters? What does their day-to-day life look like, and what's so special about them? Read on to find out.
Copywriting sounds like writing, but they're not the same. Writers have the liberty to go on and on about a theme or topic. All they need to do is hook you on to the piece. On the other hand, a digital marketing copywriter has only a limited number of characters, except when s/he is writing a blog. The purpose of their writing is to get the reader curious about the brand and/or the product. They have to make you want to click for more. When you do, their job is done. That is copywriting.
All of us see multiple advertisements in a day. Some make an impact, and some don't. If you think hard enough, you'll agree with me when I say that you hardly remember an ad because of the acting. It's always the words that steal the show. But, it's not just the writer's creative ability that takes the cake. A lot more goes into the making of a great copywriter.
Creative writing skills: Some ads merely tell you about the brand, and then some ads make you want to Google about the brand. The difference lies in the copy.
Passion: This is true for any field. If you are not passionate about your work, you'll end up regretting every extra minute that you put into it. And trust me, a disgruntled person does not make a good writer.
Research skills: To draft a copy that appeals to your target audience, you need to read and know about them in detail. Of course, you'll need to conduct thorough market research, too.
A thirst for learning: We live and work in a dynamic world. Everything, from the market and audience to SEO, is ever-changing. A copywriter must stay up-to-date about these latest developments.
Ability to defend: This is probably one of the essential skills that a copywriter needs to develop. Content is subjective. You will always find people who won't find it good enough. But if you can't defend your work in front of your clients, then do you stand a chance to convince your audience?
Below are some advertisements with mind-blowing copies to give you an idea.
A Day in the Life of a Digital Marketing Agency Copywriter
The day-to-day work of copywriters may seem mundane on the outside, but in reality, all of them work on diverse kinds of content every day. Sneak a peek into a regular day in their life.
8 AM: Time to smell the coffee! Like every second person, checking phones for the latest updates (both personal and professional) is what they do. Every copywriter's recipe to get the creative juices flowing is different. Some read an excerpt of a book, others listen to an audiobook or music, and then there are others who'll just watch an episode of F.R.I.E.N.D.S. Well, you do you!
9 AM: Most offices open up by 9 AM. It's customary in every Indian office to start the day with a quick meeting. It helps to align everyone on the tasks of the day.
9:30 AM: Once you know the assignments at hand, it's time to dive right in. Digital marketing agencies generally don't have any hard and fast rules about which clients they want to take on board. As a result, you'll get to write copy for a variety of clients. Plus, agencies provide end-to-end digital marketing services. I've been asked to draft content for social media posts, blogs, websites, magazines, static advertisements, banners, video scripts, so on and so forth.
To begin with, I would always pick up the content that required me to churn out the maximum amount of my creativity.
When you are in a creative field, it's tough to just hop onto the next project without taking a breather. Oxygen (and coffee) feeds creativity.
2 PM: Take a lunch break and don't forget to go out for some fresh air. Even the sight of nature works well for some creative thinkers.
2:30 PM: After finishing the most significant and taxing assignments of the day, I get ready to take on the smaller ones. Planning of new campaigns also happens after lunch, as it requires teamwork. I like to schedule brainstorming sessions once everyone has taken account of their own tasks for the day.
4 PM: After the brainstorming session, I take 30 minutes to go through the minutes of the meeting and compile the campaign plan. Once that email is sent, I am back to my list of leftover copywriting tasks. It mainly includes social media copy and blogs. Copies that need to be added to banners are also finished in the first half of the day. It's always a good idea to finish assignments that require the presence and help of other people. If not finished, at least inform them beforehand about the work that will come their way.
6 PM: It's time to add the final touches before calling it a day. Just a glance at the emails to ensure nothing is missed, and I'm all set to head home.
Conclusion
Being a copywriter is challenging yet fun. Every time you sit down to write, you can create something that will startle and grip the onlookers. To have that power is magical. And seeing your content on TV, billboards, the Internet, and magazines add even more charm to this role. It is not for everybody. If you think you have the skill, go after it full throttle and leave no stone unturned in your journey.
Key Takeaways
Copywriting in digital marketing is different from regular writing. It involves gripping the readers and getting them to take the desired action.
It takes more than just creative writing skills to become a celebrated copywriter. You need to have good research skills.
Every copywriter needs the passion for adding the much-needed spark to work. Most importantly, they also need to be able to defend the copy and convince both clients and the target audience.
The writing experience of digital marketing agency copywriters is pretty diverse. They write content for social media platforms, magazines, static and video advertisements, websites, blogs, etc.
They also gather a lot of knowledge about various industries as digital marketing agencies work with varied kinds of brands.
FAQs
1.

What does a

digital marketing copywriter

do?
A digital marketing copywriter writes content for the client brands of the agency. They are expected to write everything, from social media copy and video advertisement scripts to website content and blog posts.
2.

What is the

day-to-day work of a copywriter

like?
The day-to-day work of a copywriter includes churning out copy for digital marketing. The draft copies for email marketing, scripts, social media marketing, app notifications, blog posts, website content, so on and so forth. In smaller agencies, a copywriter is expected to wear many hats. So, they may even handle clients and be involved in other fields. 
3.

Is digital marketing a promising career?
There is an increasing demand for digital marketing professionals who understand the market and audience and create content accordingly with everything going digital. There is no shortage of opportunities in the digital marketing arena. In fact, some of the most well-established and well-read corporate professionals choose this field.
4.

What is copywriting?
Copywriting is different from regular writing. A copywriter writes appealing content for marketing channels. The copy he writes is expected to be so strong that it forces a reader to take action, like knowing more about the brand or shopping.
5.

What is it like being a copywriter?
The day-to-day life of a copywriter is not as dull as it sounds. Copywriters understand the market and target audience and create copy that appeals to them to act. They are creative wizards whose words have the power to make an impact. They have the skill to grip you with limited words. Once you, as a copywriter, realize this power, writing copies for emails, blogs, websites, social media, etc., will not seem mundane anymore. 
6.

Do copywriters make good money?
Yes, copywriters make good money. The average salary of a digital marketing agency copywriter is somewhere around Rs 3.6 Lakhs every year. It can go as high as Rs 7 Lakhs per year. They also take up freelancing jobs to supplement this income.