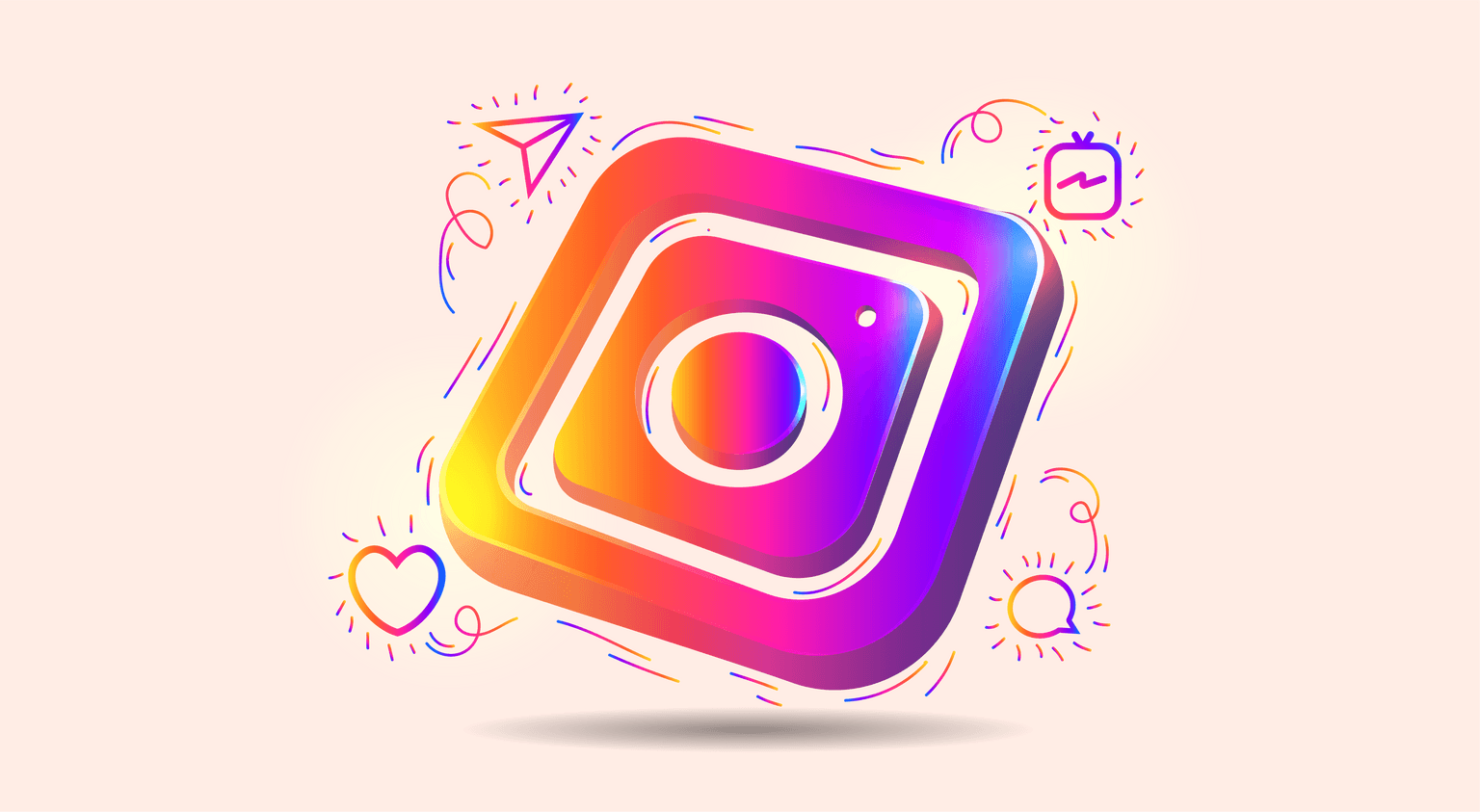 Table of Contents
Top Content That Works on Instagram
Key Takeaways
Conclusion
FAQs
Instagram is indubitably one of the hottest online platforms to connect with customers, provided you have ideas for content that works on Instagram. Did you know that Instagram is also Gen Z's chosen social platform? Worldwide internet users between 16 and 24 favor Instagram to several other social platforms, including TikTok.
50% of people have used Instagram to come across new brands, products, and services. Also, 2 in 3 people claim that the online platform has helped foster meaningful interactions with brands. Such statistics have made online businesses very much interested in leveraging Instagram's vast reach. They are trying to whip up stories to capture the attention of their followers. However, creating a steady flow of engaging content for Instagram is challenging. And many times, it may feel as if you have hit a dead-end for Instagram post ideas or that your profile is starting to feel repetitive.
Honestly, this is a problem that most social media managers go through. Because they start with a specific color palette or feed theme, they find themselves restricted by the aesthetic of their profile content.
If this is you, we're here to help. We have put together a list of what type of content works best on Instagram. These content suggestions will help engage your audience and build a loyal following for your brand. So, let's get started.
Top Content That Works on Instagram
Instagram offers immense potential as a platform for developing and nurturing relationships with your target audience, as well as turning them into brand loyalists. And because of this, it is important to have a mix of engaging and relevant content that will appeal to your customers. Different content types work well on Instagram, from inspirational quotes and landscapes and sceneries to user-generated content. Let's find out about each of them in detail.
1. Inspirational quotes
Instagram inspiration quotes generate a humongous amount of engagement. Believe it or not, these quotes present an excellent way to connect with people. There is something about them that gets people excited. It makes them feel inspired to take action and chase their dreams.
Often, there is so much negativity and pessimism online. Inspirational quotes only help dismiss negative emotions and replace them with something positive and motivational. It also helps create strong associations between brands and their followers, which is a huge plus.
Motivational quotes are short, eye-catching, witty, and relatable to all looking for inspiration. Some of the top reasons for businesses to post such quotes include:
Boost engagement
Improve creativity
Highlight a strong brand
Connect with the audience on an emotional level
Quick fact: If anything could go viral on Instagram, it is most likely an inspirational quote image. And that is one reason why these quotes are everywhere.
Several digital brands use special hashtags such as #MotivationalMonday or #WednesdayWisdom to attract more users. But to make sure that this type of content works for you, keep it relevant to your brand. Avoid posting just a random inspirational quote.
For instance, if you are a fitness brand, you can create a hashtag #FitnessMotivation to share inspirational quotes with your users that motivate them to stay fit and active.
2. Food
Food is something that binds all the people in the world. After all, we all need to eat. So, if you are thinking about what type of content works on Instagram, delicious food posts are the answer.
Photos and videos of mouth-watering food work so well on Instagram because everyone is the target audience. So if you are running out of ideas to post on Instagram, think of some food content you can create to make your feed look appealing. The best thing about using food as an Insta post idea is that there are many different ways to do it. If you are a food-centered business, you can create food posts showcasing different recipes to build a following. Alternatively, if you are a personal account with love for food, you can publish food posts around the different food items you tried on a holiday. Additionally, you can repost a local eatery to build a community. The ways to do this are endless.
Moving on, here are some quick tips to help you take better food pictures on Instagram:
Use natural light as much as possible
Experiment with different angles
Show off the dish's star ingredient to invoke the senses
Add natural-looking props to boost the photography
Use a good post-production app to add finishing touches
3. Human faces
Posting human faces is also the answer to what content works best on Instagram. It is an excellent way to showcase the human side of your brand. It helps the audience connect with your business in a more emotional way after looking at the pictures of real people.
According to a study conducted by Georgia Tech, the best way to boost engagement on Instagram is to use pictures with faces. The study concluded that photos with human faces received 38% more likes and 32% more chances to get comments.
Here is an example from Subway:
Creating posts with human faces works well for selling your business products. This is because your business is about your product and you. Your customers may be interested in your brand, but they also want to know your story.
So, when you create an Insta account for business, it is always a good idea to balance the photographs that promote your product along with pictures that depict your team members or even your customers.
You can also show some behind-the-scenes content that showcases your team members. It can be anything, from your team members prepping for an upcoming event or them sleeping on work. This will certainly give your audience a chance to look at the people behind your brand and understand its true essence.
4. Landscapes and scenery
Another type of content that works on Instagram includes landscape and scenery images. A stunning photograph of landscapes always stands out in people's feeds. And most of the time, it is a significant change from all the selfies.
The best thing about this type of Insta post is that it can work for almost every kind of business. Even if your brand has nothing to do with the outdoors, you can still incorporate scenery images to put across your message.
Also, just like inspirational quotes, stunning imagery of the beautiful outdoors instantly amps up the mood. It is one of the share-worthy content forms that can go viral on social media.
Modcloth is one brand that does a great job using landscape and scenery pictures to inspire its audience and create an interactive feed.
5. User-generated content
If you are running out of ideas for your next Instagram post and don't know what content works best on Instagram, you must consider this incredible strategy of leveraging UGC. User-generated content not only gives your audience a chance to step up to the plate and repost their pictures, but it also helps to build a strong community.
According to a study, UGC posts on social media witnessed a 35% greater engagement rate than regular branded content. Also, 51% of the consumers are more likely to buy from a brand if they UGC on their social media account. Thus, it is safe to conclude that UGC humanizes a brand.
To successfully use UGC, you must motivate and encourage your users to share their pictures of your brand. You can do that by adding a line to your bio that says 'tag us to get featured' or anything like that. You can create a nice and unique hashtag that your users can use while posting your brand's photos.
That said, make sure you always ask for permission from the users before re-posting their pictures. It not only looks polite but is also legally necessary. You can drop a comment on their photos or send them a DM asking for permission.
Here is an example of Starbucks doing both:
Key Takeaways
With over 1.2 billion users, Instagram is a great online platform to promote your business.
But to do that, you must understand the type of content that works well on Instagram. The Instagram algorithm prioritizes content that it believes users will find most relevant.
Inspirational quotes perform excellently on the platform as they are short, witty, and easy to digest. Relevant motivational quotes that relate to your business can help to attract many Food posts also do great on Instagram since they are relevant to everyone. These posts are easy to produce and may lead to immersive consumer attention.
For a business to perform well, it must showcase human faces on its Instagram posts. You can use behind-the-scenes imagery of your employees or customer testimonials to demonstrate a human element.
Landscape and scenery images are other types of content that work on Instagram. Well-captured images help to invoke senses and inspire users to travel.
Lastly, user-generated content promotes authenticity and credibility. Publishing UGC-based Instagram posts offer undeniable social proof and build trust for your brand.
Conclusion
This is our roundup of the content that works on Instagram. You can opt for the type that works best for your brand. But mind you, the leading Instagram profiles are those that succeed in mixing it all up. That is the best way to keep your profile from feeling too boring or overly promotional.
FAQs
1. What content works on Instagram?
The content that works best on Instagram includes:
– Motivational quotes
– Food photography
– User-generated content
– Instagram reels
– Scenic imagery
– Human faces
– Behind-the-scene content
– Video tutorials
2. What is the best time to post on Instagram?
Every business on Instagram has a unique audience. It is advisable to identify the hours when a majority of your audience is most active and create your posting schedule.
3. What are some "don'ts" for my Instagram business posts?
– Don't post images from Google searches.
– Don't post irrelevant, boring, or repetitive content
– Don't overuse hashtags
– Don't steal images from other Instagram accounts
– Don't post without a proper caption
– Don't post multiple images back to back
4. Is it necessary to post every day on Instagram?
It is suggested to post to your Instagram feed about 2-3 times a week. However, you can post stories more frequently, i.e., 1.5 times per day.